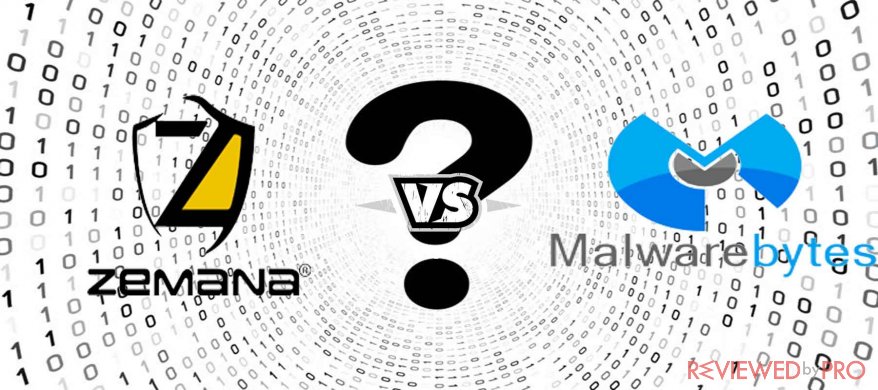 This article will provide you a comparison of Zemana AntiMalware and Malwarebytes security software. Both applications are well-rated and offer its users great protection against all cyber threats. So if you are choosing between Zemana and Malwarebytes continue to read and find out what main characteristics researchers revealed after trying both security packages for approximately a month.
Zemana AntiMalware a product that removes malware easily
To start with Zemana AntiMalware, Zemana Ltd. is a cyber-security company, that specializes in solutions for protection of any business's online environment and home internet security. The company was established in 2007 and since then aims to provide the proactive security solutions in order to keep its customers safe from identity theft, credit card fraud and, other cyber threats.[1]
Zemana AntiMalware was tested by security researchers at Reviewed by Pro[2] for about 30 days straight. They have indicated that the software provides you "everything you need to protect your device".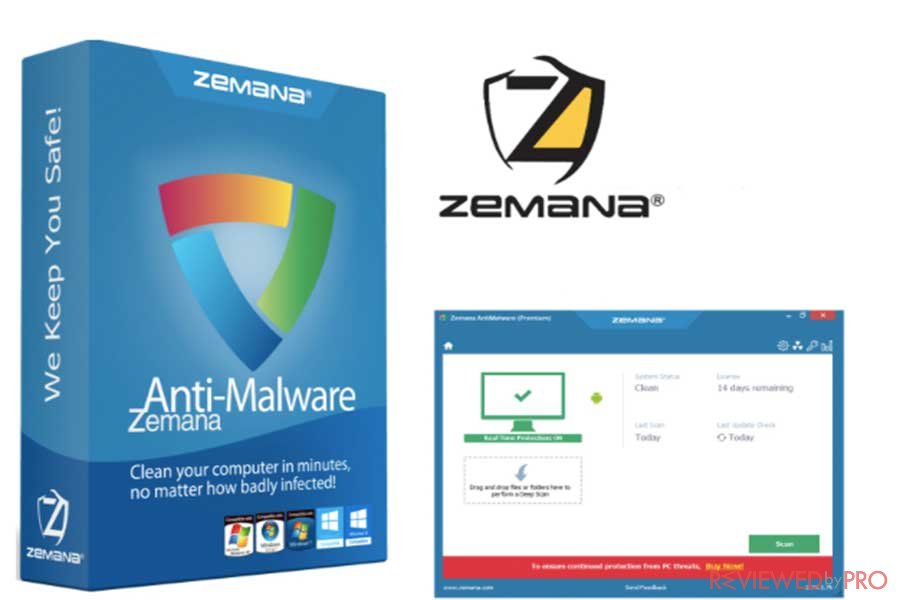 It is worth to mention, that to install Zemana AntiMalware will only take a minute. The antivirus is light and works really fast, in fact, you won't be able to feel any impact on operating system performance while using this program.
Once you download the software, you can begin to scan your device.
Pros
Reviewed by Pro provides the main pros of the security package:
Reliable price. It is worth mentioning that if you choose it to purchase for 3 or 5 computers you will benefit with great savings.
Great detection and removal rates. After the scan, the software detected even the smallest threats in a few minutes. In addition, the security package is fast and does not use many resources.
Simple and easy to operate interface.
All features the software provides are necessary and there are no unnecessary features. For instance, Zemana AntiMalware does not offer its users a quick scan. In fact, a quick scan is usually believed to be useless because it does not attempt to detect bigger viruses.
When it comes to the antimalware program features, Zemana offers you a tracking function which tracks the scan process, quarantine function which allows users to separate infected files and decide what it will be done with them, fast scan and drag & drop function.
Cons
However, even though there are not many, researchers also revealed the software's con that includes:
Lack of some functions. Yes, the simplicity is great, however, there are some functions that security researchers at Reviewed by Pro missed in the software.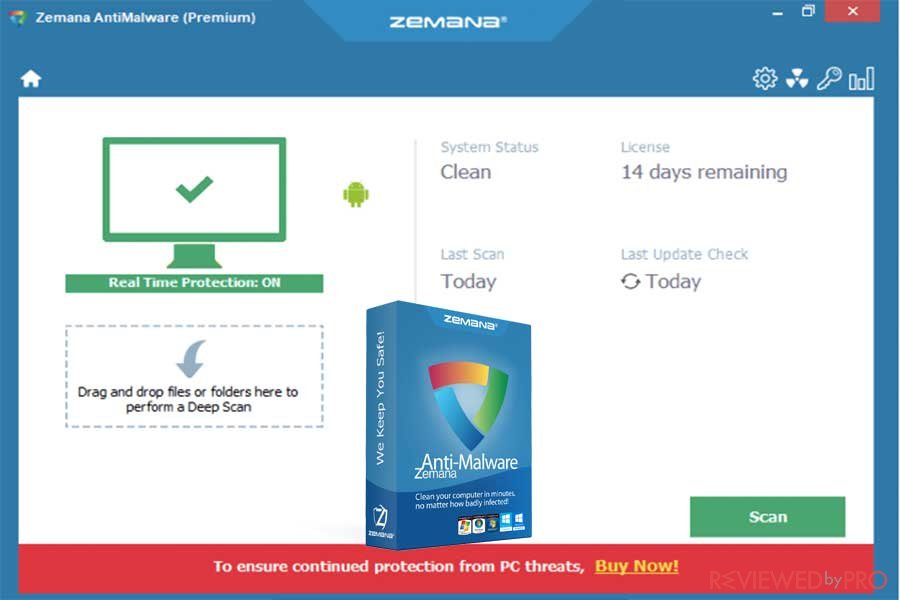 Scanning with Zemana
Scanning your device with this antimalware software is very easy. Once you open the program and click on "Scan" the security solution will begin the scan.
Scan actually takes some time.
All the infected files detected will be displayed once the scan completes. Then, the user will be provided with availabilities to delete, quarantine, exclude the infected file and some other functions.
After the test, security researchers at Reviewed by Pro provided their final verdict:
Zemana AntiMalware has got everything you need for the best PC protection.
The software is not expensive, offers you high detection and removal rates. In addition, it also protects you from adware and ransomware programs. And last but not least, Zemana has one of the fastest antimalware scans on the market.
Malwarebytes is trustful malware removal tool for a improved PC security
Malwarebytes is one of the most powerful antivirus applications. It was launched by a security provider Malwarebytes which operates in the industry since 2004. Malwarebytes offers its customer trial version or a paid version of the security for Windows, Android, and Mac OS devices. It provides trustworthy protection against ransomware, malware, PUPs, Adware and Zero-day exploits.[3]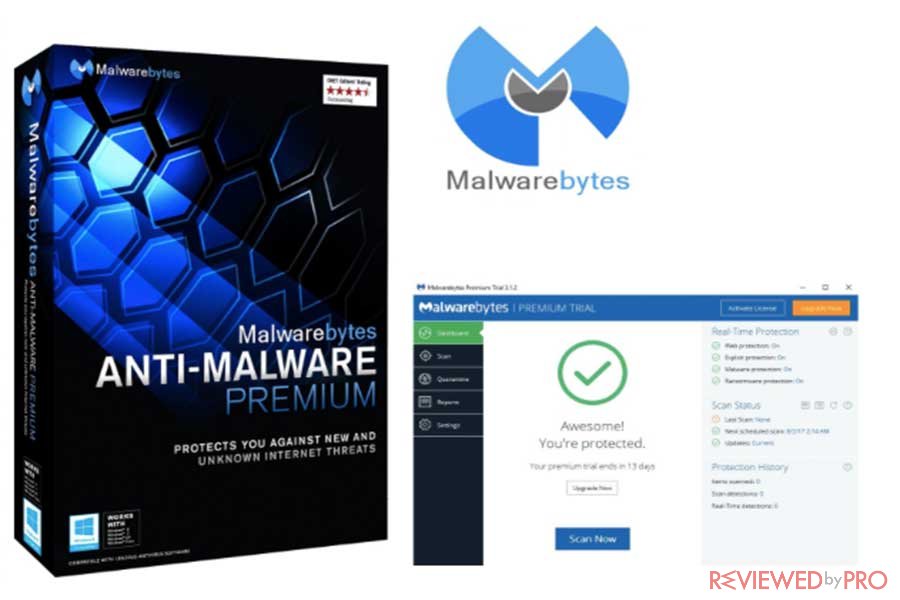 Malwarebytes Incident Response is a threat detection and remediation platform that completely removes advanced threats from enterprise endpoints, both Windows and Mac.
Even though the software is not a very lightweight, the installation doesn't take long.
Researchers at Reviewed by Pro[4] tested the software also for about a month and indicated that Malwarebytes Anti-Malware is a very stable and reliable program.
Pros:
Experienced and reliable software that offers the Internet security for many years in the market and it is one of the most trusted names in the security market.
Advanced real-time protection that includes multiple layers of protection: web protection, application hardening, exploit mitigation, application behavior protection, anomaly detection, payload analysis and behavior monitoring.
Quick and accurate malware detection. The software only took a moment to recognize and quarantine ransomware file. It also offers one of the biggest databases and constantly provides a stream of detection event data.
Quick and accurate scans. A hyper scan only takes approximately 30 seconds.
When it comes to disadvantages of the software, researchers at Reviewed by Pro also revealed some after conducting a test.
Cons:
Missing scan process bar makes it impossible to estimate the end of the scan.
Expensive compared to other anti-malware software
Various pop-ups can be annoying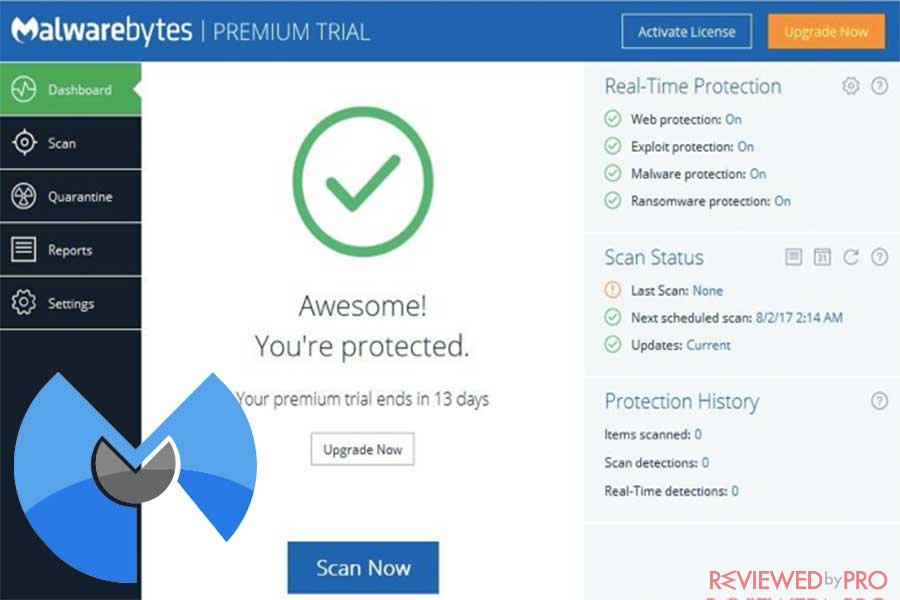 Comprehensive attack protection with Malwarebytes
It is worth mentioning that Malwarebytes Anti-Malware offers Multi-Vector protection against attacks. Comprehensive attack chain protection leverages a layered approach with detection technologies. These innovative technologies address all stages of the attack and consumers have unparalleled security.
Malwarebytes Anti-Malware has been on a market for a quite long time. Users are satisfied with the software and Reviewed by Pro also gave it a great review.
Malwarebytes Anti-Malware is created for every user – whether you are a businessman, a CEO of a large company or an individual user. This application will protect your computer not only from the usual malware, but from ransomware, infected sites, and various small threats.
Zemana has shown the better results versus Malwarebytes
Both security solutions received good feedback. Malwarebytes Anti-Malware is more expensive, but also more powerful and innovative software. It offers more features than Zemana and is better suitable for more advanced users or businesses.
Zemana AntiMalware offers its customers lightweight and easy to operate software so even users with very basic computer skills could use it. Zemana provides all the basic features that are useful for everyday computer use.
As a result, if you need reliable and good protection with only useful features and easy to operate interface, Zemana AntiMalware is just right for you. However, if you require many features and powerful security you should choose Malwarebytes instead.
About the author
References