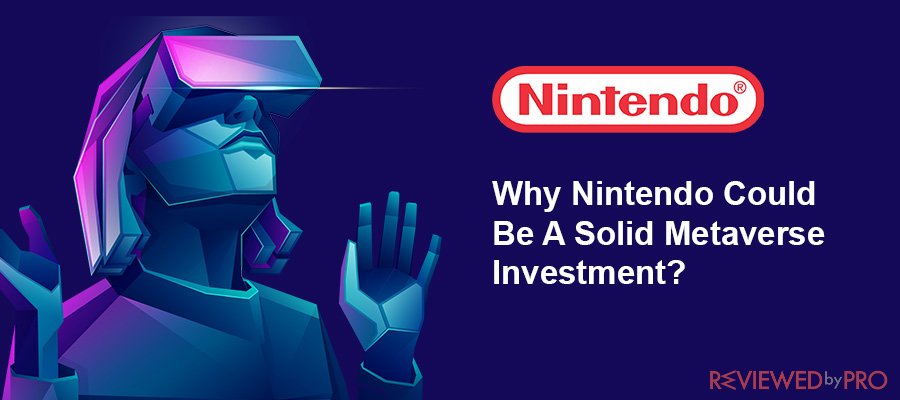 Why Nintendo Could Be A Solid Metaverse Investment?
The future of gaming has always pointed toward a Metaverse style scenario. The blurring line between the physical and digital worlds; is a fully immersive and persistent 3D digital environment, and now it looks like it's finally happening. 
Meta and Roblox are the hottest companies associated with this new gaming field. However, today you will read the case for an overlooked giant, Nintendo. 
So here are four reasons Nintendo is a solid investment:
They have prior success with VR and AR.

They already have a considerable customer base.

They're developing new AR technology already.
Prior success with VR and AR
Nintendo already has previous success and experience with VR and AR games. For example, look at Pokémon Go. That's effectively a game released five years ago before the conceptualization of the metaverse.
What's more, Nintendo recently released Pikmin Bloom, an outdoor flower-based strategy game. It encourages players to walk outside. But instead of catching Pokémon, players plant virtual flowers across a shared map. Its outdoor, gamified fitness approach also represents a stark contrast to the enclosed digital worlds of the Oculus Quest and Roblox.
Then, of course, you have the smash hit Animal Crossing. During the pandemic, this virtual world was massive for Nintendo. Nintendo has shipped nearly 35 million copies of the game as of September 30th. 
Speaking to Adrian Pollard, founder of HollaEx, a cryptocurrency exchange provider, said, "We see a slow and steady interest from game companies. They can tokenize and bring real-world economics into their gameworld or metaverse. The biggest hurdle is getting game companies to think about crypto finance as a means to push their virtual worlds into the next level."
In the game's virtual world, players can explore an island, build a home, complete tasks to earn an in-game currency, customize their animal avatars, and socialize with other players. In other words, it already uses Metaverse concepts, and it's trendy. 
A large customer base 
The Nintendo Switch has been an enormous success. They've sold up to 97.3 million consoles since March 2017. It has an advantage over its major rivals — the Sony and Microsoft consoles — as it's a hybrid handheld device. 
It can also be converted into a VR headset with its Labo kit. This is another clear indicator of how the Switch and Nintendo are positioned to take advantage of the world's leap into the Metaverse. 
And let's look at the competition. Meta has reportedly sold 10 million Oculus Quest 2 VR headsets. It is the best-selling stand-alone VR headset globally, but it still has a much smaller audience than the Nintendo Switch. Nintendo's existing user base is genuinely massive.
What's more, they're just loveable, and they're intrinsically accessible. Speaking to CEO of Spacehuntr Dietrich Moens, he said, "I admire Nintendo. As well as making games for gamers. They make content that is recognizable and accessible to everyone. In the events we organize, people gravitate towards their machines."
And speaking of Nintendo's strength from an investment point of view, he followed, "It's a resilient brand, whose stubborn dedication to their brand philosophy has served them well. They've gone from a total failure in the Wii-U to one of the biggest successes ever in the Switch. 
Huge names come and go, like Atari and Dreamcast, but Nintendo has not only the die-hard following, but they have the strength and accessibility to lure in part-time consumers too." 
Developing new AR technology
Nintendo has opened a Super Nintendo World in Japan, collaborating with Universal Studios Theme Parks, with locations to open soon in California, Florida, and Singapore. Super Nintendo World is full of exciting AR features. 
For example, the Mario Kart attraction allows visitors to fire shells at digital obstacles while driving around a real track. Visitors can collect coins, stamps, and power-ups around the park with a wristband synchronized to a mobile app. The company can expand this technology in its new parks and apply them to the development of the metaverse. 
Jonathan Maxim, who heads up Operations for an NFT platform called Nifter explains, "Clout and fun have shifted toward digital spaces thanks to gaming and the community around that. Now it's a 360 experience, and a veteran like Nintendo has an immediate advantage. Elegantly blending the digital-physical builds a bridge for people who want to dip their toes in the metaverse."
Summing up
Nintendo is famous all around the world. It's been rolling with the times since the 80s, leading gaming culture at the very top. Just now, the company is struggling with near-term challenges such as supply chain constraints and the worries of a post-pandemic market. 
But you can't keep this company down, and it's got massive potential in the Metaverse, as we've shown, so the best time to buy is now, while the price is low. 
About the author