Avast is one of the biggest names in the Antivirus and Internet Security industry. The company was founded in 1988 and today has more than 435 million active customers. It is headquartered in Prague, Czech Republic and has 25 offices across the world.[1]  Avast develops a variety of products for business users and consumers, including free and paid antivirus and Internet security solutions for the major operating systems, including, Avast Antivirus for Windows, Avast Security for Mac, Avast Mobile Security and Antivirus for Android, performance tools, such as Avast CleanUp, and privacy products such as Avast SecureLine VPN.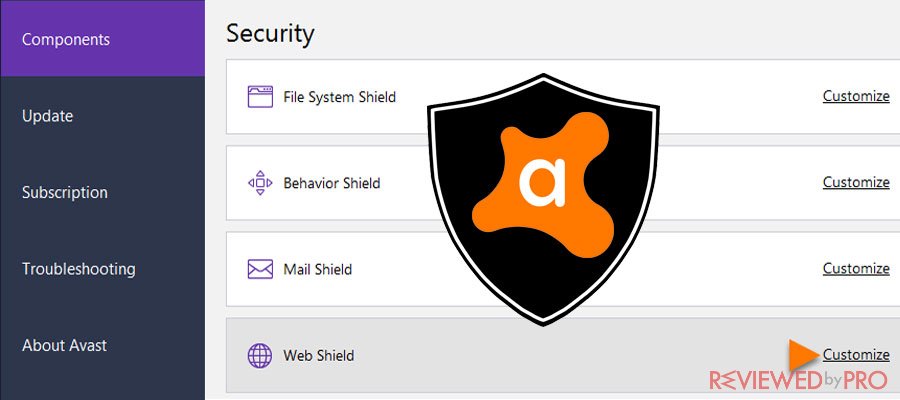 Antivirus protection The company uses a traditional signature-based detection in order to find widespread and prevalent malware samples and heuristic monitoring that monitors the system and looks for new threats. All the suspicious items detected are sent to Avast cloud-based servers for further examination. If the icon is confirmed as malicious it is sent out to the Avast's 435 million customers
Avast Behavior Shield is an extra layer of Avast protection
As it was mentioned before, Avast Behavior Shield is an additional layer of antivirus defenses in Avast Antivirus. The shield monitors all processes on the device in real time and looks for suspicious behavior that could reveal a malicious code. "Behavior Shield works by detecting and blocking suspicious files based on their similarity to other known threats, even if the files are not yet added to the virus definitions database." Avast Behavior Shield is enabled by default, and if you are using Avast, we strongly recommend to keep this configuration switched on at all types. If you want to manage Avast Behavior Shield you have to use the tabs on the left side of the screen. If any changes were made, click ok in order to save the settings.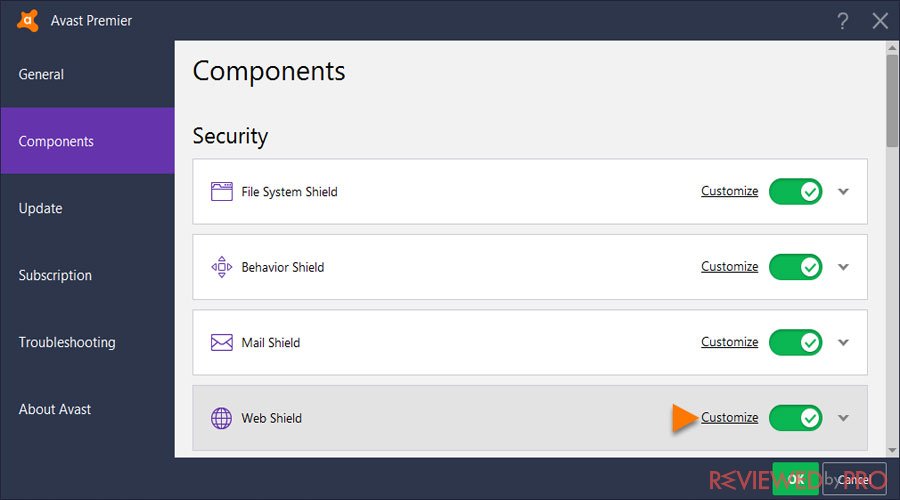 Settings
The Main Settings enables users to set a specific action to take if a suspicious file is detected. Users can choose from the following:
Always ask. If this option is selected, users will receive notification whenever a new threat is detected and provides options for further actions, such as move the icon to the Virus Chest, block and remove the file completely, or ignore the detection.
Automatically move detected threats to Chest. If this option is selected all the detected threats are moved to the Virus Chest automatically.
Automatically move known threats to Chest. This option is enabled by default. If you leave the default settings or select this feature, all the known threats will be sent to the Virus Chest automatically. This setting only applies to those files that are confirmed as malicious and included in the virus definition database.
Exclusions Users are able to specify a particular folder that they can exclude from Behavior Shield scanning. If you want to exclude a new folder, all you have to do is these following steps:
Type its location into the text box or click the Browse button.
Select the folder you want to exclude and click the OK button.
If you want to add another location to the list, select Add.
If you want to remove a location, then click the row and select Delete.
Note: Exclusions that users can specify on the screen only apply to Behavior Shield and do not affect any other scans or Shields in the application. If you want to exclude a location from all Avast Antivirus scans, go to Settings ▸ General ▸ Exclusions to specify the location.
About the author
References