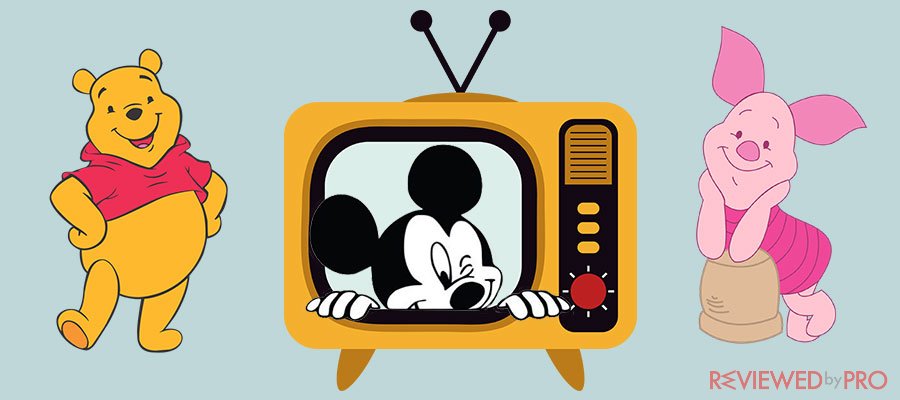 Websites To Watch Cartoons Online For Free
Is it possible to stream my favorite animated content for free on the internet? What are the best and most secure sites that could allow me to watch cartoons for free?
Cartoons are not made for children anymore as, over the course of the new century, the medium has become a strong point to deliver content for people of every age and background. Nowadays, numerous TV shows and movies are being made that deliver strong messages and base their storylines on topics that are still taboo in the real world.
Cartoons like Rick and Morty and Bojack Horseman has gained a cult following ever since they started airing. The Japanese Anime cartoons like Naruto, Dragon Ball Z, and Pokemon have a vast audience of their own. Big studios are developing animated movies like Disney and Pixar that are grossing billions of dollars in the box office.
Though, for some people, accessing content like cartoons isn't easy as it is for people living in the United States. Either the content is geo-restricted/banned, or available at a much higher cost, that an average person is unable to afford.
If you are among such individuals and carry the passion for watching cartoons, then read our article, as we will reveal to you the top websites capable of offering cartoon shows of every genre for free. We will also discuss the most secure way to stream the content as well.
The Top Websites to Watch Cartoons Online for Free
In this section of the article, we will look into the best and free platforms to view cartoons. These platforms are not only ad-free but do not carry any kind of bandwidth limit, which could make the user stop watching their beloved cartoon shows.
ToonJet
ToonJet.com is a free animated content providing service that offers the cartoon enthusiasts a platform to check out their favorite animated shows, including Pokemon, Tom and Jerry, and much more. The platform also does not ask you for your personal information to form an account against your will. You can go by your business free of any trouble on ToonJet's website.
However, you can still create an account on the platform to safe-keep your streaming history, when the next time you decide on watching a new episode of your favorite Anime series.
1. Watch Cartoon Online
It is among the most prominent that has been offering the opportunity to stream cartoons over the past decade. The "Watch Cartoon Online" platform is free, exceptionally intuitive and leads to whatever genre of animation that you wish to watch thanks to its extensive list of categories, available at the home page. The most notable cartoons that the majority of the users view on the platform are Teen Titans Go, Gravity Fall, and Adventure Time.
Other than providing the means to view weekly episodic shows, the website also contains animated motion pictures, which is a unique feature, open on only some of the sites. However, there is an increasing ad-related issue with WatchCartoonsOnline, which gets pretty annoying, but it is the price we have to pay to stream our favorite content for free.
2. Animestory
If you are looking for a free cartoon streaming service and specifically the movies of the Anime and Manga genre, then Animestory is the platform that you should access immediately.
Arguably the top platform for Anime shows, the platform is completely free and contains a massive gallery of old and new Anime shows and movies, along with an intuitive landing page. Not only that, it contains other variety of Manga comics for the fans of the said genre.
3. CartoonsOn
CartoonsOn is one of the most refined websites that allows users to stream their favorite cartoons without a single fee. From the oldest looney toons cartoons of the last century to the latest episode of Pokemon, the CartoonsOn website has all the right stuff.
Much more, you will not find any evidence of annoying pop-ups or other forms of advertisements. So you will feel secure that you would not be led to a malicious link or an adult content website.
4. Disney Junior
This platform has the backing of the multi-billion conglomerate named Disney, which is why it has one of the best and friendly interfaces among its peers. Other than that, the Disney Junior website is more in tune with the younger audience, where the children can watch every Disney cartoon such as mickey mouse, and stream tv shows as well. The platform is entirely secure and does not contain annoying pop-up ads.
The only downside to the platform is that it is geo-restricted, and users in some parts of the world wouldn't be able to stream some of the best cartoons in the world through the Disney Junior platform. However, there is a way to bypass such a level of restriction, and we will discuss that later on in the article.
5. Vimeo
Vimeo is a video sharing platform where the user uploads their favorite clips, tv shows, and cartoons for the other viewers to watch. Though there is no competition between Vimeo and the different platforms that we have discussed, we have found some rare tv shows on the platform such as Ninja Robots, which wasn't available in any other cartoon streaming website.
It is also much more secure, costless, and ad-free than the rest of the streaming services, which is why we decided to include it in the list of the top websites to watch cartoons online in 2020.
6. Youtube
It is hard to upload copyrighted material on Youtube due to the platform's exception ability to detect such content. However, many users know a way around Youtube's content sniffing bots and allow cartoon watching buffs to view the content for free.
Video watching on Youtube also ensures that you and your device is safe from potential viruses/malware. Who knows, if you search hard enough, you could find some unique animated content that got lost with the course of time.
7. Anime Toon
Finding English dubbed Anime videos on the internet is extremely tough and could take enough time to find. Luckily, the Anime Toon website offers the opportunity to steam a countless number of dubbed Anime shows for free. Not only Anime series, but the platform also provides the stomping ground for viewers to check out cartoon movies from genre of all kind.
Furthermore, Anime Toon also contains an enormous library of manga, other comics, and Korean TV shows. Much importantly, the service is available on Android-based smartphones and tablets, along with the conventional way of streaming cartoons through the web browser of the computer.
8. Anime Center
Are you tired of watching low-quality content on another free cartoon website? Then, check out Anime Center's official website, which is also available in the form of an Android app. The platform promises to stream content both for free and in High Definition Resolution up to 1080p quality.
The Anime shows and movies contain both subtitles and English dubbing feature. It also allows the viewers to interact with their peers and share their thoughts on their favorite Anime series, thanks to the platform's live chatting facility. If you create an account on the website, then Anime Center will provide proper updates of the cartoon show that you had favorited or recently watched.
9. Nick Toons
Nickelodeon has been providing animated content and has been among the most popular platform among millennials. Who hasn't grown up watching Jimmy Neutron, Avatar the Last Airbender, and our teams most favorite show SpongeBob Square Pants.
Nick Toons is the official web platform of Nickelodeon to watch all the best, and beloved cartoons show related to the network for free. The service is totally safe and does not come with the annoying pop-up ads that ruin the entire streaming experience.
Other than offering the users a platform to stream animated content, Nick Toons also has games and prize-winning competition to keep the viewers hooked to the service. However, you will not find other genres of animation, such as Anime and Disney cartoons.
10. GoGo Anime
The GoGo Anime platform does not believe in geo-restriction. No matter which part of the world you are living in, the platform is accessible without a hinge. It contains the best library of animated content with full dubbing and subtitle features that, too, in high definition and super compatibility with the internet connection speed.
The platform also allows users to download the cartoons/anime on their own devices so that they could watch them for later. The news section of GoGo Anime also contains the latest schedule and updates regarding every cartoon show.
11. Cartoons8
From the most-watched Anime show to the oldest and most loved cartoon, the Cartoons8 platform is free of cost and refrain from giving out excessive ads. It offers content viewing in HD quality, and you do not have to create an account or give out any sort of personal information to do that.
12. Kissanime
If you are looking to stream Anime in HD and FHD resolution, then the Kissanime platform/website is for you. The gallery is vast, which you can access by hitting the Anime list tab from the site's home page. Other than that, Kissanime also contains manga comics and novels of different genres. It includes a community forum that permits users to interact and share their love for the art of animation.
13. SuperCartoons
If you want to take a trip down memory lane and watch old cartoons like the Looney Toons or Disney's Duck Tales, then this is the platform for you. You will find thousands of classic cartoons without any fee.
14. 9anime
You will not find such a wide variety of content in any other platform than 9anime, which has all the Anime shows, including a considerable collection of stories, novels, manga, and other comics for the user to choose. It is entirely free, does not ask for your personal information, and the ratio of ads pop-up is meager, which makes the cartoon watching experience very less annoying.
Remain Safe on the Internet while Watching Cartoons online
Accessing your most favored animated content for free seems too good to be true. Though the fact is real and you could watch cartoons for free, it still could be a hazardous endeavor. The constant ad pop-ups could include malicious content, virus, and malware. These viruses could leak out your personal information from your device. It could also make your computer into a crypto-mining puppet for hackers. In this section of the article, we will discuss some of the ways to avoid virus infection and a more secure cartoon streaming experience for you.
Install an Ad-Blocker on the Browser Access Cartoon Websites
You can watch cartoons from any of the websites mentioned in the list above. With that said, you receive a barrage of ads during the whole activity. You can avoid all of that by installing an ad-blocking extension from your browser's app store, which will block all the annoying ad pop-ups for good.
Purchase a Reliable VPN Service to Open Cartoon Websites from any country safely
A VPN is a must-have in this day and age, where anything on the internet could lead to sudden virus and data loss on your device. The high-end military-level encryption and IP masking feature of the VPN permits you to bypass geo-blocking and open any cartoon streaming website available on the internet.
The additional feature of the VPN service also includes the ability to detect and block websites with malicious content, which will not allow any virus-infected website from ever harming your computer. It is essential to find out the extent of server coverage of the VPN before finally getting one. It is necessary, especially when you wish to access sites like Disney Junior that are available only to people living in certain regions.
Opt for Antivirus Software to Watch Cartoons online
Sometimes an ad pop-up with malicious content could go undetected by the VPN. It is where the antivirus software come in, which will immediately detect the presence of virus or malware on your computer and move it to the Quarantine Zone, preventing any harm to your device. It is essential to look for an antivirus service that is capable of offering a variety of different features to ensure all-around security.
Final Thoughts on how to Watch Cartoons Online
In this article, we have discussed the top 15 sites to watch animated shows and movies for free. Though these platforms could be a hub for malware and other viruses to prevail, we have also shown you the way to avoid such threats altogether, mainly through the convenience of VPN and antivirus software.
It is very convenient to watch content for free from unofficial, but we stress the user to access more official forums to view cartoons such as Netflix, Hulu, and others.
About the author