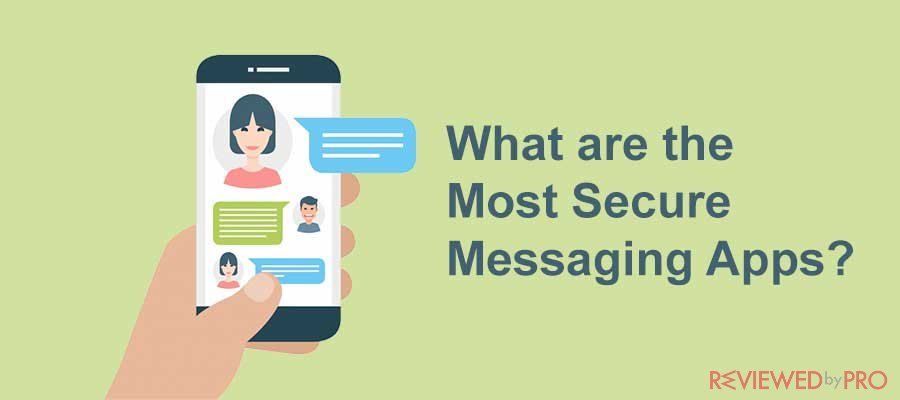 The Most Secure Messaging Apps
There are many messaging apps in the market. Some of the popular ones are WhatsApp, Facebook Messenger, Google Hangouts, Telegram and the likes. Most of them are free and compatible with Android, iOS, and desktop devices, making them popular around the world. While many are free to access and use, there is always that question of security. Messaging apps can be tapped by hackers, internet service providers, the government, etc.
Many even share your data with third-party businesses. So, if you are looking for security, then you need to choose an app that can guarantee your privacy.
What makes a messaging app secure?
You are perhaps wondering what makes an app secure. Well, a secure messaging app has features that work in the backend ground to tighten your security. The main security feature to check when choosing a messaging app is whether it uses end-to-end encryption.
End-to-end encryption means that your private chat messages are protected. They use techniques known as advanced cryptographic algorithms to protect you. In this case, only you and the recipient can access them. That said, you should note that because an app offers end-to-end encryption, it doesn't mean that it's the default setting.  Some messaging apps need you to go into the app's settings and turn on the encryption feature
Let us take a look at the best secure messaging apps in 2020.
The Best Secure Messaging Apps
Signal
They were initially known as TextSecure Private Messenger Signal, and it's one of the best secure messaging apps on the web. It has been touted by the likes of the European Commission as the gold standard of messaging security. It is available as a free messaging app on iPhone and Android phones, as well as desktops. Signal sends messages across its own data infrastructure.
Signal security features:
End-to-end encryption: the sender and the receiver can only view messages sent via the Signal app. Not even Open Whispers Systems, the company behind the app can decrypt the messages. In addition to instant messages, you can make voice calls, group messages, and encrypted video calls.
Open source: the app has an open-source code that can be viewed by the public. This increases transparency and allows for routine auditing, which helps ensure the app's security is up to date.
Disappearing messages: For extra security, Signal allows you to make both sent and received messages "disappear" after a preset time.
Password security: The app also allows you to set a password to lock it. So even if your phone falls into the wrong hands, your messages will still be secured.
Signal security risk
There are virtually no security risks with Signal, but there are vulnerabilities that keep getting fixed. Hence, the app sets itself apart as the top in terms of security.
Wickr Me
The messaging app is available on both iPhone and Android phones. It has distinguished itself as a secure messaging option for both personal use (Wickr Me) and businesses and enterprises (Wickr Pro).
Wickr Me security features:
End-to-end encryption: it offers encrypted messaging, encrypted calling, and voice messages. 
Screenshot detection: You will receive a notification if someone screenshots a message you sent.
Third-party keyboards: On iOS, Wickr Me lets you block Third Party keyboards. It prevents third-party keyboards from recording usernames, passwords, and other information you key in.
Wickr Me security risks
The app is almost foolproof from a security standpoint. At some point, it was criticized for keeping its code away from the public. It later released its cryptographic protocol on GitHub.
WhatsApp
With over 300 million daily users, WhatsApp is one of the popular messaging apps being used today. The app's popularity is its strong point, besides the fact that it is available for free to both iPhone and Android and desktop users. Besides, WhatsApp does not allow ads, which makes it even more effective to use. It also provides easy options to use in sending texts, voice messages, and also videos. But just how are WhatsApp chats private?
Security features on WhatsApp
End-to-end encryption: the app implemented the secure protocol that was developed by Open Whisper Systems back in 29016. This means that only the sender and the receiver have the keys to decrypt messages that are relayed through WhatsApp. As a result, your communication is encrypted, and an unauthorized third party or man-in-the-middle will find it hard to crack it.
Verify encryption feature: It has a feature that allows you to confirm if your calls and messages sent via WhatsApp are encrypted. This code is provided to the app user as both a QR Scan Code and a 60-digit number code.
Two-step verification– this feature gives you the opportunity to secure your account further. You can do so by setting up a personal identification number (PIN). This will help verify the phone number when accessing the app on any given device.
WhatsApp security risks
Backups that are unencrypted: The messages on Android phones, which are backed up on Google Drive, are not encrypted. As such, this leaves your messages vulnerable to access by hackers or even Google.
Privacy issues related to Facebook: in 2014, WhatsApp was bought to be part of Facebook. Over time, Facebook has been accused of collecting users' data and using it for commercial purposes. WhatsApp is often seen as a tool that's giving Facebook your data to be used for features like ad-targeting.
Telegram
This is another top tool that has become increasingly popular by the day, particularly for features like channels. It also has other features you won't find in most other top apps. For example, it can support as many users as up to 200,000 in a group
Key Telegram security features
End-to-end encryption: Telegram is popular for its "Secret Chat" feature that allows you to protect your chats from third parties. You must learn how to turn it on as it is not part of the default security features.
Passcode lock: Telegram provides the room to set a four-digit code to prevent others from accessing the app and opening it to view your messages. The feature is usually very helpful in case you misplace your phone or it is stolen.
Security risks
The end-to-end encryption feature doesn't come at the default setup. You will have to learn to manually enable the "Secret Chat" feature. If you don't do it, your chats will only be encrypted between your device and Telegram servers, which means that a third party might access them.
Apple iMessage
This feature is available for iPhone users and is supported by the messenger App. The app allows users to send text messages, documents, videos, and contacts, among others.
iMessage security features
End-to-end encryption: this feature only protects messages between iPhone users. If sent to Android users, it goes like a normal text which is not encrypted. Hence, this may lead to a security issue.
Self-destructing feature: iMessage has a feature that lets you control how long each message stays live it is deleted. 
Security risks
The encryption of the messages has been found to be vulnerable to decryption. This raises the question of full privacy. Apple also controls the encryption thus, your data may be given to businesses, and government agencies.
Other Top Secure Messaging Apps
Threema App
This is another excellent messaging app compatible with Android, iOS, and Windows. It is one of the most trusted and secure messaging apps, but unlike many others, it is paid for. One of its greatest advantages is that it has top security features to keep your data safe from third parties. You can stay under the radar of government spying agencies, corporations, and hackers.
The app makes it easier to register as it does not need you to use your email or even your phone number. In its place, it offers you a personal Threema ID to use in signing up. The app provides end-to-end encryption for all texts, voice calls, and also voice messages. One more safety measure is that the messages you send will be deleted from Threema servers once delivered to the recipient. There are little chances that the app developers will peek into your messages or decrypt them.
Viber
Viber Messenger app is another one worth a place on the list. It is available for iOS, Android, and also Windows gadgets. It provides end-to-end encryption to all your conversations, meaning that they cannot leak to third parties. Viber will allow you to share multimedia files, contacts, and also turn on your real-time location. 
Jaber/OTR
This is a free instant messaging service that is based on the Extensible Messaging and Presence Control (XMPP).  The protocol developed by the Open Source Community enables instant messaging and allows you to maintain a contact list. Jaber is defined by an open systems approach for development and also applications.
The main shortcoming is that the protocol does not have sharing options for files like documents. It also needs a real-time connection between you and the recipient of the messages, which may not always be possible.
Wire
The encrypted communication app is also a nice collaboration app. It offers a comprehensive collaboration package and features such as messenger, voice calls, and conference calls. It also supports multimedia file sharing and is adequately secure as it offers end-to-end encryption. Something to note is that the encryption only works for one-to-one communication. This means that the group chats are not encrypted, and hence it's not fully secure.  
Final word: Stay safe!
You have a right to online privacy. Yes, you have the right to message without worrying that someone else could be taking a peek at your communication. As you have seen, there are many messaging available apps, but not all are the same. Some are very secure, while others might be popular and not-so-secure. If you have to use a less secure but popular app such as WhatsApp or Facebook Messenger, it is advisable to pair it with VPN protection. This will ensure that your online messaging is protected as you send confidential messages.
About the author