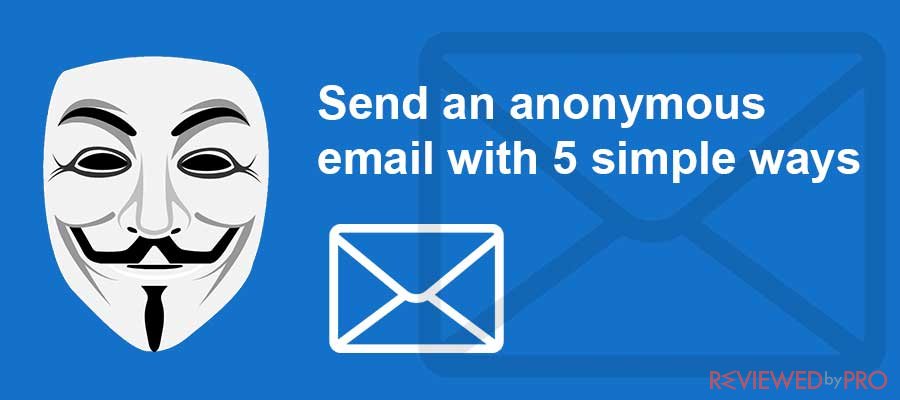 Send an anonymous email with 5 simple ways
Have you ever dreamed of blowing the whistle on your colleagues to your boss by revealing interesting information about what is happening in the company you work for? If so, this article is written to teach you how to send emails anonymously from any computer. In this article, you will learn about five methods of how to do it. 
5 simple ways to send anonymous emails
We have listed 5 simple ways for you to send an anonymous e-mail safely. If you follow all of our instructions, your emails will definitely remain anonymous.
1. Hide your IP and encrypt your emails by using secure mail providers
If you try to send an email mail from regular mail providers, you can reveal your identity by revealing your IP address. To avoid revealing your identity, you need to be more careful and use safer service providers. Below is the email with a list of mail service providers that can ensure the protection and privacy of your data.
ProtonMail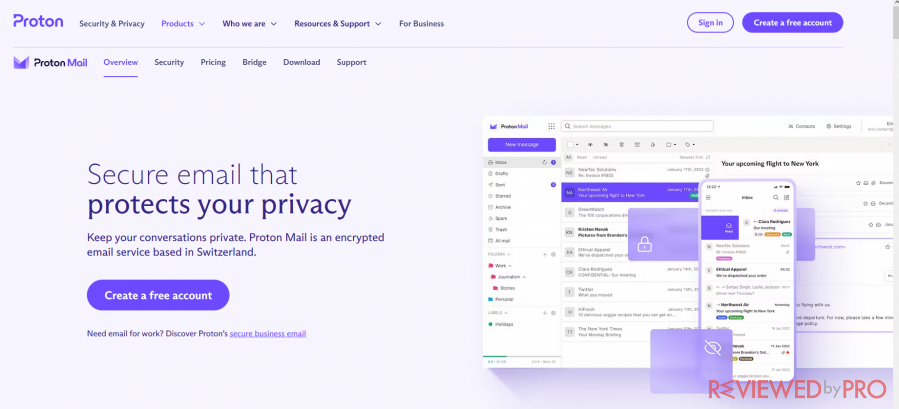 Proton is a well-known company from Switzerland that provides services such as virtual private networks and secure mail solutions. ProtonMail is one of their products that are perfect for those who need to send someone a personal email. Your IP address will be changed and no one will be able to track you. In addition, all your messages will be encrypted and protected from hackers. This mail service is also useful for everyday use when you need more privacy and security online.
Tutanota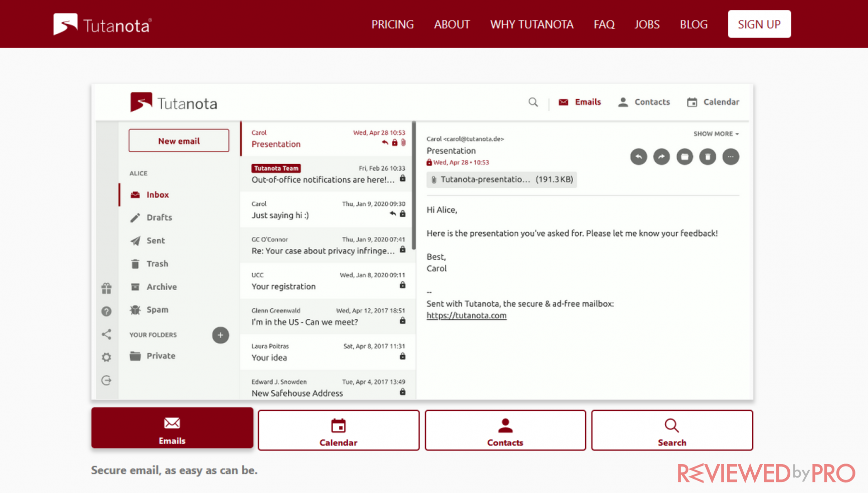 Tutona is an open-source platform that provides users with anonymous email. postal services. When it comes to open-source platforms, you need to know that many security experts are interested in finding and reporting security bugs and issues just for fun. Open-source platforms act as a great sandbox for security experts and hackers to express their knowledge. Tutona has an online community with many members who share their discoveries, knowledge, and experience in cyber security. Thus, this service has become a secure, frequently updated, and well-known anonymous e-mail. postal service. In addition, it offers two-factor authentication, data encryption, and many other features. It's worth a try.
StartMail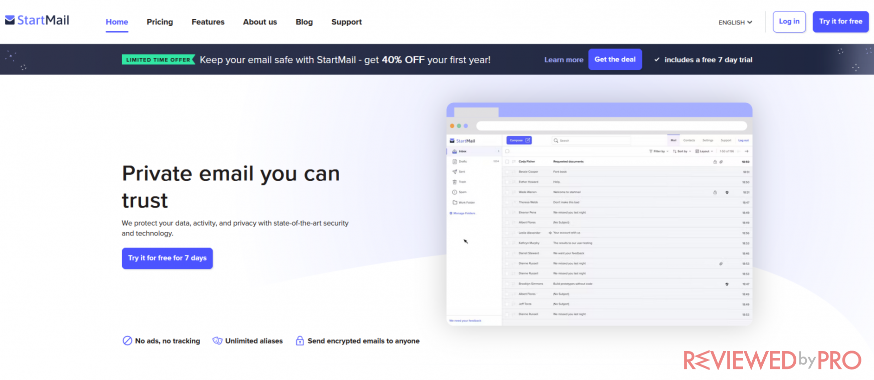 This anonymous mail service is considered to be in the premium segment and thus provides you with top-notch data privacy. Of course, it's not free, but if you want more, you have to pay. StartMail can offer more than 10 GB of storage for email. The last time we checked their website, the price was $3/month. unlimited aliases, email encryption, and set a password for recipients that don't use encryption. Worth mentioning, that this service can run on any device. 
Guerrilla Mail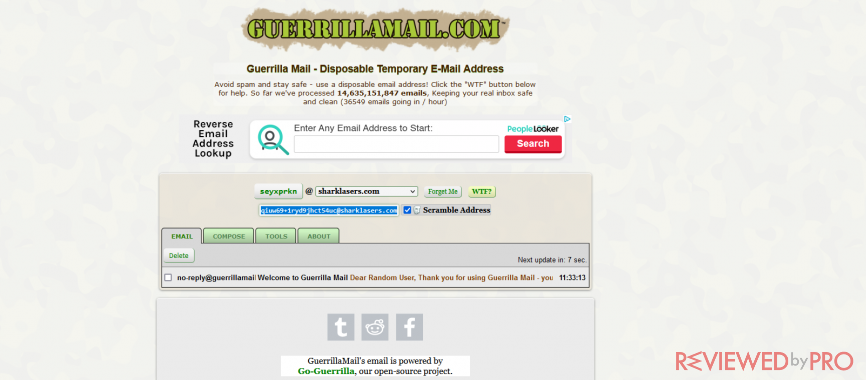 If you don't like paid service, you can use a free one. Guerrilla mail is a free anonymous mail service that assigns you to a random e-mail name for one hour. After one hour that mailbox will be deleted automatically. Great tool if you need to use it very rarely. Worth mentioning, that free service does not guarantee high quality. As we were testing this tool, an email wasn't delivered to Gmail boxes. It wasn't even found in a spam catalog. So decided for yourself if is it worth trying. 
Cyber Atlantis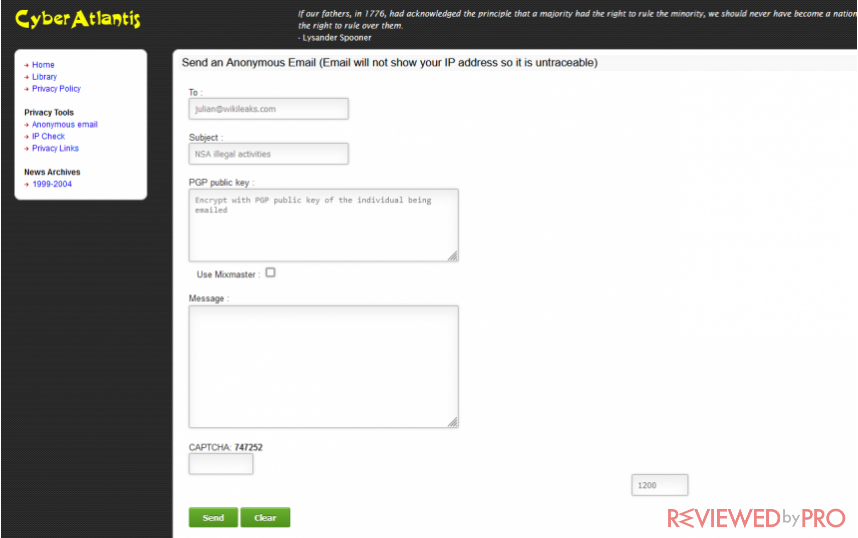 Another free tool for sending anonymous emails from random mailboxes. Here you cannot choose your mailbox or domain names before sending the email. Also as Guerrilla Mail, it will not offer high-quality delivery. We have also tested these tools and did not receive any emails to GMAIL's inboxes. This might be another useless anonymous mail-sending service. 
Anonymous email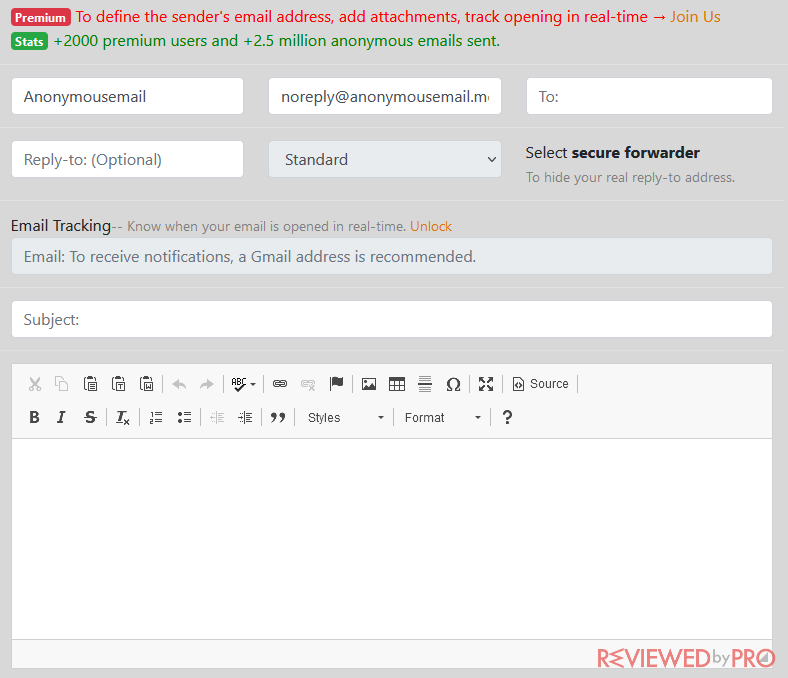 This anonymous mail services offer free and paid versions. You can also send anonymous emails from their website without logging in it. Surprisingly, all test emails came to Gmail and other popular mailboxes. The only annoying thing was that the message came with the note " Powered by Anonymous email → Join Us!". If it doesn't bother you, so this free solution is much better than Guerrilla Mail and Cyber Atlantis. Worth mentioning that the Premium version cost is 59 USD and it offers the: 
Define the sender's name and email
Track email opening in realtime
Multiple attachments
No "Powered by Anonymousemail"
Supports custom SMTP
Secure reply-to forwarder
 The principle of operation of anonymous mailing services.
The premium-level anonymous email-sending program is usually paid and it ensures the privacy of the sender and hides the IP address, only the addressee to whom the email was sent can read the email.
The free anonymous sending program allows you to send letters only from the service provider's website. The biggest disadvantage of such a service is that the recipient cannot reply to such letters. Another big disadvantage is that the quality of such services is at a very low level and no one gives guarantees that the letter will be delivered at all.
2. Do not send emails from Gmail, Yahoo, Hotmail, and similar service providers
We are all used to using popular e-mail services such as Gmail, Yahoo, or HotMail and we think that these well-known services provide us with enough privacy and security. Unfortunately, this is not the case.
If you send an e-mail to someone with important or sensitive information that could change the course of a criminal offense, a government agency may contact the e-mail service provider. In that case, the e-mail service provider will be required to provide all relevant information about your account. It can be logins to the account, the IP addresses to which you connected to the account, or other related accounts that you connect to from the same IP addresses.
You can never trust such service providers if you want to have a high level of privacy. They are all required by law to provide information about suspicious persons to the authorities.
3. Always Hide your IP when sending anonymous emails 
Some email service providers It is very easy to determine from which IP address the letter was sent. It is enough to look more closely at the data of the received letter and we can find the IP address of the sender. In some cases, we will only see the IP of the mail server from which the letter was sent, but you never can be sure.
Based on the IP address, it is easy to determine the location from which the letter was sent. Likewise, your exact address, name, and surname may be disclosed by your Internet service provider if requested by the police or other government organizations.
To avoid trouble, we recommend always hiding your IP address with the help of VPN software. A VPN is an app that is installed on your computer or phone and routes data traffic through an intermediate IP address. In this way, even your internet service provider cannot determine who and how to send the letter. We recommend using NordVPV for hiding your IP.
Official website
www.nordvpn.com
Our Rating
(Excellent – 4.9/5)
Available applications
 
Money-back guarantee
30-days
Price from
$3.49/month (-70% deal)

Visit website
More information
NordVPN review
4. Remove the "Metadata" from attached files or images
Another very important thing you must do before sending an anonymous email is to remove the Metadata from the attached file, photo, or video.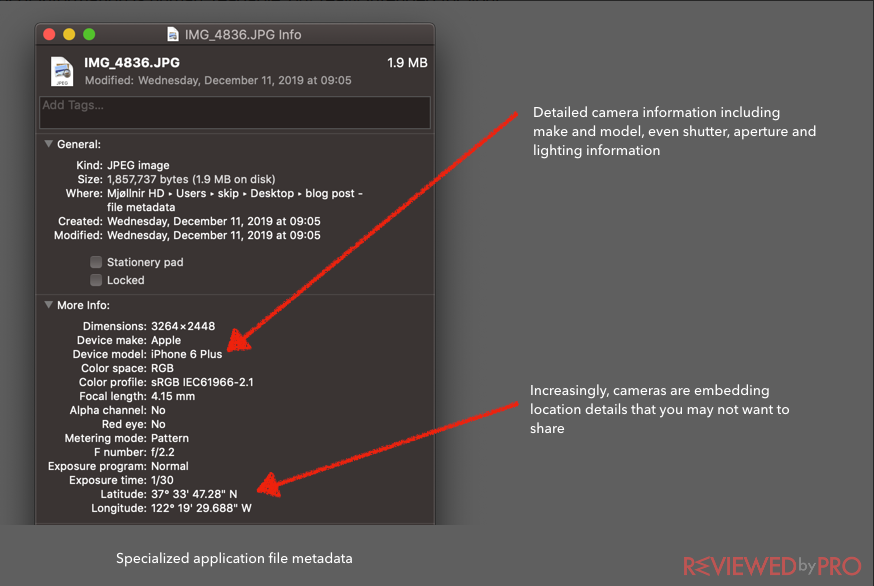 metadata example
The "Metadata" of a file can reveal a lot of information, for example, the name and surname of the author of the file, the time the file was created, the place where the file was created, or the GPS location. Without knowing such nuances, you can put yourself in a very difficult position.
Removing metadata is not a very complicated process, but it is done differently in Windows and Mac software.
For macOS:
Open your image in Preview
Go to Tools 
Click on Show Inspector
Select the (i) tab, then the Exif tab
Delete the metadata 
For Windows: 
Select the image 
Right-click and choose Properties
Head to Details
Go to Remove Properties and Personal Information 
Click on Create a copy with all possible properties removed 
5. Encrypt your messages
Email encryption might prevent your email to be read by a different persons.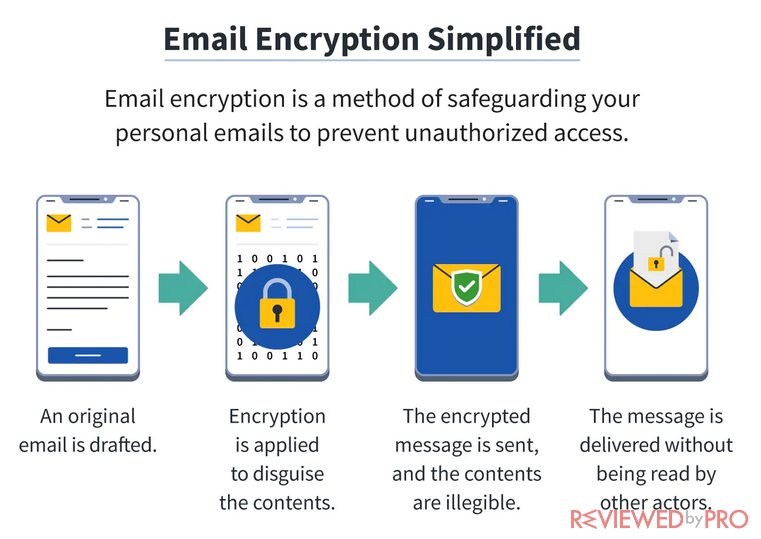 mail encryption
For Outlook, encrypting with S/MIME
File > Options > Trust Center > Trust Center Settings 
Email Security on the left panel > Encrypted Email 
Settings > Certificates and Algorithms, select the S/MIME certificate 
Encrypt your messages on Outlook, encrypting with Microsoft 365
Options > Encrypt
Encrypt-Only or prevent forwarding with Do Not Forward
Encrypt your messages on Gmail
While composing emails, turn on Confidential mode. It is at the bottom right of the window corner.
Then, set an expiration date and passcode. It will send a password to the user. 
Why does somebody want to send anonymous emails? 
There are many reasons why people want to stay incognito while sharing information with others. For example, if you work as a journalist, you need to stay in a shadow to avoid trouble, because you never know how the opposition will react to your posts and articles. 
Any Email services provider might be hacked and your sensitive data might be shared or sold on the dark net and similar places. There were many similar cases in history and to avoid it is better to encrypt them. 
Also, free email service providers are tracking their users' activity and selling some data to advertisers. For example, you are chatting by email with your friend about "Nike Shoes" and the next day you start seeing advertisements for "Nike Shoes". It is because you have used some keywords in the text and triggered some mechanisms that start tracking you and showing ads. 
Going further, some people want to report some information to authorities and stay incognito. For example, you suspect that your neighbor is a gangster and you want to report to the police some illegal activity he is doing. So you don't want to get in trouble with your neighbor, but you can report it anonymously by email to the police. 
Some people are using anonymous emails to sign up in forums, websites, or communities to stay unidentified. 
Is it possible to track anonymous emails?
If you read an entire article, you already know the main rules on how to keep your emails anonymous. If you don't read everything, we will repeat once again what to do in order not to be tracked by sending an anonymous email: remove "metadata" from attached files, use VPN, and use premium anonymous mail services. If you will keep all those three rules, there are no chances that your anonymous email will be tracked.
About the author