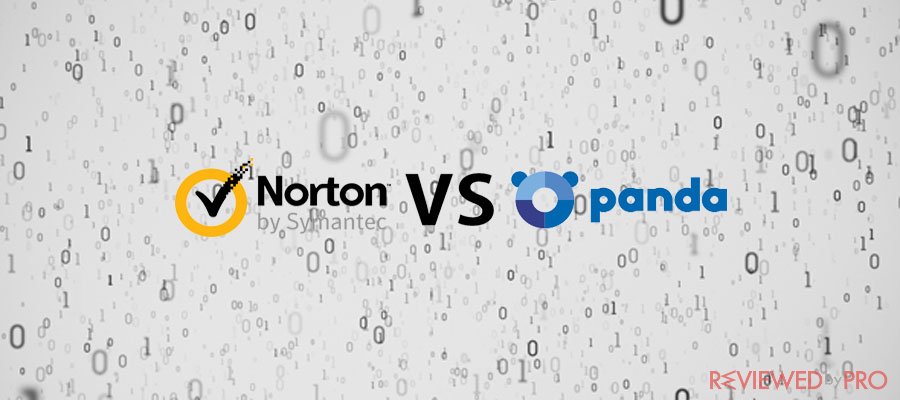 As Windows operating system continues leading IT industry, threats targeting Windows remain increasing. However, Windows PCs are not the only being targeted, cybercriminals and attackers aim to target Macs, Android, and iOS devices, as well as other smart devices. So those who want to use the smart devices, and browse the Internet with confidence have to get an additional layer of protection – an Antivirus and Internet Security software.
However, it could get hard to choose the right antivirus for you. This is why, our team at Reviewed by Pro, test and try security applications, in order to provide customers with the latest and up-to-date information about Security, Privacy, Recovery software and other utilities that can increase users' security and privacy and devices' performance.
If you have decided to choose Norton or Panda, continue reading this article. It will reveal the main features we have tested including offerings, main features, antivirus protection, performance rates, user interface, and customer support.
Which is better Norton or Panda?
Both names Norton and Panda are well known in the antivirus industry.  In addition, they both have long experience in the market, millions of users around the work and offer various digital security services and tool.
If you do not have to read the entire article, check out the table below. It reveals the winner according to different tested categories.
| | |
| --- | --- |
| Feature | Winner |
| Pricing | Norton offers flexible plans and lower prices. |
| Antivirus protection | Norton demonstrates better malware detection rates. |
| Security features | Panda has a wider selection of features and tools. |
| System-performance impact | Norton demonstrates better performance. |
| User Interface | Panda has more convenient interface. |
Norton Overview
Norton[1] is an Internet Security and Antivirus brand developed by a security giant Symantec[2]. The company is headquartered in Mountain View, California, United States, and has centers in Pune, Chennai, and Bengaluru. Symantec focuses on digital security services since 1982 and owns names such as SurfEasy VPN, Norton, LifeLock, and other famous brands.
This American-based company provides products for individual users, enterprises, small and medium businesses across the globe. Norton also offers users security products across the major operating systems, such as Norton Security for Mac, Norton Security & Antivirus for Android, iOS and other smart home devices.
| | |
| --- | --- |
| Feature | Score |
| Antivirus protection | Excellent |
| Additional features | Full-featured antivirus solution |
| System-performance impact | Minimal hit on a system |
| Scanning performance | Stable and accurate scans |
| User interface | Very bright and simple |
Panda Overview
Panda Security[3] is a Spanish-based software company. It specializes in providing security software, including antivirus, firewall, spam, and spyware detection, as well as advanced cyber security services with technology that prevents cybercrime since 1990.
Panda Dome is a once-complex suit of next-gen antivirus applications that are compatible across all of your devices, including Windows, Macs, Android and iOS devices, as well as smartwatches.
Panda also develops a range of products including Panda Dome for Windows, Panda Dome for Mac, Panda Antivirus for Android and iOS devices.
| | |
| --- | --- |
| Feature | Score |
| Antivirus protection | Decent |
| Additional features | A very decent set of extra features for free |
| System-performance impact | Heavy |
| Scanning performance | Slow scans with a medium impact on a system |
| User interface | Pleasant interface which can be customized |
 Offerings
Norton also offers a variety of packages to suit every customer needs. Norton has a range for home and business users across all the major operating systems. For home users, Norton[4] offers the following:
Norton Security Standard – comprehensive protection for Windows and Macs.

Norton Security Deluxe protects all the data of all the devices including Windows, Macs, Android, and iOS.

Norton Security Premium can protect up to 10 devices, adds cloud PC storage and Parental Controls.

Norton Security Deluxe with LifeLock Standard protects all the data on the devices and includes LifeLock Standard Identity Theft Protection.

Norton Security Deluxe with Norton Secure VPN.
Panda Dome[5] offers users with a free version of the application and has four paid versions, including the following:
Panda Dome Essential 

Panda Dome Advanced 

Panda Dome Complete 

The most expensive tier that also includes a Premium VPN Service, Panda Dome Premium.
Discounts and offers are often available. Our readers actually get 25% discount. So make sure to check our offer!
Panda also offers users a 30-day money-back guarantee, so you will be able to test the application and see whether you like it or not.
What you are getting: the main Features
All Norton Security products offer protection against spyware, phishing emails, and ransomware.
Norton Security Standard provides users with real-time protection and safeguards users against existing and emerging malicious software, including viruses, ransomware, and other threats, protects private and financial information while surfing the Web. If you require more features, such as parental control, or online backup you can choose more expensive Norton tier Deluxe or Premium.
Norton Security Deluxe offers all Norton Standard features, covers all user devices with a single subscription and ads easy-to-use Web portal.
Norton Security Premium offers all the mentioned features and also backs up important users information, includes 25 GB of automatic online backup and Premium Online Family Safety features.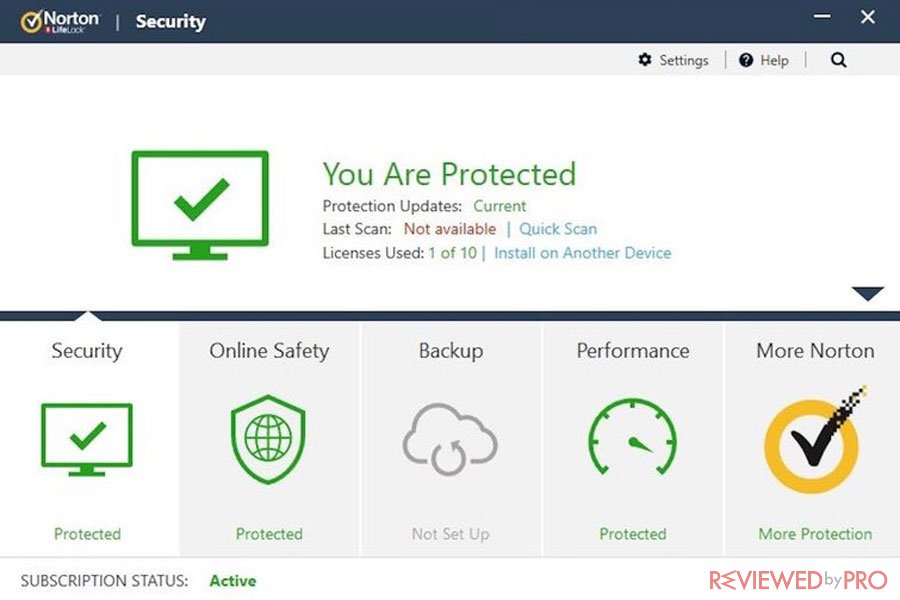 LifeLock Standard and Norton Secure VPN. These tools can be added together with security software or purchased as standalone applications.
Panda provides four types of paid plans:
Panda Dome Essential includes antivirus and personal firewall, it also protects Wi-Fi, secures online browsing and shopping, as well as protects USB device.
Panda Dome Advanced offers all what Panda Dome Essential offers and also Protection Against Ransomware and all types of viruses, Parental Controls, App Lock and Call Blocker.
Panda Dome Complete offers all that Panda Dome Advanced does, and also includes Data Protection and Password Manager, Device Location, TuneUp, and Remote Control.
Finally, Panda Dome Premium includes all the mentioned features and also adds 24/7 unlimited premium technical support and Premium VPN services. 
To sum up, Panda offers a wider selection of features and tools with its' paid security packages.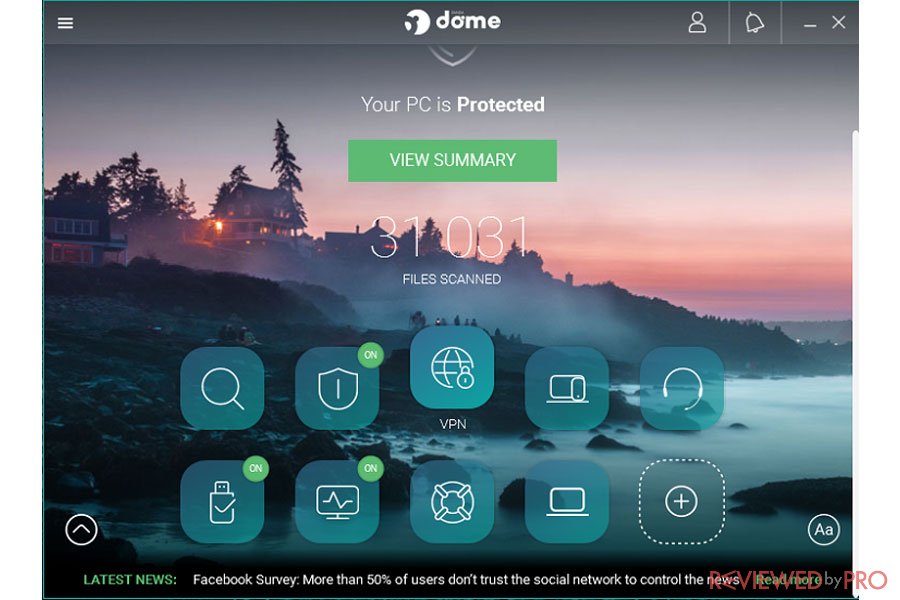 Antivirus protection
In order to protect PCs against malware and viruses, Norton uses traditional signature-based malware detection and heuristic monitoring. In addition, the defenses include intrusion prevention which analyzes network traffic. All of the suspicious files detected are sent to the company's cloud-based servers for further analysis.
When it comes to malware detection rates, Norton demonstrates flawless results.
As we tested the antivirus protection on our test computer running Windows 10, Norton managed to detect all the malware samples we have installed.
In the latest AV-TEST[6] testing lab results, Norton detected 100% of both, zero-day malware attacks, including web and e-mail threats and widespread and prevalent malware samples.
When it comes to Panda's antivirus performance, the results can seem a bit inconsistent. It also applies similar antivirus defenses and combines a traditional signature matching engine and heuristic monitoring. Once the system detects anything suspicious, it sends the icons to the Panda's could based servers for further investigation.
The independent testing lab AV-TEST[6] tested Panda in its latest tests, and the results were pretty good, as it detected 100% zero-day malware attacks including web and email threats, and 99.7-99.8% widespread and prevalent malware.
However, in the earlier tests, Panda demonstrated bit lower malware detection results.
To sum up the antivirus scores, Norton demonstrates slightly better malware detection rates as it detected 100% of both, zero-day and widespread malware.
System-performance impact and scans
Norton provides better performance results than the market average, as it does not slow down the system or cause interruptions or lags.
When we tested the resource usage of Norton, the antivirus demonstrated average results – the boot time was a bit slower in comparison to other products in the competition; however, it didn't make a big impact. During the full scan, the application slowed down the system by 17%, which is not that much considering the program does a difficult job scanning every corner of the computer.
Norton was also tested by AV-TEST. You can see the results below:
Slowing-down a system while launching popular websites – 10% (19%)

Impact on a system while downloading frequently-used applications – 0% (1%)

Impact on a system while launching standard software applications – 6% (8%)

Impact on a system during the installation of frequently-used applications – 25% (25%)

Impact while copying of files – 0% (3%)
The full system scan for us took almost an hour and 10 minutes, while the quick system scan took almost 4 minutes. Users are able to limit scans to the most dangerous files, then the full system scan will be finished in less than half an hour.
When it comes to antivirus performance, Panda has never been a winner, as it has a notable impact on a system and tends to slow down the system's performances.
However, over time Panda's performance scores improved and from 3.5 out of 6.0, the antivirus was rated 5.0 out of 6.0 by AV-TEST.
Impact while launching popular websites – 12% (19%).

Impact while downloading frequently-used applications – 17% (1%).

Impact while launching standard software applications – 7% (8%).

Impact while installing frequently-used applications – 44% (25%)

Impact while copying files – 17% (3%).
Panda also offers various types of scans including Full, Critical and Custom. If you prefer, you can scan any file or folder using right-click and select to scan it. In addition, scans can also be scheduled.
When it comes to performance rates, Norton is a winner again. The antivirus has a minimal hit on a system while working in the background and also during scans.
User interface
Norton's user interface is very informative and provides users with many options and data. However, some users can find it a bit complex and difficult to use. Most of the features can be found on the main screen which includes tabs for Security, Scans, LiveUpdate, Advanced and Add Devices.
The Panda's user interface is quite good-looking and convenient. After rebranding from Panda Security to Panda Dome, the interface changed but it is still very well-designed and pleasant to use. The main window provides with all the main features and options. It also has the left-side menu bar that mirrors the icons and ads powerful categories, such as Settings.
After using both software, we found that Panda is more customizable and convenient.
Support
Norton offers users to reach support via its interface. Users also can get help via a live chat and a local 24/7 technical support. For those, who prefer to look for information themselves, Norton has an informative support page with community forums, FAQs, manuals and other product related information.
Panda includes free customer support only with its most expensive plan. It also has a very convenient support page that includes a huge knowledge base, including FAQs, manuals, tips and other important product-related information categorized according to the product and operating system.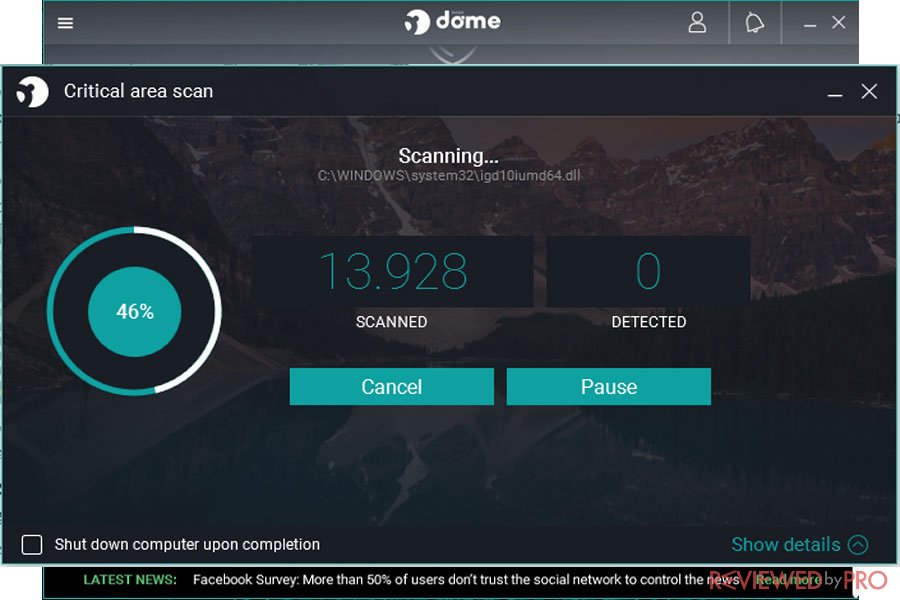 The final verdict
Norton is one of the most customizable and flexible security solution available in today's antivirus market. The application always demonstrates excellent malware detection rates and great performance. However, it may seem to lack some features.
Panda is a very decent and highly customizable application. It offers some unusual features like the vaccination tool or the rescue kit. All of the features work fast and the cloud-based processing technology makes it even faster. However, performance and antivirus rates are just average.
To sum up the entire evaluation and results of both programs, our first choice is Norton, as it demonstrates flawless antivirus detection, minimal impact on a system and reasonable prices. However, it can lack some features that Panda offers.  
The table below summarizes our test results – Detection rates, Performance, and Usability. 
| | | | |
| --- | --- | --- | --- |
| Manufacturer | Detection rate | Performance | Usability |
| | 10 | 10 | 10 |
| | 9 | 8 | 10 |
Our security team at Reviewed by Pro constantly tests new products in order to provide you with up-to-date information and reviews of the latest Internet security and antivirus applications, privacy solutions, recovery tools, and other utilities, not just for your Windows PC, but also for your Mac and Android devices.  
About the author
References