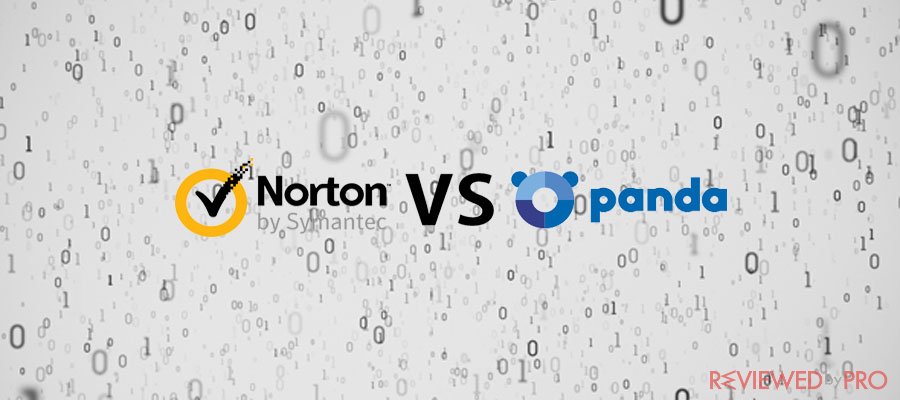 Norton or Panda Which is better
If you want to know which one is the better antivirus software Norton or Panda, then you have come to the right place as we will dissect various aspects of them based on things that experts consider a topnotch antivirus software should possess.
See this section below if you wish to know the outcome of Norton vs. Panda without reading the complete article:
If you do not possess the time to read through the comprehensive comparative analysis and wish to know the results between the battle of Norton and Panda antivirus software quickly, then we have specially arranged this segment for you.
We will summarize the result based on the several comparisons and show the eventual winner of the contest:
Pricing – Even though Panda offered coverage on every platform, including iOS and Android, it only allowed the luxury to use one device with one account. Norton, on the other hand, provides coverage as much as an unlimited number of devices with its ultimate plus plan – Winner: Norton Anti-Virus by Symantec;
Protection – While both Norton and Panda were able to score similarly in identifying and responding to newer forms of Malware, Panda lagged a bit behind in the real-world test against zero-day malware – Winner: Norton Anti-Virus by Symantec;
Features – There was an extreme level of similarity between the functions of Panda and Norton as both had VPNs, password managers, and an unbroken line of attack against ransomware. But Norton coverage in dealing with the financial and anti-theft matters for the user allowed us to declare it as the winner – Winner: Norton Anti-Virus by Symantec;
System-Performance Impact – Panda antivirus software was unable to work as efficiently when we tried to open built-in apps and other websites. Norton responded well under every scenario we used it on, and it is why we made it the winner of this round – Winner: Norton Anti-Virus by Symantec;
User Interface – Panda's interface seemed a bit complex for the average user to handle even though it was elegant. Norton, on the other hand, had a much simpler interface, which was easy to use – Winner: Norton Anti-Virus by Symantec;
Customer Support Service – Though Panda offered a live chat facility, the users of plans other than the Dome Premium Plan do not have the opportunity to use the basic customer care service – Winner: Norton Anti-Virus by Symantec;
Popularity – According to the recently published report on the market share of antivirus software released by OPSWAT, Norton is the number virus-detecting product in the world with 13.67% control of the market. Panda was nowhere to be seen, and it is why we had to give this round to Norton – Winner: Norton Anti-Virus by Symantec;
 

panda security

panda security

Antivirus protection

10
9.7

System-performance impact

10
9

User interface

10
9

Popularity

10
7
Overall rating
10

9.2

Regular pricing
From 39.99 / device for 1 year

From 22.95 / device for 1 year
Final Winner: Norton Anti-Virus by Symantec
Norton or Panda – A full analysis that will determine which antivirus software is better than the other for you
There is no denying the value an antivirus software brings to the table, but it sometimes gets confusing for the user when they scroll around the internet looking for the best service possible for their device against any potential virus threat that could loom over and destroy every file on it.
If you are looking for the answer to which antivirus software is better among Panda and Norton, then you are in the best place as will look upon the following their qualities based on the following attributes, that will put your decision-making process at ease, as we will also declare a winner at the end of every round.
Norton offered more versatility in the Pricing department whereas Panda was a bit dull
All discussion should start with the person's budget and their ability to purchase a product such as antivirus software. Sadly, the majority of the public does not possess the same level of monetary freedom as some, and it gets difficult for them to arrange for a budget or make a commitment to buying software such as an antivirus. In this section, we will solve your confusion and show you the various pricing plans of Panda and Norton. Once we do that, we will display to you our verdict on which service has a better pricing policy to cater to the average buyer of the antivirus software.
Norton's Subscription Plans
If you are looking for virus protection on just a single device, then Norton offers an affordable plan for your Mac or Windows PC at the cost of only $29.99/year. Norton also has you covered if you ever decide to share your antivirus account on other cross-platform devices among family and friends with a minor price of $39.99 across 5 devices. Here is the full list of all of Norton's pricing plans that range from one device to an infinite number of platforms, depending on which package you pick:
| | | | | |
| --- | --- | --- | --- | --- |
|   | Norton AntiVirusPlus | Norton 360Standard | Norton 360Deluxe | Norton 360 withLifeLock |
| PC or Mac | 1 | 1 | 5 | 5 |
| Anti-Spyware, Antivirus, Malware, and Ransomware Protection | ✔ | ✔ | ✔ | ✔ |
| Online Threat Protection | ✔ | ✔ | ✔ | ✔ |
| Smart Firewall | ✔ | ✔ | ✔ | ✔ |
| Cloud Backup | 2 GB | 10 GB | 50 GB | 100 GB |
| Password Manager | ✔ | ✔ | ✔ | ✔ |
| Virus Protection Promise | ✔ | ✔ | ✔ | ✔ |
| Secure VPN | ✗ | ✔ | ✔ | ✔ |
| SafeCam | ✗ | ✔ | ✔ | ✔ |
| Dark Web Monitoring Powered by LifeLock | ✗ | ✔ | ✔ | ✔ |
| Parental Controls | ✗ | ✗ | ✔ | ✔ |
| LifeLock Identity Alert™ System | ✗ | ✗ | ✗ | ✔ |
| Credit Monitoring | ✗ | ✗ | ✗ | ✔ |
| Million Dollar Protection Package | ✗ | ✗ | ✗ | ✔ |
| Price from | $39.99 | $49.99 | $59.99 | $99.99 |
| Discount for our readers | -20% | -30% | -40% | -50% |
Other than offering such high-class pricing plans for anti-virus protection, Norton provides its users a fantastic VPN facility to maintain privacy on the world of the internet. You can use the VPN across as much as 10 devices(Windows, Android, macOS, and iOS) with a single subscription fee of $59.99 per year. If you do not wish to avail of the multi-device facility of Norton, then you can get the package for a small cost of $39.99 per year.
Panda's Subscription Plans:
Even though Panda's pricing offers are very affordable, but it only caters to the needs of the individual user, not much so for the person who is looking to share their antivirus software subscription with multiple people and devices. However, it is available on the top four platforms, including Windows and macOS.
| | | | | |
| --- | --- | --- | --- | --- |
|   | DOME Essiantial | DOME Advanced | Dome Complete | DOME Premium |
| Antivirus protection with Firewall | ✔ | ✔ | ✔ | ✔ |
| Mac and Android devices real-time antivirus protection | ✔ | ✔ | ✔ | ✔ |
| Free VPN – Limited 150MB/day | ✔ | ✔ | ✔ | ✔ |
| Protect your WiFi network from hackers and prying neighbours | ✔ | ✔ | ✔ | ✔ |
| Scan external/USB devices and keep them safe from any kind of threats | ✔ | ✔ | ✔ | ✔ |
| Parental Control | ✗ | ✔ | ✔ | ✔ |
| Identity protection | ✗ | ✔ | ✔ | ✔ |
| Ransomware cyberattacks and advanced threats protection | ✗ | ✔ | ✔ | ✔ |
| Data Shield – Encrypt your confidential data | ✗ | ✗ | ✔ | ✔ |
| Password Manager | ✗ | ✗ | ✔ | ✔ |
| Cleanup Tool | ✗ | ✗ | ✗ | ✔ |
| Premium Unlimited VPN | ✗ | ✗ | ✗ | ✔ |
| Unlimited Premium 24/7 Technical Support | ✗ | ✗ | ✗ | ✔ |
| Pricing | $23.99 / 1 device | $31.99 / 1 device | $49.99 / 1 device | $79.99 / 1 device |
| Discount | – 40% off | – 40% off | – 40% off | – 40% off |
While Panda's plan appears to be cheaper but they are too much to ask from a single user and do not offer the consumer the right to pick between a single-device plan or a multi-device one. On the other hand, Norton anti-virus software allows convenient pricing offers across as much as infinite devices for businesses, along with with 5 to 10 device coverage packages for individual users. It is the reason why we were more inclined to pick Norton Antivirus software as the winner of the pricing bout.
Winner: Norton Anti-Virus by Symantec.
Norton responded exceptionally well against old and new malware while Panda lagged a bit behind in our protection rating comparison
With days of 5G technology bracing our smartphone, and the internet in the near future that will allow the user to connect every device, they own much more appropriately; our data will become ever so vulnerable to new malware, ransomware, and other threats, like never before. It is vital to get the antivirus and other tools to initiate data protection we deserve. In this section, we will cut apart the performance potency of both Panda and Norton antivirus software and see which one of the two is capable enough to tackle every new and old virus:
Panda's Protection Results:
We conducted the real-world testing procedure to check the protection capability of Panda antivirus software with which we ran more than 300 samples of spam email filled with malware on the computer and checked whether Panda responded to them. Panda scored an excellent score of 99.2% in the test. We also collected thousands of recently identified malware from the internet and other sources and ran them through the PC as well, and to our surprise, Panda was able to detect each one of them and got a perfect 100%. Due to such excellent performance, we gave Panda antivirus software a rating of 9.7 out of 10.
Norton's Protection Rating:
In the real-world testing method, Norton was able to detect each of the 300 samples of zero-day malware and suspicious email with an efficiency of 100%. The same was the case with identifying newer forms of malware, which were more than 30,000 in number. We ran each one of them across Norton antivirus software and found that Norton was responsive to every single one of them, without any false alerts. For scoring a perfect 100% in both rounds, we had to give an ideal rating of 10 out of 10.
| | | |
| --- | --- | --- |
| Protection rate | | |
| Protection agains 0-day malware attacks (web and email threats) | 100% | 98% |
| Detection of most common spread malware in last 4 years | 100% | 97% |
| Protection Score | 10 | 9.7 |
It was hard to pick a winner in the contest of protection comparison, as we know that offering protection against viruses is the primary job of the antivirus software, and both Panda and Norton were bound to give excellent results. But it was Norton's 100% score as compared to Panda's 99.2 in the real-world testing that forced us to declare Norton as the winner of the protection comparison.
Winner: Norton Anti-Virus by Symantec.
Norton was compatible with even the most average household computer while Panda showed deficiency in its functions in the system-performance comparison
Given the high-stake working of the antivirus software, it has to take much power from the system that it is supposed to operate on, and sometimes it affects some other functions of the computer that we perform on a routine basis. The general services of the system are as follows that get concerned when we switch on the antivirus software:
Accessing regular and popular websites from the web-browser;
Downloading other third-part software from the internet;
Installing the program that we had downloaded earlier;
Running standard applications on the computer such as MS-Office;
Moving files from one location to another within the PC.
If the antivirus software doesn't respond well when we run the functions as mentioned above or vice versa, then it is advised to change the program as there is no point in working with an antivirus program that makes your computer feel like a lesser machine.
Now we will check the system-performance rating of Norton and Panda antivirus software based on the circumstances mentioned earlier and see which one of the software affects the system's ability to operate to the least.
Norton's System Performance Rating:
Comparing the industry average set by the experts based on the particular scenarios that we discussed above, Norton showed excellent results, no matter whether we opened any high-end website such as Facebook, or downloaded/installed any new application on the computer. However, there was a little bit of resistance from the system when we used the built-in programs of the Windows operating system. But that minor hiccup wasn't enough for not giving Norton antivirus software a perfect system-performance rating of 10 out of 10.
PANDA's System Performance Rating:
When we compared Panda's impact on the performance of the computer system, it was mostly at par with the industry average, under the given scenarios, other than opening particular websites and installing new apps on the PC. The PC showed extreme signs of sluggishness, especially when we tried to install a new VPN software on the system. It is why Panda wasn't able to score a perfect 10, and we had to give it a rating of 9 out of 10.
| | | |
| --- | --- | --- |
| System-performance | | |
| Slowing-down when launching popular websites | 10% | 12% |
| Slower download of frequently-used applications | 0% | 17% |
| Slower launch of standard software applications | 6% | 7% |
| Slower installation of frequently-used applications | 25% | 44% |
| Slower copying of files (locally and in a network) | 0% | 17% |
| Overall rating | 10 | 9 |
Although Panda Security Software showed promise and worked efficiently under normal circumstances, it still wasn't close to what Norton scored. Norton was hands down the superior software out the two as it outperformed Panda under every situation, which prompted us to declare it the winner of the performance rating bout. You can see the side-by-side comparison of Norton and Panda in the table below, that reveals why we picked Norton over Panda:
Winner: Norton Anti-Virus by Symantec.
Norton offered more versatility in regards to features than Panda
The Features are the heart and soul of any software product, and if they are dynamic and offer versatility with its one real function, then the sales are bound to increase, the more, the better. Now we will look upon some essential utilities of both Norton and Panda and see which one of them offer more resourcefulness other than giving the means to fight off the computer virus:
The Features of Norton Antivirus software:
From a VPN to managing the financial matters of the individual consumer, Norton antivirus software is a complete package, which promises 100% virus protection. Here are some vital benefits that come with Norton, once you purchase the service:
A VPN service that offers bank-grade encryption and allows you to browse the internet anonymously;
The Password Manager conveniently stores all the information of your accounts, credit cards, and others with a complete sense of security;
A Cloud Storage platform ranging from 10GB to 500GB based on the package you picked that we discussed in the earlier;
Features like the Dark Web Monitor, Safe Cam, and Credit Monitoring keeps the activities of cybercriminals at bay, and they directly alert you upon finding any anomaly;
The Million Dollar Protection Package reimburses you for stolen finances if your identity gets stolen by someone on the internet.
The Features of Panda Antivirus software:
Panda promises all-around protection from viruses from your computer system to your external storage device, such as a USB. It also keeps the storage of your PC light by erasing the unwanted cache files and cookies from the system. Here are some additional features of Panda antivirus software:
Parental Control to manage your child's internet activity;
The Password Manager that memorizes all of your account details for your handiness;
Complete protection from Malware, Ransomware, and other advanced threats;
VPN coverage with unlimited bandwidth and free VPN with a data allowance of 150MB per day;
The Data Shield function to encrypt all your data;
Panda offered amazing features in regards to tackling all advanced threats such as malware and ransomware while providing a quality VPN with unlimited data usage feasibility, but it was still no match to what Norton offered. It was thanks to Norton's ability to manage the user's finances and fake identity monitoring utility. And it was why we considered Norton to be the superior antivirus software as the preferred service in terms of features.
Winner: Norton Anti-Virus by Symantec.
Analysis of the app interface of Norton and Panda
The interface of the software is the actual manager of convenience to the user on how to enable protection from online threats, no matter if the software is a VPN or an antivirus. The service must offer ease of access to the app for the computer system, keeping in mind that the majority of the consumers do not carry the technical knowledge to understand the technicality of the PC or the software. Now we will show you the inside of the app interface of Norton and Panda and give us our verdict on which one surpasses the other.
The Interface of Norton:
With a white and greenish color amalgam, Norton offers a worthy yet straightforward interface to the user with its software. Once you open the software, you will see a horizontal lineup of the following options, each of them carrying utility of their own:
Security;
Identity;
Performance;
More Norton.
You have the freedom to perform a "Quick Scan" by hitting the option right in the middle of the interface, under the big "You are Protected" message.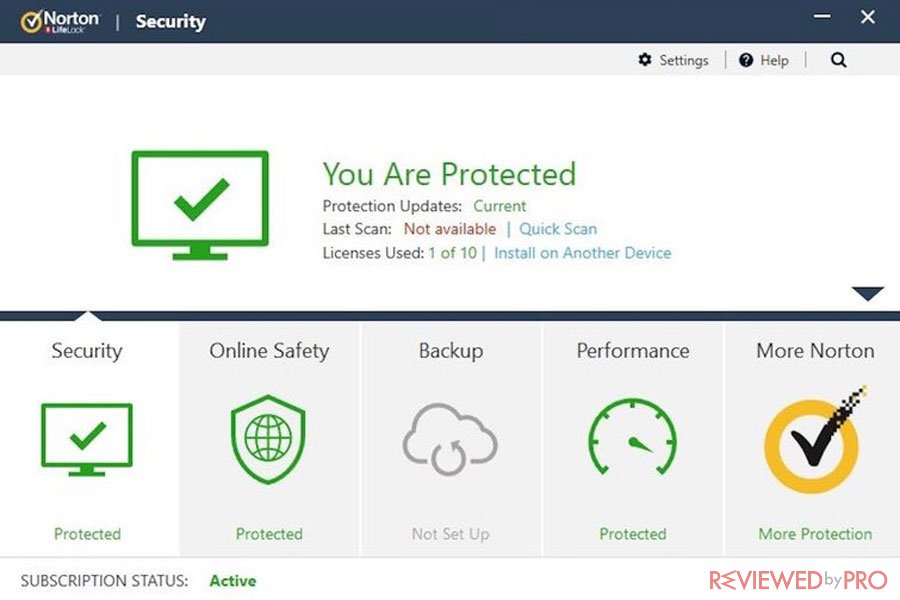 Norton Security Protection is Active
You will also be able to see the last time you scanned the device and on how many platforms you have had availed the license. The subscription status usually is slated at the bottom of the interface, which is suitable in keeping you alert on when to resub or cancel the service.
The Interface of Panda:
Panda's interface could be an acquired taste for most users as the big scenic wallpaper behind the icons could get a bit distracting. The while software gives out a feel of a mobile app or the home screen of the smartphone. Upon opening the app, you will be able to see the "Your PC is Protected" sign with a "Summary" tab right at the bottom of it. The big icons tags allow you to pick any utility that came with the package with only one-click. Overall the whole interface of Panda's antivirus software is unique, and we liked it.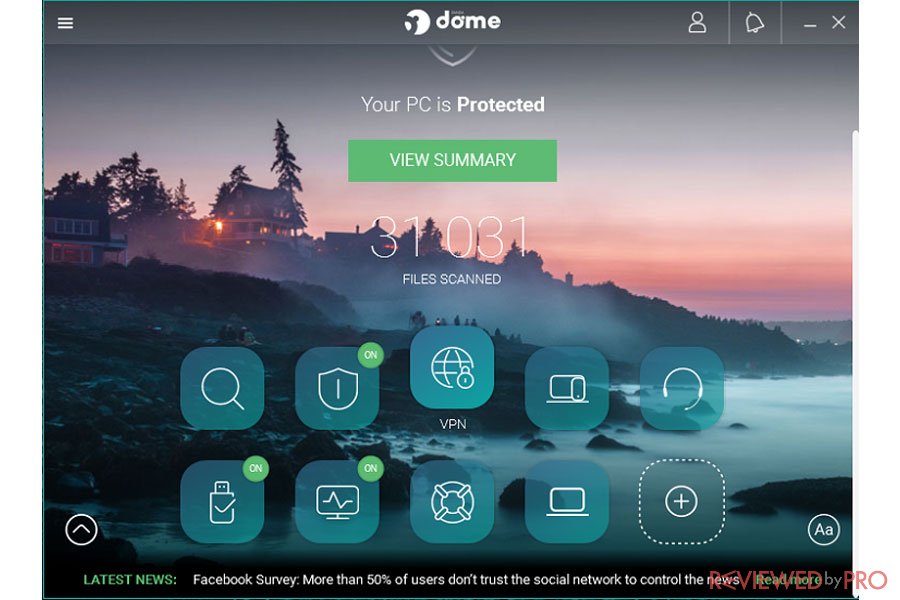 Panda Dome computer is protected
Understanding the confusion that may overcome the average user opening the software of Panda antivirus, we had to give our verdict in favor of Norton as it was a bit more simple to use.
Winner: Norton Anti-Virus by Symantec.
Norton won against Panda on account of its Youtube channel
The first line of defense for a user when the virus takes over and the antivirus software fails to respond to the threat is the customer support program of the antivirus service that hires security experts and design their support section with informative guides and FAQs to serve the exact purpose. In this section, we will look upon the various offerings of the customer care program of Norton and Panda, while comparing their utilities and figuring out which is better than the other:
The Customer Care Facilities of Norton Antivirus Software:
From a live chat filled with technicians that is available 24/7, Norton's customer support facility is one of a kind. Here are some of the utilities of Norton that you could avail upon entering the support section from its official website:
User-guides that carry useful information to tackle common issues;
A Community Setting for the users of Norton to share their problems related to the antivirus software and find solutions;
An FAQ section which gives the rudimentary users on how to manage the antivirus software, along with information regarding subscription renewal, and many more;
A full-fledged Youtube channel containing video tutorials to solve simple problems and information regarding the newer versions of Malware;
The Customer Care Facilities of PANDA Antivirus Software:
If you have picked the Premium package of Panda antivirus software, then you have a one-click facility to chat live with security technicians of Panda upon dealing with any relevant virus-related query. Followed by that, you can also make full use of Panda's helpline from Monday-Friday if the live chat facility doesn't suit you. If you want to utilize other aspects of the customer care program, then Panda has arranged a separate FAQ section based on categories like "Set-up," "Purchases & Renewals," and "Customer Data."
Besides, Panda antivirus provides an excellent community interaction forum for every old and new customer to share their versions of solutions to the common problems that occur with the Panda antivirus software.
Despite the fact that we preferred Panda's live chat facility over what Norton offered in terms of finding quick solutions to potential virus threats, it was only available for users who have had subscribed to the Panda Dome Premium package.
Whereas Norton's live chat option was even open to non-customers, which is quite generous and a big marketable step in terms of gathering new buyers. Having a Youtube channel was a bonus as well, and for that reason, we picked Norton to be the winner over Panda antivirus software.
Winner: Norton Anti-Virus by Symantec.
An overview of the market share report on antivirus services
The market share analysis of any software product prompts the user in the right direction in terms of which product is the best and how well it is performing on the market. OPSWAT is a cybersecurity firm that manages such reports, notably by calculating the usage of antivirus software among Windows users. According to the latest analysis shared by the agency in January 2020, Norton is the number one antivirus software in the world. Whereas Panda failed to reach the top 10.
| | |
| --- | --- |
| Manufacturer/Brand | Market share |
| | 18.44% |
| | 12.58% |
| | 12.33% |
| | 10.54% |
| | 9.09% |
| | 7.03% |
| | 6.65% |
| Spybot | 6.29% |
| | 4.5% |
| | 3.27% |
Winner: Norton Anti-Virus by Symantec.
Final Thoughts
We are living in exciting times as new tech is allowing us to connect more freely among several platforms without any restrictions. But given the potential of data usage that comes with such liberty, our data and personal information has never been more vulnerable, as such advancements also open doors for hacker and other cybercriminals to do their dirty work more efficiently. For that purpose, having products like antivirus software and a VPN at our disposal has become even more vital.
In this comparative analysis, we have looked upon the different qualities of underlying antivirus software and compared Norton and Panda with them. In the end, we concluded that Panda was nowhere near what Norton had to offer to its user. Norton not only performed efficiently by itself, but it bettered Panda in every department. For that reason, we considered Norton to be the winner of this contest as the better antivirus software.
 

panda security

panda security

Antivirus protection

10
9.7

System-performance impact

10
9

User interface

10
9

Popularity

10
7
Overall rating
10

9.2

Regular pricing
From 39.99 / device for 1 year

From 22.95 / device for 1 year
The Final Verdict: Norton Anti-Virus by Symantec.
About the author