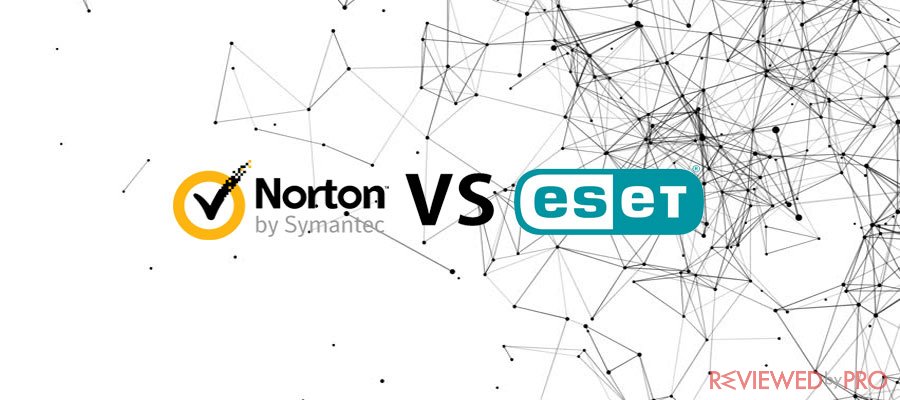 Norton and ESET are among the powerful antivirus software in 2020, and they have a wide variety of features and user-friendly utilities to back their claim to be the best. If you wish to know which antivirus software between them is better than the other and what point prompted the security experts around to declare that software to be the finest, then you are in the right place as we will do a thorough comparative analysis of Norton and ESET, which will remove each shred of doubt out of the window on which antivirus software to pick in 2020.
A Quick Rundown of the Complete Analysis of Norton and ESET and Why we Picked Norton as the Winner:
We based our analysis on the following features, and after reading that, you will know why we picked Norton over ESET, despite it showing whole around brilliance in every department. So, if you are short for time and feel that you can not read the complete article, then this section is for you, which will quickly sweep all the confusion away for you within a few minutes.
Pricing – Norton offered more plans for users looking to use the service on multiple devices as compared to ESET, which lacked such coverage – Winner: Norton Anti-Virus by Symantec;
Protection – This contest was more close than anything we had ever tried to check in various comparative analysis, but it was Norton that propelled to the top at the end, leaving ESET behind – Winner: Norton Anti-Virus by Symantec;
Features – We found more range in security features from a VPN to a password manager, and reliable service to keep tabs on your payment information, Norton had it all. ESET had plenty to offer, but it resorted only to providing protection against malware and ransomware – Winner: Norton Anti-Virus by Symantec;
System-Performance Impact – We found a little bit of issue while managing the computer while using ESET in the background as compared to Norton, as it permitted us to perform our routine operations conveniently without any interference or sluggishness from the PC's end – Winner: Norton Anti-Virus by Symantec;
User Interface – Interface of both Norton and ESET was simple, elegant, and intuitive, but still, we found Norton to be a bit better than ESET – Winner: Norton Anti-Virus by Symantec;
Customer Support Service – The customer care service of both ESET and Norton was pretty similar as both had an extensive gallery of FAQs, a youtube channel, and several how-to guides. But the main difference that also orchestrated our decision was Norton's live chat facility that was available 24/7, unlike ESET's which was available for people living in the US and Canada – Winner: Norton Anti-Virus by Symantec;
Popularity – Norton led the chart by being the number one stakeholder of the market as ESET finished at third – Winner: Norton Anti-Virus by Symantec;
Norton vs ESET a honest comparison of two robust antivirus software 2020
The user needs to do complete research before getting any product from the market; nevertheless, an antivirus software. When it comes to purchasing service for protection against viruses, one must always calculate their budget as usually getting something of such magnitude requires a longterm commitment. The other factor that sways the user's decision is the number of features that come with the price plan. In this comparative analysis, we will look upon comparison based on aspects like pricing, protection, popularity, and features. It will allow us to decide which one of Norton and ESET is better and why!
Norton was more affordable and offered a much more diverse pricing plan in comparison to ESET:
As we discussed in the previous portion of the article, how a software service designs its pricing policy usually becomes the deciding reason in the customer's whim to get the product. If the software is within the allotted budget of the person or if it offers enough multi-device support for them to share among family and friends, then the user will always pick that service over any other product. In this next sub-section, we will look upon the different pricing plans and cross-platform coverage of both ESET and Norton.
Norton's Pricing Packages
Not only is Norton available on all the top four platforms, but it also offers coverage on a maximum of 10 devices with a single account, starting from a price range of $39.99 per year, which is affordable in every regard. It also offers a 30-day free trial of your plan of preference. Here is the list of the pricing programs that Noton has to offer to its potential buyers.
Norton 360 Standard – It doesn't matter if you use a Windows PC or a Mac, you can consume this plan on your device for a small cost of $29.99 per year. But you can avail of this package on one Device at once. It also offers a 60-day return policy;
Norton 360 Deluxe – You can get this service right now for just $39.99 per year, and it will provide support across a maximum of 5 devices of various platforms, including Windows, Android, macOS, and Ios. With this plan you also avail the 60-day money-back guarantee;
Norton 360 with Lifelock – It comes with a 60-day money-back guarantee if you do not like the service. You can get it at $89.99 per year on up to 5 machines of multiple platforms including Windows, Android, macOS, and iOS;
Norton 360 with Ultimate Plus – With 250GB cloud back up facility and 60-day return assurance, this plan is well-matched for businesses as this plan can be utilized on an infinite number of devices of all platforms at $259 per year;
Norton Secure Line VPN – Available on Windows, Android, macOS, and iOS, you can get Norton's VPN for a small price of $39.99 per year and use the same account on as much as 5 devices. It is also available to be used on a maximum of 10 different platforms for $59.99 per year.
ESET's Pricing Packages:
Many services ask for your payment information before handing out the means to use their free-trial offer; it doesn't matter if the service is Netflix or any antivirus software. This is not the case with ESET as you have no obligation to provide any payment details whatsoever, in order to use its free version. We have arranged the information regarding ESET's different packages and details about their coverage across various platforms in the table below:
1. ESET Nod32 Antivirus
It gives coverage across a maximum of 5 devices with a price ranging from $39.99/year to as much as 159.98/year. You can see the rest of the details below:
2. The Eset Internet Security
This package starts at $49.99 per year and allows you to share the account on as much as 10 devices to be used simultaneously. Here are the additional details of the internet security plan.
3. Eset Smart Security Premium
You can access the Eset Smart Security Premium on your Windows, Mac, and Android devices for a price as low as $59.99/year:
4. Eset Cyber Security for Mac (Pro )

Advanced protection for Mac-based devices in the Eset Cyber Security Pro is available for Mac-based systems for a small price of $59.99/year. Here are some additional info for other plans
5. ESET Cyber Security for Mac

The package is available for $39.99/year, and it covers a maximum of 10 Mac systems for $129.99/year. The rest of the details are as follows:
6. ESET offers Mobile Security for Android
For Android users, who are tired of all the phishing attempts and require web protection, ESET offers Mobile Security for Android, which is available at $14.99/year.
While ESET's rates were in no way over the top, they were still no match with the likes of Norton as its most expensive plan allowed the user to use the antivirus software on unlimited devices at a much reasonable rate. It is why Norton was the unanimous winner of the pricing round.
Winner: Norton Anti-Virus by Symantec.
Norton performed exceptionally well as compared to ESET in our protection rating comparison
Data scientists and cybersecurity experts report that in the year 2020, the rate of malware attacks will grow exponentially as compared to the previous years. And with new advancements in bracing the tech world and allowing us to connect our devices more efficiently, our data has never been more vulnerable. It is why the antivirus software you select, no matter if it is ESET, Norton, or any other, should be able to react strongly against every type of virus, old or new.
In this section, we will check the protection rating of Norton and ESET based on the real-world testing method, which is experts use to check the zero-day malware attacks on a device. We will also check Norton and ESET's ability to detect the latest malware that we collected over the course of a month before conducting the tests.
ESET Protection Rating:
ESET was able to perform excellently well as it scored a brilliant 98.9% against responding to zero-day malware attacks. It also scored a perfect 10 in detecting each sample of the latest malware that was approx. 30,000 in numbers. Which is why we gave ESET antivirus software an excellent protection rating of 9/10.
Norton's Protection Rating:
Norton is one of the most identifiable and accessible antivirus software for a reason, and its protection rating proves the claim. It was able to score a perfect 10 on both tests. Not only that, it gave a 100% efficiency in the real-world testing method, but it also was able to respond to each one of 30,000+ new malware that were more deadly they have ever been. It is was out of the question to not give Norton a rating below 10.
The results:
Both Norton and ESET performed equally well when it came to the latest versions of viruses that we gathered over the period of 4-5 weeks before the test. The deciding factor was Norton's excellent performance in the Real-world testing method, where it was not only responsive to spam emails, but it was also able to detect every infected file from the device instantly, without sounding any false alarm. It is why we gave the protection round to Norton antivirus software.
| | | |
| --- | --- | --- |
| Protection rate | | |
| Protection agains 0-day malware attacks (web and email threats) | 100% | 98.9% |
| Detection of most common spread malware in last 4 years | 100% | 100% |
| Protection Score | 10 | 9 |
| Visit website | | |
Winner: Norton Anti-Virus by Symantec.
Norton had very less impact on the performance of the system, unlike ESET, which made it a bit choppy
Once you use the antivirus software on your computer system, it should not interfere with your day-to-day routine or affect the PC's efficiency to perform at all. The usual functions that we perform on the computer as follows:
Using the browser to access popular websites;
Downloading trending applications on the system;
Running the PC's built-in apps such as MS-Office;
Installing the trending apps that had downloaded earlier;
Copying data from one folder to another.
We will check whether Norton and ESET have any impact on the performance of the system while doing the tasks mentioned above and see which one of them prevailed at the end.
Norton's System Performance Rating:
Norton was able to work impeccably well when we tried all of those tasks mentioned above. The only issue we found was when we tried to access the built-in applications of the Windows operating system. It was the point when the PC behaved a little sluggish than usual. But still, it still wasn't enough for us not give Norton antivirus software a protection rating of 10 out of 10.
ESET's System Performance Rating:
While we found no issue with ESET while opening built-in utilities of the Windows OS, it was the point when we tried to install new programs into the PC, when we felt the device was lagging behind more than usual, as ESET was conducting a scan on the PC, in the background. There was also a slight disturbance in performance when tried to use the default browser of the PC to use the internet. It is why we gave ESET antivirus software a performance rating of 9 out of 10.
The results:
Norton was overall the better antivirus software in terms of having the least bit of impact on the system's performance. It doesn't imply that ESET's scores were terrible, but if we had to pick a winner, then it was clearly Norton.
| | | |
| --- | --- | --- |
| System-performance | | |
| Slowing-down when launching popular websites | 6% | 16% |
| Slower download of frequently-used applications | 0% | 3% |
| Slower launch of standard software applications | 21% | 4% |
| Slower installation of frequently-used applications | 27% | 35% |
| Slower copying of files (locally and in a network) | 2% | 1% |
| Overall rating | 9.9 | 9 |
| Visit website | | |
Winner: Norton Anti-Virus by Symantec.
Norton had the best overall features concerning the internet and data security as compared to ESET antivirus software
In this day and age, people look for added bonuses within the product rather than checking out the potency of their basic features. Data security caused such an extreme level of mayhem nowadays that expecting all-around coverage of protection, in departments of convenience such as using the internet, shopping, and playing video games is not too much to ask for, and it is why several antivirus service providers go out of their way to meet such level of expectations. In this segment, we will look upon the variety of functions provided by ESET and Norton and conclude which one of them is more suitable for you.
Norton's Features:
Other than scoring a perfect protection rating and offering foolproof security from data threats, Norton gives its customer facilities like VPN, anti-theft module, password manager, and payment info privacy. To top all that, unlike other cloud storage backup platforms, Norton offers a data backup facility in the form of cloud storage ranging from 10GB to 250GB, depending on the package you pick. Here are some of the additional features that come with Norton other than its ability to respond to viruses.
A Secure Line VPN;
The Password Manager utility offers to manage every account and its information in a much secure environment;
Features such as Dark Web Monitor, anti-identity theft and Safe came alerts you of any possible hacking attempts or if someone is using your identity elsewhere without your consent or not;
Your financial matters, such as 401K investment and credit card information remains safe when you activate Norton's Ultimate Plus plan.
| | | | | |
| --- | --- | --- | --- | --- |
|   | Norton AntiVirusPlus | Norton 360Standard | Norton 360Deluxe | Norton 360 withLifeLock |
| PC or 1 Mac | 1 | 1 | 5 | 5 |
| Anti-Spyware, Antivirus, Malware, and Ransomware Protection | ✔ | ✔ | ✔ | ✔ |
| Online Threat Protection | ✔ | ✔ | ✔ | ✔ |
| Smart Firewall | ✔ | ✔ | ✔ | ✔ |
| Cloud Backup | 2 GB | 10 GB | 50 GB | 100 GB |
| Password Manager | ✔ | ✔ | ✔ | ✔ |
| Virus Protection Promise | ✔ | ✔ | ✔ | ✔ |
| Secure VPN | ✗ | ✔ | ✔ | ✔ |
| SafeCam | ✗ | ✔ | ✔ | ✔ |
| Dark Web Monitoring Powered by LifeLock | ✗ | ✔ | ✔ | ✔ |
| Parental Controls | ✗ | ✗ | ✔ | ✔ |
| LifeLock Identity Alert™ System | ✗ | ✗ | ✗ | ✔ |
| Credit Monitoring | ✗ | ✗ | ✗ | ✔ |
| Million Dollar Protection Package | ✗ | ✗ | ✗ | ✔ |
| Price from | $39.99 | $49.99 | $59.99 | $99.99 |
| Discount for our readers | -20% | -30% | -40% | -50% |
| Try it for free | | | | |
ESET's Features:
ESET covers all its bases as well in giving complete protection from all types of Spyware and Malware with the help of an anti-spam firewall. However, ESET does not provide a VPN service for a much safer browsing experience for the user. Some of the added features of ESET are as follows:
The Password manager to manage all the account details;
Anti-theft and payment protection;
Botnet attack prevention;
Webcam safety to halt any attempts at hacking the consumer's PC camera;
Parental control feature to help manage the content that your child should be watching;
The Data Encryption utility helps in encrypting all the valuable files and photos.
| | | | |
| --- | --- | --- | --- |
|   | ESET NOD32 Antivirus | ESET Internet Security | ESET Smart Security Premium |
| Antivirus and Antispyware | ✔ | ✔ | ✔ |
| Anti-Phishing | ✔ | ✔ | ✔ |
| Gamer Mode | ✔ | ✔ | ✔ |
| Exploit Blocker | ✔ | ✔ | ✔ |
| UEFI Scanner | ✔ | ✔ | ✔ |
| Cloud-Powered Scanning | ✔ | ✔ | ✔ |
| Small System Footprint | ✔ | ✔ | ✔ |
| Script-Based Attack Protection | ✔ | ✔ | ✔ |
| Ransomware Shield | ✔ | ✔ | ✔ |
| Free Support in Local Language | ✔ | ✔ | ✔ |
| License Manager | ✔ | ✔ | ✔ |
| Banking and Payment Protection | ✗ | ✔ | ✔ |
| Personal Firewall | ✗ | ✔ | ✔ |
| Antispam | ✗ | ✔ | ✔ |
| Network Attack Protection | ✗ | ✔ | ✔ |
| Botnet Protection | ✗ | ✔ | ✔ |
| Parental Control | ✗ | ✔ | ✔ |
| Webcam Protection | ✗ | ✔ | ✔ |
| Connected Home Monitor | ✗ | ✔ | ✔ |
| Anti-Theft (Windows only feature) | ✗ | ✔ | ✔ |
| Password Manager | ✗ | ✗ | ✔ |
| Secure Data | ✗ | ✗ | ✔ |
| Discount for our readers | -20 Off | -20 Off | -20 Off |
|   | | | |
While expecting features like a VPN and a secure cloud storage platform is asking too much from an antivirus service provider, but Norton offers it to ultimate package users, and it is why there was no contest between ESET and Norton, and we had to consider Norton as the winner of this bout. But keeping in mind that ESET has one of the best features to tackle the most destructive viruses to strut the world of the internet, so this decision doesn't point to the fact that ESET is not a good antivirus software for you.
Winner: Norton Anti-Virus by Symantec.
We thought that Norton's interface showed much more user-friendliness as compared to ESET's app interface:
The antivirus software's app is the only thing that keeps us safe from data threats like malware and ransomware, and the interface must be intuitive and offer the first-time user the assistance they require to start getting the protection they deserve. Not only should the interface be pleasing to the eye with a refreshing layout, but it should carry one-click buttons so that the user doesn't get lost inside the app. In this section, we will talk about our experience with the interface of ESET and Norton and why we thought Norton was better than ESET's interface.
Norton's Interface:
Norton's app is a simple combination of a white background and a tinge of green around the edges of the icons such as Security, Identity, Performance, and More Norton. Each of these options leads you to their particular features and lets you initiate the protection protocol.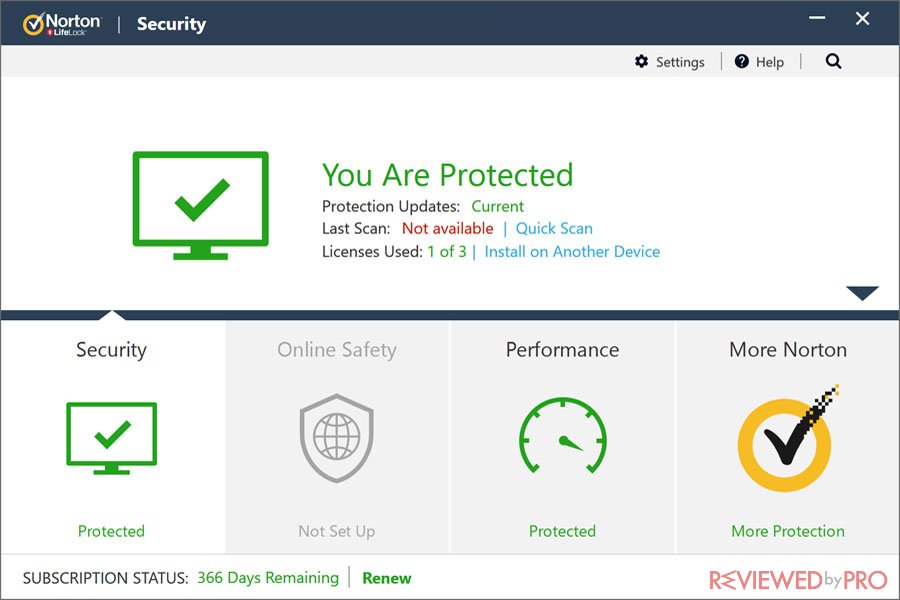 The "You are Protected" notification reveals the present status of the computer device. At the bottom of the app display, Norton has instilled a message of the user's subscription status. Overall, Norton's app was quite easy to use, and we were to run the data scan without any delay.
The Interface of ESET:
ESET interface has a white background with a yellow colored bottom-tier and blue icons. Unlike Norton's big icon button, ESET offers a vertical list of options, much like the Windows file explorer feature. The list includes the following options Home, Computer Scan, Tools, Setup, and Support, which are also one-click buttons that enable you to start their respective functions immediately.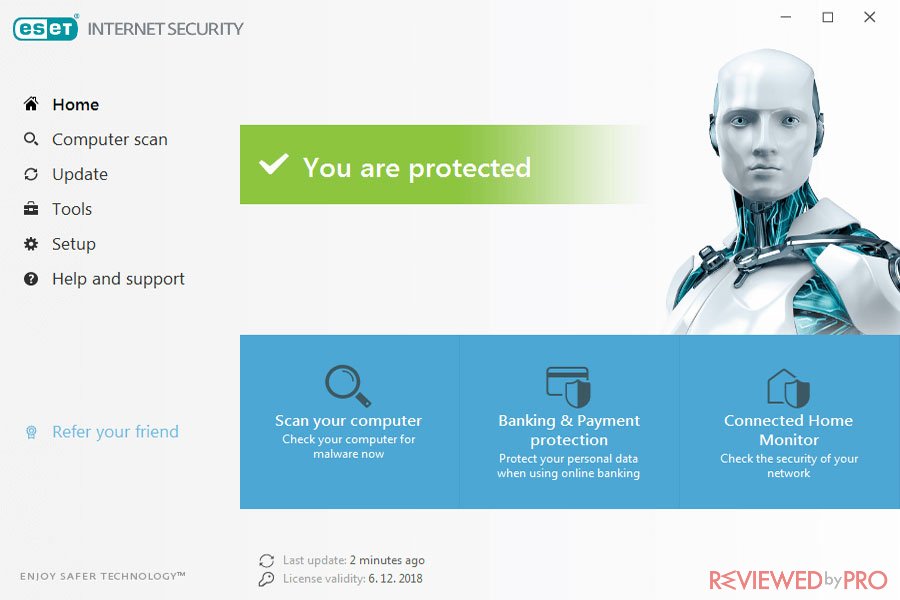 Other than that, ESET provides an instant scan option, in which you can simply drag and drop the damaged file on to ESET's interface. It is reasonably simple to use, as well. Our only complaint with ESET's app was the smaller size of the buttons available on the vertical list.
Both apps were extraordinarily in-depth and not confusing at all for users of all backgrounds, but we felt that Norton's app interface was a bit more intuitive than ESET's, primarily thanks to the much bigger icons. It is why we had to give this round to Norton antivirus software as well.
Winner: Norton Anti-Virus by Symantec.
Norton's 24/7 live chat stole the show against ESET in our customer support service comparative analysis
People typically resort to the customer care service of any product under the moment of extreme crisis, and it is why the product provider needs to hire expert customer care representatives, that are capable of fixing the crisis at hand. If, for some reason, the live interaction facility isn't available for the user in need of help, then carefully crafter how-to guides, FAQs, and video tutorials come in handy in solving conventional issues. In this section, we will show you the various customer care facilities of ESET and Norton and tell you about our decision on why we considered Norton to be better than ESET in terms of customer support service.
The Customer Care Facilities of Norton Antivirus Software:
Norton's customer support section offers the following services to its users:
A 24/7 live chat facility where you can interact with antivirus expert at all times;
A Community Forum that allows the users to share their problems when the live chat is out of service, for some reason;
An FAQ section, which includes sub-sections such as "download & install" and "renewal & purchase";
User-guide to remove the primary virus threats;
A Youtube channel that contains informative videos related to the service of Norton antivirus software;
The Customer Care Facilities of ESET Antivirus Software:
ESET has the following functions available with its customer care section, which is accessible from its official website:
A Live chat that is only available for people living in North America;
An Email support section that allows you to bypass the live chat utility and indirectly interact with the customer service expert;
A dedicated Youtube channel containing several how-to videos, and other information related to the antivirus service;
A Community Forum that enables the users to socialize and share their issues to get a proper solution;
An FAQ section of ESET is categorized under several options, such as the operating system(Win, macOS, Android, and Linux).
ESET and Norton had almost identical options when it came to offering customer care to its users. But the lack of a proper live chat utility was the primary reason which led us to consider Norton as the winner of the customer care comparison.
Winner: Norton Anti-Virus by Symantec.
Norton is more popular and controls the market, but ESET is not much far behind
A prominent cybersecurity firm named OPSWAT released a market share report on January 2020, which pointed to the top services that dictate the market with its users. It was also revealed that Norton was the number one selling antivirus software in 2020 with 13.67% and ESET was deservingly at the third spot with a market share percentage of 12.85%
Ranking Anti-Virus Programs Market Shares
| | |
| --- | --- |
| Manufacturer/Brand | Market share |
| | 13.67% |
| | 12.94% |
| | 12.98% |
| | 10.06% |
| | 9.09% |
| | 7.45% |
| | 6.4% |
| | 4.68% |
| Cylance Inc. | 4.19% |
| Trend Micro | 3.67% |
| Other | 15% |
Winner: Norton Anti-Virus by Symantec.
Final Thoughts
While we have nothing but respect for ESET, it was no match for Norton antivirus software as its performance was nothing short to be spectacular in every department. Not only did it show complete protective proficiency, but it also had the best miscellany in features that one could only dream of as comparer to ESET. Other than that, Norton's price plan was more reasonable for users looking for a much better multi-device coverage, which ESET failed to offer. In the end, there was no reason not to declare as the better antivirus software in comparison with ESET, which is backed up by OPSWAT's report on market share, pointing to the fact that Norton is real, number one!
| | | |
| --- | --- | --- |
|   | | |
| Antivirus protection | 10 | 9 |
| System-performance impact | 9.9 | 9 |
| User interface | 10 | 9.5 |
| Popularity | 10 | 8 |
| Overall rating | 10 | 9.2 |
| Regular pricing | From 39.99 / device for 1 year | From $39.99 / device for 1 year |
| Discount for our users | -20 Off | -20% Off |
| Try it for free | | |
The Final Decision: In the battle of Norton vs Eset wins Norton

About the author