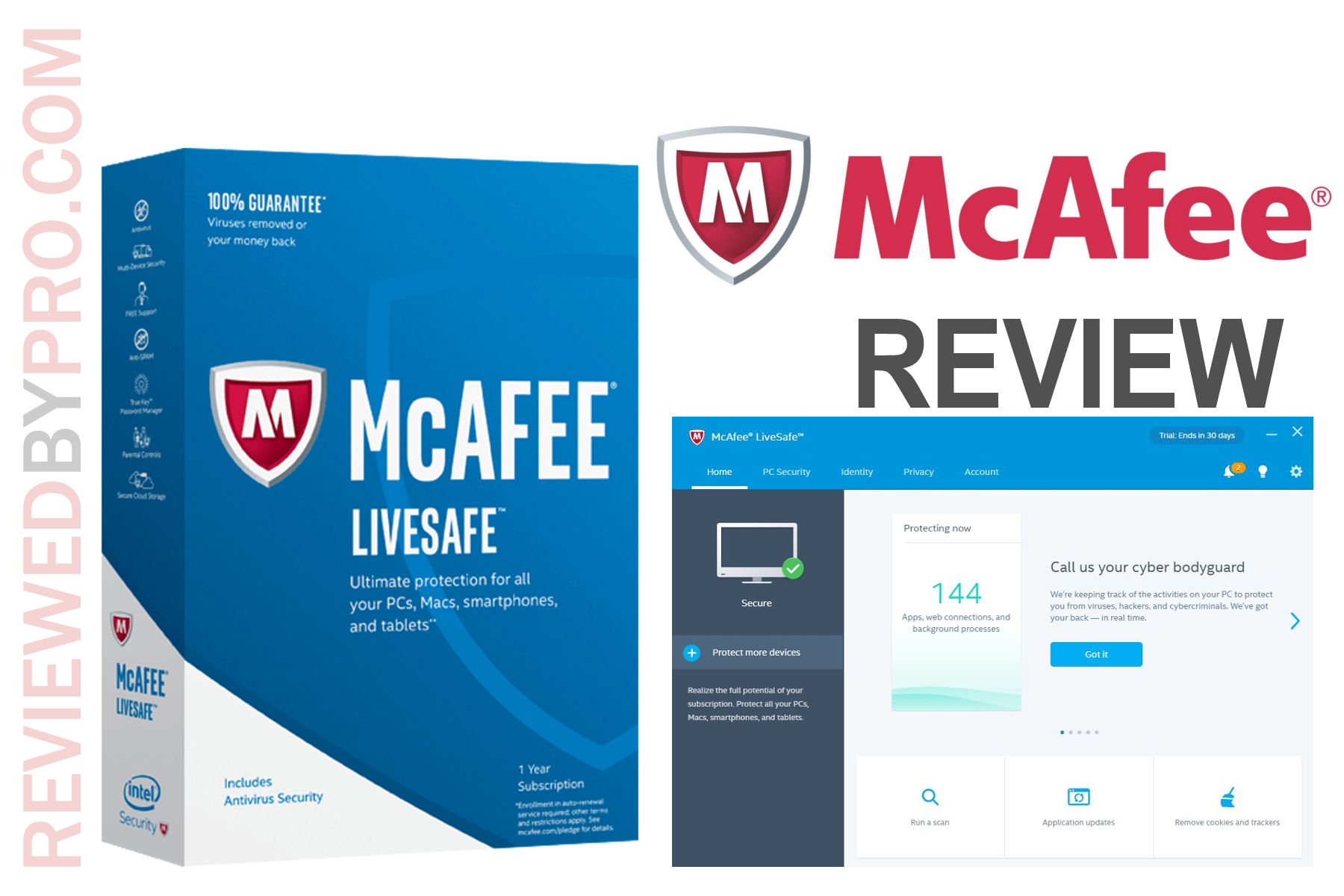 McAfee is antivirus software created in the United States, California, by Intel Corporation in 1987[1]. Since then, this company has come a long way in the history of Internet security and this software could be called a veteran of the anti-virus market.[2] McAfee LiveSafe is not only an anti-malware application – it also helps you protect your children from unwanted information by filtering and monitoring online content. McAfee LiveSafe software can protect your mobile devices and keep your private information safe. This software is also compatible with macOS, Linux, and Windows operating systems so you don't need to worry about compatibility issues. McAfee provides a variety of products for Windows users including McAfee Antivirus, McAfee Antivirus Plus, McAfee Internet Security, McAfee Total Protection and McAfee LifeSafe. However, on its official website, it sells only McAfee Total Protection and McAfee LifeSafe. McAfee LifeSafe is considered as an Ultimate package that includes a variety of additional security, privacy features, and optimization tools.
You can use the full version on all of your devices.
If you buy the full version, you will be able to use this program on all of your smart devices in your household for all the period of the subscription. In other words, you can install this software on all the devices that belong to your family and use it for one year. Each package offers a free 30-day trial period and a money-back guarantee. A yearly subscription for McAfee LifeSafe starts at $99.99 for unlimited devices.
Pros
Cons
Verdict
User-friendly interface
Slow computer performance
User-friendly software with a quite good virus detection rate. Recommended to PC users.
Many features
Poor protection for macOS devices
Reasonable price for the license
Fewer software features for macOS users
Download and installation
If you want to try using this anti-malware application, download it from our page. It will take about 2-3 minutes. After that, you are ready to go for the installation of McAfee LiveSafe software on your computer. This application is compatible with Windows 7/8/10, Linux and macOS. The installation of this program is quite simple – it shouldn't be difficult even for inexperienced PC users. Open the downloaded file and follow the steps of the Installation Wizard to finish the process. For this review, our experts tested the free version of McAfee.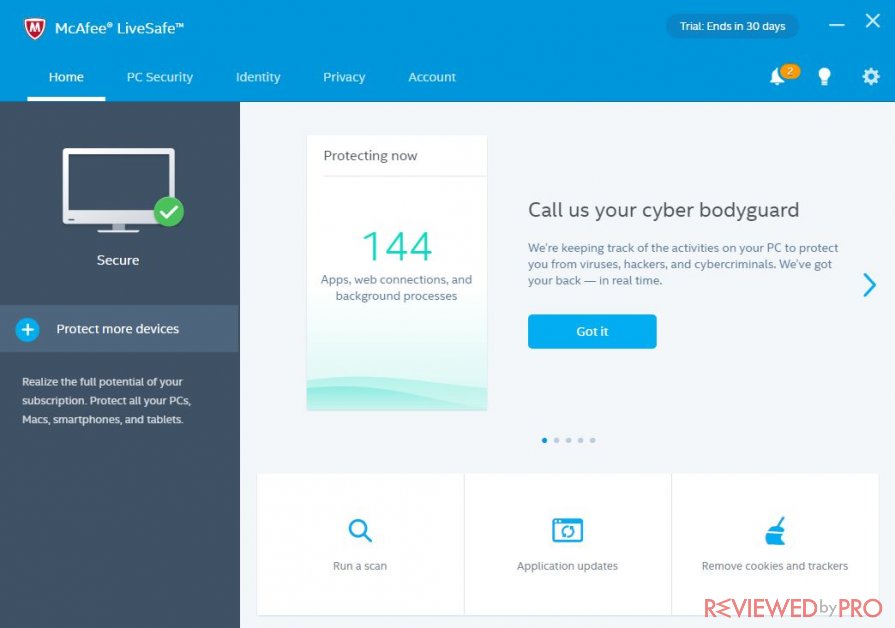 Antivirus protection
After installing McAfee, the system made a database update. It took about 10 minutes for the first time. After the database update was completed, McAfee started to perform the first computer scan. McAfee, as most of its competitors do, utilizes multi-layered protection, including a traditional malware-signature engine that looks for suspect code against a database of widespread malicious icons and behavioral monitoring and reputation which detects previously unknown malware. All suspicious icons are uploaded to the company's Threat Center for further investigation. This new technology has replaced an earliest less efficient engine in 2017. According to the test, conducted by our researchers, McAfee LifeSafe did not detect all the viruses and threats installed on the PC. However, the independent German-based testing lab AV-TEST[3] tested the software in its the most recent tests conducted in March-April 2018. The results were pretty impressive, as McAfee demonstrated almost excellent detection and detected 100% (March) and 98.9% (April) of zero-day malware, including web and e-mail threats, and 100% of widespread and prevalent malware.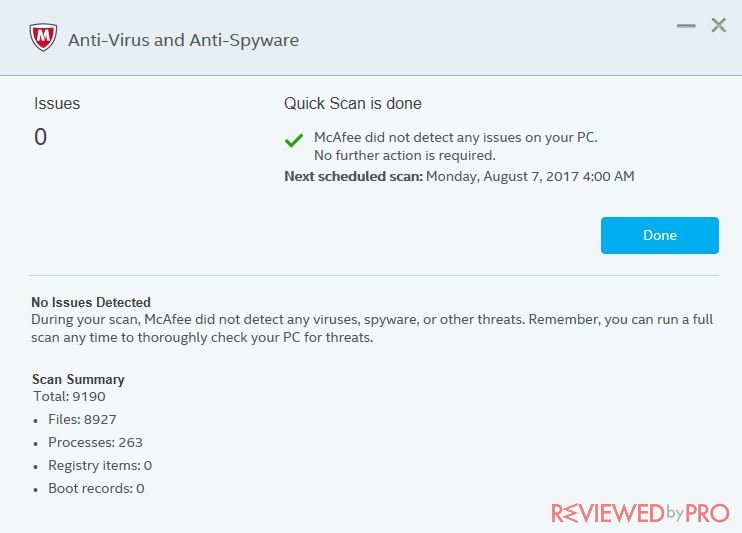 Additional features
McAfee LifeSafe includes a very decent set of extra security and privacy features. The package offers users an Award-Winning Antivirus protection, Safe Web Browsing together with McAfee WebAdvisor which warns users about suspicious websites and blocks dangerous downloads and phishing attacks. In addition, Free Customer Support will help users via phone, chat or online. A Password Manager feature will eliminate the hassle of passwords and Secure Cloud Storage will help users to back up. Some of the protection features, include Wi-Fi network protection, 24-hour Data Theft Protection and more. The package can also protect your entire family, as it offers Parental Controls with Screen-time management, Content Filters, Safe Search Filters, and Child Activity Log. As you can see, the package offers a very rich feature set.
System-performance impact
When it comes to system performance impact, while the program is working in the background, we did not notice any interruptions or lags. According to AV-TEST, the application has a mediocre system impact and does not slow down the PC more than the industry average when launching websites, or downloading commonly-used applications. However, the installation of frequently-used applications was slowed by 40% while the industry average is only 29%. In addition, during the scans, the computer was slower than usual. During the PC scan, we could not work normally on the computer because of its slow performance. We have the Windows 10 operating system, i7 processor, 8 GB of ram, and an SSD disk. It was the first time when this computer was working this slowly.
Scanning performance
The first thing we saw was that this process was slowing down the computer. The computer's cooling fan started to work loudly during it. The whole scan took about 30 minutes and we can say that this program spends much more time performing a quick scan than other similar software. After the scan was completed, the PC started working fine again. McAfee LiveSafe has detected some viruses and threats and deleted them successfully.
User interface
McAfee used to have a pretty dark user interface, but in updated versions, McAfee looks bright and light. The main window cannot be resized or run full screen but can be moved around. All the main features appear in the main window, so it is easy to navigate and understand.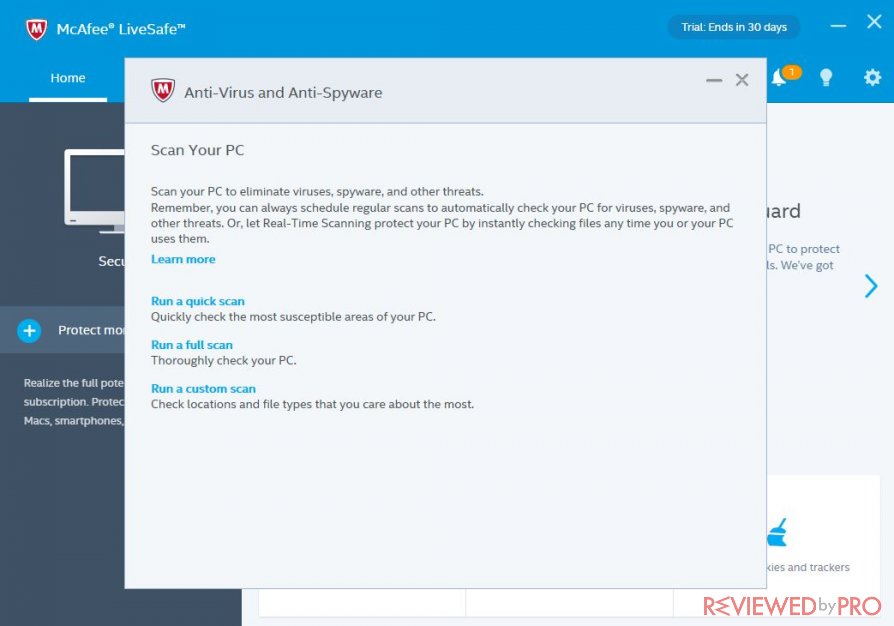 We could also mention that the interface of the app is designed very well and it is extremely user-friendly. The modern design of the McAfee LiveSafe makes you feel comfortable and lets you navigate the functions easily.
| | |
| --- | --- |
| Feature | Score |
| Antivirus protection | Very good |
| Additional features | A decent set of extra security and privacy features |
| System-performance impact | Heavy |
| Scans | Scanning process is quick but slows down a system |
| User interface | Light and simple |
McAfee LifeSafe demonstrated a very decent antivirus detection and removal results. It also has a great set of features and offers unlimited licensing. However, the heavy loads during scans noticeably slow down the performances.
Customer reviews
The customer reviews for this product are mixed. There are many people who are satisfied with the anti-malware application, but some customers have technical troubles using the program.
Users say that the application is easy to use.
The positive reviews focus on the fact that the app covers all the devices in the household.[4] This can really be useful when you have many computers and phones at home. Also, it is mentioned that the program is easy to use, so it is good to those who don't have much experience with computers. However, there is a number of reviews that vary from average to negative.[5] Keep in mind that some of them might be written by the program's competitors. You can find claims that the installation process is very complicated and that they needed technical support for that.
McAfee LiveSafe is user-friendly software with a nice interface and many features, even though it slows down the computer during the scan. Additionally, it has an average virus detection rate. We would recommend it for households with many devices that want an optimal choice for their safety.
Other McAfee products
McAfee Total Protection for Mac McAfee Total Protection for Mac has not been tested by any of independent testing labs, such as AV-TEST, however, as our small test indicates it has an advanced antivirus protection. In addition, McAfee Total Protection, as McAfee LifeSafe offers multiple devices license and includes useful features for families.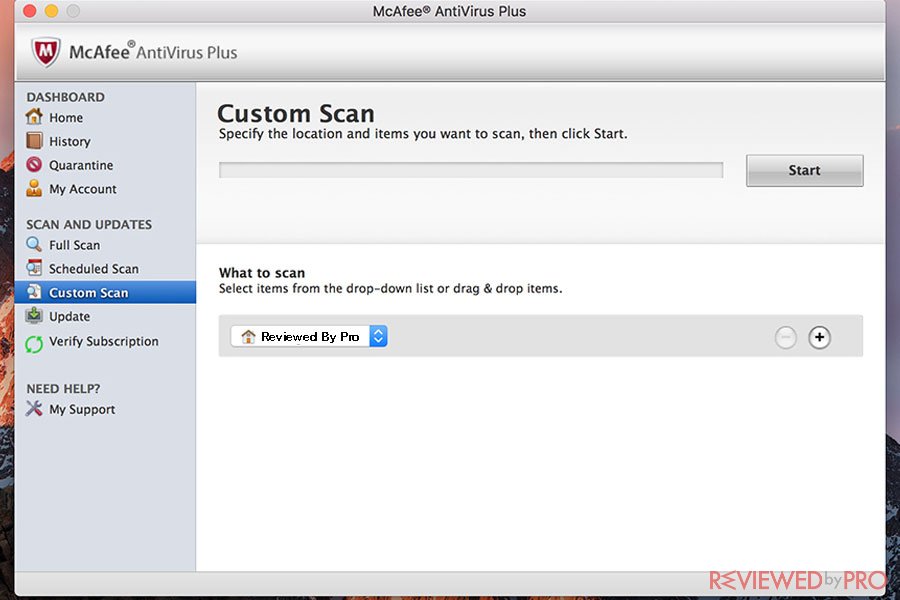 McAfee Mobile Security & Lock
McAfee Mobile Security & Lock offers a reliable advanced antivirus protection with a decent set of useful features that include Anti-Theft and Security, Antivirus and Web Security, Privacy and Performance Optimization features. What is worth to mention that the application is completely free, and the Premium version is included with McAfee Total Safe and McAfee All Access licenses.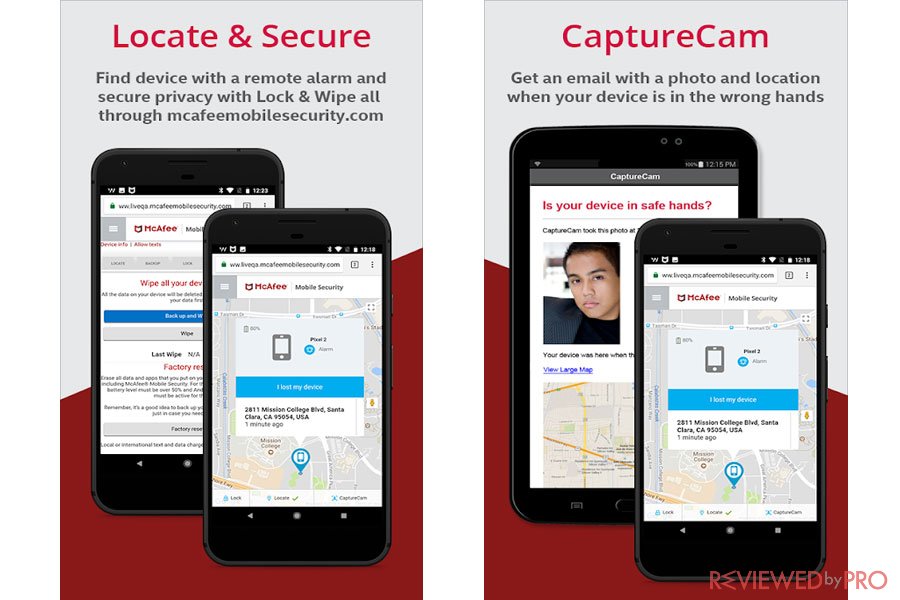 McAfee WebAdvisor
McAfee WebAdvisor is a security service that helps customers to avoid threats while surfing online. The service provides information about the safety of websites by crawling and testing them for malicious programs or spam. WebAdvisor includes features such as typo protection, downloads protection, security check, search protection, password protection and surf protection.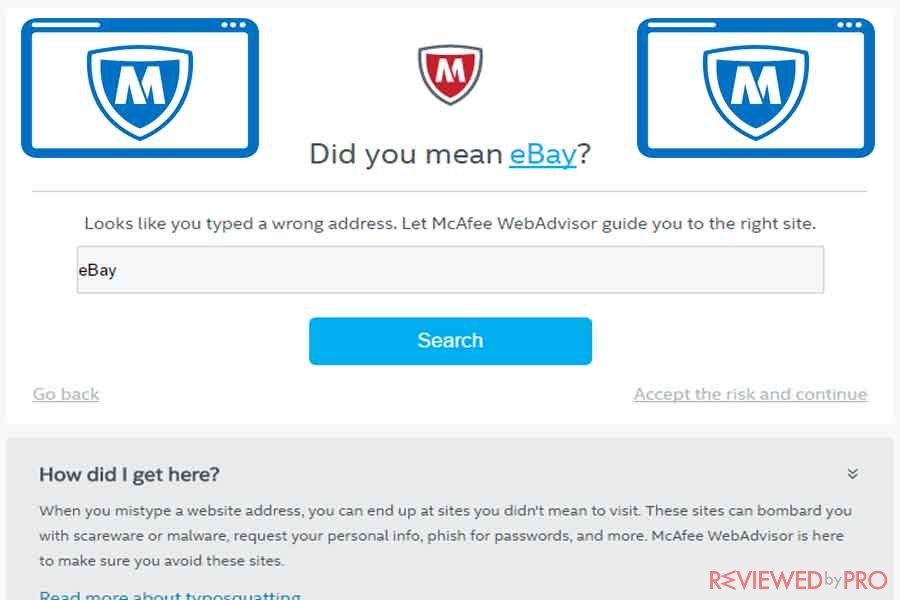 McAfee Identity Theft Protection
Because Identity Theft is still increasing phenomenon, users are recommended to use ID protection software. McAfee offers its customers McAfee Identity Theft Protection that provides advanced tools in order to keep users' data personal and private. McAfee offers three levels of protection that fit everyone's needs. 
McAfee Security & Power Booster Free for Android
McAfee offers Android users a security app for Android devices. The application does not only scan your Android device for malicious and suspicious apps and programs, it also offers anti-theft features, browsing protection and more completely for free.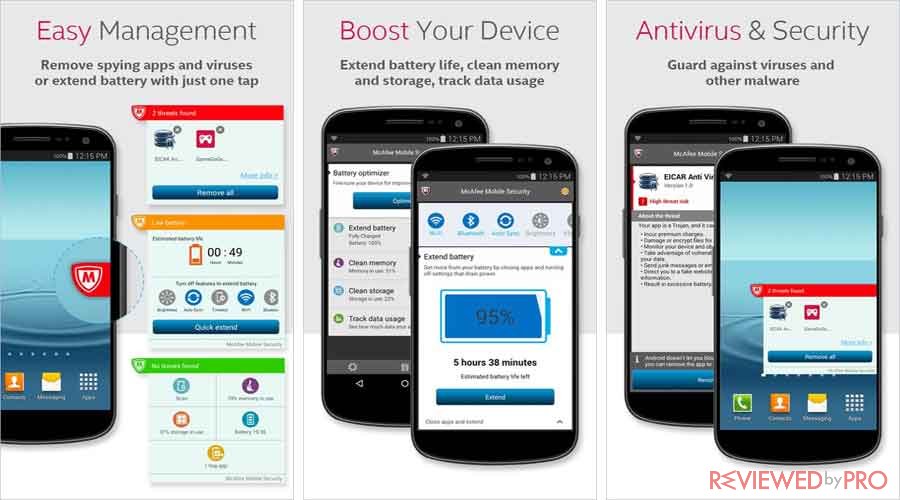 Mcafee Comparison to the other security solutions
McAfee LifeSafe and ESET NOD32 McAfee LifeSafe and ESET NOD 32 are quite different programs targeting different audiences. McAfee LifeSafe offers customers a wide variety of useful features and security for unlimited devices, while ESET NOD32 has one of the most powerful malware detection, removal features, antiphishing system and advanced real-time protection.
McAfee vs F-Secure comparison McAfee Total Protection and F-Secure Internet Security offer an advanced antivirus protection and both have a relatively heavy system-performance impact. However, we recommend you McAfee Total Protection as it provides a decent set of additional security tools and features, while F-Secure has only a sparse feature set.
McAfee vs Panda comparison
McAfee Antivirus Pro and Panda Antivirus Pro both provide basic-level protection for Windows users and both include a very decent set of extra features compared to other similar packages. However, they both have a heavy impact on a system and slow down computer during scans. If you need to choose one, McAfee Antivirus Plus offers faster scans and better anti-malware protection.
About the author
References