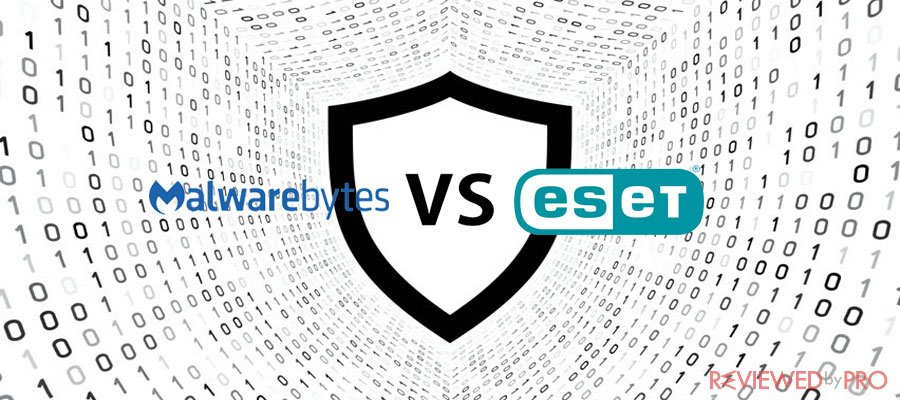 Are you looking to get new antivirus software for your device in 2020? Do you wish to know which one out of ESET and Malwarebytes is more suited to your needs? Well, you have found the right place as we will dissect everything from their features to price plans and show you which antivirus you should get for full protection against viruses.
ESET excelled in every department in its comparative analysis with Malwarebytes antivirus software, not only did it had a better and much affordable price plan for the consumer of every background, its features were much guided toward multi-dimensional protection, rather than focusing on just detecting and killing malware. Malwarebytes was a bit lacking-in-depth, and it is why we had to declare ESET antivirus software to be the winner of this contest against Malwarebytes.
ESET vs Malwarebytes to understand the Article quickly
Given the variety of attributes antivirus software can possess, it can get difficult to know what you need and expect from it entirely. We have arranged this section specifically for you if you wish to know which antivirus software is better among the two and why it is the case. Here you will understand which one out of ESET and Malwarebytes stood out under which category:
Pricing: ESET offered many extensive plans that were not only affordable but also covered platforms of all kind, along with giving the user better multi-device support – Winner: ESET;
Protection: ESET scored 9 out of 10 against Malwarebytes rating of 7 out of 10, as ESET was more responsive to newer malware and spam email as compared to Malwarebytes – Winner: ESET;
Features: Malwarebytes seemed to be stressing a lot on being the best anti-malware service as compared to ESET, that seemed to cover every corner – Winner: ESET;
System-Performance Impact: Malwarebytes performed sluggishly when we tried to open built-in apps on the computer, while ESET kept the system stable while doing its job quietly – Winner: ESET;
User Interface: Both antivirus software had apps with elegant design and which was somewhat easy to use for consumers of all backgrounds. This contest was a Tie;
Customer Support Service – ESET not only had a live chat facility unlike Malwarebytes, but it has a Youtube that is kept updated regularly for the user's convenience – Winner: ESET;
Popularity – ESET is the third most popular antivirus software in 2020, with a market share of 12.85% – Winner: ESET.
Below is the rating chart that we designed and concluded after testing each characteristic of both ESET and Malwarebytes. It will put your decision-making ability at ease on which one to pick in 2020:
ESET and Malwarebytes – A Detailed Comparison and Analysis for Potential Buyers in 2020
There are some specific qualities of antivirus software that it should possess in order to rank itself amongst the top service providers for virus protection. These attributes include the versatility in features, how compatible the software is with an average computer, affordability for the standard user on a strict budget, and how good it performs against new and unrecorded malware threats. In this article, we will dig in deep on all the necessities mentioned-above and declare a winner at the end of every segment to give you a feel of which antivirus software out of Malwarebytes and ESET is better than the other.
ESET has way more affordable packages as compared to Malwarebytes when we made the pricing comparison
If we wish to acquire quality out of something, then there is no logical way around it other than paying for the services of the product. Same is the case with antivirus software, even though there are free versions available on the market, but all of them are ill-equipped to tackle the growing and more potent menace of online viruses such as malware, ransomware, and Trojan horses. On the other hand, the premium service of many antivirus programs is available at reasonable rates that allow you to share your account amongst friends and use it on across every notable platform. Now we will look upon the price plans of ESET and Malwarebytes and check which one of the two is more convenient for the user in terms of cost and multi-device coverage.
ESET's Pricing Offers:
Even though there is no free version of ESET antivirus software, it still offers a full 30-day free trial for users from every background to analyze the service for themselves and pay for the service once they are fully satisfied. ESET offers flexible plans across every platform and a maximum of 10 devices with the same account. You can see the full explainer of the price plans of ESET in the list mentioned below:
1. ESET Nod32 Antivirus
It gives coverage across a maximum of 5 devices with a price ranging from $39.99/year to as much as 159.98/year. You can see the rest of the details below:
| | | |
| --- | --- | --- |
| Duration | 1 Device-Plan | 5 Device Plan |
| 1-year package | $39.99 | $79.99 |
| 2-years package | $59.99/year | $119.99 |
| 3-years package | $79.98 | $159.98 |
2. The Eset Internet Security
This package starts at $49.99 per year and allows you to share the account on as much as 10 devices to be used simultaneously. Here are the additional details of the internet security plan.
| | | |
| --- | --- | --- |
| Duration | 1 Device-Plan | 10 Device Plan |
| 1-year package | $49.99 | $139.99 |
| 2-years package | $79.99/year | $214.99 |
| 3-years package | $109.98 | $289.98 |
3. Eset Smart Security Premium
You can access the Eset Smart Security Premium on your Windows, Mac, and Android devices for a price as low as $59.99/year:
| | | |
| --- | --- | --- |
| Duration | 1 Device-Plan | 10 Device Plan |
| 1-year package | $59.99 | $149.99 |
| 2-years package | $99.99 | $234.99 |
| 3-years package | $139.98 | $319.98 |
4. Eset Cyber Security for Mac (Pro )

Advanced protection for Mac-based devices in the Eset Cyber Security Pro is available for Mac-based systems for a small price of $59.99/year. Here are some additional info for other plans
| | | |
| --- | --- | --- |
| Duration | 1 Device-Plan | 10 Device Plan |
| 1-year package | $59.99 | $149.99 |
| 2-years package | $99.99 | $234.99 |
| 3-years package | $139.98 | $319.98 |
5. ESET Cyber Security for Mac

The package is available for $39.99/year, and it covers a maximum of 10 Mac systems for $129.99/year. The rest of the details are as follows:
| | | |
| --- | --- | --- |
| Duration | 1 Device-Plan | 10 Device Plan |
| 1-year package | $39.99 | $129.99; |
| 2-years package | $59.99 | $194.99; |
| 3-years package | $79.98 | $259.98. |
6. ESET offers Mobile Security for Android
For Android users, who are tired of all the phishing attempts and require web protection, ESET offers Mobile Security for Android, which is available at $14.99/year.
| | | |
| --- | --- | --- |
| Duration | 1 Device-Plan | 5 Device Plan |
| 1-year package | $14.99 | $74.95 |
| 2-years package | $22.49 | $112.45 |
| 3-years package | $29.98 | $149.90 |
Malwarebytes' Pricing Offers:
Malwarebytes allows a 14-day sneak peek(Free Trial) into its premium package for individuals looking to purchase and test its service. It is not only available on both mac and windows, but it also offers free coverage across Android, iOS, and popular browsers, namely Chrome and Firefox. You can check out the discounted plans of Malwarebytes in the table below:
| | |
| --- | --- |
| Plans | Price |
| Malwarebytes Premium for Windows(1-device) | $39.99/year |
| Malwarebytes Premium: Multi-device(win, macOS) | $59.99/year |
| Malwarebytes Premium for Mac(1-device) | $39.99/year |
| Malwarebytes for Android & iOS | Free |
| Malwarebytes Browser Guard for Chrome and Firefox | Free |
There were more variety of packages for users of smartphones looking for protection against viruses with Malwarebytes as compared to ESET. But ESET offered more extensive coverage across cross-platform computer systems at reasonable rates, and for that reason, we declared ESET as the winner of the pricing round.
Winner: ESET Anti-Virus software.
ESET outscored Malwarebytes in our Protection Rating Comparison against Latest Malware
With approximately 400,000 malware attacks recorded every day in the past year and the numbers were expected to increase in 2020, there is no better time for antivirus software to be more potent against the latest malware and viruses that are not included in their database. We have developed a protection rating system to determine the antivirus software's response to recently created malware and spam emails through testing methods like the Real-world test. In this part, you will know how well both Malwarebytes and ESET performed in the protection response.
Malwarebytes Protection Rating:
According to the recent tests conducted by our experts, Malwarebytes performed moderately better with an efficiency of 93.2% against an industry benchmark average of 97%. It was able to detect most of the spam email during the Real-World test that we ran on the computer but skipped quite a few while showing some false alarms as well. However, the ability to respond to the latest malware was at par with the average rating of 99%. It is why we were compelled to give Malwarebytes 7 out of 10, which is relatively better than most.
ESET's Protection Rating:
ESET not only gave way more efficient results in the protection against malware and email attacks, but its efficiency was way above the industry average of 97%, as it was able to score at a rate of 98.9%. Not only that, we didn't record even a single false alarm when most recent malware was passed through the computer. ESET was able to identify them all scored a perfect 100%. It is the reason why ESET antivirus software got a protection rating of 9/10.
Malwarebytes needs a significant overhaul to be able to compete with someone like ESET antivirus software. Its score in the real-world testing was the deciding factor behind declaring ESET as the winner of the protection comparison against malware/viruses.
| | | |
| --- | --- | --- |
|   | | |
| Protection agains 0-day malware attacks (web and email threats) | 93.2% | 98.9% |
| Detection of most common spread malware in last 4 years | 99% | 100% |
| Overall protection score | 8 | 9.9 |
Winner: ESET Anti-Virus Software.
Impact on System-Performance
Most users tend to keep their antivirus software running on the PC continuously, for as long as they keep using the computer system. It sometimes has a negative impact on the performance of the system. But it is also essential for the antivirus software to not put a heavy burden on the PC, especially, when the user performs their routine work, such as opening URLs, launching apps, and copying data here and there. In this comparative analysis, we will look upon the scores of ESET and Malwarebytes on how much they tend to halt the normal functioning of the system while operating in the background.
ESET's System Performance Rating:
ESET performed excellently while we regularly opened high-impact websites, downloaded popular apps, and opened the built-in programs of the Windows OS. There was a slight glitch in the performance of the system when we tried to install those apps that we had downloaded earlier, as it took a lot more time than usual to install the apps altogether. It is why we decided to give ESET antivirus software's system performance a rating of 9 out of 10.
Malwarebytes's System Performance Rating:
Malwarebytes gave no trouble whatsoever while we performed regular chores on the internet, such as downloading applications and opening URLs. But the main problem arose when we tried to install those apps and also attempted at opening the basic programs of the Windows OS. The PC's performance was sluggish, and it got to the point of extreme irritation for us. It is why we gave Malwarebytes a rating of 8/10.
There should be no compromise on the performance of the system as the chances of the device getting infected from a virus increase significantly when it acts sluggish. After analyzing the scores of the performance tests, the results were fairly obvious, and the ESET anti-virus program was the winner after scoring an impressive 10 out of 10.
| | | |
| --- | --- | --- |
|   | | |
| Slowing-down when launching popular websites | 11% | 8% |
| Slower download of frequently-used applications | 0% | 8% |
| Slower launch of standard software applications | 23% | 66% |
| Slower installation of frequently-used applications | 70% | 40% |
| Slower copying of files (locally and in a network) | 0% | 1% |
| Overall rating | 9 | 8.6 |
Winner: ESET Anti-Virus Software.
ESET offered full-circle security with its features as compared to Malwarebytes
It doesn't matter if an antivirus is expensive or not, as it all depends on what type of features it is offering on the table. If there is diversity in the utilities of the antivirus in giving protection from viruses to hacking attempts, then you should automatically pick the service without looking someplace else. Here we will look upon ESET and Malwarebytes's plans that come with the premium package of the antivirus service.
ESET's Features:
No matter if you are an average user looking to protect your home computer from viruses, a thriving business that is aiming to conduct its affairs safely, or an avid gamer desiring to play games without a feat of any DDoS attack, ESET offers features to cater to all of your needs, with a vast gallery. Here are some of them:
The Antispyware and Malware blocker with an anti-spam firewall, which kills every attempt of virus attack instantly;
The Password Manager feature enables you to manage your account details outside the grasps of data storing platforms such as Google;
With ESET's Anti-theft utility, no one can take away your identity or use your credential without your consent someplace else;
If you are tired of all the Botnet and DDoS attacks, then ESET offers protection from all such disruptions to all the gamers;
The Webcam Protection function will notify you if some entity tries to hack your laptop's camera;
With the Parental Control feature, you will be able to manage the content your child is supposed to watch;
You will feel much safe after enabling ESET's Banking and Payment Protection to keep track of and put a safety net on all transaction affairs;
| | | | |
| --- | --- | --- | --- |
|   | ESET NOD32 Antivirus | ESET Internet Security | ESET Smart Security Premium |
| Antivirus and Antispyware | ✔ | ✔ | ✔ |
| Anti-Phishing | ✔ | ✔ | ✔ |
| Gamer Mode | ✔ | ✔ | ✔ |
| Exploit Blocker | ✔ | ✔ | ✔ |
| UEFI Scanner | ✔ | ✔ | ✔ |
| Cloud-Powered Scanning | ✔ | ✔ | ✔ |
| Small System Footprint | ✔ | ✔ | ✔ |
| Script-Based Attack Protection | ✔ | ✔ | ✔ |
| Ransomware Shield | ✔ | ✔ | ✔ |
| Free Support in Local Language | ✔ | ✔ | ✔ |
| License Manager | ✔ | ✔ | ✔ |
| Banking and Payment Protection | ✗ | ✔ | ✔ |
| Personal Firewall | ✗ | ✔ | ✔ |
| Antispam | ✗ | ✔ | ✔ |
| Network Attack Protection | ✗ | ✔ | ✔ |
| Botnet Protection | ✗ | ✔ | ✔ |
| Parental Control | ✗ | ✔ | ✔ |
| Webcam Protection | ✗ | ✔ | ✔ |
| Connected Home Monitor | ✗ | ✔ | ✔ |
| Anti-Theft (Windows only feature) | ✗ | ✔ | ✔ |
| Password Manager | ✗ | ✗ | ✔ |
| Secure Data | ✗ | ✗ | ✔ |
| Discount for our readers | -20 Off | -20 Off | -20 Off |
The Features of Malwarebytes
Malwarebytes provides a superb level of protection against malware and ransomware attempts with the following features that you can also use with the 14-day free trial:
The Real-time protection feature responds to every virus threat immediately as it movies it to the quarantine zone;
You can enable complete safety with the Anti-Exploits feature of Malwarebytes;
Ransomware has been on the warpath against user data for some time now, but with Malwarebytes's Anti-Ransomware utility, it will all become a thing of the past;
The Anti Malware/Spyware feature has the ability to identify the most recently released malware;
With the Anti-Rootkit feature, you can remove all rootkits on the PC before they damage your data.
| | | |
| --- | --- | --- |
|   | FOR MAC | FOR WINDOWS |
| Protects your identity and privacy from hackers | ✔ | ✔ |
| Protects your documents, financial files from ransomware | ✔ | ✔ |
| Protects you from malicious and fraudulent websites | ✔ | ✔ |
| Stops malware that degrades computer performance | ✔ | ✔ |
| Crushes malware attacks that corrupt your programs | ✔ | ✔ |
| Suspends Malwarebytes notifications when using selected programs | ✔ | ✔ |
| Cleans up an already-infected computer | ✔ | ✔ |
| Discount for our readers | -25% Off | -25% Off |
There was nothing much to it with Malwarebytes other firm protection from malware, spyware, and ransomware of every kind. But we had to give our vote to ESET as not only does it have a thorough protection plan against viruses, but it also offers another level of security to users who wish to keep their passwords and payment information secure.
Winner: ESET Anti-Virus Software.
ESET and Malware offer one of the best experiences of user-friendliness one could hope for in an antivirus software Interface
The primary purpose of downloading the antivirus app on the computer is letting it keep running in the background and give it the means to detect viruses instantly upon contact. The interface of the software you use on your computer should allow you to immediately get to the point of resolving the issue rather than keeping it linger on, which could result in extra confusion for the user. In this article, we will do a full comparative analysis of the user-friendliness of the computer apps of both Malwarebytes and ESET antivirus.
ESET's Interface
Once you open ESET's software on your computer, you will be welcomed with a slight tinge of blue icons in front of a white and yellow colored layout. You can easily access the essential options of data scanning and protection on the left side of the interface in a vertical list. These options are as follows: Home, Computer Scan, Tools, Setup, and Support.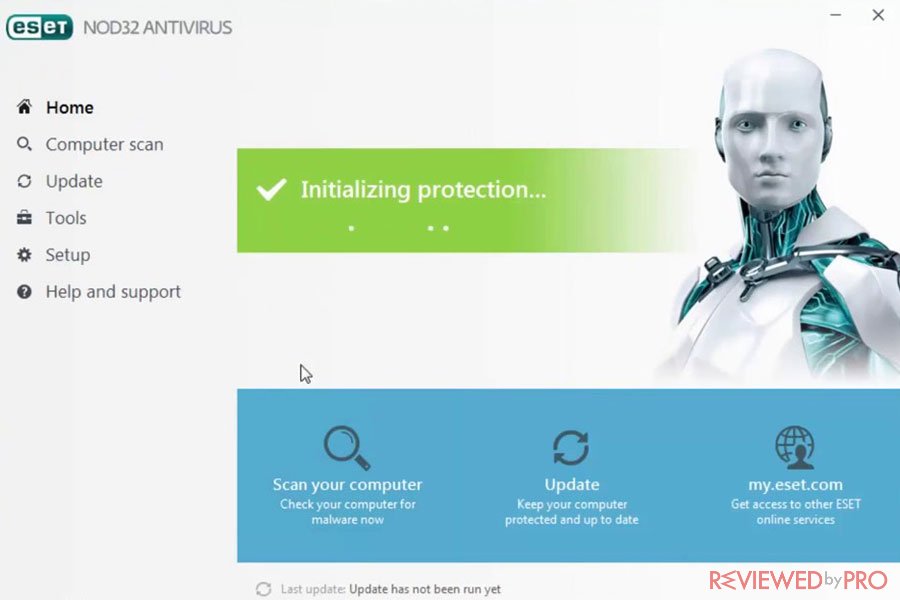 It allows the user to either run a proper scan of every disk drive available on the computer or presents the opportunity to drag and drop the infected file directly for a scan on the interface. It has a simplistic design, and you could easily maneuver your way around it; it doesn't matter if you possess any technical knowledge or not.
The Interface of Malwarebytes:
Malwarebytes's interface is very pleasing to the eyes, which is an amalgam of a white, green, and blue layout with a vertical menu, much like ESET's. The list contains the following options: dashboard, scan, quarantine, reports, and settings. Each option carries particular importance, but the most vital one is the scan option, as Malwarebyte's app has a Scan Now" button, that allows the app to run a complete search for viruses from all the files stored in the computer, no matter if they are system files or everyday media items. The user can directly upgrade or renew the subscription plan by clicking on the "Upgrade Now" button right next to the Malwarebytes's logo.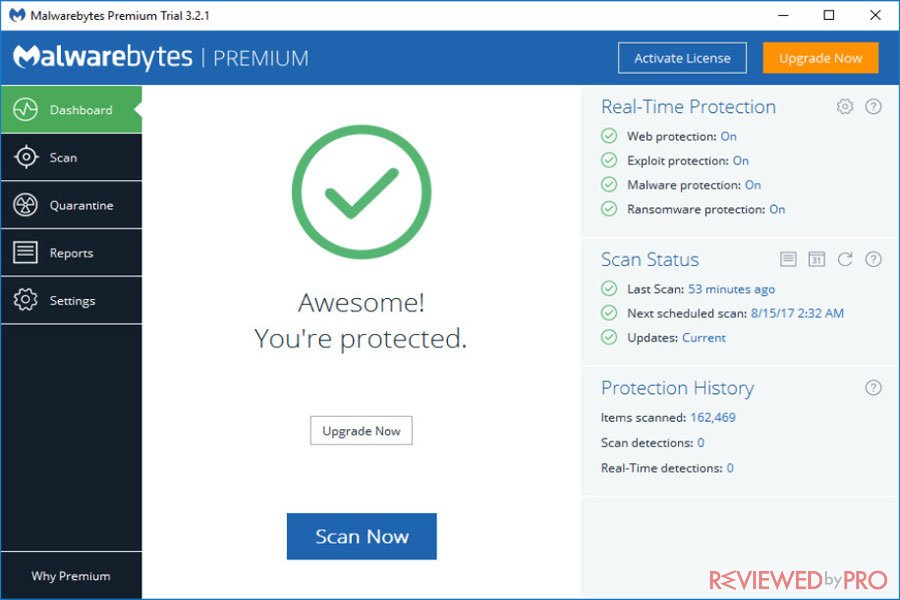 We found the interface of both ESET and Malwarebytes to be equally stunning, and there was no reason to declare one antivirus software to be the loser of the comparison. It is why we considered the interface comparison on account of user-friendliness to be a draw.
Winner: Tie.
ESET's live chat and youtube channel become the reason we considered it to the winner in this customer support comparison against Malwarebytes:
If the interface somehow fails and a virus goes undetected, the antivirus service provider's customer care program is the platform that offers the necessary assistance, in times of such crisis. Not only should the support section of the service carry guides and video tutorials, but it should also provide a one on one chat session with an antivirus expert. Now, we will show you through the support section of ESET and Malwarebytes and reveal the truth about which service is better than the other.
ESET's Customer Support Service:
Upon clicking the support section from ESET's website, you will be led to four different options: Live chat, email support, knowledgebase, and guides, that carry vitality of their own. You will typically find FAQs to common problems that are more than enough sometimes, but it doesn't fix the issue on some occasions. Unfortunately, ESET doesn't provide a chat with a technical expert for customers living outside the North American region. ESET also has a separate Youtube channel that is filled with video tutorials, along with a forum for the community to share common issues and find the solution by interacting with each other.
The Customer Care Service of Malwarebytes:
There isn't much to Malwarebytes's customer support page other than a few options such as Install & Activate, Setup & Configure, and Troubleshoot, which usually leads to the already designed FAQs to standard issues, rather than more direr ones. However, there are separate sections for every operating system that is compatible with the Malwarebytes software. Other than that, there is no live chat or any other utility to interact with a local customer representative of the service, which is a negative selling point.
Something is better than nothing, even though ESET's live chat feature is not universal, but its other methods make up for the lack of means to interact socially with an antivirus expert. Malwarebytes needs to do much work in the customer care segment if it wishes to attract new buyers and increase the market value of the product. ESET was the clear winner at the end.
Winner: ESET Anti-Virus Software.
Popularity and Marketshare Comparison
OPSWAT, which is an independent cybersecurity firm, released a report on the market share of all the anti-malware services around the globe during the first week of 2020. In the analysis, it was revealed that Norton is the most popular antivirus software among users in 2020. ESET occupied a place in the top three with a healthy market share rate of 12.85%. Malwarebytes, on the other hand, landed the 8th position with a value of 4.68%.
Ranking Anti-Virus Programs Market Shares
| | |
| --- | --- |
| Manufacturer/Brand | Market share |
| | 13.67% |
| | 12.94% |
| | 12.98% |
| | 10.06% |
| | 9.09% |
| | 7.45% |
| | 6.4% |
| | 4.68% |
| Cylance Inc. | 4.19% |
| Trend Micro | 3.67% |
| Other | 15% |
Winner: ESET Anti-Virus Software.
Final Thoughts
The year 2020 has come, and we are ready to brace the new 5G technology, which is going to revolutionize the world of tech, like never before. But, according to some alarming stats, the probability of virus and data-stealing attacks will also increase, and it will become much easier to snoop around connected devices with the help of phishing kits that are readily available on the dark web.
For that purpose and to remain one step ahead of all such viruses, lacing the device with a powerful antivirus software has never become more vital. In this article, we showed you the difference between two of the relatively popular antivirus service providers, Malwarebytes and ESET. Now you know on what grounds, we declared ESET as the winner, as it was the superior antivirus whole around, with much more to offer.
| | | |
| --- | --- | --- |
|   | | |
| Antivirus protection | 8 | 9.9 |
| System-performance impact | 9 | 8.6 |
| User interface | 10 | 10 |
| Popularity | 7 | 9 |
| Overall score | 8.5 | 9.4 |
| Discount for our readers | -25% Off | -20% Off |
| Pricing | From $39.99 / device for 1 year | From $39.99 / device for 1 year |
About the author