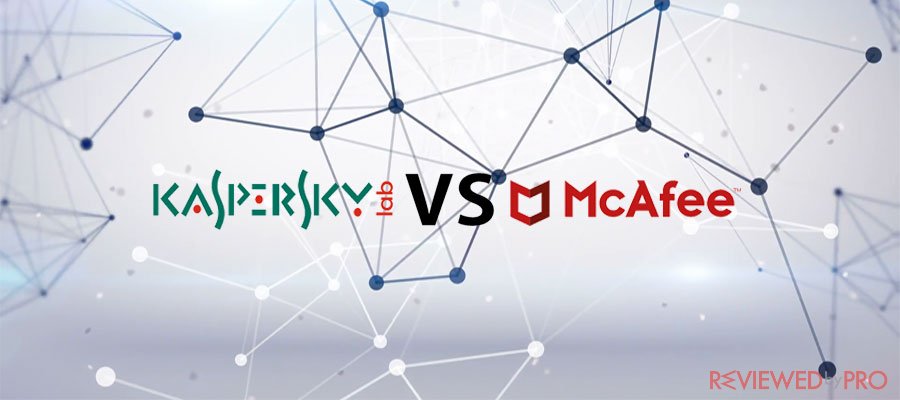 Kaspersky VS Mcafee
It is hard to pick which is better for you when you have antivirus software like McAfee and Kaspersky in front. But there is no need to worry as we will help you decide on which product to pick and why with the thorough analysis of the cybersecurity experts at reviewed by pro. So if you wish to know the answer to the burning on whether McAfee is the best or Kaspersky, then read our complete comparative analysis and learn the answer.
McAfee vs. Kaspersky – which one is better in 2020?
We completely understand the shortage of time that many users deal with, taking in to account their professional and personal responsibilities. It is why we have arranged a small and quick run-down of the article that will lead you to the answer in just a few minutes, especially if you are in a rush and want to keep things moving:
Pricing – Based on the standard pricing plan, Kaspersky offered coverage across 3 devices at a much lower rate as compared to McAfee, as it only allowed one device support with its regular plan. The winner of the pricing round was Kaspersky antivirus software;
Antivirus Protection Rating – Both antivirus software were apart on the smallest of margins as McAfee edged past Kaspersky by only 0.5%. So, we had to consider McAfee antivirus software to be the winner of the pricing round;
Features – There was a stunning similarity in the various utilities that both McAfee and Kaspersky had to offer, and it was hard for us to declare a single winner, which is why we called the contest as a Tie (McAfee and Kaspersky Anti-Virus Software);
System-Performance Impact – The PC ran smoothly with Kaspersky as its primary antivirus software as compared to McAfee. Which is why the winner was Kaspersky Anti-Virus Software;
User Interface – There were sheer simplicity and elegance within both interfaces of Kaspersky and McAfee antivirus software, and it would have been an injustice to pick one over the other. It is why we declared the contest as a Tie (McAfee and Kaspersky Anti-Virus Software);
Customer Support Service – Kaspersky lagged in giving the user a primary facility such as live chat, and it is why the winner of this contest was McAfee antivirus software;
Popularity – McAfee won the popularity contest by a long shot as it was able to score the 2nd spot in market share as compared to the 7th position that Kaspersky antivirus software able to hold.
We are basing our whole life on our digital devices, which has made it much more convenient and efficient in every sense of the way. We are now able to avoid lengthy queues and the extra hassle of going out to get things that we now can get with a single tap on the screen of our phones.
But this does not mean that everything is sunshine and rainbows as such level of easiness has prompted data hackers and cybercriminals to up their game and increase the attacks of viruses and other hacks to steal our data in a heartbeat. There hasn't been a more crucial time for the standard user to arrange for precautionary measures to save themselves from any such pain.
It is why lacing the devices with antivirus software is the need of the hour, especially if they hold all your valuable data like payment information and confidential files. In this comparative analysis, we will check the various sides of McAfee and Kaspersky antivirus software, which are arguably one of the most identifiable names in the cybersecurity business. We will give you the name of the victor at the end of every segment, which will provide you with a good idea of which product to select at the end of it all.
Kaspersky won the pricing round due to the extensive per-device coverage across its basic plans as compared to McAfee
Nowadays, getting a software product, much like antivirus, has become increasingly similar to paying for different utilities like electricity, water, and gas. These are the thing that falls under the basic necessities category and if you base your whole digital information on something like your PC or smartphone, then arranging for a safety net for them in terms of protection against viruses fall under the same category as well. Much like those utilities, you are required to arrange for a budget to afford the service of antivirus, and this is why we will show you the different pricing plans of Kaspersky and McAfee and let you know which one of them is more affordable.
Kaspersky's Pricing Offers:
It is often unheard of, but Kaspersky allows its first-time customers to use the basic antivirus plan across three different platforms at a small price of $29.99 per year. Not only that, Kaspersky offers the chance to choose the programs based on the one to three years. The most extensive pricing offer comes at $224.99 across as much as ten devices for three full years. Here is the rest of the detail on all the three basic packages of Kaspersky antivirus software:
 

Anti Virus

Internet Security

Total Security
Security
Defends against viruses, ransomware & more

✔

✔

✔

Performance
Protects without slowing you down

✔

✔

✔

Simplicity
Simplifies security to save you time and hassle

✔

✔

✔

PC, Mac & Mobile
Secures your devices – in any combination

✗

✔

✔

Privacy
Helps you keep your private life… private

✗

✔

✔

Money
Protects when you're online banking & shopping – on PC & Mac

✗

✔

✔

Safe Kids
Parental controls & extra features – to protect kids on PC, Mac & mobile

✗

✗

✔

Passwords
Manages & stores passwords – and syncs for access from PC, Mac & mobile

✗

✗

✔

✗

✗

✔

Software pricing
McAfee's Pricing Offers:
Available across every top platform, McAfee offers you a free trial offer to check its various features and the primary ability to identify viruses out of countless files stored inside the system. Furthermore, before the free trial, McAfee does not indulge you in giving away your payment information, which makes the trial process all the more relevant and comfortable for the potential buyer. McAfee goes as much as offering a VPN and coverage across a maximum of 10 devices with a single account. Here are the price plans of the McAfee antivirus software:
McAfee Total Protection – You can use this plan on every platform you possess, no matter if it is a smartphone or a computer device. You can purchase it based on the following device coverage:
$34.99 per year across 1 platform;
$39.99 per year across 5 devices;
$44.99 per year in 10 platforms with a single account.
McAfee Gamer Security – You can take full advantage of this package for your Windows PC and if you are an avid gamer who deals with DDoS and botnet attacks regularly. This plan will give you the protection you deserve for a small price of $19.99 per year;
McAfee for iOS & Android – This plan allows separate features of safety if you only want security for your smartphone(Android or iOS) with functions such as web-protection, memory booster, and anti-theft for a rate of $29.99 per year;
McAfee Safe Connect VPN – This plan is available for purchase for $47.99 per year across Windows, Android, and iOS systems with a 7-day free trial offer.
McAfee antivirus software comparison:
| | | | | |
| --- | --- | --- | --- | --- |
|   | AntiVirus Plus | Internet Security | Total Protection | LiveSafe |
| Award-winning PC anti-virusHome network protection | ✔ | ✔ | ✔ | ✔ |
| McAfee WebAdvisor | ✔ | ✔ | ✔ | ✔ |
| PC optimisation tools | ✔ | ✔ | ✔ | ✔ |
| Apple iMac protectioni | ✔ | ✔ | ✔ | ✔ |
| OS phone and tablet | ✔ | ✔ | ✔ | ✔ |
| Android phone tablet | ✔ | ✔ | ✔ | ✔ |
| Social media guard | ✔ | ✔ | ✔ | ✔ |
| Anti SPAM security | ✗ | ✔ | ✔ | ✔ |
| Safe Family | ✗ | ✗ | ✔ | ✔ |
| True Key identity manager | ✗ | 1 user | 5 user | 5 user |
| McAfee File Lock | ✗ | ✗ | ✔ | ✔ |
| Secure Cloud Storage | ✗ | ✗ | ✗ | ✔ |
Though McAfee offered compelling versions of pricing plans that were suited for every computer system and smartphone available on the market, it is still no match to Kaspersky's affordable rates that allowed the user of the most basic of plans to share their account on as much as three devices. Plus, there was more variety between the programs based on the number of devices one intends to choose. It is why we considered Kaspersky as the winner over the McAfee antivirus software.
Winner: Kaspersky Anti-Virus Software.
In the Protection Rating round, McAfee edged pass Kaspersky in the slightest of margins, but both performed excellently
Protecting against viruses is the number one job of the antivirus software, and given the staggering increase in data attacks in recent times, the need for these software to be extra reactive to newer malware has also increased.
In this section, we will check Kaspersky and McAfee's ability to react to zero-day malware and even the latest forms of viruses that we had collected in a span of a month before conducting the test. We will also share with you a side-by-side comparison of those results, along with the verdict on which one is better out of the two:
Kaspersky's Protection Policy
Kaspersky was able to respond to every virus and malware that we ran across our computer, and it scored an efficient 99.5% against an industry average of 99.4%. Meanwhile, when we contacted the PC with more than 30,000 new samples malware, Kaspersky reacted and identified every single one of them and got an efficiency of 100%. For that persistence, we gave Kaspersky an overall protection rating of 10.
McAfee's Protection Policy
In January, thanks to the tests conducted to check the protection rating of McAfee antivirus software, we found out that it was well-organized to handle every bit of the latest virus, spam email, and zero-malware with full efficiency as it got an excellent 100% on both the test. It is for a fantastic showing of such kind, McAfee scored a complete 10 in protection.
Honestly, there was no way to determine the clear winner out of the two, primarily if you look to operate the antivirus software as an average user. But there had to be a winner as McAfee's results were too good to be ignored, and thus, we had to consider McAfee as the better antivirus out of the two!
| | | |
| --- | --- | --- |
| Protection rate | | |
| Protection agains 0-day malware attacks (web and email threats) | 99,5% | 100% |
| Detection of most common spread malware in last 4 years | 100% | 100% |
| Protection Score | 9,8 | 10 |
Winner: McAfee Anti-Virus Software.
According to the latest results on antivirus's impact on system-performance, Kaspersky was the better software than McAfee
If your computer is acting sluggishly, then there could be two things behind such behavior. Either your computer recently got infected with a virus(which could be strange if you have an antivirus installed on the system) or you are using a heavy-handed software(antivirus) that is sucking away the efficiency of the system. Both cases lead to a single perpetrator, and it is your antivirus software. It is vital to check whether the product is causing more harm than good, as even a slight bit of latency issue could allow the virus to skip the firewall undetected and run havoc on your system.
Now, we will discuss the impact of McAfee and Kaspersky on the performance of the system and how well they scored according to our latest tests:
McAfee's Performance:
We passed McAfee under the following scenarios, that were routine procedures on an average computer, and checked whether the system slowed down more than usual against the benchmark scored set by our experts:
Opening new websites like Youtube;
Installing and downloading new applications;
Copying data from one folder to another;
Using the built-in standard apps of the Windows OS.
While McAfee performed excellently well under most of the cases as mentioned above, we saw a slight discomfort and unusual slowness in the behavior of the system when we installed new software and used standard programs on it. For that reason, we had to give McAfee a score of 9 out of 10.
Kaspersky's Performance:
We used the following tests/cases on Kaspersky as well to check its impact on the system's performance and compared to the already established industry average set by the cyber experts:
Opening new websites like Youtube;
Installing and downloading new applications;
Copying data from one folder to another;
Using the built-in standard apps of the Windows OS.
Kaspersky's result was as good as they could have been as it was able to score way better than we expected with every scenario. Although it would fall under the category of unnecessary criticism or nitpicking, the system felt a bit slow when we tried to access some heavy-handed URLs on the system through the default browser. But it still wasn't enough to not give Kaspersky a perfect 10.
| | | |
| --- | --- | --- |
| System-performance | | |
| Slowing-down when launching popular websites | 36% | 15% |
| Slower download of frequently-used applications | 0% | 1% |
| Slower launch of standard software applications | 9% | 6% |
| Slower installation of frequently-used applications | 13% | 25% |
| Slower copying of files (locally and in a network) | 4% | 2% |
| Overall rating | 9.8 | 9.5 |
McAfee was in no way a lesser software, as most of its scores were at par with the industry average, but it was still no match with the likes of Kaspersky, which showed superior results overall and showed superb compatibility with the average computer system. For that purpose, there was no contest in the end, and Kaspersky was the winner in the eyes of our experts.
Winner: Kaspersky Anti-Virus Software.
In our analysis of the features, we found no virtual difference between the utilities of Kaspersky and McAfee antivirus software
Nowadays, software are being designed to serve many tasks, and the days of single function-oriented are long gone. The case with antivirus software is also similar as users tend to look for the additional features within the product rather than stressing hard on its ability to identify viruses. It is no surprise that almost all of the antivirus service providers have been trying their best to address this sudden switch of user preference by offering added features for security such as parental control, VPN, and much more. In this segment, we will check various features of Kaspersky and McAfee and show you which one of them is the superior product in terms of offering the user diversity in features:
Features of Kaspersky:
Kaspersky goes as much as providing the means for safe and anonymous browsing experience with services like a VPN and a custom hardened browser. Other than that, Kaspersky antivirus software offers its added features based on the following categories:
Antivirus Defense Engine: Real-Time Antivirus, Trojan Remover, Instant Threat Detection, Exploit Prevention;
High-Tech Protection(Parental Control): Malicious Link Detector, Malware Defender, Adult Content Blocker, Trusted Application Mode, Social Network Monitoring, GPS Child Locator;
Anti-Hacking: Two-Way Firewall, Payment Protection, Anti-Ransomware, App Lock, Data Shredder;
Privacy Protection: VPN(300 MB of traffic/day), Anti-Phishing, Privacy Browsing, Webcam Protection;
Additional Protection: Password Manager, AdBlocker, Keylogger Protection.
The utilities mentioned above are a testament to Kaspersky's ability to preserve the privacy of the security and offer them a complete sense of security while they manage it.
Features of McAfee:
No matter if you wish to avoid any virus on your device or want to remove every deleted file beyond recovery, McAfee has got you covered, thanks to its extensive library privacy and security-enabling features. Some vital features that come with McAfee's premium plan are as follows:
The conventional Antivirus feature that is fully capable of erasing every kind of malware and ransomware out of existence;
The Performance Optimization utility will allow you to preserve your system's performance and battery by disabling features like auto-play from average streaming sites like Twitch and Youtube;
The Password Manager enables you to control your login credentials(payment information, social media, and email accounts) in a much more secure and privacy-oriented platform;
The Safe Web Browsing features prevent any malicious website from accessing the browser of your computer by blocking them instantly before they cause any more damage to the system;
Your data doesn't necessarily remain deleted when you hit the Delete button, as it can be quickly recovered with a data recovery tool. The Data Shredder utility of McAfee removes the delete files foe good beyond recognition;
With the 128-bit Encryption features and Home Network Security, chances of your WiFi getting hacked gets reduced to zero, far beyond the reaches of any hacker to decrypt;
The Identity Theft Protection function alerts the user if their identity is being used elsewhere without their consent. It also includes the person's payment information, which is always at risk of getting hacked. This feature of McAfee prevents such an event from causing any further harm.
Kaspersky and McAfee antivirus software expertly covered all of their ends in terms of giving the users the type of protection they deserve in this climate, where user data is the most vulnerable. There was a unique similarity in the features of both the services, and it was impossible for us to declare a single winner out of the two, and for that exact reason, we gave the feature comparison round to both of them and called it a Tie.
Winner: Tie (McAfee and Kaspersky Anti-Virus Software)
There was no separating the app interface of Kaspersky and McAfee, as both were very intuitive!
All the affordable pricing plans and the advanced feature coverage could go to waste if the software's interface is not intuitive enough and if it doesn't allow the user the direct access to virus protection upon launching the app. In the latter half of the comparative analysis, we will run you through the apps of McAfee and Kaspersky and give you a verdict on which one of them was easy to use.
McAfee's Interface:
Once you launch McAfee antivirus software on the computer, you will be braced with its graceful yet straightforward layout with a color combination of white, darkish grey, and white, with a touch of blue. Next to the logo of the product, there is a horizontal line up of the following options that allow the user to activate them with a single click:
Home;
PC Security;
Identity;
Privacy;
Account;
Beneath the home icon, you will see a big checkmark with a sign saying: Secure. If you want to know the status of your subscription, then McAfee's interface has a spot at its top-right corner, showing exactly how many days are left before there is a need to renew the plan. For the users who are eager to perform a virus scan as soon as they launch the software, they have the option to run a quick or full scan by clicking the several choices available in the middle of the interface.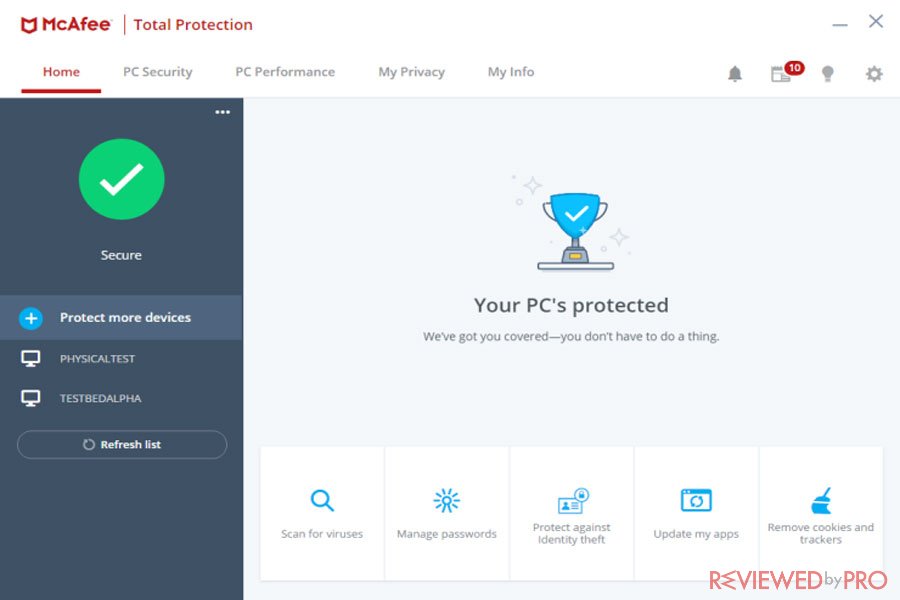 Kaspersky VS Mcafee
Additional options like Password Manager and others are places at the bottom half of the app layout. Overall, McAfee's interface was quite easy to use, and we were able to select our desired choices pretty quickly. The only negative about it was that they could have added more buttons on the front page, as there were a lot of empty spaces between the different options.
Kaspersky's Interface:
Kaspersky's interface is one of a kind; not only is it pleasing to the eyes with the beautiful combination of emerald green and white, but the whole app interface also has big one-click icons for the consumer to use. Upon launch, you will be able to see the prominent notification saying, "Your Computer is protected" right at the top.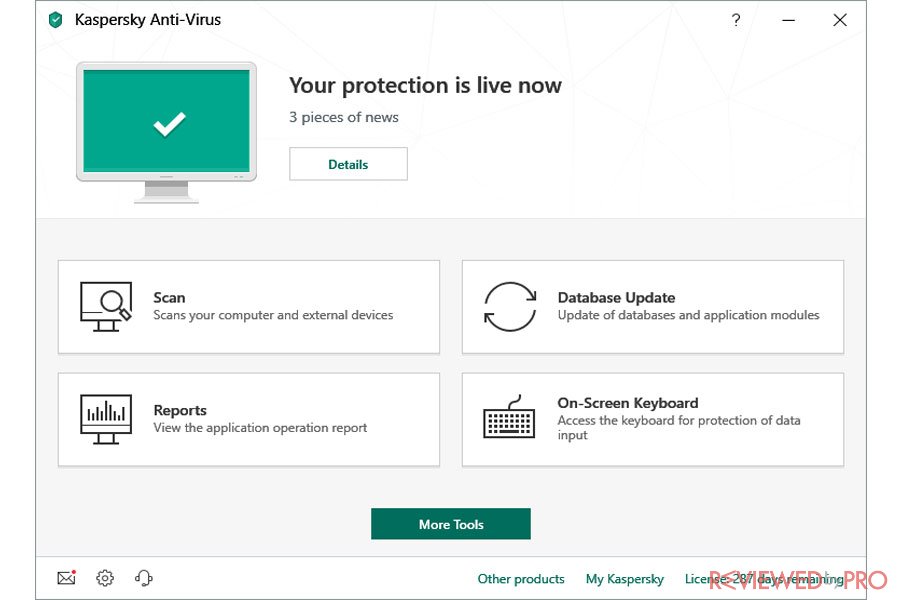 Kaspersky VS Mcafee
Various options like Scan, Parental Control, and Privacy Protection are in the middle, and you can access more features by hitting the "More Tools" button underneath the big icons. The status of the license is available at the bottom-right corner of the interface.
McAfee and Kaspersky's interface had their own kind of uniqueness, while McAfee offered more space to operate the security options, Kaspersky gave the user more variety upon startup. For that reason, there was no point in declaring one interface to be better than the other. So, we had to call the interface comparison a draw/tie.
Winner: Tie (McAfee and Kaspersky Anti-Virus Software).
Is Kaspersky's Customer Support Service better than what McAfee offers? Find out in this section of the Article
If the interface fails you in any regard and if it refuses to open or a virus has infected your computer, then there is no better way than to consult the customer care section of your antivirus software from its official website. Now we will see what types of customer care facilities are being offered by Kaspersky and McAfee to their respective users and which one surpasses the other in this comparison.
Kaspersky's Customer Support Service:
Upon entering the customer support section of Kaspersky, the page leads you to the three options below, that the support section has categorized based on the type of user you are:
Kaspersky for Home and Mobile;
Kaspersky for Business;
Security Tips.
After selecting any of the options above, you will be able to see facilities like FAQs, written guides, and how-to videos to fix your common problems related to the antivirus software or the platform that you use(Win, Mac, Android). Other than that, Kaspersky provides an excellent community forum where frequent users and the people working at Kaspersky Labs interact with each other in solving their everyday software issues. Unfortunately, there is no facility for the user to avail of the live chat service that is a useful tool in solving the user's virus-related problems more quickly.
McAfee Antivirus's Customer Support Service:
Right upon accessing the official site of McAfee, you will a live chat pop-up that is ordinarily available 24/7 with an antivirus expert on the other end. In the support section of McAfee, you can easily access several options like FAQs, how-to guides, and other solutions categorized under the user's chosen platform (Win, Mac, Android, and iOS).
Given Kaspersky had the means to overcome the lack of live chat facility for the user by covering each end with features like extensive guides, videos, and FAQs, but nowadays, a live chat feature is one of the basic necessities any software service provider should offer to its users. It is why we picked McAfee as the winner of this round, without any hesitance, as not only it had separate sections for various informative guides, it also had the much-needed live chat service.
Result: McAfee Anti-Virus.
McAfee is more popular than Kaspersky but with the smallest of margins in our Marketshare comparison
It is vital for any individual or a business entity to know the results of their efforts so that they know how to improve on their shortcomings and give out better results the next time. The same is the case with the market share report that OPSWAT releases now and then, which allows the antivirus service product to understand their place on the market so that they are able to move forward in making the service better. According to the latest report released by OPSWAT in January 2020, McAfee is the second most antivirus software in the world, with 12.94%. While Kaspersky seventh spot with a 6.40% dividend.
| | |
| --- | --- |
| Manufacturer/Brand | Market share |
| | 18.44% |
| | 12.58% |
| | 12.33% |
| | 10.54% |
| | 9.09% |
| | 7.03% |
| | 6.65% |
| Spybot | 6.29% |
| | 4.5% |
| | 3.27% |
Winner: McAfee Anti-Virus.
Our Verdict and Thoughts
It is crucial more than ever for every person who is relying on the digital medium and internet to maintain a balance with their work and personal life. No time has been direr than now, as our over-reliance on such platforms has made our data and other information much more vulnerable to be hacked by cybercriminals. It is why it is essential to opt for an antivirus service as quickly as possible.
In this article, we did a complete comparative analysis of McAfee and Kaspersky antivirus software, both of them being among the most popular data security services in the world. While McAfee was able to give brilliant features and a relatively better pricing plan, Kaspersky was always one step ahead of it the entire time, and it is why based on our ratings and full analysis, we concluded that Kaspersky antivirus software was the better product of the two in regards to affordability and convenience.
| | | |
| --- | --- | --- |
|   | | |
| Antivirus protection | 9.8 | 10 |
| System-performance impact | 9.8 | 9.5 |
| User interface | 10 | 10 |
| Popularity | 8 | 9 |
| Overall rating | 9.5 | 9.9 |
| Regular pricing | From $29.99 / device for 1 year | From 22.95 / device for 1 year |
Winner: Kaspersky Anti-Virus Software.
About the author