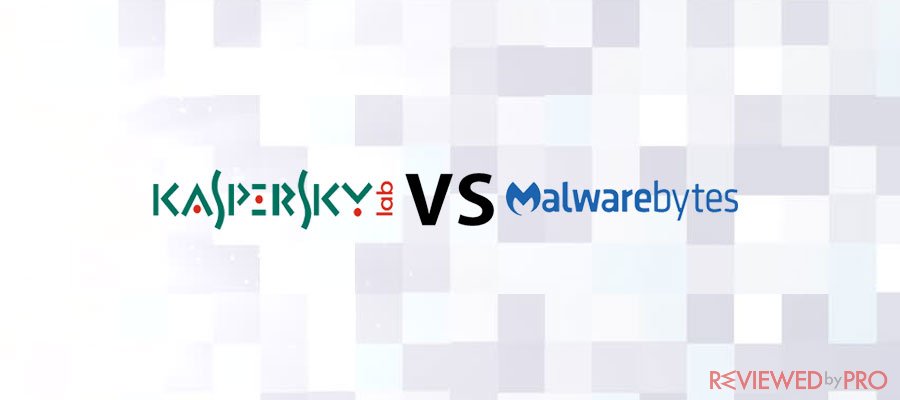 If you noticed system slowdowns, lags or interruptions on your PC or Mac, these could mean that your system might be infected with malware or other harmful viruses.
Users should not forget that a reliable anti-malware and antivirus software is relevant for every Internet user. 
Researchers at Reviewed by Pro constantly test new products in order to provide our readers with up-to-date information. We review the latest Internet security and antivirus applications, privacy solutions, recovery tools, and other utilities, not just for your Windows PC, but also for your Mac and Android devices. 
However, it could be difficult to choose security software that covers all your security and antivirus needs.
Both, Kaspersky and Malwarebytes are well known products in the industry. If you are struggling to choose between these two security applications, check out this article.
Kaspersky or Malwarebytes?
If you do not have time to read the entire article, here is the table which provides with the main features we tested and one winner.
| | |
| --- | --- |
| Feature | Winner |
| Pricing | Malwarebytes offers lower prices for its paid plans. |
| Antivirus protection | Kaspersky detection rates are praised by independent testing labs, while Malwarebytes has not been tested. |
| Security features | Kaspersky has a wider selection of security features. |
| System-performance impact | Kaspersky demonstrates better performance rates. |
| User Interface | Malwarebytes is simpler and easier to navigate. |
| Popularity | Malwarebytes has the largest market share in the industry. |
Kaspersky Overview
Kaspersky[1] is developed by a Russian multinational cybersecurity company, Kaspersky Lab. The company was established in 1997 and since then provides award-winning security products for both, individual users and businesses.
Kaspersky works with premier software and hardware to deliver its customers the best security solutions across all the major operating systems, including Kaspersky Anti-Virus for Windows, Kaspersky Internet Security for Android, Kaspersky Internet Security for Mac, and iOS devices,  password management, endpoint security, and other cybersecurity products and services for customers and businesses (Kaspersky Small Office Security).
| | |
| --- | --- |
| Feature | Score |
| Antivirus protection | Excellent |
| Additional features | A decent set of features |
| System-performance impact | Average |
| Scanning performance | Scans are pretty quick and very accurate |
| User interface | Easy to use |
Malwarebytes Overview
Malwarebytes[2] is one of the most popular anti-malware applications. It was first released in 2006, but various updates are still coming regularly to this day.
This software is known for its reliability and ability to find various threats surprisingly quickly, including all kinds of malware
The company provides home users with anti-malware protection across all the major operating systems including Malwarebytes for Windows, Malwarebytes for Mac, and Malwarebytes for Android. In addition, Malwarebytes offers Malwarebytes Premium that is capable of protecting small offices, teams, and startups.
| | |
| --- | --- |
| Feature | Score |
| Anti-malware protection | Advanced |
| Security and privacy features | Limited feature set |
| System-performance impact | Heavy |
| Scanning performance | Fast and accurate scans with a negative impact on a system |
| User interface | Intuitive and simple to use |
Offerings
As it was mentioned before, Kaspersky offers products and tools across all the major operating systems, for users and businesses. When it comes to Windows home users, Kaspersky offers users four different packages that can cover up to 5 devices:
Kaspersky Anti-Virus

Kaspersky Internet Security

Kaspersky Total Security 

Kaspersky Cloud Security 
Kaspersky also provides a free 30-day trial version, to try one of the Kaspersky products.[3]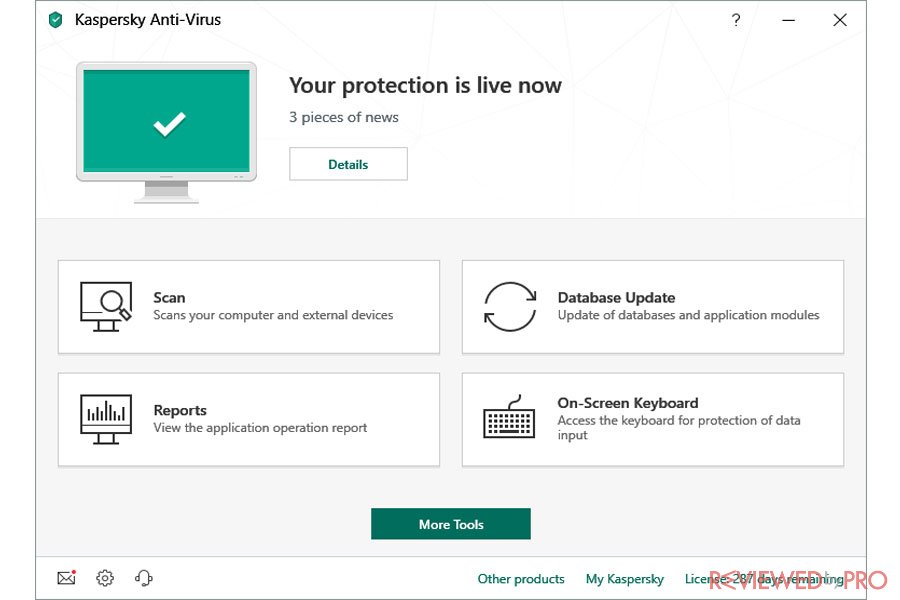 Malwarebytes provides users with a free version of the application that scans the system for malware, viruses and other similar cyber threats and PUPs, and cleans infected devices. Malwarebytes Free complements antivirus, while Malwarebytes Premium is able to replace antivirus.
Malwarebytes home users offer proven Malwarebytes antivirus technology for various devices:
Malwarebytes for Windows

Malwarebytes for Android

Malwarebytes for iOS

Malwarebytes for Chromebook
All Malwarebytes Antimalware products:
Once the software is downloaded and installed Malwarebytes provide users with a 14-day trial of the full version.[4]
Features
As was mentioned before, Kaspersky offers Windows users various packages including Kaspersky Anti-Virus, Kaspersky Internet Security and Kaspersky Total Security.
Kaspersky Anti-Virus delivers essential virus protection for PCs and includes basic features, such as Security, Performance and Simplified security management.
Kaspersky Internet Security is developed to provide users with security that also protects privacy and can cover multiple devices. It includes all the Anti-Virus' features and is compatible with PCs, Mac, and mobile includes privacy feature and protects users while they are shipping or banking online.
Kaspersky Total Security is a premium package by Kaspersky and also includes Parental Controls, Password Manager and File Protection.
When it comes to Malwarebytes, this anti-malware product is not a full-featured antivirus application, even though Malwarebytes Premium can replace antivirus software for Windows, Mac, Android and Chrome OS.
Malwarebytes Premium adds anti-malware and anti-ransomware features, protects from malicious and fraudulent websites, stops malware that decreases computer performance, cleans up infected computers, and protects Identity and Privacy from hackers.
So, that's probably it, when it comes to Malwarebytes features. It is an Anti-malware application that focuses on detecting and removing malware and other threats from your PC. 
Antivirus protection
Kaspersky uses popular antivirus technologies and combines a digital-signature matching engine with heuristic monitoring. Utilizing these two methods, the application is capable of detecting both, known and previously unseen malware threats.
All suspicious items are sent to cloud-based servers for further investigation.
Kaspersky has detected all the threats we have installed in our test PC running Windows 10, while Panda missed some malicious samples.
The independent AV-TEST[5] testing lab tested Kaspersky in its the most recent tests. Kaspersky demonstrated one of the best malware detection rates and detected 100% of both, zero-day malware attacks, including web and email threats and 100% of widespread and prevalent malware.
Malwarebytes is very powerful and demonstrated pretty good malware detection rates, as it detected more than 98% of malware on our test computer.
However, we cannot compare our test results to any independent testing labs' results, such as AV-TEST because Malwarebytes was not tested by any of them. So we do not know how the application would be rated in bigger tests.
In this case, the winner is Kaspersky that demonstrates 100% detection rates.
System-performance impact and scans
According to our test results, Kaspersky Anti-Virus can slow down your system by a maximum of 10 percent, which is a perfect score.
In addition, AT-TEST also rated Kaspersky 5.5 out of 6.0, as it delivered better results than the industry average.
Slowing-down a system while launching popular websites – 36% (19%)

Impact on a system while downloading frequently-used applications – 0% (1%)

Impact on a system while launching standard software applications – 9% (8%)

Impact on a system during the installation of frequently-used applications – 13% (25%)

Impact while copying of files – 4% (3%)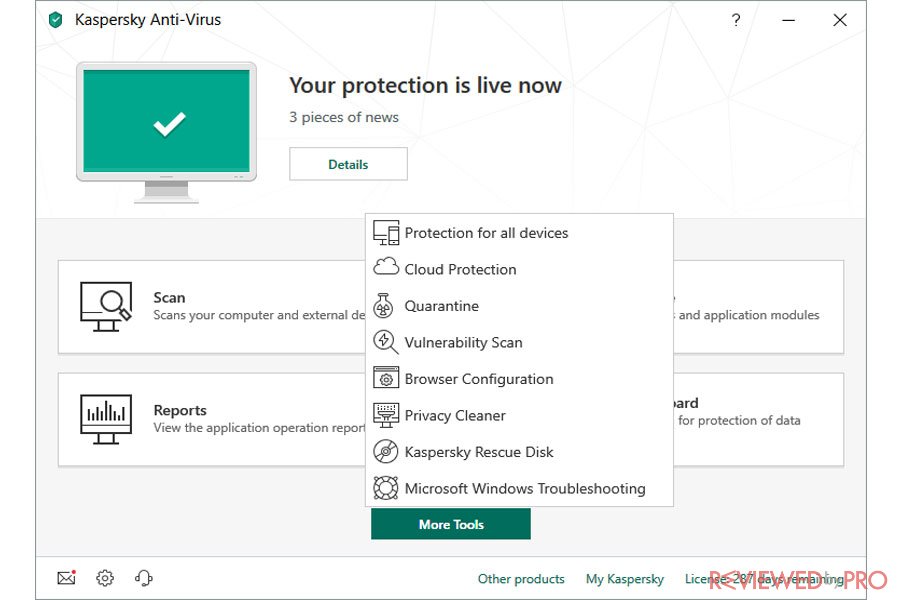 The first scan took about 30 minutes, the subsequent scans were finished in less than ten minutes, which is pretty fast. In addition, its quick scan only took about 2 minutes to complete. During the full scan, the OpenOffice tool finished about 30% slower than the baseline, which is in the middle.
Malwarebytes Anti-malware has a relatively heavy impact on system-performances and can cause lags and interruptions. The application uses more system resources than most of the antivirus products. As we tested, Malwarebytes Anti-malware had an impact by 30% on our test computer which is more than the industry average.
Malwarebytes Anti-malware offers users quick and stable scans. The application offers users three types of scans, including the full system scan or the Threat Scan, Custom Scan and Hyper Scan.
Malwarebytes Anti-malware was not tested by any of the independent testing labs, it is unknown how the application would perform on bigger tests, this is why the winner is Kaspersky again.
User interface
Kaspersky has a modern design and the user interface is easy to use. However, despite this, there is an issue with navigation. If you move away from the Home screen, you will not have many choices – to use another feature, you will have to press 'Return' and only then you can choose another option.
At first sight, Malwarebytes can seem a bit complex, as it hosts of status details, multiple icons, assorted buttons, and five tabbed areas. However, once you use it, you will see that actually, the program is very simple and intuitive. The interface is easy to understand and navigate
Popularity
According to OPSWAT's streamlined Windows Anti-malware Market Share Report[6], which includes the most recent data collected for 6 months from June to December, Malwarebytes appears in the third place and takes 12.23% of market share, while Kaspersky is only in the seventh place with 6.65% of the market share.[6]

As you can see in the graph above, other popular products include Avast, McAfee Inc., Bitdefender, ESET, Webroot, Safer Networking Ltd with SpyBot Search & Destroy, Avira, and Symantec with Norton.
The final verdict
Kaspersky is one of the best choices in the market. It offers flawless antivirus protection, 100% malware detection rates, and great features. However, its interface could seem a bit confusing and it does not offer a VPN service.
When it comes to Malwarebytes, This application will protect your computer not only from the usual malware, but from ransomware, infected sites, and various small threats. Malwarebytes is a great anti-malware software and worth its price after all if you need real and reliable protection against the latest threats on the Internet.
Final thoughts
As we tested both antivirus applications, we would say that Malwarebytes is a great choice for those who want to fulfill their security with an additional layer of an antivirus. In addition, it is great for those, who do not need that many additional features, instead focus on anti-malware protection.
For those who want to protect their entire household or family and are looking for full-featured security software, Kaspersky is a better choice.
The table below summarizes our test results. As you can see both programs have similar malware detection and removal rates, performance and usability results.
| | | | |
| --- | --- | --- | --- |
| Manufacturer | Detection rate | Performance | Usability |
| | 10 | 9 | 10 |
| | 8 | 7 | 10 |
If you are still not sure which program to choose, our researchers constantly test and review different security applications for Windows, Macs, and Android devices. Check out our Security section and choose the right solution for you!
About the author
References