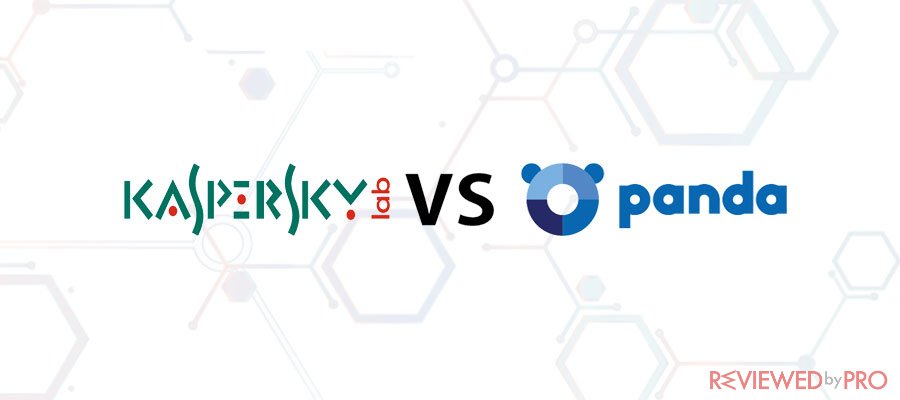 If you are looking for a professional opinion to find which one out who will win a battle Kaspersky vs Panda, then you are in the right place, as we will dive deep into their every feature, performance rating, and pricing plan to determine the result. We will also give a separate verdict on every quality of the antivirus software in the end.
There was no proper contest in the end as Panda antivirus software has a lot of catching up to do, mainly because it needs an appropriate reshuffle of the full service, as there hasn't been any adequate update of the program for a lot of time. Kaspersky, on the other hand, has all the bases covered and offered much more thorough pricing plans and features for the user to pick. But not all is hunky-dory as its customer care service needs a serious overhaul. Other than that, there was no reason to declare the Kaspersky anti-virus program as the winner of this side-by-side comparison with Panda.
Kaspersky vs Panda Antivirus Software comparison
If you know what you want out of Kaspersky and Panda and just wish to understand which out of the two antivirus software is superior in quick succession, then we have designated this section for our most knowledgeable readers.
Price comparison – Kaspersky offered coverage on more than one device with its basic plan as compared to Panda, which was only available for one device at a time. It is why we gave this round to Kaspersky antivirus software;
Antivirus Protection Rating – Kaspersky was more responsive to the real-world testing procedure as compared to Panda, even though both Panda and Kaspersky scored the same when it came to detecting the latest malware. However, Kaspersky antivirus software was more efficient and quick in full detection of the virus, which is why we gave this round it;
Features – Kaspersky antivirus software had a vast and more diverse set of features, unlike Panda, as it offered a parental lock, child device locator, AdBocker, and data shredder;
System-Performance Impact – Kaspersky antivirus software showed excellent compatibility with the system and allowed us to do the routine work effortlessly, which is why it was the winner of the performance round;
User Interface – Kaspersky's interface was more in tune with the standard antivirus software, which permitted us to access any option immediately. Despite the uniqueness it offered, Panda's interface was quite distracting. It is the reason why we picked Kaspersky antivirus software over Panda;
Popularity – Kaspersky antivirus software currently holds the third spot as the most profitable antivirus software with a market share of 12.85%
Customer Support Service – Kaspersky does not offer any sort of interaction with a technical expert of the antivirus software. On the other hand, Panda's customer support service was more proper and in line with a standard quality product. The winner of this round was clearly Panda antivirus software
See our rating table below on how we judged our final verdict based on some essential attributes of the high-class antivirus software:
| | | |
| --- | --- | --- |
|   | | |
| Antivirus protection | 10 | 9.9 |
| System-performance impact | 9.2 | 8.8 |
| User interface | 10 | 10 |
| Popularity | 8 | 2 |
| Overall rating | 9.5 | 9.2 |
| Regular pricing | From $29.99 / device for 1 year | From $29.99 / device for 1 year |
| Discount for our users | -50% Off | -40% off |
With ever so new cyberattacks instilled into the world of the internet, nothing is more essential for average users and online businesses to arrange for the appropriate accommodation, such as powerful antivirus software. These software providers ensure safety and are laced up with high-end security protocols such as malware/spam detecter, VPN, password encryption, and much more. There are unarguably several antivirus software out there that offer everything, but today we will do a thorough comparative analysis of Kaspersky and Panda antivirus software, which will allow you to decide on which service to purchase, based on several aspects. So, let us begin with a proper pricing comparison.
Kaspersky was the clear winner versus Panda in a pricing round
Almost every antivirus software provider offers an equal number of features that provide the necessary protection against malware and data hacks. But the deciding factor that sways the user's decision at the end is the pricing structure of the antivirus software that they had hoped to get for their device. It is due to the reason that there is no linear pattern to a person's budget, and there is a misconception about several software services that they are severely expensive, not just antiviruses. In this section of the article, we will help in breaking such as misunderstanding by showing you the variety of offers that Panda and Kaspersky offer, along with providing the opportunity for the users to share their respective accounts across multiple devices and platforms, for the sake of easing the budget.
Kaspersky's Pricing Offers:
It is worth mentioning that Kaspersky offers its basic package on as much as 3 Windows PCs for 1-3 years at a price starting from $29.99. For the customer who wishes to use Kaspersky on a maximum of 10 devices, then the service provides the Total Security package across platforms like Windows, macOS, Android, and iOS. You can check all the plans in the list below with details on their device coverage and other things:
 

Anti Virus

Internet Security

Total Security
Security
Defends against viruses, ransomware & more

✔

✔

✔

Performance
Protects without slowing you down

✔

✔

✔

Simplicity
Simplifies security to save you time and hassle

✔

✔

✔

PC, Mac & Mobile
Secures your devices – in any combination

✗

✔

✔

Privacy
Helps you keep your private life… private

✗

✔

✔

Money
Protects when you're online banking & shopping – on PC & Mac

✗

✔

✔

Safe Kids
Parental controls & extra features – to protect kids on PC, Mac & mobile

✗

✗

✔

Passwords
Manages & stores passwords – and syncs for access from PC, Mac & mobile

✗

✗

✔

✗

✗

✔

Discount for our readers
Software pricing
Panda's Pricing Offers:
Unfortunately, Panda offers coverage across only one device with all of its packages, but they are compatible with every Windows PC, macOS-based computer, and Android smartphones. The most popular plan of Panda antivirus software is the Dome-Premium package, which is available at $83.49. You can check its other plans with affordable rates in the list below:
 


DOME Essiantial
2020



DOME Advanced
2020



Dome Complete
2020


DOME Premium
2020

Antivirus protection with Firewall

✔

✔

✔

✔

Mac and Android devices real-time antivirus protection

✔

✔

✔

✔

Free VPN – Limited 150MB/day

✔

✔

✔

✔

Protect your WiFi network from hackers and prying neighbours

✔

✔

✔

✔

Scan external/USB devices and keep them safe from any kind of threats

✔

✔

✔

✔

Parental Control

✗

✔

✔

✔

Identity protection

✗

✔

✔

✔

Ransomware cyberattacks and advanced threats protection

✗

✔

✔

✔

Data Shield – Encrypt your confidential data

✗

✗

✔

✔

Password Manager

✗

✗

✔

✔

Cleanup Tool

✗

✗

✗

✔

Premium Unlimited VPN

✗

✗

✗

✔

Unlimited Premium 24/7 Technical Support

✗

✗

✗

✔

Pricing
$35.39 / 1 device
$42.59 / 1 device
$53.49 / 1 device
$83.49 / 1 device
The difference is pretty hard to miss as Kaspersky offers all-around coverage on almost every platform at much lower rates and with a diversity of picking the number of years, you wish to get the service for, unlike Panda antivirus software. So, in the end, there was no real, despite the promise Panda offered, we are making our verdict in Kaspersky antivirus's favor.
Winner: Kaspersky Anti-Virus Software.
Kaspersky Scored better than Panda in a protection round
With the understanding of the fact that new and more deadly viruses(malware) are coming into the fold to destroy the data and devices of users all around the world, we put both Panda and Kaspersky antivirus software across testing methods such as Real-World Testing. We also ran several new malware from emails to data files and checked whether Kaspersky and Panda carried the potency to detect and erase such malware from existence and determining the ratio of false alarms against real ones using every feature offered by the software's interface.
Kaspersky's Protection Policy:
According to the results of real-world testing that was conducted in the early days of January 2020, Kaspersky scored remarkably well against spam emails and zero-day malware by reacting instantly and moving them to the quarantine zone. The scores that we collected were remarkable as they resembled close to the industry average.
Panda's Protection Policy:
Panda's performance in giving total protection to users from the latest malware attacks was satisfactory. It scored a healthy 99.2 in our real-world test and was able to alert and quarantine every new virus that was thrown its way on the computer. Here are the results:
Panda was quite efficient against every hurdle and was able to give full protection to the user's device, but there Kaspersky was extremely fast to react, especially during real-world testing. It is for that reason, we are giving this round to Kaspersky anti-virus.
| | | |
| --- | --- | --- |
| Protection rate | | |
| Protection agains 0-day malware attacks (web and email threats) | 100% | 99.2% |
| Detection of most common spread malware in last 4 years | 100% | 100% |
| Protection Score | 10 | 9.9 |
Winner: Kaspersky Anti-Virus Software.
Kaspersky had less impact on the Computer's performance compared to Panda
Antivirus software is known for taking a substantial amount of storage space on both the hard disk and the RAW, which in turn could affect the performance of the PC. If your PC acts sluggish because of the anti-virus program, then there is a high probability of malware entry into the PC without the antivirus software noticing. If this is the case, then the best remedy is to get a service that does not put a heavy toll on the routine functions of the computer. In this section, we will show you the system-impact results of both the Panda and Kaspersky anti-virus program as we will base the rating on the PC's ability to open high-end URLs, installation of popular applications, and moving data from one folder to another.
Panda's Performance:
Panda matched the industry average benchmark set by several independent antivirus testing forums, and we were able to use the browser and install apps flawlessly. But the PC showed some discomfort and lag when used it to install popular programs while Panda was running a scan in the background, and for that reason, we gave Panda a score of 9 out of 10.
Kaspersky's Performance:
Kaspersky was able to keep its scores well below the industry average across situations like opening as much as 50 URLs, installing and downloading frequently used apps, and copying files with massive storage from one folder to another, including uploading them on the internet. Due to this reason, the Kaspersky antivirus program scored a perfect 10 out of 10.
| | | |
| --- | --- | --- |
| System-performance | | |
| Slowing-down when launching popular websites | 36% | 30% |
| Slower download of frequently-used applications | 0% | 17% |
| Slower launch of standard software applications | 9% | 7% |
| Slower installation of frequently-used applications | 13% | 44% |
| Slower copying of files (locally and in a network) | 4% | 17% |
| Overall rating | 9.2 | 8.8 |
While Panda's scores deserve recognition as it worked significantly well as compared to other popular antivirus programs, but the PC showed some latency issues when we downloaded and installed frequently-used applications. On the other hand, Kaspersky allowed the computer full breathing room to perform its everyday functions with complete efficiency, which is why we declared Kaspersky as the winner of the performance round.
Winner: Kaspersky Anti-Virus Software.
Kaspersky Outclasses Panda with better security features
The superiority of antivirus software is determined by the diversity of the utilities or feature it offers with its different packages. Nowadays, quality antivirus software not only provides the resources to get rid of any potential virus, but they give other sources of online/offline protection such as a password manager, data encryption module, VPN, and anti-theft. Here we will discuss the different features and additional utilities that Kaspersky and Panda offer to their users.
Features of Kaspersky:
From killing conventional viruses to shredding data beyond recovery, Kaspersky offers it all with its Total Security package, which is available for a small price of $49.99 for one year across five devices. To top it all, Kaspersky provides a quality high-speed VPN program with anti-phishing features. Here is the list of some of the additional features that come with the Kaspersky antivirus software:
Kaspersky's features
Antivirus Defense Engine
Real-Time Antivirus
Malicious Link Detector
High-Tech Protection
Two-Way Firewall
VPN with up to 300 MB of traffic per day
Anti-Hacking
Password Manager
Trojan Remover
Privacy Protection
Defender
Anti-Phishing
Additional Protection
Adult Content Blocker
Instant Threat Detection
Parental Control
Social network Monitoring
Trusted Application Mode
Anti-Ransomware
Privacy Browsing
Ad Blocker
Exploit Prevention
Custom Hardened
Browser App Lock and Data Shredder
Network Attack
Screen-Time Management
Malware Defender
Webcam Protection
Anti-Keylogger
Protection GPS Child-Locator
Features of Panda:
Like Kaspersky, Panda also offers enough facilities to keep the virus protection at bay. These utilities include a VPN that provides the opportunity to access any content that is restricted online unlimited bandwidth. Additional features that are other than virus protection, with a 100% detection rate of the Panda Dome Premium Package are as follows:
USB Virus Scanner;
Parental Control;
The Password Manager Utility;
Cyberattack(Malware and Ransomware)Counter Measure;
Data Encryption to keep everything confidential;
A cleanup tool to erase unnecessary cache files and cookies.
Both Panda and Kaspersky offer compelling facilities for added protection to the user, and the features were quite similar, more often than not. But, the fact that Kaspersky antivirus software presents additional features such as ad-blocker, child locator, and webcam protection was the reason we picked it as the most suitable winner of this round of feature comparison.
Winner: Winner: Kaspersky Anti-Virus Software.
Kaspersky's Customer Support Service is better than Panda's
If you do not know your way around on how to operate your antivirus software, then a facility like an antivirus's customer support comes in handy at that moment. The service needs to streamline their support section and make it more user-friendly with features like a 24/7 live chat and an email support program, followed by informative FAQs. Now, we will show whether Kaspersky and Panda possess a quality customer support service or not.
Kaspersky's Customer Support Service:
Although Kaspersky does not have a much needed live chat facility, it makes up for such a shortcoming with several other options that are accessible on the customer support section from its official website. The customer service is divided into three subsections, which are as follows:
Kaspersky for Home and Mobile;
Kaspersky for Business;
Security Tips.
The sections mentioned above are filled with options like a knowledge base for home, consumer support contacts, create request, online help, how-to videos, a community forum, and online training for businesses. With the knowledge base utility, you can quickly learn how to manage your antivirus software for a particular platform(Win, Mac, Android), with brief answers to several common FAQs.
Panda Antivirus's Customer Support Service:
Not only does Panda arrange for a live chat session(24/7) for its premium users who are in desperate need of assistance, but it also enables a standard support option with a telephone number that is available from Monday till Friday. If you find any trouble getting in touch with the live chat facility, then you can always avail of the email and web support service of Panda to get a more authentic fix of any issue. Other than that, you can access the FAQ section of panda any time that is categorized under the following options:
Setup;
Customer data;
Purchases and renewals;
Update your antivirus to the latest version.
Moreover, Panda has a community forum for all of its users for the purpose of interaction and share solutions to standard antivirus software-related issues.
Not having a live chat and email support facility is a significant negative, and Kaspersky has failed to offer such essential features to its users. On the other hand, Panda not only provides both of those options, but it also has an extensive library of FAQs that allow the user not to contact the technicians waiting to assist in the live chat section. In the end, it was a no brainer to pick Panda as the winner of the customer care comparison.
Winner: Panda Anti-Virus.
Kaspersky vs Panda with OPSWAT's Market share Report
One can determine the popularity of any product with its market share stats, and the same is the scenario with antivirus software providers. Such figures offer the chance to know where they stand in the popularity chart. It also pushes them in the right direction to make their product more accessible and user-friendly. According to OPSWAT's report on the antivirus market share that was released on 9th Jan 2019, Norton leads the market with a remarkable percentage of 13.67%. Kaspersky isn't far behind as it sits pretty in the third spot with a considerable chunk of market at 12.85%. Panda didn't even crack the top 10, so it was a pretty one-sided contest.
Ranking Anti-Virus Programs Market Shares
| | |
| --- | --- |
| Manufacturer/Brand | Market share |
| | 13.67% |
| | 12.94% |
| | 12.98% |
| | 10.06% |
| | 9.09% |
| | 7.45% |
| | 6.4% |
| | 4.68% |
| Cylance Inc. | 4.19% |
| Trend Micro | 3.67% |
| Other | 15% |
Winner: Kaspersky Anti-Virus.
Kaspersky has the more Friendlier Interface comparing to Panda
It does not matter if the software in question is an antivirus or a social media app, a friendly interface is the most important aspect of any app. You know you have made the right call after purchasing the software once you open and use it on your computer and feel how easy it is to navigate and how good its inner display is, with the color palette. Now we will look upon the app interface of Panda and Kaspersky.
Panda's Interface:
Panda's software interface for PC felt like that we were using a proper mobile app interface, with large turquoise colored icons that were easy to access and scan information at the forefront, with wallpaper in the background. Once you open the app, you will be able to see and
open option like Antivirus, PC Cleanup, and VPN that could be turned on with a simple click.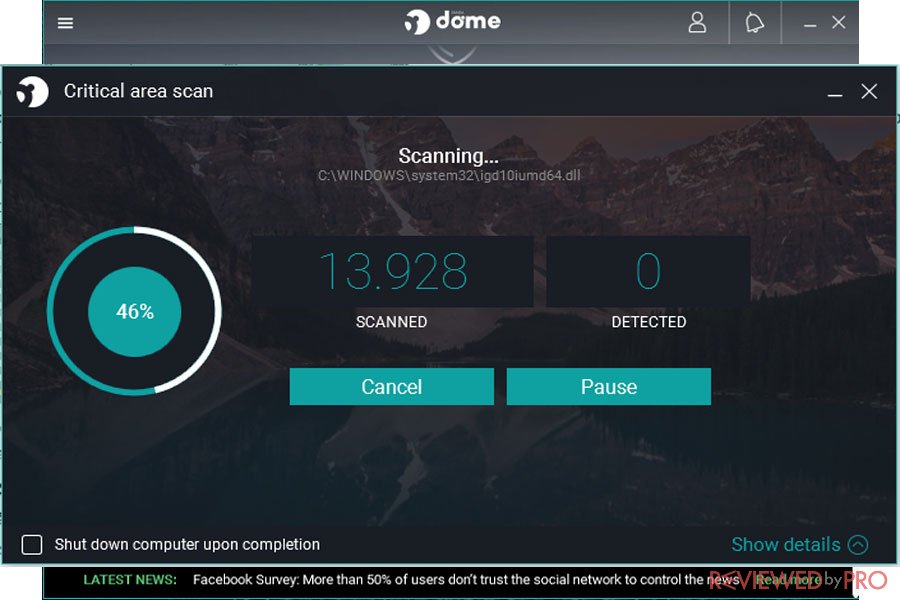 Kaspersky's Interface:
Kaspersky offers a more conventional app interface that is more in tune with every top antivirus software in the world. The whole interface is an amalgam of emerald green and white, which is pleasing to the eye.
After opening the software on the PC, you will see a large confirmation message featuring that "Your Computer is protected" with a green background. The security options such as Scan, Parental Control, Privacy Protection, and others are available. At the bottom tier, the license tenure is mentioned, along with a settings gear icon.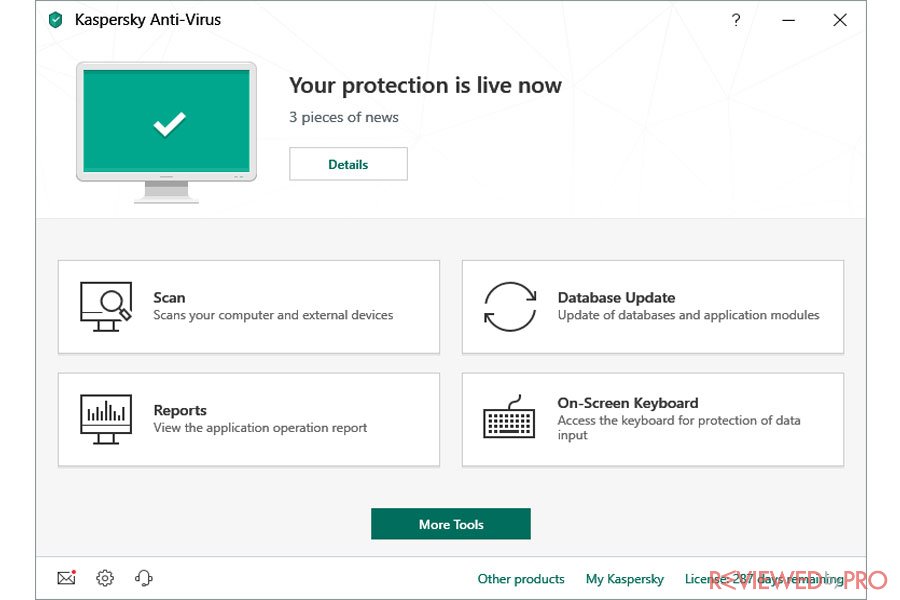 Panda had a relatively new interface that not many antivirus software possesses, and its wallpaper behind the icons was sort of distracting, unlike Kaspersky, as it was more quick to access its options. Kaspersky's whole interface was much more straightforward than Panda's, and it is why we gave this round of the interface comparison to Kaspersky antivirus software.
Winner: Kaspersky antivirus software.
With the number of cyberattacks on average PCs recorded in billions in the last year alone, the same stats will come to an increase in 2020 if the average user refuses to acknowledge the threat and get antivirus software for protection. In this article, we have discussed the different qualities and offerings of Panda and Kaspersky antivirus software, which is enough to influence your decision on which service to pick.
| | | |
| --- | --- | --- |
|   | | |
| Antivirus protection | 10 | 9.9 |
| System-performance impact | 9.2 | 8.8 |
| User interface | 10 | 10 |
| Popularity | 8 | 2 |
| Overall rating | 9.5 | 9.2 |
| Regular pricing | From $29.99 / device for 1 year | From $29.99 / device for 1 year |
About the author