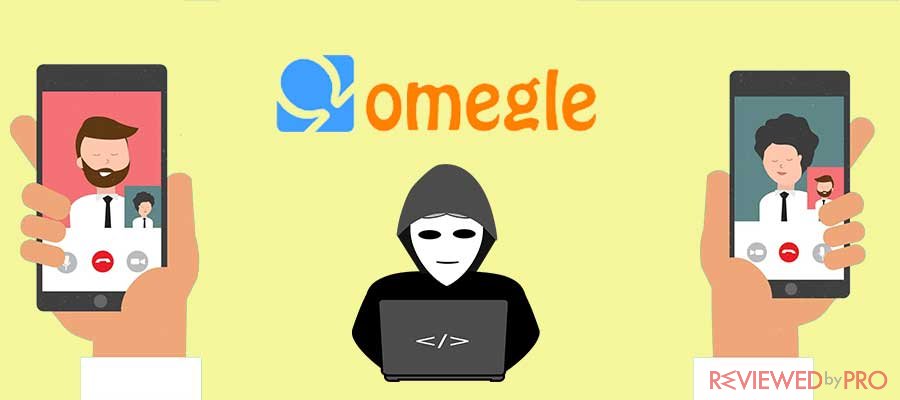 is omegle safe to use?
Is Omegle Safe? My friends and I wanted to explore the online chatting website but have serious doubts about the privacy policy of the site due to it being an unregistered platform. Is it really safe, and what are the ways to maintain security while using Omegle? Before using any video chat use NordVPN to protect your privacy and identity.
The internet is a crazy place! On the one hand, it is a sea of knowledge, information, and harmony. But on the other side, it is a world full of chaos and evil where one would think twice before entering in order to be safe. Chat services like Omegle represent both sides of the internet, the good and the ugly. In this article, we will look into the burning question of whether Omegle is safe for average users or not.
Is it safe to use Omegle?
The form of chatting online truly caught fire when dial-up internet connections first started along with the introduction of AOL service's instant messaging feature in the 1990s. It really blew up when the 3G technology got its wing, and the average user got the opportunity to test them.
Such advancement in tech was instrumental to the creation of online chat services like Omegle and Chatroulette. It went the extra mile and allowed the users to chat(text and video) with complete strangers without having to register on the platforms.
Omegle was first introduced and launched online by an 18-year-old teenager Leif K. Brooks from the US state of Vermont in 2009. The initial version of the service only allowed the users to chat by producing anonymous text. But it wasn't long until the video chat or conferencing facility was added, which skyrocketed the popularity of the platform.
The security updates and features Omegle introduced along the way
Though the site's interface doesn't give out a vibe of an adequately operated service, the retro look of the chatroom was inspired by AOL's old interface. In the present day, you can interact both via text and video with other strangers, even on your cellphones.
The service does not ask for your name, and you would remain completely anonymous. And throughout the chat session, the interface of Omegle will refer to your identity as "Stranger 1." During the early part of the last decade, the spy mode was added to Omegle. It offered users to anonymously ask questions to two individuals(strangers) in a separate chatroom after being paired with them randomly.
However, once you had asked the question, you would not be able to comment further input into the conversation. This feature was inspired by more convenient and straightforward platforms like Quora.
But it didn't stop certain people from posting inappropriate things online. And there was no way of knowing whether children were witnessing profanities online. Besides, there were minimal filters to avoid that. It is why in 2012, the unmonitored chat feature on Omegle got introduced, which was only limited to people aged 13 and over.
Furthermore, an advanced facial recognition algorithm was inducted into the video conferencing mode of Omegle. It was set to prevent the usage of inappropriate content aimed toward minors(children below 16). It also allowed adults to chat more freely with people of their age. The other feature that Omegle introduced was the "Dorm Chat" facility for college students that offered them to induct their ".edu" email addresses and chat with fellows and peers.
The safety of an individual on Omegle is subjective
Safety on the internet is entirely subjective and depends on the way you perceive it out to be. There is no way to control human behavior, and the same could be said about the internet. If you happen to keep yourself on the right side of the internet's spectrum, then there is no better than it. But God forbid if you ever step on the wrong side of the internet aisle, then you would curse yourself for as long as possible.
The same is with Omegle as it is a great source to relieve the stress of everyday work and school activities. It also allows to interact with random strangers of all ages, ethnicity, and other backgrounds for free and learn their point of view on life from a different angle.
On the other hand, much like the internet, the Omegle chat facility is also used by individuals who could use profanities, be racist, and display different types of inappropriate behavior. We have compiled come categories for you to decide whether Omegle is safe for you or not.
1. Omegle is not a safe place for teenagers:
If you are under the age of 18 or you have a teenage child, and you wish not to see them interact with random strangers who could possibly be predators or deviants using profanities or pornographic content, then Omegle is not safe for you, and it is best to find some other ways to consume your free time.
However, if you still intrigued by the chat facility and wish to access it, then you can enable Omegle's filter feature. It does the best it can with the algorithm it supports to catch all nudity and sexual behavior or profanity it can detect.
Other than that, with the video chat facility, Omegle allows the user to opt for an "Adult" filter to access the more advanced content. But, this doesn't prevent minors from casually enabling the feature while pretending to be an adult. It prompts the predators to take full advantage of the vulnerability of Omegle.
2. Omegle's strange privacy policy does not protect the users completely:
Omegle claims not to gather the data and personal information of its users who chat in the facility. But does not hand out any other form of assurance. It implies that something is fishy, and the service is handing out a false sense of belief to the users that their data is safe with them.
Other than that, Omegle does not filter out information. Which include things such as the home address, phone number, email address, or name of the user inside the chatroom, and the users have full freedom to share the information with anyone.
3. Omegle is a paradise for hackers and cybercriminals:
Upon checking Omegle for ourselves, we found that there was an abundance of spambots, pornographic content. Moreover, there were malicious links to hacking into the device of the user on the other side of the chatroom once they click on it.
It is worth noting that Omegle does not seem bothered by such an abundance of malicious content on their platform. The content is being used to carry out unethical activities.
Furthermore, the entire network of Omegle isn't that hard to hack into and creep into the private random chatrooms to hack the users' webcams and other devices.
4. You could become a victim of cyberbullying:
It doesn't matter whether you share your information on Omegle or not. Once you start chatting, the chances of you getting cyberbullied will increase as well. And such type of behavior is also subjected to how you use the platform as too.
Other than that, we are all aware of the bullying culture within the educational institutes all around the world, especially the United States. Active students avail the "Dorm Chat" feature of universities to interact with their peers and share joint educational and personal interests with each other.
However, if you use some specific information regarding yourself or someone else, for that matter, then it could be used to bully you or some other person by some untrustworthy individual. You could also be blackmailed, scammed, or even recorded, without giving your consent on the matter.
You can make Omegle Safe by implementing different security measures
We must always be aware of our surroundings. It does not matter if we are outside in a public place or on the internet. It is vital to arrange for some preventative or cautionary measures before entering into the unknowns of platforms like Omegle, irrespective of the negative consequences of the platform. Without such measures, it would get catastrophic, and similar things, as we mentioned in the previous section, could occur and ruin your day.
In this part of the article, we will show how to remain safe on Omegle if you still want to use it:
1. Always start via text chatting on Omegle if you are under 18:
There is no need to rush to the video conferencing feature of Omegle. Mainly if you are wary of your security and privacy on the internet. It would help if you started by availing the text chatting facility of Omegle to interact with anyone on the platform.
Do not give out your personal information at once. You should first try your best to churn out relevant details of the person that you are chatting with on Omegle. Copy the specifics and search whether the person is sharing the truth or not. You can find the reality on the person's info by entering the particulars on platforms like social catfish or others.
If the information of the person checks out, then you can proceed with sharing your name with them.
2. If you are a parent, then educate your child about safety and interacting with someone on platforms like Omegle:
Parenting is plausibly the most complicated job in the universe. It would be best if you always taught your children about the real-world consequences of entering into an unknown place unprepared. It doesn't matter if the situation is real or virtual, as both carry the same adverse effects. Always teach your children not to give out their information to any stranger. If your child is too young to be on the internet, nevertheless Omegle, then you should filter out platforms like that through different means.
3. Always use a VPN when using Omegle to be safe:
If you are a child or an adult and still wish to chat with someone sitting on the other part of the globe, then you should use a VPN. Predators and hackers use platforms like Omegle to hack into the network using the IP address and your other relevant information.
With the VPN, you will have an entirely different IP, and there would be no way of knowing your identity and hacking into your device. Plus, with a VPN, you would be able to avail additional facilities like unblocking restricted content, and so much more. If you are confused about which VPN to get, then here is some information on some of the best VPNs on the market:
Official website
www.nordvpn.com
Our Rating
(Excellent – 4.9/5)
Available applications
 
Money-back guarantee
30-days
Price from
$3.49/month (-70% deal)

Visit website
More information
NordVPN review
4. Antivirus will keep you safe from all hacking attempts through Omegle:
After ensuring privacy and anonymity with a VPN, the chances of you getting hacked remain. This can happen if you click on a malicious link from the Omegle shared inside the chatroom. Such malicious links could contain a virus, malware, or even ransomware. Powerful antivirus software is capable of preventing that file or URL from infecting your device. Here are some of the Antivirus software that you could purchase that are potent enough to keep your device safe from viruses:
Avast antivirus software – Ensure protection with Avast which is available at a price starting from $39.99 per month;
Norton antivirus software – No better than Norton to detect and kill viruses and you can get it for a cost of $39.99 per month;
McAfee antivirus software – Keeps your device safe from viruses for a fee of $44.99 per month.
Safety starts from our readiness – Final thoughts on using Omegle
There is no denying the level of convenience that the internet has brought out to us. But it is still not a green place to roam around freely. And it would be foolish to access it without using appropriate means of protection. Though it is fun to use Omegle and it provides a new way to interact with different people around the world. It is still not a safe place.
We have discussed the possible consequences of using Omegle without arranging for proper precautionary measures. We have also shown you the different ways to keep yourself safe and private on Omegle or any other place on the internet
About the author