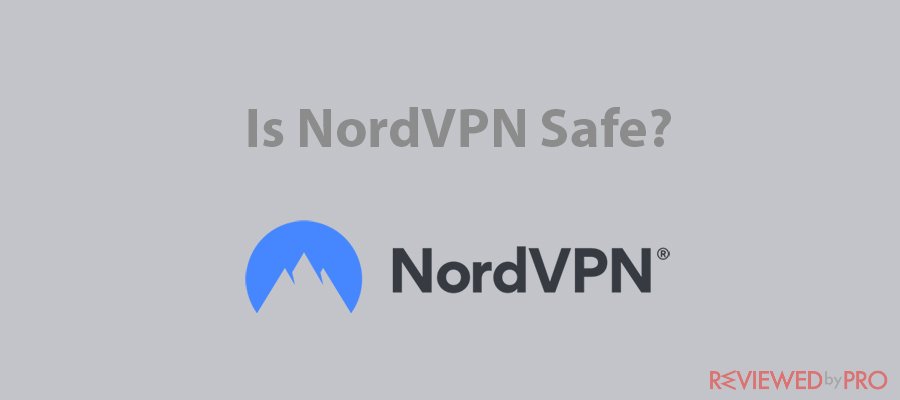 Is NordVPN Safe?
VPNs are best known for the security they offer to users as they surf and stream online content. It is also added to the primary function of bypassing geo-blocks set up by media companies that restrict their media content to specified viewers.
Therefore, we can rightly conclude that a good VPN grant you access to restricted content for unlimited streaming hours and ensures that your security and privacy are kept tight. It is made possible by the sophisticated security systems employed by the VPNs.
Among the many VPNs available today, NordVPN is ranked to be among the best, if not the best. It has a remarkable reputation for using superior modern technology to bypass geo-blocks, seamless and secure content streaming, and high-tech encryption that keeps your privacy tight.
But is NordVPN as safe as they say it is? Well, that's what I'm going to show you today. After doing some research, I have concluded based on the results I'll show you in this article as we'll check out how safe NordVPN is.
Before we get into the main business of the day, let's quickly see little details about NordVPN worth taking note of.
What is NordVPN?
NordVPN is a Panama-based Virtual Private Network developed by Tefincom & Co., S.A., released in 2012. It has over 7,100 servers in 60 countries. One thousand six hundred of these servers are located in the united states. By being based in Panama, and you already know that your data is secure since the government does not have laws that demand mandatory data retention. Neither the Five Eyes nor Fourteen Eyes alliances are in operation in Panama. It boosts NordVPN's confidence in the safety of your data.
The plethora of servers in operation under NordVPN gives you complete access to global content. In addition to this, NordVPN is compatible with Android, macOS, iOS, Linux, and Windows, which means you can use NordVPN from your personal computer, smartphone, smart T.V., and even routers.
It is worth to notice that NordVPN works with: Hulu, Netflix, HBO NOW, Amazon Prime Video, Sling T.V., Shudder, BBC iPlayer, YouTube T.V., and Sky T.V. So you can bid boredom farewell as you can connect and view excellent contents from these platforms.
NordVPN also has unlimited bandwidth that affords you unlimited hours of the streaming experience. However, if your streaming experience is not smooth, the unlimited bandwidth may be frustrating.
That is why NordVPN has the Quick Connect feature that provides a high-speed automatic connection to a server closest to you. You can then enjoy streaming at lightning speeds such that you don't ever get to experience buffering or throttling. Just smooth uninterrupted H.D. streaming experience for as long as you can. You can also go the manual path by choosing which server you want to connect to. But the Quick Connect feature is disabled for this route.
NordVPN has a 24/7 live chat support platform that is ready to attend to your complaints.
They also have a 30-day money-back guarantee policy.
But with all these fantastic features, a poor security system will have defeated one of the primary functions: to keep your data and privacy secure from prying eyes, be it the government, your ISP, or cybercriminals.
We will now move ahead to the security measures employed by NordVPN to ensure your data's safety and privacy.
NordVPN's Security Measures
Nord VPN takes us back to the question of whether or not NordVPN is safe. Well, from marketing news and NordVPN's website, the answer will be "yes, NordVPN is safe." But I do not want to flow with the crowd or hold on to widespread approval. That is why I did my research on the subject.
At the end of this section, we would have seen whether NordVPN is safe or not together. 
We will be looking at NordVPN's Security encryption levels, the kill switch, and the leak protection as we attempt to confirm the popular safety claims.
NordVPN's Security Encryption Levels
For all of your data encryption, NordVPN uses the most sophisticated encryption currently in use. It uses military-grade AES 256-bit encryption. This encryption algorithm is undoubtedly the most difficult to crack. That is why it is used by governments around the world to secure top classified data. It is so sophisticated that it has 256 possible codes that one must break to access your data. And there are just infinite possibilities for this. In other words, it is very tasking and not possible for any to break these encryption codes to gain access to your data. 
This military-grade encryption works with a cipher used to encrypt and decrypt your data and verifies the authentication of your data. When sending the data, it encrypts it, and when the data reaches the target server, it demonstrates the data and then decrypts it. This cipher is a combination of a SHA2-348 authentication, a 2048-bit D.H. key, and a PFS (perfect forward secrecy). It ensures that non of your data is interrupted and diverted to another server by any hacker.
The two security protocols used by NordVPN are IKEv2/IPSec and OpenVPN UDP/TCP. Depending on the type of device you are using, either of these can be the default security protocol. For example, for most NordVPN apps and Windows and Android users,   OpenVPN UDP/TCP is the default security protocol. It is, in fact, the most secure protocol in use. As for macOS and iOS devices, IKEv2/IPSec is the default security protocol. Though it can be changed to OpenVPN depending on the user's choice.
Each time you log out of NordVPN, all your activities will be erased. Non will be saved. It means you will be assigned a new key as a new user each time you log on to NordVPN. It is made possible by Perfect Forward Secrecy (PFS). It will also clear out any data from your previous session, giving you a fresh start each time you come online. Hence, your activities cannot be traced to you even if you lose connection.
Leak Protection
Sometimes, your DNS and I.P. address can leak when you are over the Internet due to some network glitches. It's not good for your privacy and security as your data is left vulnerable to prying from third-parties such as your ISP and cybercriminals. That is why a VPN must provide you leak protection.
NordVPN has this aspect checked. Your DNS and I.P. address are protected from any leaks no matter what happens. I also put this feature to the test and found out that it worked perfectly. None of my data leaked as I connected to multiple servers from the U.K., U.S., and even China servers. It didn't matter whether I connected with my mobile phone or from my system; it worked superbly.
Kill Switch
To stay secure and safe online, you need a VPN that uses a kill switch. This functions with the leak protection to prevent your DNS and I.P. address from being leaked. It comes to play when your connection is being compromised. 
The kill switch used by NordVPN is designed differently to suit the different devices you are using. That is, the kill switch used by NordVPN on your mobile phone is different from the one on the desktop. For example, you will have to enable the kill switch when using a desktop manually, but it is automatically enabled on your mobile phone. It is worth noting that it is only automatically enabled for iOS. Hence Android users will have to toggle it on from the settings.
NordVPN has a way of adding extra padding to its features. This is seen with its kill switch that allows you to control which apps are blocked when your connection to the VPN breaks down. You can still be connected to the Internet while you wait for your connections to come back on, but potentially dangerous apps are blocked out to protect your data from leaks. This is especially useful when you are torrenting as your P2P connection is shut down, but you can continue to browse. When your VPN connection is restored, you can then be reconnected back.
NordLocker
Nord provides you with top security for your files when you are sending them to the cloud. The NordLocker encrypts your files as you share them with friends through the cloud. But they must have the NordLocker for this to be possible.
Double encryption
This feature used by NordVPN routes your traffic through not one but two secure servers. It provides double encryption for your data, making it impossible for anyone to trace your activities or even spot your location. However, this feature slows down the speed a bit. So if you need speed, you may want to neglect this.
No-logs policy
It is another privacy measure that prevents anyone from gaining access to and tracking your online activities. They are just not accessible even to you. It keeps you anonymous online.
Security audits
NordVPN has completed 2 security audits conducted by PricewaterhouseCoopers AG and VerSprite, the leading security experts today. The last security audit was completed just recently. All the results show that there are no critical vulnerabilities identified in NordVPN's data security measures. You can find a copy of this online.
With all of the security mentioned above measures in full operation, I believe you can agree with me and the many others who have tested NordVPN's security that NordVPN is truly safe. It's not just a marketing scheme but a fact.
Recent concerns about NordVPN's Security
Recently, there have been some rumors and concerns about some operations and security of NordVPN. I'll go over just three of them.
Payment to CloudVPN, Inc. instead of Tefincom & Co, S.A
Some NordVPN users had noticed that when they were signing up to NordVPN, they paid the subscription fees to CloudVPN, Inc. instead of Tefincom & Co, S.A. To add to the concerns, CloudVPN, Inc. is registered in the U.S. where privacy is not as easily afforded as in Panama. Also, CloudVPN, Inc. are not the developers of NordVPN.
So does it mean the data of the users are compromised? Or is NordVPN trying to hide something? These were among the many questions raised.
From deep research, I found out that CloudVPN, Inc. is not a part of NordVPN. CloudVPN serves as a payment collector based in the U.S. It has nothing to do with the activities of NordVPN. You just pay to NordVPN through them.
So, no need for security concerns.
NordVPN owned my Tesonet?
Another rumor that surfaced is that NordVPN is owned by Tesonet, a data mining company based in Lithuania. This news was alarming when it first came out, and a lot of concerns were raised regarding the privacy and safety of NordVPN users. Because Tesonet sells user data, and as it is, NordVPN has held a reputation of keeping user data private.
It doesn't make sense to claim to keep user data private and yet be owned by a company that does a business out of selling user data. To get the truth out of this, we need to understand what Tesonet does and how they related to NordVPN.
The rumors are not true, however, and here is why.
Tesonet is a Lithuania-based company that helps their partner companies with cybersecurity, machine learning, technical support, performance-based marketing, and other things. It was founded in 2008 and has since grown into a large company. They partner with companies having a specialty in technology and whose activities are online-based.
NordVPN, on the other hand, is a VPN company that helps its users bypass geo-blocks set to restrict access to certain media contents. They also protect their users' privacy and security and have never given out any user data since it first started operation. It is based in Panama due to the privacy allowed by the government in Panama.
So, you see here that they run separate operations. However, due to the operational requirements for NordVPN, it received some advisory services from Tesonet in the aspect of performance-based marketing and online sales. It happened during the early days of NordVPN. And it is safe to say that NordVPN's business relationship with Tesonet does not affect their users' privacy.
It means that the rumor is entirely not true. NordVPN still holds to its commitment to keep your data safe. The story may be an unethical attempt by Hola VPN to get back at Tesonet.
The Data Hack Report
In March 2008, one of NordVPN's servers, which they rented in Finland, was reported to have been hacked. The hacker connected to just one server out of the over 5,500 servers used by NordVPN. When this happened, both Avast and Torgaurd were also affected.
However, the hacker couldn't get access to the users' identities and activity logs. They could only access what an ISP would see. No individual data or records were lost. It is because all the data sent through NordVPN was encrypted and hidden, just like I explained earlier. There were no leaks that occurred during the breach.
When NordVPN was notified about this, they immediately cut off that particular server that was affected. NordVPN's applications, codes, and VPN encryption tunnel were unaffected, including all user data.
It is also worth stating that users of NordVPN were not concerned about this breach as it didn't affect any of their data. Perhaps the reason for this is that they are not using NordVPN for any sensitive security work. They still trust NordVPN's integrity in keeping their data privacy safe and secure.
Despite this breach, NordVPN is still as safe as ever. You can trust that your data privacy and security are kept safe with NordVPN. 
NordVPN is premium VPN service that is safe to use
Having gone through the various ways in which NordVPN ensures your data privacy. I also showed you some concerns and rumors that arose concerning NordVPN's integrity. I'm sure you have a strong conviction now that NordVPN is truly a leading VPN having top-list security. NordVPN has scaled through major huddles, and it continues to grow stronger and better.
Therefore, you can rest assured that your privacy and security are guaranteed as you enjoy your streaming experiences with NordVPN.
About the author