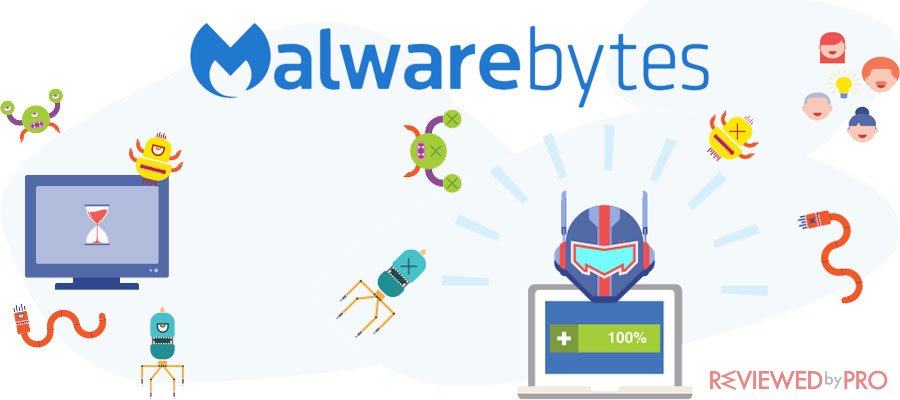 There are more and more concerns on the Internet about Malwarebytes[1]. While most of the ant-virus software applications are legitimately helpful and effective, there are rogue Internet security tools camouflaging as anti-virus[2] applications, claiming to clean your system and protect it against various cyber threats.
Malwarebytes is the legitimate software
The legitimate Malwarebytes application is developed by a company of the same name – Malwarebytes. The company was founded in 2004 and is still working successfully today. Malwarebytes anti-malware software was first released in 2006, but various updates are still coming regularly to this day.[3]  The company provides home users with anti-malware protection across all the major operating systems including Malwarebytes for Windows, Malwarebytes for Mac, and Malwarebytes for Android. Malwarebytes provides users with a free version of the application that scans the system for malware, viruses and other similar cyber threats and PUPs, and cleans infected devices. Malwarebytes Free complements antivirus. Once the software is downloaded and installed Malwarebytes provide users with a 14-day trial of the full version. Malwarebytes Premium replaces antivirus software and can be mixed and matched between Windows, Mac, Android and Chrome OS. The Premium version offers remediation and protection features.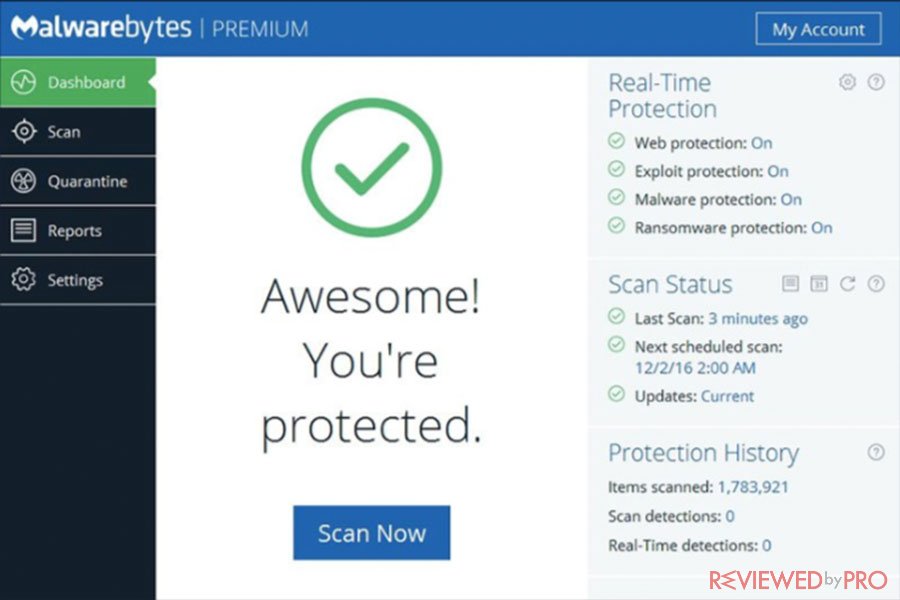 Malwarebytes also offers a home version that is available for up to 10 devices
As you can see, Malwarebytes is a legitimate and effective anti-malware tool. According to Reviewed by Pro, Malwarebytes Anti-Malware is a great tool for every user. The application protects users from common cyber threats, including malware or dangerous websites.
All Malwarebytes Antimalware products:
Malwarebytes Anti-Malware is created for every user – whether you are a businessman, a CEO of a large company or an individual user. This application will protect your computer not only from the usual malware, but from ransomware, infected sites, and various small threats. Malwarebytes is a great anti-malware software and worth its price after all if you need a real and reliable protection against the latest threats on the Internet.
Malware and PUP camouflage as Malwarebytes
However, there are malware and other malicious programs on the Internet camouflaging as Malwarebytes, so users have to make sure that they download this anti-malware tool only from legitimate sites or the official website. Malware scam aims to trick users into installing software that allows scammers to access personal user files and track user data. Malware scam also can come through websites and pop-ups that offer free anti-virus download.[4]
Malware covers all programs that aim to cause damage by making electronic data inaccessible, changing it, deleting it or creating access to it for unauthorized third parties.
Rogue anti-virus software offers users useful anti-virus features and gives the impression of legitimacy. It also claims to clean the targeted PCs. However, fake anti-virus tools do not provide users with any useful value, instead, they can cause redirects, deliver intrusive ads, gather personal information, inject malware or pose other kinds of cyber threats. In addition, worms, trojans, and viruses try to avoid detection by other anti-virus engine and camouflage as a legitimate software.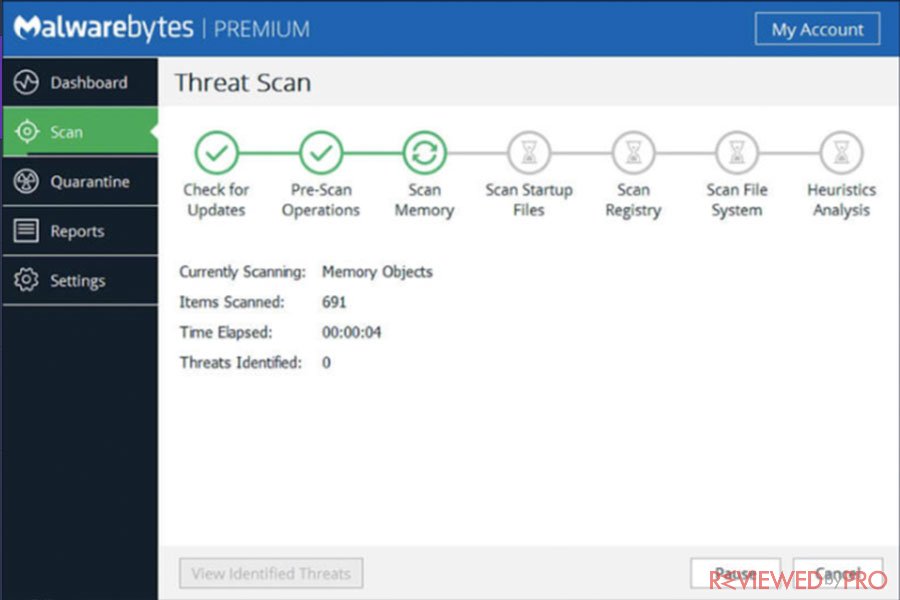 To conclude
Malwarebytes is safe to use and effective tool used to clean and protect the system. However, in order not to become a victim of a scam, we recommend downloading the application from trustworthy sites like ReviewedbyPro or the official Malwarebytes website.
About the author
References