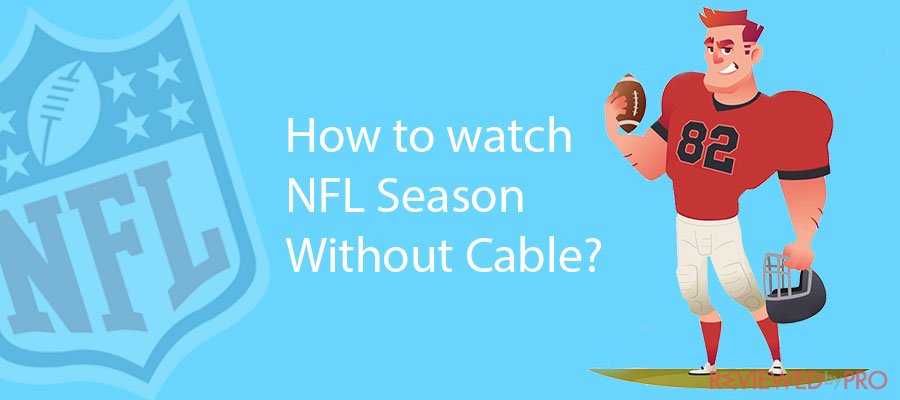 How to watch NFL Season Without Cable?
NFL Season is underway, drawing in countless viewers from around the world to enjoy the annual football event. However, many viewers at home may feel like they will have to miss out on the games unless they have cable. For those living in the US, they will have the option of streaming live. But that's no reason why fans from around the world should miss out. There is an abundance of methods that will allow viewers to catch up to the event as it happens regardless of what platform they use or where they are based.
Network Rights
Many US Networks own broadcasting rights for the games shown during the season. Assuming viewers have preferences for which games they wish to view, they need to be aware of whom specific broadcasting rights lie: 
Amazon Prime Video (Thursdays Night Football)CBS (AFC games)
ESPN (Monday Night Football)
FOX (NFC games, Thursday Night Football)
NBC (Sunday Night Football)
NFL Game Pass (Live games can be viewed via VPN unblocking)
NFL Network (Thursday Night Football)
Yahoo! Sports app (5 games from September 12th to December 20th)
Once viewers are familiar with the networks that own broadcasting rights to various NFL games, they should become acquainted with the platforms that promote said network as well as the packages they will need. These include: 
Amazon Prime Video – While Amazon Prime Video is not necessarily a free option (requiring $8.99 for US viewers). It should be noted that this option is primarily available to viewers based in the US. Those living abroad will require a VPN as a bypassing option.
AT&T TV Now – This network offers links to the FOX, CBS, NBC, and ESPN networks, and once people have enjoyed a 7-day trial period, they will be required to pay $50 a month.
CBS All Access – CBS All Access may require a monthly deposit of $5.99, but for the AFC Games, that is a small price to pay. They are also partnered with VPN providers, which means that viewers are offered further means of bypassing protocols prohibiting their viewing experience and allowing them to enjoy a wider range of content.
FuboTV – FuboTV offers a wide range of networks, including Fox, CBS, NBC, and the NFL Network. However, it is one of the more expensive platforms one could buy with a monthly fee of $54.99 and a 7-day trial.
Hulu with Live TV – Hulu with Live TV covers the FOX, CBS, NBC, and ESPN networks. Based on broadcasting rights, people may be required to purchase multiple platforms. The benefit of Hulu is that the majority of the major networks are included. The minimum cost of people will be expected to pay $44.99 a month following a 7-day trial period.
PlayStation Vue – The game platform offers a payment plan of $49.99 after a 5-day trial, for which people can access the FOX, NBC and ESPN networks. However, for an additional $5, there is a larger package that comes with the NFL Network and the CBS Sports Network.
Sling TV (Orange + Blue) – Sling TV covers FOX, NBC, ESPN and NFL Network, giving it a wide reach over NFL coverage. Sling Blue will require people to provide a fee of $25 a month, while both Orange and Blue require a fee of $40 a month with a trial period of 7 days.
USTV Now – USTV Now offers a wide reach given that it covers games broadcast by both Fox and CBS. In addition to US citizens, USTV Now is also available to people temporarily residing in the country as well as members of the armed forces. Users are expected to pay $19 a month, starting with a 10-day trial period.
YouTube TV – YouTube TV is one of the most suitable packages to people who don't wish to see their access spread across multiple platforms. For $49.99, CBS, FOX, NBC, and ESPN, giving viewers access to AFC, NFC, Sunday Night, and Monday Night Football.
Streaming NFL on Mobile
We live in an age where everyone can get a satisfying viewing experience via their mobiles, which stands to reason mobile comes with a few viewing options that don't require people to pay a fee, regardless of the mobile platform. For this season, the Yahoo! Sports app will offer five games available to view online, with the first being made available from September 12th onwards and the final one placed online on December 20th. It should be noted that there is the option of downloading this app outside the US, providing people to have a VPN platform. Other prominent apps include the NFL app. It is also possible to sign in with an NFL Game Pass subscription. However, people should be aware that many of these mobile platforms only allow people to access local and primetime games. In order to access a wider range, people will require a VPN.
Watching the NFL Outside the US
For those based outside America, viewing opportunities become a lot more limited, and avenues for streaming are harder to come by. But they are available nonetheless, and each country has its own way of accessing the NFL.
Accessing the NFL in the UK
The United Kingdom is one of the most popular countries to host American Football. There are two options. There is the NFL Game Pass. However, people need to remember that in America, they only offer on-demand streaming of games following airtime, whereas in countries such as the UK and Ireland, some games are blacked out.
In addition to the NFL Game Pass, people can also link to the NFL via Now TV with Sky Sports access. While Sky TV and Sky Sports is an option, people may be required to purchase additional equipment. But subscribing to Now TV will alleviate that concern. At a minimum, a Now TV package will cost a viewer £6.99 for a monthly subscription. But there is also the option of purchasing Sky Sports Mobile for an extra £5.99, bringing the total to just under £13. For viewers who are conscious about how much to spend, it is a cheaper purchase than what one would be expected to pay with Sky TV.
Accessing the NFL Across Europe
Countries based in the European Union will offer a number of viewing options through local channels and networks, with the most widespread programme being DAZN, localised in areas such as Germany, Austria, Switzerland and Italy, normally priced at just under €9.99 a month. What makes it such an appealing option for many viewers is that it offers a wide range of sports options, including the NFL Game Pass. Its popularity is aided by its relatively low price tag.
However, not all European countries will have DAZN, which means the best port of call will be the NFL Game Pass. Prices for the NFL Game Pass will vary from country to country, so people are advised to research them beforehand. Another area of consideration is that while NFL games will be streamed live in many countries, some countries will only offer a replay option.
Accessing the NFL in Canada
Once again, the NFL Game Pass is a popular options people take up. Fans have the option of making a one-off payment of $74.99 for the NFL Game Pass for a whole year, which will give them access to both live and replayed games. But like many countries in Europe, people will have the opportunity of accessing the NFL via DAZN. When included with the NFL Game Pass, viewers will be required to pay $20 a month.
The only potential drawback to using DAZN as a streaming platform is that it is more expensive in Canada than it is in countries across Europe. It is for viewers to decide whether the price is offset by the sport options available. The purchase is often justified by the fact that DAZN allows people to access every NFL game rather than just a select few, which is the case for many countries. Another option available to Canadian viewers is TNS Direct (also optional as RDS Direct for French). The service offers a standalone streaming app and requires subscribers to pay $24.99 a month.
Accessing the NFL in Australia
Australian viewers will be able to access a variety of options for streaming the NFL. As with many other countries before it, the NFL Game Pass is one of the more popular options, which fans can acquire for a yearly subscription of $249. Most games are streamed live with some made available by replay, and this can be done from multiple devices. Foxtel Now is another option viewers may want to consider, providing they are aware of the price model of $69 per month. If saving money is a major priority to Australian viewers, they can do so with 7mate; however, the number of games available to view will be quite limited compared to other services and packages.
Watching the NFL with VPN
While all the options listed above are viable and will be able to provide fans with a complete viewing experience, there will always be some kind of drawback. Some people may be put off by the price requirements, others by the limited number of games they will be able to stream. For the majority of viewers, one of the best ways to enjoy unrestricted access is through a VPN (Virtual Private Network). VPN is a major necessity. Some people have previously tried to stream the NFL via illegitimate means, but the websites they channel often pose a major security risk. But utilising a VPN prevents people from leaving themselves vulnerable to the likes of viruses and hackers.
One of the beauties of a VPN is that it can be utilised alongside an existing streaming platform, in some cases even enhancing them. For example: 
NFL Game Pass – In the case of the NFL Game Pass, arguably the most widely-used means of accessing games, all restrictions can be bypassed with VPN blocking (ExpressVPN can enable viewers to watch live games in their entirety without the risk of blackouts). 
7mate – Another notable case of viewing enhancement is with the previously-mentioned Australian streaming network 7mate. Anyone based outside of Australia wanting to make use of 7mate can do so with a VPN.
Amazon Prime Video – For the most part, only viewers in the US will be able to access Thursday Night Football, whereas a VPN offers no such restrictions. People will be able to bypass Amazon's content blocking protocols and stream Thursday Night Football from anywhere in the world.
Yahoo! Sports App – A VPN will enable viewers outside America to download and stream content from this app.
DAZN – DAZN is predominantly a European streaming platform, costing $20 a month or $99 a year, but without offering the NFL as a platform in the US. However, some VPNs work in collaboration with DAZN Canada, which utilise the NFL Game Pass to provide live NFL games. This has the best of both worlds; offering live gamers, albeit at a much lower cost than one would expect.
Preferred VPN Platforms for streaming NFL from anywhere
There are many companies offering VPN services, but there is a small quantity that could be considered the cream of the crop. These VPN platforms are integrated with several internet browsing services and also work in collaboration with many of the stream platforms mentioned above.
CyberGhost
Official website
www.cyberghostvpn.com
Rating
  (Great – 4.5/5)
Available applications
 
Money-back guarantee
45-days
Price from
$2.75 (-80% deal)

Visit website
More information
CyberGhost review
CyberGhost works in collaboration with a number of streaming services, including CBS All Access, FOX, ESPN, Sling TV, Eurosport, Sky Go, BBC iPlayer, and Netflix. Users will find it compatible with routers, Android TV, Linux, Amazon Fire TV, macOS, Windows, iOS, Android, and Chrome.
Unfortunately, the only platform it isn't compatible with is Hulu. And even then, this isn't much of a drawback as viewers can easily by watching the NFL Conference Championships using NFL International Playoff Pass.
For viewers who are concerned about the possibility of lagging due to the level of content, CyberGhost provides a fast streaming speed that can access specific servers. This means that no matter what location viewers find themselves in, they will always have the option of watching playoff football. And if viewers prefer to have multiple-choice over what devices they can utilise, CyberGhost allows users to access up to seven different connection at any given time using a single subscription, with access to various NFL playoffs.
Concerns over the strength of the networks are also a thing of the past because CyberGhost allows one to bypass the geographical restrictions placed on several of the listed apps.
People will be taken aback by the number of servers they can access, with 1,000 available servers in the US alone and 6,000 worldwide.
For those that feel undecided over putting their faith in this platform, CyberGhost offers a 45-day trial period where subscribers are given free rein of all of the options available. And if they are still not convinced by the end of it, there is a money-back guarantee.
ExpressVPN
Official website
www.expressvpn.com
Rating
  (Excellent – 4.8/5)
Available applications
 
Money-back guarantee
30-days
Price from
$6.67 (-49% deal)
Visit website
More information
ExpressVPN review
ExpressVPN works in partnership with the likes of Hulu, ESPN, FOX, CBS All Access, Sling TV, Netflix, Amazon Prime Video and HBO Go. Users will be able to enjoy compatibility with Android TV, macOS, Windows, iOS, Android, Chrome, Linux and Firefox.
One of the biggest concerns many users have faced when streaming live events is the risk of a questionable connection, resulting in frequent lagging and leaving viewers unable to enjoy the thrill of watching a game unfold in real time. ExpressVPN has been frequently cited among its peers for its high-quality speed, even offering a built-in speed test, streamlining the process of finding the right server for chosen games.
Another roadblock internet users often find themselves facing is the number of geographical restrictions. A UK-based resident may be a small step away from accessing a wealth of US content, only to be blocked on account of their location. But ExpressVPN manages to get around that hindrance. In addition, people no longer have to worry about having limits placed on how much they can stream, now able to stream as much as they wish.
There is an entire online world just waiting to be explored, in the form of over 3,000 servers spread across 94 countries, an unprecedented reach. When it comes to streaming choices regarding the AFC and NFC Championships, users will find themselves spoilt for choice.
In order to offset the increase in internet traffic, ExpressVPN allows users to split the network traffic between the VPN and their own local connection. This is a process known as 'split-tunnelling' allow users to enjoy a first-hand streaming experience from the other side of the world broadcast to their own location.
For many users, one device is never enough for such a diverse experience provided by the NFL. And ExpressVPN takes advantage of that offering service users the chance to utilise up to five streaming devices, accessible anywhere regardless of location. 
And of course, if people need an extra convincing that they've made the right purchase choice, then ExpressVPN offers a 30-day trial period after which they can get their money back.
NordVPN
Official website
www.nordvpn.com
Our Rating
(Excellent – 4.9/5)
Available applications
 
Money-back guarantee
30-days
Price from
$3.49/month (-70% deal)

Visit website
More information
NordVPN review
And last but not least, we come to the jewel in the VPN crown; Nord VPN, the premium service. NordVPN is compatible with a variety of online streaming networks, working in collaboration with Hulu, FOX, ESPN, CBS All Access, Sling TV, Amazon Prime Video, BBC iPlayer, HBO GO, Netflix and Showtime. It is also compatible with browsers such as Firefox, Linux, Chrome, Android TV, Android, iOS, Windows and macOS.
NordVPN allows customers access to 1,600 US-based servers, which is guaranteed to give users plenty of time to decide how they want to experience the NFL season. And if people happen to be based outside the US, this is no problem as customers still have 5,500 users to choose from. 
NordVPN is accompanied by a built-in SmartPlay feature, making geoblocks a thing of the past and not requiring manual configuration, a point of contention for many users.
If it's not enough to enjoy the NFL on a single device, NordVPN allows users to stream from six all at once. A single subscription across six devices with the potential option of enjoying separate games.
NordVPN offers a 30-day trial after which users have the option of having their money returned to them. But until, users are encouraged to see the NFL through the lens of NordVPN, providing an unforgettable viewing experience along the way.
Downloading a VPN for NFL
Once choosing the preferred VPN service, viewers are required to download the accompanying VPN app to their chosen app (although Chrome users are recommended to download the app as a web browser extension). Open the VPN app and connect it to the required server.
This is a part that will require users to use careful consideration. If connecting to a US-based service, users are required to connect to a US-based server. In some cases, the process can be hindered by the sheer number of cookies and cache data taking up space. Users are recommended to clear their browsers. Some people may also be conscious of the level of visibility bought their way.
This can be averted by opening a private browsing window via Incognito, keeping the location untraceable. After which, it's a simple case of loading up the preferred streaming server. Providing the service is not actively blocking VPN servers; there will be minimal problems accessing the desired NFL streams. And even then, it is possible to bypass those blocks with the right know-how. And if there are any other problems along the road, many VPN providers offer VPN chat support.
To sum up
There are similar pathways for specific packages, such as the NFL Game Pass, in which users are required to connect to a VPN server in a country that offers live streaming. European countries provide such a platform. Upon doing so, users are required to sign up via the NFL Game Pass website. After which, viewers are free to stream NFL game for the entire season.
The NFL season is a meaningful event, something that brings people together. It should be something that is readily available for everyone to see. And now, users no longer need to hold back by cable, online or geographical restrictions. The games are on, waiting to be viewed by legions of eager fans, no made possible by a variety of innovative VPN technology.
About the author