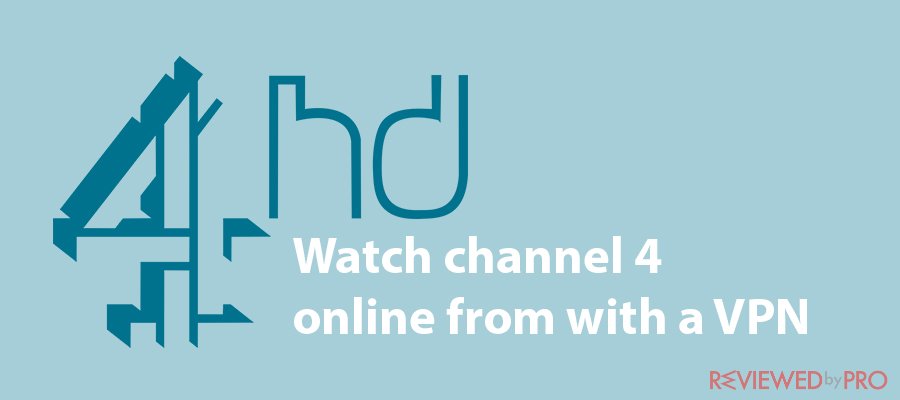 How to watch channel 4 online from abroad with a VPN
The All 4 Channel (formerly called 4oD) geo-blocks it's On-Demand Service online. This act of geo-blocking is very similar to some of the most popular streaming services and online platforms. It implies that only viewers located in the UK can gain access to the content on this channel. Those outside the UK normally get this error message thrown in their face, "The service is not currently available in your area."
This article will teach you how to gain access to the online platform of Channel 4 (All 4) from any part of the globe. You will also learn the best VPNs (Virtual Private Networks) to use in hiding your online presence to watch your favorite channel, either on-demand or live online. If you were not aware before now, a VPN is a tool that connects you to a server located in a different area from where you are. This way, you can bypass the regional restrictions placed on All 4 and watch recent programs, content on-demand, and even live channels. 
The are five best ways to watch Channel 4 online
Follow the steps below if you want to watch All 4 (Channel 4) from abroad using a VPN, so you don't get restricted from watching:
1. Get a premium VPN for better streaming experience
For most VPNs, customers who subscribe to the service for a couple of years get the lowest prices. However, if you are on vacation abroad and will only need VPN to unblock certain sites for a short while, there is a way to go about it. Most VPN's have a particular time frame that you can get your money back if you don't like their services. Although you will pay for this time, you can cancel your subscription before the guarantee period elapses and, with that, get your money refunded.
The process is very simple:
Sign up for a VPN service. You will be provided a list of recommended VPNs below to guide you.
Please select the version of the client software meant for your Operating System and then download it. Go ahead to install the downloaded software.
Connect to one of the many servers under the VPN's purview, which will serve as your intermediary server. However, for Channel 4 (All 4), you only need to connect to the British server since the channel is accessible in Britain.
Now you can enjoy your favorite content on All 4 without restrictions. You may also need to load the page again to refresh for new changes to load on the site.
Now you have used a VPN premium service for free!
Criteria for the Best VPNs for Watching Channel 4 Online (All 4) from Abroad
Every VPN is unique in its features and the services it provides. Therefore, you must compare and choose based on your online habits. Some VPNs prioritize; others simplify their security setups, even though they are highly sophisticated.
The best VPNs to use in encrypting your online traffic must possess the following characteristics:
It must have several servers in Britain from which customers can choose.
It must combine a strong encryption network, along with more security features.
It must be capable of unblocking online services that have been geo-blocked, with particular reference on All 4.
It must have a no-log policy, i.e., does not keep any personally identifiable data or records of users that someone can trace to them in the future.
It must provide very stable and reliable internet connections, which do not affect the connection speed significantly.
It must have a stable infrastructure for online viewing that will not be interrupted at any time during viewing.
The VPN provider must have clear or visible contact information. That will ensure that when you need assistance, you can contact them. A support team is very important.
Best VPNs to Unblock and Watch Channel 4 Online (All 4)
Having seen the necessary features to look out for when you want to unblock and watch Channel 4 abroad, several VPNs can get the job done. See them below:
ExpressVPN
PrivateVPN
CyberGhost VPN
IPVanish
SurfSharVPN
TorGuardVPN
ZenMateVPN
You can try any of the VPNs on this list as they are reliable in ensuring your online presence is hidden. This way, you can watch your favorite shows on Channel 4 online. Also you can check our article about the best VPNs for Channel 4
2. Sign Up for Channel 4 (All 4)
Channel 4 is a free site, but you need to create an account before accessing it. So, even before you subscribe to a VPN account, ensure you create a Channel 4 account first. This process is below:
Go to the All 4 website and launch the registration page.
Input the following information: your date of birth, email, and password. 
You will be requested to input your UK postcode as this is a UK-based website. With this postcode, your address will be searched for and verified. However, there won't be any other verification.
Once this registration is complete, you can go ahead to log in with your password and live to stream the shows you want to watch.
It is important to point out that the United Kingdom law requires that you watch an airing content on TV, you must have a TV license. That is information that Channel 4 doesn't inform users before they register. It becomes easy to overlook this part. For on-demand content on All 4, though, it is not necessary to have a TV license. That is unlike sites like the BBC iPlayer.
3. Use a Free VPN to access online channels
It is possible to use one of the free VPNs available online to unblock and watch geo-blocked channels. After all, there are more users of free VPNs than the purchased ones. However, it would be best if you considered the following:
Free VPNs do not have the necessary network infrastructure to support them.
Because of the above, when you are using a free VPN, you are more likely to face extended buffering times, random disconnection from the VPN, and video playback that stutters.
Also, because so many people are trying to use free VPNs simultaneously, it affects the network. System overload causes this, and it can lead to the channel moving slowly, or worse, crashing completely.
When major platforms begin to block VPNs, the free ones are the first to go, thereby reducing their viability. Companies like Channel 4 have taken and still take significant steps to track and blacklist identified VPNs. Therefore, if you do not use a powerful VPN (usually a paid version), you may lose access to the channel.
It is interesting to know that so-called free VPNs are not free in reality. Indeed, they don't directly charge you money, but you pay with your personal information. They can use cookies to track you over a long time. This information is collated, your online habits are determined, and your detailed profile is built. In due time, someone or a group of people can sell this information to the highest bidder. They can place ads on your frequently visited pages. All this is possible without your knowledge.
Your security is not guaranteed based on those mentioned above. That defeats the purpose of VPNs in the first place.
A free VPN has a greater chance of containing some malware or the other. There have been claims that free VPNs do not encrypt any online traffic in actuality. That does not guarantee safety.
In a nutshell, it is not advisable to use a free VPN to unblock and watch sites that have been blocked, such as Channel 4. It may look good in theory, but it is not the ideal tool to use in practice. It would be best if you went for a recommended VPN that ensures your total online security so you can watch your All 4 On-demand without any cause to worry.
Available Channels on All 4 (Channel 4)
Channel 4 is most people's favorite for a reason: it has a wide range of content available for users to view. The variety of content on Channel 4 range from themed collections to entire series. Some of the most popular TV series on All 4 include the following:
Father Ted 
The IT Crowd
8 out of 10 Cats
Supernatural
Hollyoaks
First Dates 
The Great British Bake Off
Ramsay's Kitchen Nightmares USA
Come Dine with Me
Peep Show
With amazing shows like these, it is understandable that users would want to watch the channel even when they are not in the UK.
A VPN is not the only means of watching Channel 4 from a geo-blocked location. Other means of doing this include:
4. Try using a A DNS Proxy to access Channel 4
A DNS (Domain Name System) is simply the internet's address book. That is where you gain access to website addresses such as google.com. Each of these addresses in the address book is linked to an IP (Internet Protocol) address, which is open to the public. Its function is to allow your PC to take you to your destination online. How, then, does a DNS proxy work? 
A DNS proxy switches your device's DNS whenever you are trying to access a website such as All 4. Your online data now goes through an intermediary server located in the country where access to the website you are trying to access. A DNS proxy server is quite similar to a VPN, except that it does not ensure absolute privacy like a VPN would. The difference is that a VPN will encrypt your internet traffic and hide your IP address, thereby ensuring that your privacy is protected.
If your aim is only to view international content, you can use a free DNS proxy server. However, you are more likely to be cyber-attacked or discovered by your country's authorities. Also, someone can distribute your passwords and other internet banking details online without your knowledge. That is especially true if it's from an airport, a café, or some other insecure net source.
5. Install Browser Extensions to bypass Geo-blocking system
You can download many browser extensions and also VPN and DNS proxy servers. With these browser extensions, you can gain access to international content. Just like your VPN, the browser extension tunnels your online data through a proxy or intermediary server. Extensions are preferable since they are easy to download and use; plus, they are free. 
Unfortunately, browser extensions do not have privacy policies sine they are free. That exposes them to heavy malicious malware, which can be damaging to your system. Moreover, online browsers are normally free because they make use of the spare bandwidth of your computer. Thus, whatever affects them in the form of malware automatically affect your computer. Just like free VPNs, they can also gather your online information and sell them to a third-party.
Conclusion
Channel 4, a UK-based TV, produces and shows some of the most popular shows users love. These shows include Peep Show, The Great British Bake Off, among others. The variety offered by Channel 4 appeals to many viewers, ranging from viewers interested in household drama, political documentary, and even teenage drama, all in one package.
However, Channel 4 has blocked its live and catch-up content from viewers outside the UK or any other location that is not within its contractual agreement. This article has shown you how you can use VPNs (Virtual Private Networks) to go round this geo-blocking so that even if you don't reside within the area of contract, you can watch your favorite Channel 4 shows, even On-demand.
About the author