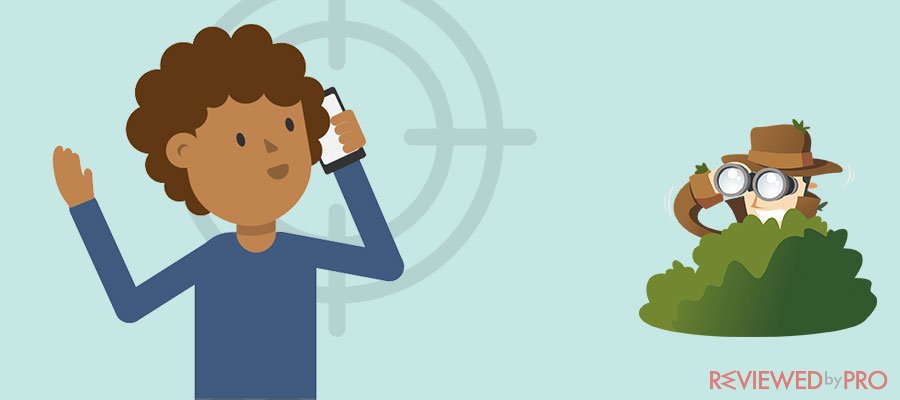 spying on your phone
Your cellphone may be spied on by some person or spy software without your prior consent. Find out how to verify the suspicion and how to disable the constant tracking and monitoring in our article.
Spying or monitoring what you do or say through the modes of technology you use has been done as far as anyone could remember, no matter a smartphone or a simple telephone. Who could forget the infamous Watergate Scandal with the former American president Richard Nixon being the culprit? Undoubtedly, the everso green convenience of technology has made the lives(personal and professional) of each and every individual more accessible, easy, and knowledgable.
The same is the case with smartphones, which are being developed nowadays to be as powerful as a standard personal computer but more portable and manageable when you are on the road and are unable to perform to use the PC. But such level of connectivity and our casualness around using such devices have made our data more vulnerable to outside threats. These threats include the tools to induce viruses into the cellphone to steal information, user identity, or spy on the owner of the device.
But how could one know whether someone is spying on your or tracking your every move via your cellphone? In this article, we will look into the various ways to tell whether something is fishy with your smartphone and the solutions to stop such attempts.
Spy Software enables the ability to control your phone entirely
Spy Software of a Smartphone or you may refer to it is as a Spy App belongs to a family to a more advanced version of malware that allows the maker of such an app to monitor and obtain information out of a person in secret within the person's phone. Although iOS-based devices are more secure than Android phones, thanks to the vigilant measures of the latter's parent company Apple, smartphones of all the platforms are still extremely vulnerable to such apps.
The hacker collects data through this spy app by recording the victim's call log, text messages, photos & files stored inside the gallery, among various other things that a person performs on their respective cellphone. The most diabolical thing about such an app is that there is hardly any visible evidence to know whether something of such sort is being used to spy on you as it always works quietly in the background.
Hackers and cybercriminals trick the individual through some type of way to directly or indirectly install the app or file into the cell phone. Such apps make their way into the cellphone, usually when the owner has activated the Rooting(Android) or the Jailbreak(iOS) sequence, which allows them to initiate significant features of the device.
But such measures also allow the spy apps to enter, and once such apps get activated, then the other person(hacker) has the full power to access your phone remotely, monitor your activity, and even listen to what you say during your phone calls.
If you, by any chance, keep your banking or payment information inside the premise of your cellphone, then there is always a possibility that someone other than you has that info in possession as well due to that spy app.
The Signs that tell you whether someone is using your Cellphone to Spy on you
Is your cellphone draining too much battery, despite the fact that it is new or you haven't been using it much lately, or is the device showing other kinds of abnormal behavior? If yes, then there might be something wrong with your phone.
The increasing growth of user productivity due to the connectivity of several devices of a single user added with the casualness of the everyone has made our data more vulnerable, and prone to outside threats like never before. It is also due to the fact that hackers and criminals have developed several unique tools to hack into your devices without you even knowing of their existence within your device.
But they always leave some signs after infiltrating your cellphone. It might be some internal hardware issue that needs the immediate attention of an expert. It could also be due to some new file or software that you had recently inserted into your device, unintentionally. Such kind of insertion of unverified files into the smartphone may open doors for hackers and data stealers to spy on you, track your movements, and even monitor what you do with your devices such as purchasing items or taking intimate photos.
We will look into the visible signs that you may have ignored to see whether someone is spying on you through your cellphone.
1. Strange or Unwanted Apps on your Cellphone might be the spying apps
No matter which brand or platform of the smartphone you are using, you must be aware of the files and applications that you use on your device. But it is equally possible to not be on your toes and not keeps tabs of all the apps on the smartphone. If you had recently been to an unverified or malicious website, then the chances are that you may have installed some app that you were not supposed to do.
If you see any app that you do not remember installing or downloading on your cellphone, then it could very possibly be a data spying app disguising as a conventional app of the cellphone platform. The best thing that could be done under such a scenario is uninstalling the app from the settings and delete the temporary files from the File Manager of the cellphone.
2. Cellphone Consumes High Mobile Data Uncharacteristically
When you do not have the facility of Wi-Fi at your disposal, the mobile data of your cellular service gives you the means to access the internet and perform the job you wished to do with the cellphone. But many common users tend to avoid using mobile data unless absolutely necessary due to it being limited and expensive.
Many built-in tools within the cellphone allow you to regulate mobile data usage if you feel that your cellphone is consuming more data than usual, and there might be a chance that some low-level spy software is transferring your information to another source and that you are continuously monitored by someone else.
Other than resetting the cellphone, it is highly impossible to find the root cause of such an issue, as it is challenging to track such tools from within the cellphone.
3. Strange Audio or a Person's Voice appears During Cellphone Calls
The entire purpose of an average cellphone before the dawn of the smartphone was to allow the users to call their loved ones and other people on the go, outside their home or workplace. The advent of the smartphone made it all the more convenient to use the internet to call someone for much lower rates.
However, it had also enabled the hackers, even the low-level ones to hack into the device and listen to all your conversations. Low-level spy tools tend to disrupt the frequency of the phone call or the sim card, which generally leaves some sound or voice to merge with your current phone call.
If you ever feel disruption or strange sounds during your call sessions, then there is a high likelihood that your chats are being monitored or tapped, much like how telephones were wiretapped in the old days.
4. Smartphone Reboots over and over again by itself
If your cellphone is getting switched on and off automatically without your consent, then there might be two odds, either your cellphone is haunted, or it has been hacked. The latter seems a bit unrealistic, but the chances of your smartphone being hacked are very high, especially if unexpected reboots are constantly happening. It implies that someone has remote access to your device, and they have the full power to do anything with it, even stealing your data stored within the cellphone.
5. Your Cellphone's Battery Drains more often than usual
The relationship between the user and their irritation behind the insignificance of the cellphone's battery life is pretty old, as science has yet to figure the way to offer universal power to the common man. However, stronger and more potent batteries are being developed and introduced with new cellphones each day.
It may feel odd to you if your phone has a durable battery or if you recently purchased it, and its battery does not last a full hour. If the battery is draining more than usual or its performance is deteriorating unexpectedly, then the odds of something wrong with the cellphone are very high.
It is no surprise that spy software and other materials to tap/hack anyone's device and sending data from one place to another requires much power to enable the feature, and such spy apps have a tendency to suck all the power out of the cellphone's battery. While it's a classic telltale sign of a spyware program on your phone, it's not always guaranteed your phone would experience excessive battery drain. Some advanced and powerful spy apps like Xnspy could secretively reside on your phone without you ever noticing any anomaly. This is achieved by ensuring that the software creates backups only when the phone is plugged in and using a Wi-Fi network. 
Such drainage of battery life doesn't mean that something is wrong with your battery and that you should replace it immediately, but it implies that your phone is under constant usage by the spy software accidentally installed within your cellphone even when you think that it is idle or in standby mode.
6. Getting a stream of Suspicious SMS of late
There is nothing more evident on the fact that someone is monitoring your cellphone activity if you keep getting suspicious texts more than usual. When the normal means of remote control do not work through the spy software, then the hacker may send you a stream of strange texts, hoping that you would click on one of the links fused in the fake SMS.
Such texts represent that small spy software is being used to infiltrate the cellphone. These SMSs also allow you to locate the source of the hacker if you use the proper tools or channels to detect them. We recommend checking the pattern of such messages as they usually contain random numbers and other forms of code. It is also wise not to click or tap on any link available within the text that may trigger the hacking attempt.
7. The Cellphone is beeing acting Sluggish in Speed lately
If you notice that your cellphone is not performing at full efficiency, despite the fact that it is new or powerful, then either there are too many apps eating up the RAM of your cellphone or the device is being remotely controlled by someone else, primarily through a spy software.
It is wise to check for unusual files and apps on your cellphone that may trigger the speed deficiency and delete them.
8. Your smartphone is getting Randomly Overheated even you are not using it
High-end apps and built-in features like the GPS take a lot out of the cellphone and may lessen the battery time and possibly overheat the device. It is vital always to disable or turn off such apps when they are not being used by you or your cellphone in the background.
Spy software consistently uses the GPS feature to track or monitor your location or your pattern of activities, which also overheats the cellphone even if you haven't been using it, especially when the spyware app gets presently active by the user when they try to receive information through that spy app. However, if the person spying on you opt for an advanced app like Xnspy, it makes sure that all data backups take place over Wi-Fi. 
If you do not remember turning on the GPS of the phone and if it is switched off and your phone has been idle for long, then someone is using a spy tool stored within your phone to locate you.
9. Strange logs on your Phone's Browsing History
If you notice something any of the odd behavior mentioned above and still are unable to find any unusual tool within the smartphone, then there is one thing you can do to verify the oddness with the device, and it is checking your browser history from the cellphone's browser.
If you see that your device has recently accessed some strange websites and downloaded suspicious files, then no doubt should remain on your mind on the fact that someone is spying you.
10. The smartphone does not Shut Down without any Resistance
If a spy software is controlling your cellphone from the background, then it will certainly prevent your device from shutting down even if you repeatedly press the power button. If anything of such sort happens, then no indication is more apparent on the fact that you are being spied on through your cellphone.
Disable Spying Apps and Attempts on your Cellphone
As mentioned previously, there are several proper channels that you can use in order to bypass the spying attempts on your smartphone that include resetting the device to uninstalling suspicious apps from it, amongst other things. We will discuss all of them in the section below:
1. Uninstall All the Unverified Apps from the Cellphone
The primary source that hackers use to track or monitor your every move is the spy that software that they allow the user to download & install unintentionally into the smartphone. The best thing to prevent such a mishap from causing further damage to your device is by separately uninstall all the applications that you find suspicious or rarely use from the phone settings. If you notice an improvement in the performance of your device, then it proves that the solution worked, but if the device doesn't show any signs of improvement, then it is best to check the next solution.
2. Enable the Built-in Safety Feature of your Android Phone
There are chances that the spy software crept into your Android Phone if you had enabled the feature that permits such apps to remain inside the device and wreak havoc. You can disable the "Install apps from unknown sources" feature by going through the "Safety and Privacy" feature of your respective Android phone. It will not allow any unverified app from ever entering the premises of your Android phone.
3. Keep your iPhone Updated to the Latest iOS Version
If you ever accidentally install any spy software inside your iPhone, then chances are there that your phone doesn't have the latest version of the iOS on it. Once you update to the newest version, then such an action will erase or disable all the prior spy tools stored inside the smartphone, and you will see a visible improvement with the performance of the device.
Here are the steps to manually update the iOS version through your macOS-based computer:
Open iTunes from your Mac's Finder utility and connect the iPhone to the computer;
Locate the iPhone on your Mac and click on the "General" tab;
Click on "Check for Update" option in the middle of the interface;
Click on "Download and Update" and enter your passcode if needed.
The iTunes interface will update the operating system of your iPhone to the latest version.
4. Factory Reset the Smartphone
No matter the type of platform you are using as your cellphone, all of them could become tools that someone could use to spy on you. The best and the last thing to avoid or prevent anything that could've led up to such a disaster is resetting the phone(Android & iOS) to its factory resetting.
Such an endeavor will make the phone afresh, and you will see visible signs with the performance of the device. It is highly recommended for you to create a back up of all the vital files of your cellphone to a separate platform so that you are able to reaccess them after resetting the phone. Here is the step-by-step guide to reset the Android and iOS enabled cellphone:
Resetting Android:
Tap on the Settings icon of the Android phone;
Tap on the "About Phone" option and locate "Backup & Reset."
Tap on "Backup & Reset" and then touch the "Erase all Data(factory reset)" option;
Confirm the action by tapping on "Reset Phone" and allow it to complete.
Resetting iPhone:
Tap on the Settings icon of your iOS device and touch the "General" icon from the list;
Tap on "Reset" and then from the list tap on "Erase all Content and Settings."
Tap on Erase Now, as such an action will prompt the device to remove all the Spy Software and other malicious files stored inside the iPhone.
5. Install Anti-Spyware Tools
It is vital to install tools such as antivirus software into your smartphone to get ahead of the problem as it will not let the spy software from entering into the cellphone in the first place. Numerous Anti-Spy Apps are available from the Google Play and Apple App Store, which can be downloaded for free.
Otherwise, if you have subscribed to any antivirus service on your computer, then chances are that they have a free app version for your respective smartphone that is more than capable of eliminating spy tools from it. Here are some of the antispyware tools that offer protection to your cellphone, along with several other security facilities.
Norton Antivirus software for Android and iOS:
The Norton antivirus software not only offers coverage across conventional computers, but it also provides proper security to the users of the Android and iOS-based smartphones. Such security features not only maintains the integrity of the phone by detecting and killing simple viruses but through its app scanning ability, Norton antivirus software for smartphones detects the presence of a spy app installed the phone, alerts the user, and immediately halts the app's functions from causing any more damage.
Here are some of the other features that come with the Norton antivirus software for Android and iOS.
The App Scanner – To check threats like malware and spyware with app scanning technology;
Wi-Fi Security – To detect and alert you of any vulnerabilities within the network/Wi-Fi connection of home or office internet and protecting your private data from Wi-Fi snoopers;
Web Protection – To prevent you from using or accessing any fraudulent and malicious websites through any medium of data sharing such as browser, app, SMS, Email, and social media platforms. Such sites are a hub for spy software to enter into the cellphone quickly;
Device Security – To check the vulnerabilities within your phone's operating system and perform the appropriate action around it so you you are always a step ahead against someone who tries to steal your personal information or data through a spy app.
Avast Mobile Security: Free antivirus for Android:
Avast offers a free app to all of its Android phone users that is downloadable from the Google Play Store. Here are some of the features that you can avail with Avast antivirus software's app on the Android device, which also includes countermeasures against spy apps:
Privacy Protection – To not allow any criminal or hacker to look into the apps, photos, and your activity on the phone by offering facilities like the PIN code and pattern password other than the phone's built-in lock features that are easily breakable by spy software;
Threat Blocker – This feature disallows any virus or spy app from ever entering and infection your Android cellphone. With this feature, you can instantly perform regular scans to detect threats like malicious spy apps & malware, along with checking vulnerabilities within your Wi-Fi network;
Should CellPhones be Rooted or Jailbreaked?
Rooting an Android phone and Jailbreaking an iPhone are basically the same things that we do on those separate platforms, which allow us to take full control of the respective cellphone's operating system's directory and make any changes we want within the cellphone that are not approved or authorized by the Google and Apple.
Even though such type of action comes with its own set of advantages such as extensive automation, AdBlock, and truly own the cellphone, it also loosens the strict security measures that such operating systems have implemented into the smartphone to prevent things like the spy app to enter and damage your cellphone.
It is wise to understand the consequences of each action before implementing them and licking the wounds of damage they cause afterward. Even though jailbreaking or rooting your cellphone is not recommended by us, if you still wish to enable it on your phone even after understanding the penalties or pain that it may bring in the form of spy app, then you should definitely arrange for some preventative measures such as an antivirus software before doing that.
Final Thoughts on the Menace of Cellphone Spying
In this article, we have discussed each of the possible signs that may allow you to be suspicious that someone has hacked into your device through a spy software to monitor your every activity or even listen to your every conversation during a phone call.
We have also discussed the simple ways to remain vigilant if ever such a thing occurs that you can implement without causing any panic. It is wise to use each solution one by one if you suspect that your phone is working under a strange pattern, and someone is tracking you.
We strongly advise you always to remain observant against the abnormalities and anomalies within both your cellphone and computer systems, especially when malware and spy attacks are increasing day by day. Other than that, there is no critical time than this era of supreme data connectivity to get a hold of the antivirus/spy app software that is capable of tackling such issues firsthand.
About the author