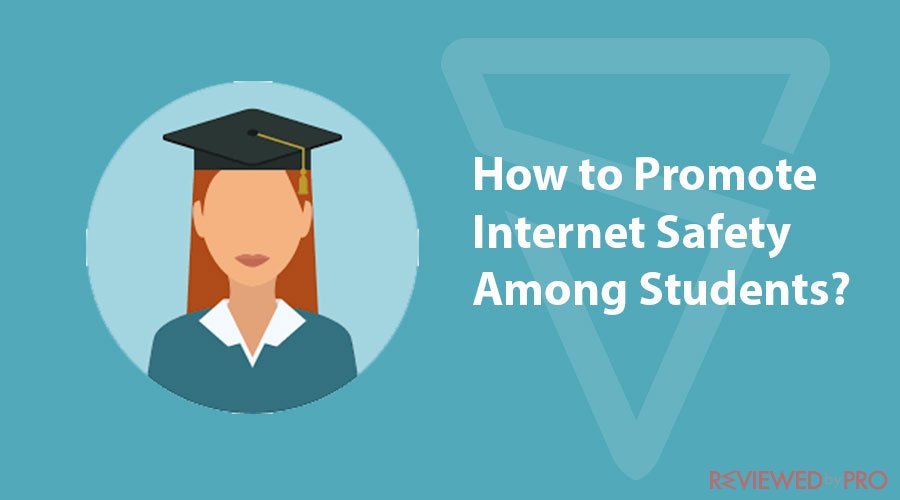 Knowing how to stay safe online and protect your data is a crucial skill. In this reviewedbypro.com post, Phil Collins of EssayService explains how educators can teach students Internet safety.
Internet Safety for Students: Protecting Privacy and Promoting Online Security 
Because of the large number of devices and operating systems schools must manage, they are a prime target for hackers. As a result, cybersecurity is important not just for administrators and teachers but for all students and their guardians.
Students must learn to take precautions online and be alert to potential dangers always. Cybersecurity experts have urged schools to form their own IT teams and implement certain best practices to safeguard student information. But it doesn't stop here.
Students themselves and their parents are also responsible for ensuring that they are safe every time they go online for educational or recreational purposes. The necessity of keeping sensitive data safe cannot be overstated, especially in the academic world. Below, an experienced online academic writer from a top admission essay writing service shares several tips that will help promote online security among students.
Teach young people to protect their privacy online
There are a lot of sites that ask for too much information online. Before revealing any identifying information online, students should be aware of the importance of taking appropriate precautions.
Educate your students on the importance of maintaining the privacy of:
Their home address;
The institution where they're enrolled;
Their email address;
Their contact number.
It's crucial that students who often go online to read essay writing service reviews so that they can hire someone to help them complete their school work learn how to secure their own digital spaces. In addition, they need to limit their own time spent online. The safety of young people, both online and off, can be improved if they have a firm grasp of the distinction between the types of information that can and should be shared.
Underline the importance of keeping all software up-to-date
Explain to students that they should always ensure that they only install programs that have been developed and published by reputable organizations. Additionally, encourage them to make it a habit to always use the most recent version of their antivirus program, online browser, and computer's OS (Windows, Linux, Mac OS, etc.).
Updates help to fix security flaws, so they should update their security software, web browser, and operating system to protect their computers from the latest viruses and hacking efforts.
Get an early start
All teachers and professors have a responsibility to impart lessons on digital citizenship.
Every person must do their part, and early childhood education is a good place to start. It is a good idea for schools to develop a scope and sequence for digital media, outlining the content and skills that should be taught at each grade level.
Introduce students to a password manager
With a password manager, students can easily and securely access all of their online accounts without having to remember a laundry list of complex passwords. Parents or teachers should teach their kids how to maintain their own accounts and get a premium or family version of a password manager.
If you are concerned about younger children getting locked out of the password manager because they have forgotten the master password, you may want to consider using a password-free login option. Lastly, college students can bypass the need for a password to access their password vault by utilizing a mobile authenticator or biometric techniques, such as a fingerprint or face scan.
Discuss hypothetical and actual events relating to the topic
It is not enough to teach students appropriate behavior when discussing digital citizenship. Messages that are presented as facts or pieces of advice may come out as unimportant or abstract. The impact of hearing data and numbers is diminished when compared to reading or watching a story about actual people and actual events.
Furthermore, it is often more powerful and life-altering to hear a person's experience firsthand rather than read about it. Simply put, stories have a greater potential to stick in students' minds and leave an indelible imprint.
Students can learn a lot about staying safe online by listening to accounts of real-life incidents and hypothetical situations. They can learn from each other and share their experiences by reflecting on the challenges they face using social media and the internet space.
Engage the family
Family involvement in a child's education has been found to increase the likelihood of that youngster succeeding in school. Mutually beneficial outcomes can be achieved when schools and families work together. Online safety education is analogous to traditional schooling, and that's why it's so important to include parents in classroom discourse.
Education on digital citizenship is something that the entire community must work on together. Students who often hire the best essay editing services online are more likely to internalize lessons when they have many individuals to talk to about their problems and hear the same messages at home and school.
A comprehensive strategy can be developed to ensure that every student also feels supported and included.
Conclusion
Parents, instructors, and students must all work together to instill a culture of digital safety in and outside the classroom. Teachers of the same grade level might work together to help their pupils learn how to be responsible online.
About the author