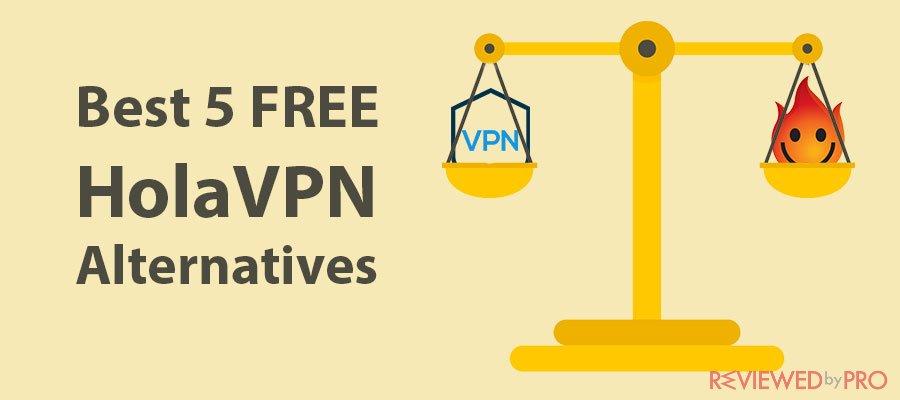 Best 5 FREE HolaVPN Alternatives
Everybody says, "Don't use Free VPN," but we sometimes may not need the commitment to a long-term plan or want to surf for a little while. A free VPN is not always the wrong VPN. There are some good eggs in that basket. However, we cannot say so about Hola VPN, which has been compromised time after time and so put its users at risk.
This article will show you five other alternatives to Hola: safer, more efficient VPN services.
What's wrong with HolaVPN? 
HolaVPN is not safe. Many other users and I cannot trust the software. There are many mouthwatering and attractive features to make you want to hop on it but, beware!
The primary issue with the HolaVPN service is that it works with a peer-to-peer (p2p) system. It implies that each user shares their bandwidths with other users. A peer to peer system has been confirmed to take a negative toll on the connection speed. The slow connection speed is not the only problem. 
On p2p, you also share your IP address with other users, without jurisdiction over what they use it for! It exposes you to illegal activities and scandals being traced to your IP address. You don't want that.
As if this is not enough risk, HolaVPN has further exposed its subscribers to risks. MyEtherWallet, a crypto wallet service, claimed in July 2018 that people that used HolaVPN to access their sites were exposed to malicious cyberattacks. The news made the rounds that Hola was hacked for about 5 hours and that customers who gained access to MEW during that time were prone to cryptocurrency theft. 
Sorry to burst your bubble. It was not the only time Hola has been hacked! All these flaws and mishaps are why HolaVPN should be avoided.
Is a Free VPN Right for You?
If it works, and your data is secure, why do you have to pay extra for a paid one, eh? A free VPN sounds excellent. You don't need to make way with some extra dollars to use the internet. It is cool, too, if you don't get irritated by ads and pop-ups. Your internet usage may not require all the extra features that the 'Premium' plan is offering. A free VPN is just right for you!
Whether or not you choose a free VPN, be sure that you do your research and make a well-informed decision. You need to know that companies want to make money. Some, legitimately, and others by other crooked means. The legitimate ones make some cash by displaying ads and pop-ups on their applications. Clicks from users like you will earn them a few cents.
The other types may utilize your private and sensitive data, selling it to cybercriminals for cash. The shared experience with free VPNs is slow internet speed. This is because they commonly share bandwidths among users. Limited server locations are another issue with free VPNs. You may not have access to some locations that are solely available for a premium or paying subscribers with them.
Some paid VPNs offer free-trials and 30-day money-back guarantees, depending on their service. You can exploit this to get the best service and not pay anything at all. Whatever you have to choose, do your research, ask questions, and select the best suits you.
5 Free VPNs to Use Instead of Hola
Nothing is made to be perfect, especially when you are not paying for it. The VPNs on this list are great if you are not willing to commit to a VPN plan but want a decent VPN service. We tested a few of these VPNs and have collated the best 5 for you. Here they are;
1. Windscribe
Windscribe has gained acclaim in recent times as one of the best free VPNs around. It has excellent speeds and has proven to be very reliable. One major plus is that it is a trustworthy VPN service and not a proxy connection like Hola.
The data transfer on Windscribe is capped (limited). It is a bid to maintain free status. The data cap stands at a massive 10GB every month. With this, you can watch your movies and browse your geo-blocked content without much hassle.
As commonly seen with other free VPNs, the server locations are only a selected few. They restrict access to all their servers to their paying customers only. That is a factor quickly forgotten as those free and available servers provide excellent data transfer and download speeds.
The pro version of the software is relatively cheap and offers over 300 servers in over 60 countries. All of these with blazing speed and unlimited bandwidths.
Pros
Cons
Very decent speed
A massive 10 Gigabytes of data transfer per month
Data transfer is capped
Limited access to servers
2. TunnelBear
The best feature of TunnelBear is it's straightforward to use and a user-friendly application. They have apps for all platforms and Operating systems, including macOS, Windows, and mobile devices. The servers are widespread! All over the world and user traffic is seamless and smooth. Their India and Australia nodes are limited in the free version. So, if you want to use a VPN for those locations, TunnelBear may not suffice for you.
One plus is that the free version of TunnelBear doesn't have any pop-ups and ads. Nothing will appear to interrupt your viewing if you are streaming. That's one very significant feature.
TunnelBear does not log your traffic or internet data. They back this up with shields against attacks with high-grade encryption. It is too great to be true for a free VPN, yes. The downsides of TunnelBear is that you cannot use more than 500mb monthly, and it does not work on Netflix. Bummer!
TunnelBear may have these disadvantages, but it still ranks as one of the best free VPNs on the internet. The Pro/Premium version gives you unlimited data with servers in over 20 countries!
Pros
Cons
Very User-friendly
Secure
Zero pop-up or ads
No logs
Compatible with Windows, macOS, and other platforms
Data cap of 500mb per month
Limited access to servers
Incompatible with Netflix
Poor streaming strength
hide.me VPN
3. Hide.me
It offers another excellent option for a free VPN. It made this list because it does so well and gives decent results. It has over 28 servers with locations all spread across over 22 countries. Hide.ne is encrypted with the OpenVPN Security, and that sure guarantees online safety. The speed for connectivity is very decent, and overall performance is very smooth.
However, there lies a 2GB data cap per month for the free VPN service. This one should suffice if you're looking to navigate a few geo-blocks and access content overseas. It is also great for assuring privacy and data security when on public Wi-Fi or an untrusted hotspot.
The paid pro version will grant you unending bandwidths, premium 24/7 support, and up to 10 devices on a single account. All of these also come with a 30-day money-back guarantee on all purchases.
Pros
Cons
No annoying ads or pop-ups
High-grade security
No logs policy (zero data theft)
Full customer support even with the free version
Compatible with Windows, macOS, and other platforms
Free version disadvantages:
Small Monthly limit of 2GB data transfer cap
No access to OpenVPN database
Limited to only one device per account
4. Trust.Zone
Trust.Zone is based in Seychelles and offers VPN services to users without keeping any logs. The free client version is merely fantastic! Users have access to servers in over 100 locations across the globe. The servers are airtight secure as they have 256-bit AES encryption to safeguard your online activities. They also have a specialized and efficient kill switch.
Kill switch swings into action if anyone is trying to obtain your data maliciously. It's very secure, and they know it. No wonder they made it only free for 3 days. Customers who have used it have nothing but praise for Trust.Zone
Trust.Zone is very concerned about your sensitive data, and so they do not need your names or any other personal information to register for the free version. The only requirement is your email address. The big and only drawback of this free VPN is that you can use it only for 72hours.
If you love it and it suits you, you may want to pay for the pro version. This allows for up to 5 connections simultaneously and unhindered access to multiple servers in over 201 locations across the world and no restrictions on switching between servers.
Pros
Cons
It offers an Unlimited bandwidth
Over 110 server locations
You don't need any personal info needed to register
Effective kill switch
Compatible with Windows, macOS, and other platforms
Highly secure
Free version disadvantages:
3 days of maximum usage
1 Gigabyte maximum data cap
Only one device allowed per account
5. BetternetVPN 
Betternet is a free VPN. They do not even offer any paid plans at all. They generate revenue like the good guys that I explained earlier. They offer sponsored ads and videos on their platforms. Betternet does not keep internet activity logs.
They keep logs of the number of people connected (maybe to sell their platform for ads). Asides from this, there are no data transfer limits. Yes, Unlimited data transfer! Which is rare among the free VPNs in their league. They have been touted as one of the VPNs with the best customer service. It is ready 24 hours daily to take complaints and revert. It has made Betternet a top choice among VPN users.
They do not split bandwidths among users as in HolaVPN. It brings massive speed to their service and also prevents malicious attacks and data theft.
Pros
Cons
Very simple and easy to use
No registration necessary
Compatible with Windows, macOS, and other platforms
Secure and safe
Ads and pop-ups are present.
Free VPN service comparison
| | | | | | |
| --- | --- | --- | --- | --- | --- |
|   | Windscribe | TunnelBear | hide.me | Trust.Zone | Betternet |
| Number of Servers (Number of Countries and locations) | 300 | 19 | 20 | 27 | 30 |
| Number of Servers | No servers, P2P | 20 | 100 |   | 123 |
| Number of IP Addresses | 117 Million |   |   | 1000 | 200 |
| Log Keeping | No | No | Partially | No | No |
| Presence of- Kill Switch? | No | No | Yes | Yes | Yes |
| Devices per subscription | 1 | Unlimited | 5 | 5 | 3 |
| Network Type/Style | Peer-to-Peer or Server | Server | Server | Server | Server |
| Head Office | Israel | Canada | Canada | Malaysia | Seychelles |
| Free/Paid | Peer-to-Peer: Free, iOS/Android/Server: Paid | Free & Paid | Free & Paid | Free & Paid | Paid |
VPN related FAQs
What Does "Zero Logs" Mean? – Logs could be connection logs or usage logs. Connection Logs are data about your connection, such as time of connection, Length of connection, how often you connect, and data usage. Usage Logs includes all of your online activity while connected to the VPN, websites visited, and identities you use. Usage logs are the most dangerous. Watch out for VPNs that don't say anything concerning your usage logs.
What is a VPN Kill Switch? – A VPN connection sometimes fails even with the right provider. When the VPN connection fails, your real IP address is and makes you prone to attacks. To prevent exposing your data, many VPN providers input a kill switch into their software. A kill switch 'kills' all the Internet connections whenever there is a drop and reconnects the VPN when the internet is back on.
Is VPNs Legal? In a lot of Western countries, VPN is legal. In countries with authoritarian or autocracies rulers, VPN is not legal. Currently, many countries in the Middle East and countries with pro-Muslim governments have either restricted or banned the use of VPNs. Some countries that have banned VPN include China, North Korea, Saudi Arabia, India, Turkey, Iran, Russia, Thailand, etc. Using a VPN makes you liable to fines, but selling access to VPN services will earn you a jail term.
About the author