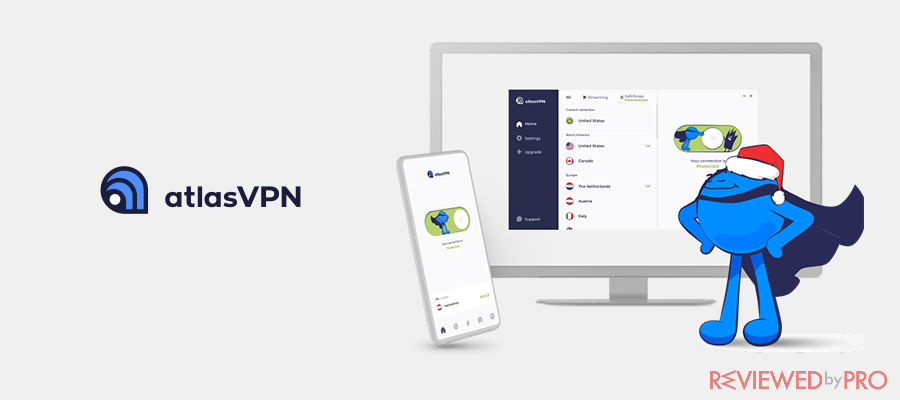 Atlas VPN review
Atlas VPN as it's clear from the name it puts the whole world on a graph just a tap away. It's one of the best premium VPNs available. It's powered by USA based company the tunneling protocol that's used in it is WireGuard. All the terms and conditions including the laws that have been kept in mind while developing this tool are following Delaware. Peakstar Technologies Inc. introduced it and registered the Atlas VPN in 2019.
Later, in 2021 Nord Security has aquired Atlas VPN and that's behind NordLayer and NordVPN. It's a widespread network of servers all around the globe with 700 servers in 27 countries. It's not a limited VPN only for a single platform instead it has apps for all the operating systems such as Windows, Mac, iOS, and Android as well.
The premium version has a combination of features but the free version also comes with a lot of features and all these features can be availed without getting any payment deduction and seeing an advertisement.
The user interface is friendly and comes with a useful version that gives you a 10GB bandwidth limit without charging a cent. You can evaluate the version by using the 10GB and later you can decide whether you want to buy the premium one or not.
The Atlas VPN comes with a kill switch in case if the VPN drops, your privacy will be still protected with unlimited simultaneous connections. Being connected with the same server, you can still change your IP with the SafeSwap feature.
Doesn't matter whether if a user is a professional or beginner this is one of the amazing tools out there to protect your online identity and make your device stay away from hackers, malware, and other online vulnerabilities. In this article, we will dive deep into Atlas VPN 2022 and will provide you with a detailed review of its advantages and disadvantages and what kind of features you would get along with its pricing details.
Pros and Cons of Atlas VPN
| | |
| --- | --- |
| Pros | Cons |
| Supports Android, iOS, and Windows | Small server fleet |
| Comes with the free version | Located in the USA |
| 30 days money-back guarantee | Doesn't include an ad blocker |
| Get access to unblocked streaming services | Smaller server infrastructure |
| Comes with a 2FA login |   |
| Fast and easy setup |   |
Atlas VPN offers fast speed and that's because of the WireGuard protocol that's used for tunneling. We have compromised a list of basic information regarding its speed and users get a lot of choices regarding their servers list available.
 
 

atlas vpn logo

Website
https://atlasvpn.com
Rating
Available applications
  Windows, macOS, Android, iOS, Android TV.
Download Speed
65.76 Mbps
Upload Speed
29.22 Mbps
Devices
unlimited
Country locations
37
Servers worldwide
750+
Torrenting friendly
Bandwidth
up 10 GB for free version / Unlimited on Premium version
Router support
no
Customer support
Price from
$1.39/month
Out Methodology of Testing and Reviewing Atlas VPN
Our security experts at reviewdbypro.com have performed various tests many times by considering different factors and applying certain conditions at Atlas VPN. We have been analyzing Atlas VPN in 2021. We performed various tests in 2022 to give you an overall neutral and specialized review for Atlas VPN. The team has tested the VPN based on common factors that have compromised the following options:
Internet Connection Bandwidth
Coverage of service
Applications and OS Compatibility
Security Features
User Interface
Support and Price
Internet Connection Speed Results of Atlas VPN Were Amazing
Everyone considers the internet's speed as one of the most dependent things while connecting to the web. Who doesn't like faster downloads, high-quality streaming videos, playing high-quality animated games, and uploading 4K videos? But not everyone doesn't have the privilege to access all the websites on the internet such as many countries that have banned YouTube and Facebook. So, in such a situation a VPN is the only solution that can help such users to connect them with the rest of the world. Atlas VPN has shown amazing speed results while we have tested it in different locations around the globe.

AtlasVPN speed tests and results
For testing the speed our team has used the most famous and used tool speedtest.net that's a big name in internet speed testing by choosing random servers across Asia, Europe, Canada, South, and North America. The speed test was amazing and there wasn't much difference as the speed was the same almost on every server we tested out.
| | | |
| --- | --- | --- |
| Continent | Downloading Speed | Uploading Speed |
| Canada |   57.22 mbps |   24.74 mbps |
| Europe |   73.45 mbps |   63.84 mbps |
| Australia |   45.12 mbps |  22.85 mbps |
| North America |  62.67 mbps |   36.85 mbps |
| South America |   32.85 mbps |   15.45 mbps |
You can get a clear idea from the details that we have shared in the above internet speed test table that Atlas VPN provides an amazing speed. Our team tested on both video streaming and P2P file sharing as well. These are the reason why we are recommending the Atlas VPN. The speed of torrents both downloading and uploading was amazing. We uploaded a huge file using a torrent and downloaded a file using the secure connection through VPN and our expectations were surprisingly met.
Atlas Has More than 750+ Server Across 37 Countries
The number of servers is another factor that's considered while buying a VPN as more number of servers results in high-speed connection without having many interruptions.  A user can select a server that offers low latency and high uploads/downloads in a location. But if a server is far away there would be a lack of speed and users would face high latency problems while trying to secure their internet connection.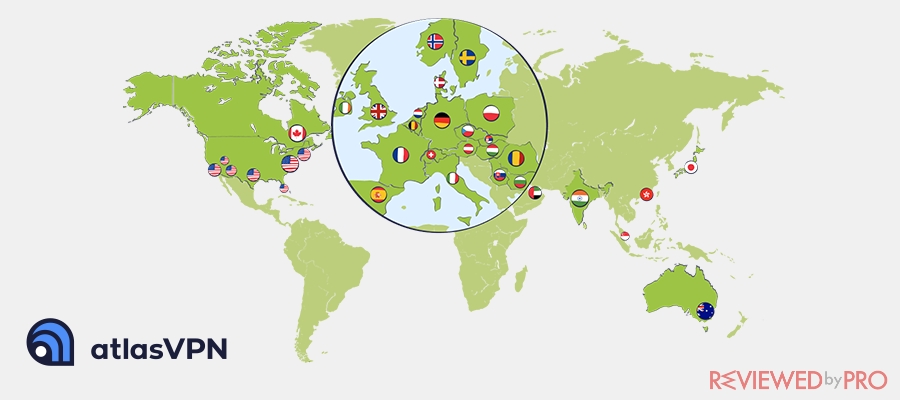 But in our findings, we have figured out that Atlas VPN doesn't have many servers around the globe when we compare it with the other VPN service providers. It has around 700+ servers in 31 countries and this would only benefit the users that are near to the server location.
At the current moment, Atlas VPN is targeting Europe as you can get an idea from the table that it has 23 locations but when it comes to other areas there is not much to see. You will get only four countries in Asia and besides two of the America rest of them are located in other areas around the globe.
Atlas VPN Has Valid Security and Privacy Feature that Make Your Presence Safe Online
Atlas VPN has a lot to offer when we talk about security and privacy. It's one of the vital things that play an important role to keep the presence safe of a user while being on the web. We will tell you about all the features in detail, so you can make a clear idea about its security and privacy features.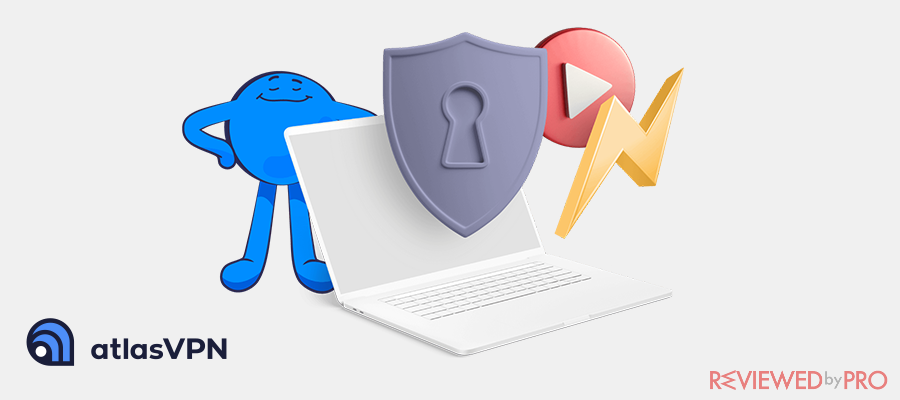 AtlasVPN security features
First, you need to understand about VPN protocols.  It's one of the most vital that that works for making the VPN reliable. The connection between the VPN server and your device is created by using this protocol. This hides your identity from the rest of the internet. The basic function of a VPN is how your data is routed within a connection. The specialization of a protocol makes it different from others. We will first tell you about some protocols.
OpenVPN – an open-source protocol that uses virtually unbreakable AES-256-bit key encryption with 2048-bit RSA authentication and the algorithm used is a 160-bit SHA1 hash. This algorithm lets the users unblock the content on the web.
IKEv2 – commonly used tunneling protocol that's the fastest and stable. It helps the connection to switch connections across the network types from Wi-Fi to cellular rapidly.
L2TP/IPsec – This protocol helps to create VPN tunnels and it comes with the security protocol. It's safe but it's not better as compared to the other protocols such as IPsec/L2TP and WireGuard. But Atlas VPN uses WireGuard and we will tell you why in the next part.
WireGuard – Atlas VPN employs best-in-class WireGuard® protocol to ensure secure and seamless streaming, gaming, and overall browsing experience.
Discover Atlas VPN features for improved privacy and security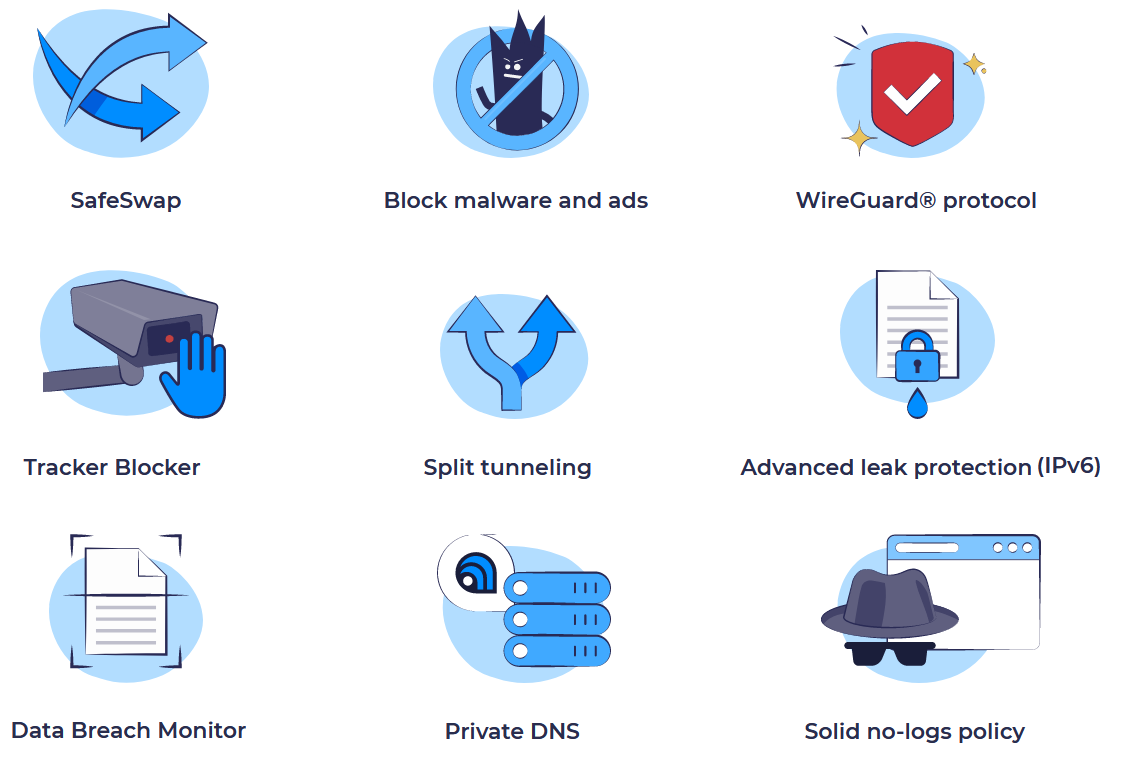 AtlasVPN security and privacy features
SafeSwap – is a new feature in Atlas VPN that makes sure that the presence of the user is anonymous even if the connection is dropped. It allows a user to rotate IP addresses without changing servers, so you can move from one IP address to another IP address on the same server without losing and making your connection again with another server. This makes it very hard for the stackers, hackers, authorities, and your ISP (Internet Service Provider) to monitor your online activities.

Split Tunneling – When a user connects with a VPN server all its online traffic gets through the Atlas VPN secure server. Split tunneling allows users to send selected data on the internet using the secure encrypted tunnel while the other can be sent outside the VPN.

Leak Protection IPV6 –  Atlas VPN protects both IPV6 and IPV4 connections and all the users can explore the internet with equal immunity and protection against leaks.

Block malware and ads – Atlas VPN blocks websites and ads known to host malicious content such as phishing, malware, or virus-distributing sites.
Tracker Blocker – Our splendid Tracker Blocker feature helps stop third-party trackers from gathering insights about your online activities.
Other features: Data Breach Monitor, Private DNS, Solid no-logs policy.
What's WireGuard and Why Atlas VPN Uses WireGuard? Atlas VPN has a lot of advantages due to the WireGuard protocol. The very first reason is it's not heavy and all of the code is just about 4,000 lines that making the vulnerability scan and auditing easier. It's a modern protocol that withstands disruptions and encrypts connection with the use of advanced cryptography and other security techniques.
Atlas VPN Provides a Great Compatibility for All Operating Systems Across Multiple Devices

AtlasVPN supported devices
compatibility across multiple devices creates a huge impact on a VPN and Atlas VPN has almost all apps for all the operating systems and devices that are being widely used around the internet. We have prepared a list of all the supported devices after an extensive search that can be paired with Atlas VPN. All these are listed in the table below.
Supported devices

Desktop & Laptops

Phones & Tablets

Android TV

Microsoft Windows

Android

Android TV

macOS

iOS

 
You would be clear about the operating systems that Atlas VPN supports and can work with easily. If you are using a Desktop or Laptop that runs on Windows operating system, you can easily make use of the Atlas VPN and install it to make your online presence hidden.
But if you want to secure your connection being on your smartphone whether it's Android or iOS, you further have to install the official Atlas VPN app on your phone.
You can enjoy fast, uninterrupted, and unblocked streaming and channels on your Android TV box. It comes with unlimited bandwidth and high-speed servers that make your experience amazing.
Atlas VPN Is Affordable and Comes in Very Low Price
Pricing is one of the most searched things while choosing VPN. But you have nothing to worry about the pricing as Atlas VPN comes at a very affordable price and offers different pricing plans. One can choose a plan as per their requirements and budget.
Currently, three plans are available on the official website. These are:
| | | |
| --- | --- | --- |
| 1 Month | 3 Years + 3 Month Free | 1 Year |
| $9.99 per month | $1.39 per month | $2.49 per month |
All these plans come with 30 days money-back guarantee but it has some terms and conditions as well that you may have to read first before buying any plan. Subscription provides you access to the 700+ servers across the globe, blocks all the ads and trackers, military-grade encryption and you can use an unlimited number of devices.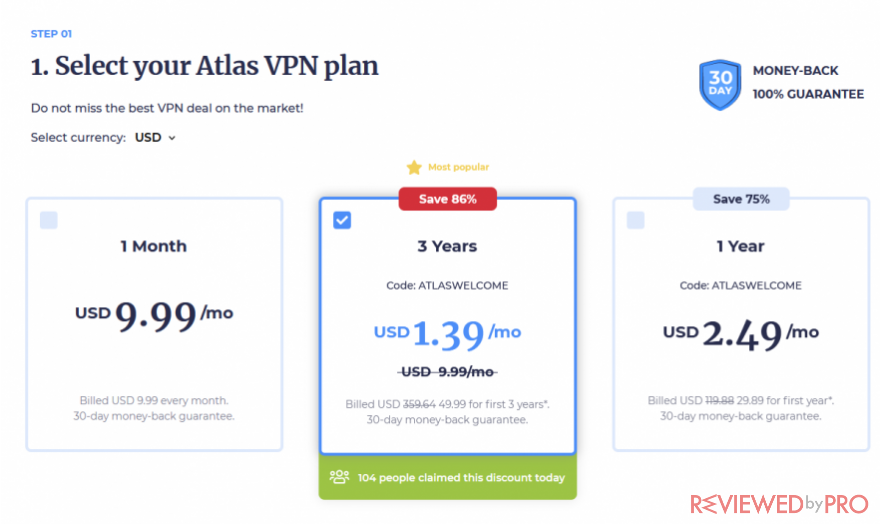 AtlasVPN price list
The process of buying a plan is really simple. You first have to choose a plan and later enter your email address and at the end choose a payment method and once the payment is successfully done, you will be able to access the VPN using the email that you're provided.
Atlas VPN is Easier to Use Due to Its Design and User-Friendly User Interface
The design and user interface is a thing that changes the perception of a user. If the user interface is friendly, it would be easier for even novice users to make good use of the app instead of getting into complexities.  We have found the app design and user interface of Atlas VPN professional and user-friendly.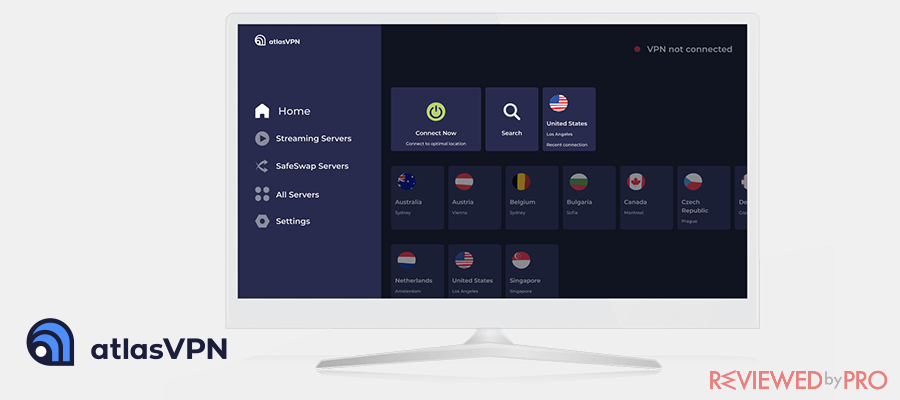 AtlasVPN user interface
All the menus such as things related to the assistance and settings are located on the left side of the app and when you click on an option the related view appears on the main area. By default, the list of all the servers appears with their country flag. On the right side, a big button can be seen that you can use to toggle off/on to make your connection secure by connecting with the Atlas VPN server.
The designs of both iOS and Android apps are somehow similar. On launching the app the toggle off/on the button can be seen and by tapping in it you can make your connection secure or disconnect as well.
The user interface of Android TV is a little bit different from all the other platforms. The VPN connection button is also different and all the locations can be seen below that button and you can choose any location to connect that you want.
Availability and Assistance of Atlas Customer Support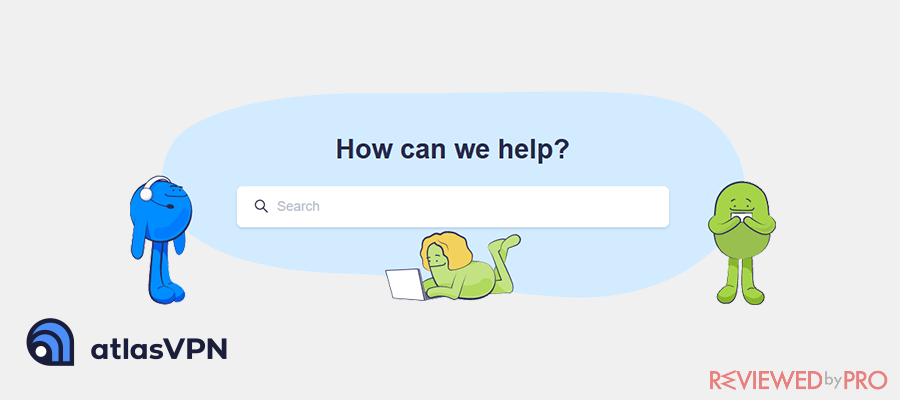 AtlasVPN user support
Customer support is the main pillar that helps a business to get repeat clients. During our test, we have found the Atlas VPN's customer support quite normal as they were not much faster and available. We couldn't find any live chat support feature and if you need any help you will have to go to their help center and then submit a request with your email describing your issue as well. A customer support agent will be in contact with you whenever they see the support ticket.
How to Download and Install Atlas VPN to Make Your Computer's Connection Secure
 We have shown you how you can buy a plan as per your needs and budget so the downloading process starts after you have purchased a plan. After downloading the setup file, you first have to install it on your computer, and once it's installed. Now, launch the app on your computer and log in with your email.
After login with your email, you have to now enter a promo code or key that you will find in the email or on Atlas VPN's official website and you have to copy and paste that key into the Atlas VPN app and paste it there. Now it will take some moments to verify whether it's valid or not, once it's verified you will be able to access the premium version and it will be written next to your plan that whether it's free or premium.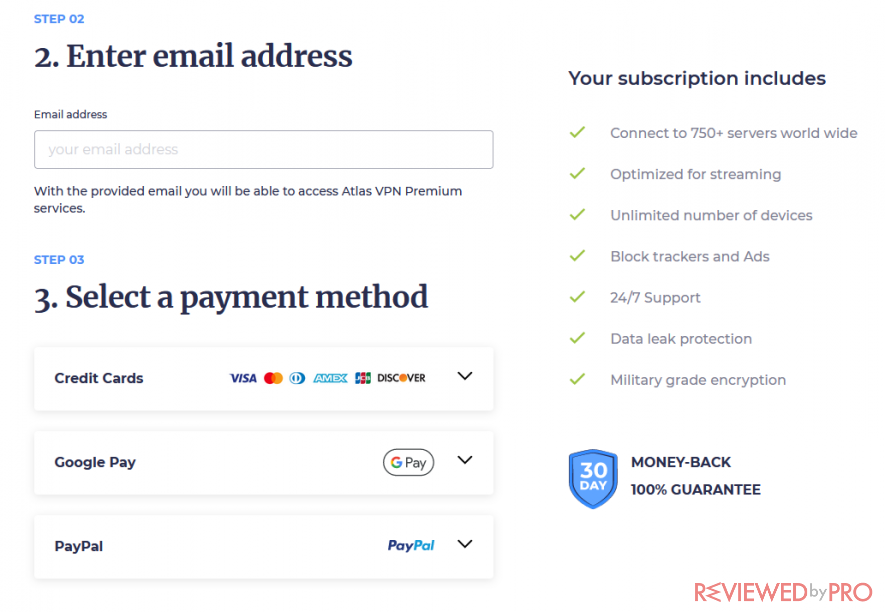 AtlasVPN download
About the author