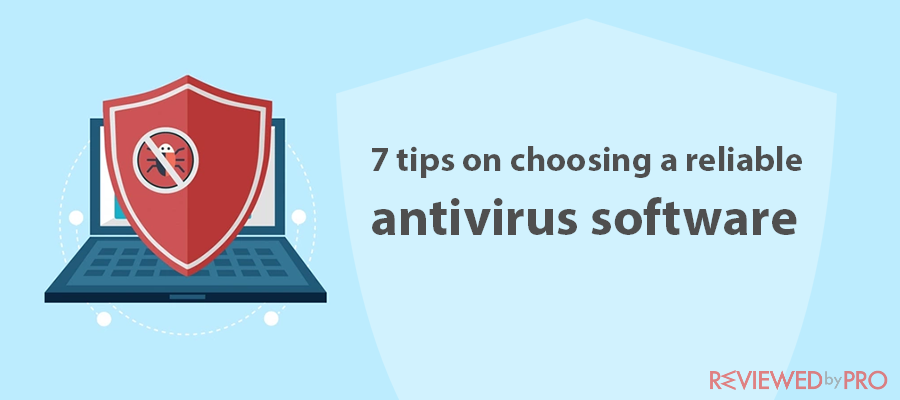 7 tips on choosing a reliable antivirus program
There are dozens of antivirus programs available online. All claim to be #1, but which one really stands out?
Some antivirus programs offer excellent value for money, whereas others charge premium rates due to their history of stellar performance.
In this article, we list a set of criteria that you can go through to select the best antivirus program.
What is an antivirus program?
An antivirus program is your best line of defense against cyberthreats including spamming, phishing, viruses, malware, adware, and trojans. Even today in an age of rising threats, an antivirus program offers you the best protection possible.
An antivirus program has a database of known viruses and malware that is constantly updated. It runs deep scans on your system, detects any threats, and quarantines them to keep you safe whilst browsing online.
What type of threats an antivirus program can protect against?
It isn't just viruses you need to worry about. Identity theft, ransomware and phishing attempts are all too common, posing serious threats online. Here are some of the threats an antivirus program can protect you against:
Virus: Dangerous software that infects your files and spreads quickly to the entire system.
Adware/spyware: Installed in free software such as browsers, games, etc. pushing you to buy the premium version or forcing you ads of other companies.
Phishing: malicious links coming from what seems to be genuine websites, with the sole intention of gathering personal data, login credentials, and credit card details.
Ransomware: Akin to viruses, it encrypts your files and folders, changes their coding, and restricts you to access them unless a certain amount of extortion money is paid mostly through bitcoin or other cryptocurrencies.
What do you need to look for in an antivirus program?
Any modern antivirus solution from a top-rated service provider comes with a number of features such as a built-in VPN, web filtering, email protection and spam filters.
What is the criteria of deciding for the best antivirus program?
The following is our expert vetted criteria of selecting the best antivirus program:
Malware and virus detection rates
Detection rates are the mainstay of deciding how well an antivirus performs. How well your antivirus system protects you against known and unknown threats is by far the most single important factor in deciding on a reliable antivirus solution.
A vast majority of the top antivirus programs have a detection rate in the range of 95 to 99 percent. Look for this number in independent lab test results and user reviews.
User data log and privacy
Some AV programs silently log your user data and track your activities online. Check online for antivirus reviews on whether or not your antivirus program has a no-data-logs policy.
False positives
Flagging Windows system files, and legitimate programs as threats and malicious doesn't mean they really. It means that the antivirus program is deliberately doing it to push you into buying their full version to remove these threats.
If your antivirus program is constantly quarantining or detecting genuinely running software as malicious, it's time to change your antivirus solution.
Easy to use interface
Malware detection rates are one thing, and the ability to use a program even for a non-tech savvy individual is another. Over the passage of time, some of the best antivirus programs have learned that having a clean and simple user interface is important to remain on the top.
If you are bombarded with a number of settings and features with no clarity on how to use it, there is no purpose in using it.
Impact on system
There is no point in having an excellent antivirus system only to have it slow down your system while it's scanning in the background. Choose an antivirus program that doesn't need high system resources to run.
Ideally speaking, it shouldn't take more than 500 MB of your RAM and performs a quick scan in no more than 15 minutes. It also should be able to run on older operating systems even on 2nd and 3rd generation Intel processors.
Independent Reviews
Many websites are affiliates of several antivirus vendors, where they get a share of sales every time the vendor's AV is bought. Don't let this mislead you. Look for independent reviews on a number of websites to determine the actual working and performance of each antivirus.
Also, read real user reviews on websites like Trustpilot.com to understand how it performed in the real world as compared to lab testing.
Customer Support
You might have the best rated antivirus solution installed on your system, but there's no point in having one if the customer support fails to respond back in time in an unfortunate event.
During crisis, receiving automated emails and chatbot responses aren't going to help you. You need to get in touch with a real person from the support as soon as possible.
Make sure to read user reviews of the customer support.
Many top antivirus solutions offer chat, email and phone support. If you aren't satisfied, you also get a 30-day money back guarantee.
Conclusion
We are hopeful that most of the important factors are shared with you in this blog post on how to choose a reliable antivirus software.
About the author