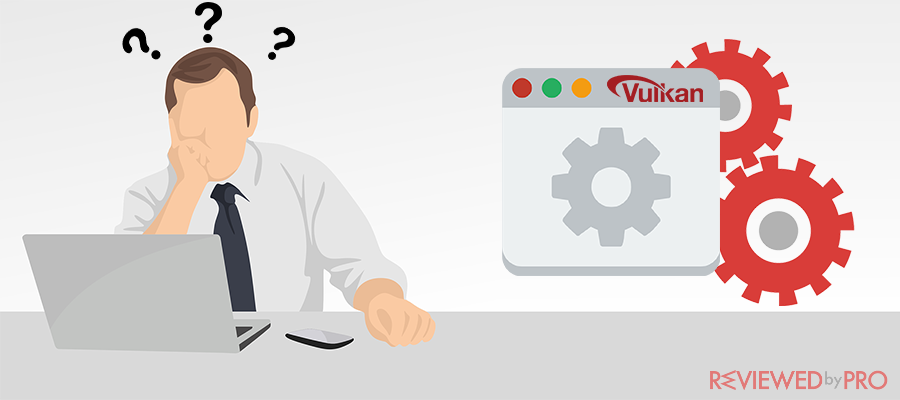 Did you find the program VulkanRT[1] on your computer? Did you think what is VulkanRT and should I get rid of it? If so, you are in the right place. In this article, we will talk about what VulkanRT is and what to do with it. Computer users don't remember this program was installed by themselves, so it might be considered as virus, malware or spyware.
Most of the time this program is detected by third-party antivirus software and it says, that this program looks suspicious. Just add this software the ignore list and keep reading this article.
This application is noticed by many users in a folder "Program files". In some cases, it also could be found in Windows 10 app list. We would like to calm you down that VulkanRT is not a virus or malware.
No, it is not a virus or malware. It is fully legit and official application that goes bundled with new graphics cards with the games.
What is VulkanRT?
This application was created by consortium focused on building open standards APIs in 2014. The developer of the VulkanRT is Khronos[2] (USA). Also, this application was announced at the Game developer's conference in 2015. So it means this app is not so new and it is well known in the market for almost 4 years.

VulkanRT is a Runtime Library which is used to improve graphics applications like Games or interactive media. It was created in purpose to balance system resource usage between the PC processor and graphics card. In other words, it helps you to get the best graphics results and computer performance. More and more new video games start to use this driver module
VulkanRT serves a similar purpose to Direct3D12[3], but it also works with many operating systems like Windows, Linux, and Android. It could be adapted on MacOS with the third-party modules. This application could be a replacement for OpenGL libraries, but there are many scenarios when OpenGL works better. If you are a gamer, then you should hear what is DirectX[4] or OpenGL[5].
Which games are using VulkanTR?
| | | |
| --- | --- | --- |
| Game titles | Game titles | Game titles |
| Apocalypse: The Game | Aerofly FS 2 | Geocore |
| Breaking Point | Artifact | Quake III Arena |
| DCS World | Total War Saga: Thrones of Britannia | Galaxy on Fire 3 – Manticore |
| Doom Eternal | Astral Crown | Serious Sam VR: The Last Hope |
| Escape From Tarkov | Rise of the Tomb Raider | Ballistic Overkill |
| ESSENCE | nGlide compatible games[90] | Mad Max |
| GRID Autosport | F1 2017 | Serious Sam Fusion 2017 |
| Quake Champions | Wolfenstein II: The New Colossus | Roblox |
| Star Citizen | Ashes of the Singularity | Serious Sam VR: The First Encounter |
| War Thunder | Doom3 BFG | Serious Sam VR: The Second Encounter |
| X4: Foundations | X Rebirth VR Edition | Dream League Soccer |
|  The Talos Principle | Warhammer 40,000: Dawn of War III | Score! Hero |
| Quake | Olympus Rising | Heroes of Incredible Tales |
| Doom | Vainglory | Need for Speed: No Limits |
Why it became so popular?
Many Graphic cards manufacturers have chosen this library because of the following reasons:
• Smoother game performance
• Better GPU usage
• More effective graphics driver
• More effective control over the graphics hardware
• Open and modern architecture
• Cross-platform with support for Windows, Linux, and Android
• Supports iOS and Mac OS through third-party solutions
How Did I get VulkanRT on My PC?
VulkanTR is being installed automatically when you are updating your graphics card drivers (NVIDIA[6] or AMD[7]).
Also, it could appear on your PC with the new Graphics card replacement after driver installation. Also, it could come with the new game installation as an update to your graphics card drivers. Otherwise, this game could not be working.
There is no need to worry if you have updated your software or hardware, VulkanRT came with that update to your PC.
Is VulkanRT a Virus or Malware?
No, it is not a virus or malware. It is fully legit and official application that goes bundled with new graphics cards with the games.
Would I remove and uninstall VulkanRT from my PC?
VulkanRT comes as a bundle package with many new games, software, or drivers. Without this application, your new game or graphics card just won't work. So our recommendation is not to uninstall VulkanRT, just leave it as it is.
We saw that some websites were writing that it is malware and needs to be removed. So we want to say one more time, that is not malware and don't remove it. Otherwise, your PC will cause problems listed below:
What will happen if I will uninstall or remove VulkanRT from my PC?
1. You will not be able to set the desired screen resolution
2. Vey poor HD video rendering
3. Your GPU will start causing crashes or even glitches
4. Unable to play newest games on your PC
About the author
References