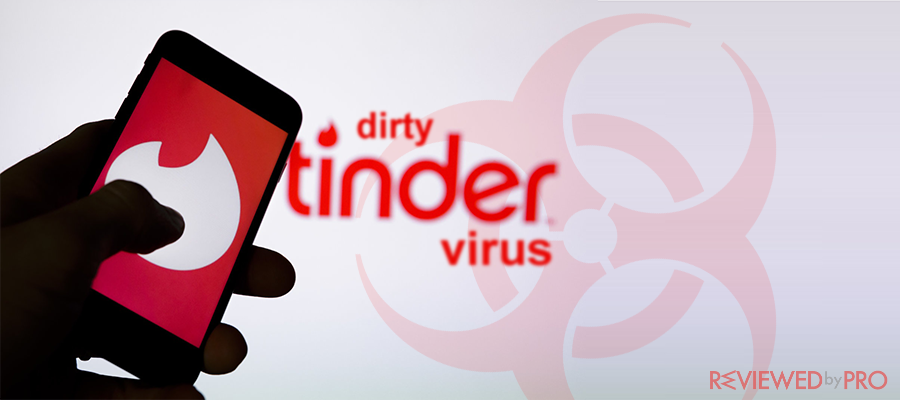 What is dirty tinder and how to remove it?
What is Dirty Tinder virus?
Dirty Tinder is a new malware which was reported at the end of the 2018 year. This type of virus belongs to adware[1] virus family. Normally adware shows unwanted ads, pop-ups[2], hijacks browsers[3], redirects user to unknown pages, and slows down the PC. It is not the worse type of virus, but it is always better to get rid of it as soon as possible because you never know what else it can do to your PC.
Dirty Tinder is not the first adware from the Tinder virus family, it is just a newer version from previously known malware "Tinder virus".
| | |
| --- | --- |
| Name of infection | Dirty Tinder |
| Type of malware | Adware |
| Description | Shows unwanted adds, steals private data |
| Symptoms | Unwanted adds, redirects, slower system performance |
| Distribution methods | Infected browser addons, other software, spam emails |
| Browsers affected | Mozilla Firefox, Google Chrome, Internet Explorer, Safari |
How can I be infected by Dirty Tinder virus?
If you like browsing on the dating or adult sites, you might see the advertisement with the text similar to this "Warning! This site is for adults only. Do you accept this condition?"
If you will accept the conditions, you will download an add-on to your browser, which is going to show you dating ads. Sometimes there can be many ads and your computer can start to work slower.
Also, it can be spread by spam emails or bundled software installation. The biggest mistake many users do while installing the new software is taking the strategy "Install, Next, Next, Finish." You always need to read what is written and what is suggested in advances settings of the installation process. Viruses are not installing by themselves, PC users do it.
That's why it is very important to have decent antivirus software and an updated operating system.
How Dirty Tinder virus works?
We have been analyzing Dirty Tinder adware for one month and saw that this type of virus can make and some serious damage to your privacy because it collects data from your browsing history and sends it to third-party servers. It means that the owner of this adware knows what websites you are visiting, what is your IP, it can even steal your saved passwords from the browser.
As the owner of adware does know your browsing habits, they show to you the targeted ads. Moreover, it continuously injects ads on every single webpage you are visiting. Also, your online videos can stop for the commercial breaks time by time.
Dirty tinder shows pornographic websites mostly. If you will start to ignore them and won't anything, it starts to fluid add even more aggressively. Sometimes it fluids up your screen so badly, that your PC can freeze.
Furthermore, Dirty Tinder can redirect you to dangerous and ransomware infected websites or even scam websites. So you never know what surprise is waiting for you on every click.
The main goal of adware is to show you ads and earn money from clicks on it. It is called "pay-per-click[4]" or "cost-per-action[5]" in the affiliate marketing networks.
How to remove Dirty Tinder virus automatically?
If you are not a very experienced user, we would not recommend you to try removing this virus manually, because you can leave some unremoved components of the virus, harm your system and waste your time. It is always better to install decent antimalware software and get rid of all malware, adware, and spyware.
About the author
References