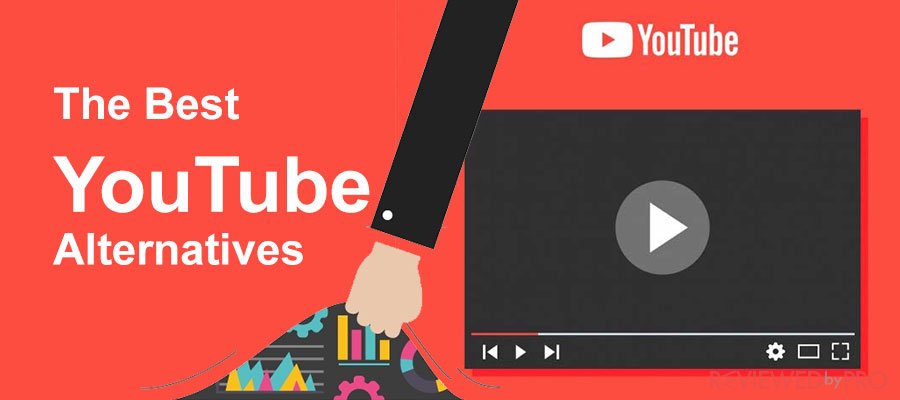 YouTube is no doubt the biggest video platform in the world, but it isn't without flaws. A case example is that the platform will collect lots of data to understand your interests and serve you better. Unfortunately, this data collection is not entirely meant for goodwill and can be a great setback to your privacy. You might have also noticed how the platform has a growing number of disruptive ads that is likely hurting your experience.
Now, you might be wondering if there are other excellent YouTube alternatives you can use. The answer is yes. There are some good options! Let us look at the best YouTube alternatives in the market.
Best Overall YouTube Alternatives
1. DTube
DTube is arguably one of the best alternatives for YouTube.  Unlike YouTube, DTube is designed to upscale user privacy with a nice interface as well. So if you think you are ingrained in YouTube because of the interface, then be certain migrating to DTube won't be anything rough. DTube is decentralized, and all its contents reside on a blockchain, meaning that hackers don't have an easy ride into your videos and relevant data.
In simple terms, it means DTube contents are uploaded and streamed from different servers. Also, the fact that these contents are controlled by the community fortifies the user privacy. Another big hit is that DTube doesn't either bombard you with ads nor recommendation algorithms. The community acts as the content watchdog and that content creators can generate revenue in the form of cryptocurrency.
2. Dailymotion
Dailymotion resembles YouTube in several ways. Many people even call the platform YouTube's "poorer" brother! From the content category, search bar, layout, to the interface, it is crystal clear the two big media platforms have a lot in common. That's perhaps why Dailymotion is a formidable competitor for YouTube.
Figures don't lie. More than 112 million viewers flock Dailymotion each month. Most users love that Dailymotion allows users to upload high-quality videos of up to 1080p and a maximum size of 4GB. Dailymotion, however, only allows a maximum length of 20 minutes for video uploads.
Best youtube alternatives for Short Videos
1. Metacafe
Metacafe is a real media café showering users with innumerable quality videos. More than 2 million users are gracing the site each month. One of the beauties with Metacafe is that you will rarely come across duplicated content. If you are thirsty for funny videos, product reviews, and product guides, then Metacafe is your ideal playground.  Its organization is just like that of YouTube as videos are categorized into Sports, Video Games, Movies, Entertainment, news, and TV.  There is also an option to subscribe to a variety of channels or view varied playlists.
2. 9GAG TV
If you are a diehard fan of memes and GIFs, then very few platforms can crack your ribs like 9GAG TV. This is a suitable alternative for YouTube, specifically for short and funny videos. You can view and share these videos with your friends wherever they are and have a great moment of laughter together.
Best youtube alternatives for Music Lovers
1. Vevo
Vevo is a great YouTube alternative if you need high-quality music videos. Vevo offers an incredible pool of music videos drawn majorly from two top labels. You will get music from the likes of Sony Music Entertainment, Universal Music Group and much more. 
Best youtube alternatives for Inspiration
1. Vimeo
Vimeo is one of the earliest platforms to support the deployment of high definition videos. The huge video hosting platform values quality ahead of quantity. This is why most top photographers, musicians, and video makers love plying their trade with Vimeo.  Everything about it embodies creativity, and it's not a coincidence that it was founded by filmmakers. Unlike YouTube, you won't get the troubles of ads and that you can comment and share their media on social media with the help of the built-in community.
2. TED
Imagine the massive collection of all the best TED Talks perfectly organized on one platform. Yes, this platform is nothing else but the TED website. All the thousands of TED lectures and videos touching all scopes of topics and trends across the globe are available here. This platform is suitable if you are eager for new ideas from around the globe.
3. Twitch
Twitch is a good alternative for YouTube, specifically tailored for gamers. It is a video hosting platform where users can post an already recorded video game. They can also broadcast live while you are hitting those gaming buttons. It is also a good social platform because you can share your game experience and interact with other gamers anywhere across the globe.
Best youtube alternatives for TV Shows and Movies
1. Veoh
Veoh is more of a hybrid of video streaming and sharing platform. Users can stream videos, plus they can join groups and start chatting too. If your taste lies on popular TV Shows and movies, then Veoh will elicit a smile on your face. It has a simple and easy to navigate interface that allows for user-generated and personalized content. If you want to stream HD videos, then you must install the Veoh Web Player for a top-draw experience!
Internet Archives Video Section
1. Crackle
Crackle is a proper YouTube alternative for archive videos, movies, and documentaries. If you are looking for the undiluted original content, chances are other sites will make it quite daunting to locate them. However, Crackle allows you to drill down into this type of content. You can query by year, topic, and language. You will find popular movies and access content from some of the leading and established production houses.
Why you should look for YouTube Alternatives
Frankly, there isn't a single video streaming website that is absolutely immune to tracking and privacy issues.  Virtually all of them leverage their own tactics to collect relevant data about their users. Whether it is via cookies or data collection aimed at better service delivery, these sites will fight to obtain some crucial data about you. They can then share with third parties for marketing purposes, and even at times get compelled by legal authorities to share their data. That said, here are some of the reasons why you may want to find some excellent YouTube alternatives:
You can protect your privacy- Remember, Google is a hub of most of our data, and YouTube will add more to an already enriched user profile. Thus, migrating to other alternatives will feed Google with less information about you.
Again, the likes of Youtube have lots of data about you, so they can easily know and serve you with your perceived interests. However, this can limit you to some interests, and it is why using other YouTube alternatives is a great option for accessing more content.
Most YouTube alternatives will give you access to a wide pool of videos to choose from, bearing in mind that not all videos are available on YouTube. You can also find the specific content you love.
About the author