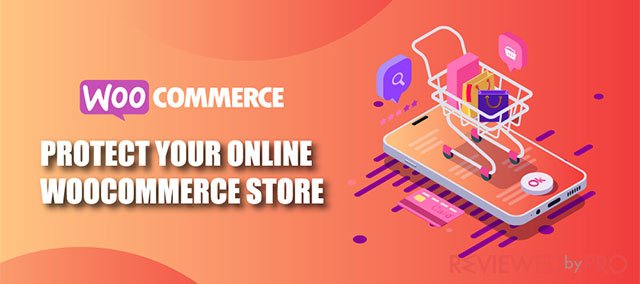 Protect Your Online WooCommerce Store from the hackers
As Covid Pandemic pushed the entire commerce online, cyber threats have also become more complex and dangerous. Hence, as an online store owner, the security of your e-commerce website has always been a major cause of concern.
In recent times, WooCommerce has seen immense popularity among e-commerce website owners. According to Statista study on worldwide E-commerce platforms market share 2021), WooCommerce takes a big market share of 23.43%.
With such a big presence in the e-commerce sector, one question that comes to our mind is, Is WooCommerce secure? The fact is, the WooCommerce platform does attract many cyberthreat issues despite being a very trusted and safe platform.
But the availability of a wide variety of plugins, themes, vulnerabilities, bad security practices, and lack of attention to security measures to protect the WooCommerce website make it fall prey to the malicious intentions of cyber attackers.
Even a single instance of data loss or data breach can cause a severe dent in your reputation, resulting in heavy revenue loss and may also invite very serious legal penalties. Hence, it's time to focus on some very effective and simple security measures that will make your WooCommerce website a safe place for your customers and win their trust.
Give Your WooCommerce website an SSL Certificate Security.
If you own a WooCommerce website, handling users' sensitive transaction details, then an SSL Certificate security ensures WooCommerce secure checkout for your users.
The SSL Certificate encrypts all the sensitive data the users share with the WooCommerce website and makes it undecipherable to the hackers while in transit between the user web browser and the webserver.
The SSL Certificate also authenticates the WooCommerce website and changes the protocol of the website to secure HTTPS.
After installing SSL Certificate on the server, a visual symbol of trust, a padlock is introduced before the URL of the website, and you can activate SSL on your WooCommerce website by going to WooCommerce -> Settings and enabling "Force Secure Checkout."
You can get an SSL Certificate from a reliable CA, that suits your budget and security requirements.
Among the ones that give you real value for money is the Wildcard SSL Certificate, which offers the ease of securing your main domain along with an unlimited number of first-level subdomains, such as one step below the main root domain with just one certificate.
It is characterized by a special wildcard character (*), as seen in the example above. If you are thinking of going with wildcard SSL, you can buy RapidSSL wildcard, Comodo, GlobalSign, etc. All these brands are available at discounted price providing same level of encryption and data privacy.
Get A Good Hosting Provider
Choose a reputed and trusted hosting provider for your WooCommerce store, one that has a very vigorous security policy. Then, it will be able to provide good speed and reliable services for your site.
Ensure that it includes security features like DDOS protection, continuous malware scanning, automated software updates that include security software, operating system, etc., to prevent hackers from taking advantage of the older version's vulnerabilities, and the next most important thing to check is providing regular backups.
Since WooCommerce is a WordPress plugin, check if your hosting provider supports WordPress in the first place and has a good WordPress firewall.
Ensure that your hosting provider has an architecture and efficient WooCommerce account management that prevents any cross-contamination of the adjoining websites in case of any cyberattack.
Employ Strong Passwords and Username For Your WooCommerce Account
Pay due attention to choosing a strong password and username for protecting your WooCommerce account. It plays a key role in keeping the whole website secure from cyberattacks, as any infiltration into login accounts can cause real havoc by infecting the database files.
It would be best to choose long passwords that are an arbitrary mix of special characters, numbers, lower and uppercase characters to protect your WooCommerce admin accounts.
It is also advisable to shift the default username 'admin' to a strong new username to secure the login credentials of the WooCommerce account. After this, you can remove the older admin account.
Also, keep changing passwords time and again. You must limit the number of logins attempts to foil the use of brute force attacks to steal your login credentials.
Keep Your WooCommerce Account Safe by Using Two-Factor –Authentication
To secure your WooCommerce account from brute force attacks, you must use two-factor authentication. It is a two-step verification of the account. Verifying username/password is done in the first step, and the second step verification of the login is carried out either by sending a code to your phone or email. You can use Plugins like Duo Two-Factor Authentication or Google Authentication to enable two-factor authentication.
Secure Your WooCommerce Store with Security Plug-in
Installing a security plugin compatible with WooCommerce is one crucial step towards hardening your WooCommerce website security. As your website handles sensitive user data, you must choose a reliable security plugin with good security reviews.
The WooCommerce security plugin should essentially have security features like a malware scanner that can detect any hidden malware threats and remove them quickly, firewalls that can detect and block any malicious requests, foil any brute force attacks, and many more threats.
Keep Regular Backup of Your Website
You must keep backing up your WooCommerce website at multiple locations and should ensure that they are all encrypted to protect it from any misuse at the hands of cybercriminals. Backups will help you restore your site in no time and get it going in case of any cyberattack and data loss.
Losing the big database of a WooCommerce website can prove fatal as losing data means losing new and old orders and customer databases, which can result in heavy revenue loss.
Hence, you must look for backup solutions that can provide real-time backup for your WooCommerce store to keep up with continuous customer requests that keep pouring in at WooCommerce websites.
Backups also help you keep your website running even if the website tends to break down due to some internal technical issues by restoring it to the safest last backup.
Backups on some cloud-based database service providers can be of great help to WooCommerce websites that have very large database backup requirements, or many plugins can help you take continuous backups for your WooCommerce website.
In conclusion, we can say that by paying attention to a robust WooCommerce security policy for your store and incorporating the best security practices discussed above, you will be able to take your business on an unprecedented road to success.
About the author