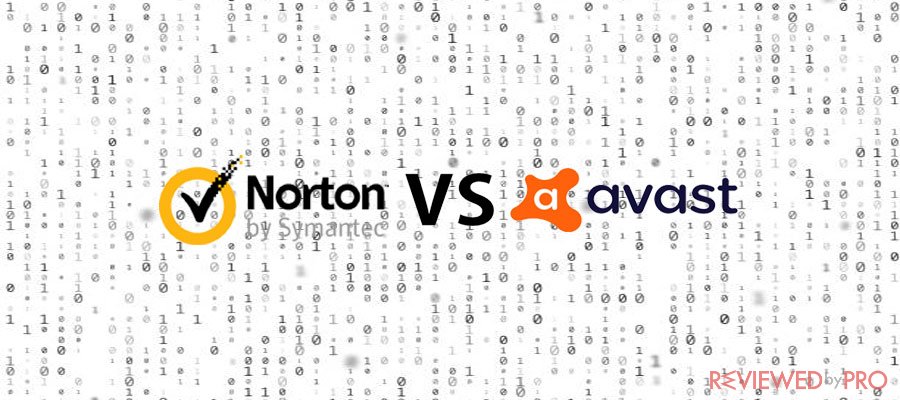 Norton and Avast are arguably the most famous names when it comes to antivirus software, and it is no surprise, due to their variety of features, packages, and interface. If you are in a standstill on which antivirus software to buy to get ahead of the impending apocalypse of data hacks and viruses, then read our complete guide and analysis, where we have laid out a detailed comparison based on several qualities of topnotch antivirus software. It will put your decision-making process at ease and help you in finally getting the antivirus you deserve out of Norton and Avast.
Despite the popularity, Avast possesses and offering the users one of the best free versions of any antivirus software available on the market, there was no contest in the end. Norton was hands down the superior antivirus service out of the two, as it outclasses Avast in every department from offering added unique features to a more affordable pricing plan and having the least bit of impact on the performance of the computer system. It is why we declared Norton to be the winner of the contest.
We have this short summary of the whole article for our reader while understanding the constraints that time put on them. Here you will know the basic categories on which we based our entire analysis, with the name of the standout antivirus software, along with a brief reason why we picked the winner out of Avast and Norton.
Price comparison: Norton had more extensive coverage across platforms at much cheaper rates as compared to Avast antivirus software – Winner: Norton Anti-Virus by Symantec.
Checking protection: Both anti-virus software showed the same results when we ran multitudes of new and more devastating malware on the PC. They were not only able to detect them but performed the appropriate action immediately to avoid any damage to the device – Tie;
Comparing Features: Even though Avast has an extensive gallery of features from a VPN to a password manager, Norton covered every aspect of online security threats and gave suitable utilities for them, which is why it was considered the winner – Winner: Norton Anti-Virus by Symantec;
System-Performance Impact on PC: We did not feel any sort of disarray from the PC's end with both antivirus software, except the fact when we tried to open some popular with Avast working in the background. For this purpose, we had to consider Norton as the victor – Winner: Norton Anti-Virus by Symantec;
How nice is the User Interface – We felt at ease while using the software of both Avast and Norton and thought that every typical user with no technical knowledge of the computer would be able to operate and run a scan for potential viruses. It is why we considered this contest as a draw – Tie
Does Customer Support Service works well – Avast didn't offer any live chat facility, and its customer care section seemed a bit messy as compared to Norton's support section. Norton also had a 24/7 live chat facility, along with a Youtube channel filled with various guides and visual information. It is why we gave this round to Norton – Winner: Norton Anti-Virus by Symantec;
Antivirus market overview by Popularity – Norton controls the market, and it is why it is considered the number one antivirus software available in 2020
You can also check our rating table if you rely on numbers. As you will be able to see both Avast and Norton antivirus software scored identical outcomes in almost every category, except the popularity chart, which is basically out of the hand of both:
Norton VS Avast: A Battle of the Antivirus Software Giants!
There should be no discussion on the fact that software like antivirus and VPNs are a necessity to ensure safety from cyber threats that have been increasing at an alarming rate, destroying every device and file in their path. With the growing advancement in the world of tech like Artificial Intelligence and the incoming 5G technology, one could expect a bombardment of cybersecurity issues initiated by hackers and cybercriminals, as there would be an increase in the number of connected devices(billions) that are easy to penetrate.
For that purpose, if you are looking to find out which one out of Avast or Norton is better for you, then there is no better place to learn the answer to such an imploding question. We have written a lengthy comparison analysis of both of them, which is based on underlying facts like Norton and Avast's affordability for the average user, the diversity in their security features, and their impact on a standard PC while functioning at full capacity.
Avast offered affordable plans with advanced utilities against Norton Antivirus program in our pricing comparison
Apps and other software products are built for the convenience of the user, and they need to maintain a cost-effective plan to increase their reach among the everyday user from every corner of the world. While there is no denying that purchasing such products like the antivirus software fall under the category of luxury, even though they should be the basic necessity for every computer device, there is always a silver lining behind the price plan these services offer. The key is to gather individuals with the same virus problem and share the antivirus program with them to balance the cost load. In this section, we will talk about the different pricing plans of Norton and Avast antivirus software and help you decide which one is more diverse than the other in terms of affordability.
Norton's Pricing Offers:
Not only does Norton offers coverage for users of every popular platform like Windows, macOS, Android, and iOS, but you can share your account details and use it on infinite devices for a price of $299.99/year by getting the Ultimate Plus package. The most popular plan that Norton offer is the Delux package that is available on every platform and can be used on a maximum of 5 devices for just $49.99/year. Here is the list of all the plans that Norton antivirus software offers:
The Norton 360 Standard – If you want the antivirus software all for yourself on a single PC, then you can get this plan for a small cost of $39.99/year with 10GB Cloud Backup;
The Norton 360 Deluxe – It works well on 5 devices of the following platform Windows, Android, macOS, and iOS at a price of 49.99/year with 50GB Cloud Backup;
The Norton 360 with Lifelock Select– You can kill any virus on your Windows, Android, macOS, and iOS device with 100GB Cloud Backup across 5 devices at $99.99/year;
The Norton 360 with Lifelock Advantage – You can use this package on as much as 10 devices of every platform, along with a 250GB Cloud Backup, at the cost of $199.99/year;
 

Norton AntiVirusPlus

Norton 360Standard

Norton
360Deluxe

Norton 360 withLifeLock
PC or 1 Mac
1
1
5
5
Anti-Spyware, Antivirus, Malware, and Ransomware Protection

✔

✔

✔

✔

Online Threat Protection

✔

✔

✔

✔

Smart Firewall

✔

✔

✔

✔

Cloud Backup
2 GB
10 GB
50 GB
100 GB
Password Manager

✔

✔

✔

✔

Virus Protection Promise

✔

✔

✔

✔

Secure VPN

✗

✔

✔

✔

SafeCam

✗

✔

✔

✔

Dark Web Monitoring Powered by LifeLock

✗

✔

✔

✔

Parental Controls

✗

✗

✔

✔

LifeLock Identity Alert™ System

✗

✗

✗

✔

Credit Monitoring

✗

✗

✗

✔

Million Dollar Protection Package

✗

✗

✗

✔

Price from
$39.99
$49.99
$59.99
$99.99
Discount for our readers
-20%
-30%
-40%
-50%
Norton antivirus software is offered for a 30-day free trial that allows the users to judge the facilities of the service for themselves.
Avast's Pricing Offers:
Unlike many other antivirus services, Avast antivirus software provides a valid free version for users who are unable to pay for the expensive products for protection against viruses, which is available for usage on both popular platforms – Windows and macOS. Other than that, Avast's support on a single PC comes with its Premium Security package at a price of $55.99/year. You can check out all of Avast's price plan in the list mentioned below:
Premium Security (For 1 PC) – From getting complete safety during shopping and banking online, you can get the premium package for your Windows PC at $55.99/1 year.
The Multi-Device Premium Security – It offers basically the same features as the Premium Security plan, but it provides coverage on a maximum of 10 devices across platforms like Windows PC, macOS, Android, and iOS for $71.99/year;
Avast's SecureLine VPN – With a server coverage of 54 locations over 34 countries, you can use Avast's VPN on as much as 5 different cross-platform devices at the cost of $63.99/year;
Avast Security for Mac – From finding disturbances in your Wi-Fi to blocking harmful websites on your Mac, Avast basic plan for macOS users is available for $47.99/year per computer;
Avast Ultimate – This package is available for $47.99/year, which offers features like the password manager and data cleaner across a single PC.
| | | | |
| --- | --- | --- | --- |
|   | Internet Security | Premier | Ultimate |
| Intelligent antivirus | ✔ | ✔ | ✔ |
| CyberCapture | ✔ | ✔ | ✔ |
| Smart Scan | ✔ | ✔ | ✔ |
| Wi-Fi Inspector | ✔ | ✔ | ✔ |
| Passwords | ✔ | ✔ | ✔ |
| Behavior Shield | ✔ | ✔ | ✔ |
| Game Mode | ✔ | ✔ | ✔ |
| Browser Cleanup | ✔ | ✔ | ✔ |
| Sandbox | ✔ | ✔ | ✔ |
| Passive Mode | ✔ | ✔ | ✔ |
| Real Site | ✔ | ✔ | ✔ |
| Ransomware Shield | ✔ | ✔ | ✔ |
| Firewall | ✔ | ✔ | ✔ |
| Anti-spam | ✔ | ✔ | ✔ |
| Webcam Shield | ✗ | ✔ | ✔ |
| Automatic Software Updater | ✗ | ✔ | ✔ |
| Data Shredder | ✗ | ✔ | ✔ |
| CleanUp Premium | ✗ | ✗ | ✔ |
| SecureLine VPN | ✗ | ✗ | ✔ |
| Passwords premium | ✗ | ✗ | ✔ |
| Pricing | $47.99 / 1-year / 1-device | $63.99 / 1-year / 1-device | $39.99 / 1-year / 1-device |
| Discount | -20% | -20% | -40% |
Norton had a variety of added features for a standard user at reasonable rates, but Avast's free version gave a compelling case against all the available antivirus software as the most affordable product, and its VPN was the one that took it to the finish line and made it the winner in this contest of the best pricing plan.
Winner: Avast Anti-Virus Software.
In the round of protection rate, Avast and Norton both have shown identical results
With new and new malware/ransomware bracing the world of the internet, no time is direr than today to get the type of antivirus software that is capable of dealing with such threats without any disruptions or false alerts. For that purpose, we used the real-world testing method on Avast and Norton and checked whether they were able to respond to much recently spotted malware and other forms of virus attacks such as a spam email.
Avast's Protection Rating:
In the test that was conducted during the early days of January 2020, Avast responded to every spam email with suspicious files and notified us, which is why it scored 100% against the industry average of 99.4%. Avast didn't show any false alarms and detected every new malware that we collected throughout 20 days before the actual test took place. We gave it a rating of 10 out of 10.
Norton's Protection Rating:
Norton anti-virus program by Symantec performed equally well as Avast and scored a perfect efficiency rate of 100% in the real world testing method, where we used more than 20,000 spam emails and malware to check Norton's response. It is the reason why we gave Norton a rating of 10 out of 10.
| | | |
| --- | --- | --- |
|   | | |
| Protection agains 0-day malware attacks (web and email threats) | 100% | 100% |
| Detection of most common spread malware in last 4 years | 100% | 100% |
| Protection Score | 10 | 10 |
There was no tearing Norton and Avast antivirus software apart as they scored equal marks, responded to data threats immediately, notified the user, and was able to give no false alarms. Due to that fact, we are declaring the protection contest to be a Tie, as it would have been injustice against the other antivirus software if we had picked a winner.
Winner: Tie (Norton Anti-Virus by Symantec & Avast Anti-Virus).
Norton makes less impact on systems performance comparing to Avast.
There is no doubt and debate on the fact that antivirus need space and a playground to do its job more efficiently, which comes in the form of larger RAM, and a better computer system overall. But the fact is also actual that typical PCs do not possess high-quality hardware to accommodate such demands, and the antivirus needs to find a way to work in perfect harmony with an old computer. To learn the antivirus's(Norton and Avast) impact on the performance of the system, we put it through the following circumstances and checked the results against the universally decided industry average:
Launching popular websites while the antivirus software did its job;
Downloading popular applications on the PC;
Opening different built-in programs on the PC while the antivirus was running in the background;
Installing popular apps with the antivirus switched on;
Copying files from one place to another.
Norton's System Performance Rating:
When we used Norton antivirus software on our PC and opened high performing websites like Twitch, Amazon, and Facebook, we noticed no difference in the normal functioning of our device. The same was the case while downloading and opening new programs as well. The PC only seemingly slowed down when we tried to use some built-in apps of the PC with Norton running in the background. After checking all the boxes, we gave Norton a perfect performance rating of 10.
Avast's System Performance Rating:
No matter we copied/uploaded files on the internet or to our USB, our PC did its job flawlessly, unbothered by a high-functioning Avast antivirus working in the background. However, we witnessed a slight discomfort while opening high-level URLs from the default browser, and for that reason, we gave Avast antivirus software a score of 9 out of 10.
| | | |
| --- | --- | --- |
|   | | |
| Slowing-down when launching popular websites | 25% | 10% |
| Slower download of frequently-used applications | 0% | 0% |
| Slower launch of standard software applications | 13% | 6% |
| Slower installation of frequently-used applications | 18% | 25% |
| Slower copying of files (locally and in a network) | 2% | 0% |
| Overall rating | 9.2 | 9.8 |
This contest could have gone either way as there was no significant negative point to declare a severe impact on the performance of the system. However, when we opened some URLs while testing Avast, we felt some kind of resistance from the system, and it took a while for us to access the sites in question. It is why we had to give this round to Norton antivirus software.
Winner: Norton Anti-Virus by Symantec.
Norton and Avast fared well in the Security Features comparison
If a vendor is asking a hefty amount from the users for their product, they should be able to offer the user a multi-dimensional service filled with a wide variety of extra features. Nowadays, software like the antivirus not only provides protection against viruses but gives the means to access restricted content through their VPN utility and allows you to manage your accounts(banks/social) more professionally and safely. In this section, we will reveal the truth about Norton and Avast and whether they put money where their mouth is and provide enough variety of security features for their users
Norton's Features:
From giving its dedicated customers a cloud backup facility to detecting all the lastest ransomware for protection, Norton has got it all. You can check its various functions in the list below:
The most crucial job of antivirus software is to provide complete protection against malware and ransomware. Not prevails brilliantly in that!
Ranging from 10GB to 250GB, Norton offers cloud backup that is accessible at any time, depending on the package you select;
Its VPN offers to open any restricted website in the world with 10GB bandwidth limit;
If any of your information is found on the Dark Web, then with The Dark Web Monitoring feature, Norton will alert you its presence, so that you could perform the appropriate action;
With the Password Manager utility, Norton gives a much more secure platform to manage your accounts, especially if you do not trust services like Google to handle your data;
Nowadays, webcams are pretty easy to hack, and you need some assistance that tells you about the status of your camera. Norton's SafeCam feature helps in enabling the possibility;
The Fictitious Identity Monitoring feature is available with Lifelock Advantage package, and it alerts you if it finds someone using your identity;
You can manage your bank account and credit card information with Norton, along with availing the utility of keeping an eye on your investments and retirement funds.
Avast's Features:
From a state of the art virus(malware/ransomware) detector to offering the user a chance to open any high-end limited website like Netflix USA, Avast is world-class antivirus software. Here are some of its unique functions:
Virus-Detector that has the quality to kill the most recent and deadliest of the virus before it does damage on the computer;
With no bandwidth limit, Avast's Secure Line VPN is capable of opening restricted sites on any platform all the while keeping the user's identity private online with support up to 2 Gbps;
You can open any malicious site in the world and check the content inside while using Avast's Sandbox feature(Safe mode);
Well beyond the reach of any data recovery tool or the command prompt utility, Avast's Data Shredder function deletes the data you want to erase;
No matter if you are using your device at home or in a public place with an open Wi-Fi, Avast offers protection of such kind that no one is able to hack into your computer;
You can get relaxed and leave it all to Avast's Password Manager feature to keep tabs of your login credentials of all kinds.
While Avast features were mostly leaning towards the virus detection and privacy aspect, Norton had more extensive coverage in terms of giving the user financial security, along with the constant monitoring of the internet to determine identity theft. This is why Norton won this round on which antivirus software had versatile features.
Winner: Norton Anti-Virus by Symantec.
Both software have user friendly and intuitive interfaces
One can determine the uniqueness of the software through the accessibility of its app interface on how well an ordinary user is able to use it without asking anyone to guide them through the functions. The interface of the antivirus software should not only be pleasing to the eye, but it should also be ready to offer virus protection to the user's device upon startup. In this section, we will tell you all about Norton and Avast's interface and which of them was better than the other.
The Interface of Norton:
Upon opening Norton's software on the PC, you will directly see a plain white background with a greenish icon and a vast notification stating that "You are Protected." Below that, there are four different icons ready to be pressed and do their job, respectively.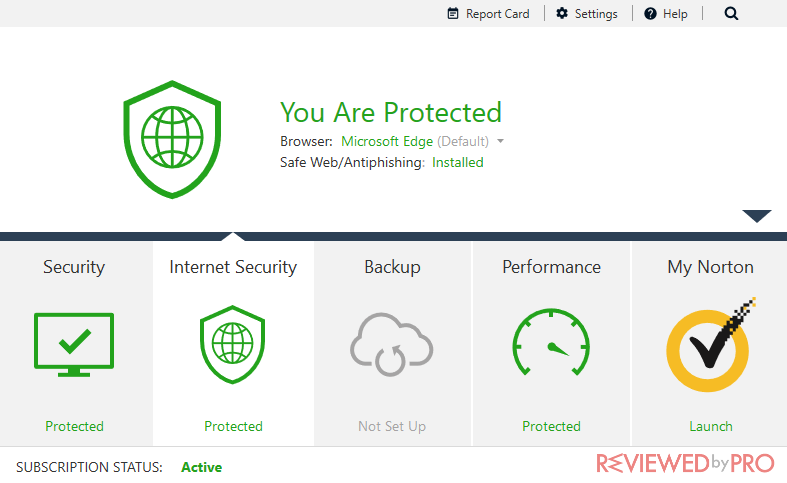 norton user interface 2020
The options are as follows:
Security;
Internet Security;
Backup
Performance;
My Norton;
At the bottom tier, Norton keeps reminding you of the status of your subscription. The More Norton tab offers you access to the additional features that we talked about in the earlier section of the article. The user-friendliness of Norton's interface is quite compact and easy to handle for people of all ages.
The Interface of Avast:
Once you open Avast on your PC, you will be able to locate the verticle list on the left with options like status, protection, privacy, and performance. These one-click buttons offer you to access Avast's unique features at once, without any delay, especially if you feel that your PC is under threat. The interface is an amalgam of white and dark bluish background, which is quite relaxing to the eyes. There is a smart scan button in the middle with a notification stating, "You're Protected." At the bottom tier with the white layout, Avast allows you to resolve virus-related issues if they ever occur quickly. There is an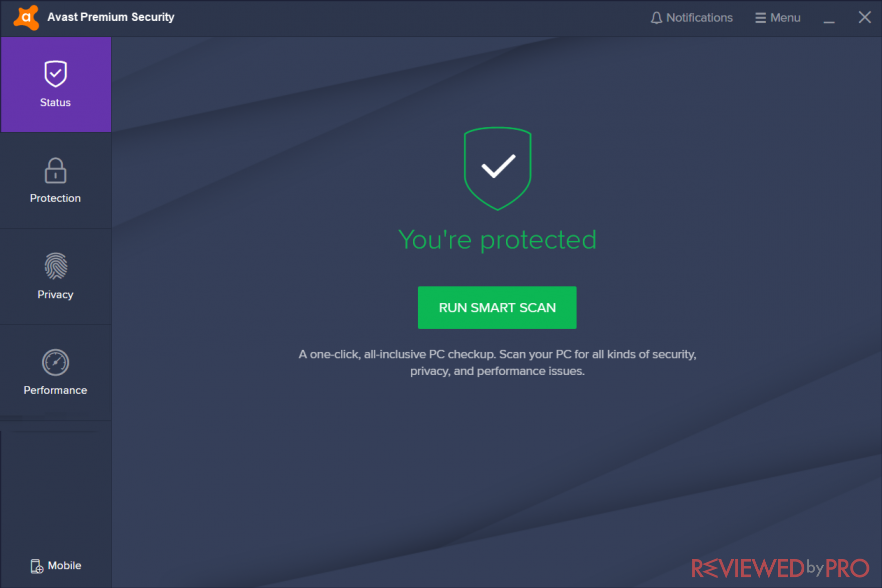 avast 2020 user interface
Upgrade and Settings button at the bottom-left corner, as well. Once you hit the settings gear icon, you can enable the "Do Not Disturb" mode, which allows you to do your routine choirs on the PC, without any interruptions from Avast.
We found no technical flaw on both Norton and Avast's interface. They were both easy to use, had a pleasing layout of contrasting colors. It was also easy to run the virus scan instantly, which is why we gave this round to both of them and considered it a draw.
Winner: Tie (Norton Anti-Virus by Symantec & Avast Anti-Virus).
Norton's and Avast's Customer Support Service responds well to the users
If the interface of the software is hard to maneuver and you are unable to use its basic functions, then the only way to work around such a problem is to contact the customer care service of the software and ask them for much-needed assistance. The vendor should not only have a mandatory FAQ section, but it should also allow the user the chance to interact with antivirus experts through a live chat or email support system. In this part of the comparative analysis, we will judge which one out of Norton and Avast antivirus software has a better and more responsive customer care service:
The Customer Care Service of Norton:
From the official website of Norton, you can easily access the customer service by clicking on the "Support" tab available at the top of the page. The webpage is filled with answers to all the soft and hard antivirus-related questions, under the following categories:
Top FAQ;
Norton Secure VPN;
Protect my identity.
Other than that Norton's customer care section allows the following features to its users:
Community forum – To allows all the customers to share their issues and interact with each other in a safe platform;
A 24/7 live chat feature – To talk with antivirus technicians, if you feel that your virus-related problem is severe;
Phone call support – To allow you to contact the local service provider for a more authentic solution;
A dedicated Youtube channel – Filled with several video tutorials and how-to guides to show you a visual representation on how to fix the problem.
The Customer Care Service of Avast:
The support section of Avast antivirus software allows a platform for its users to directly reach the solution to their problem by clicking on four of the most common issues:
Installation & Activation – A full guide to download, install and activate the product;
Refund Request – This option guides to through the whole refunding of the product process;
Subscription & Account – This option leads you directly to the solutions on how to manage your subscription, account, and settings.
Sales & Billing – This section offers assistance to issues related to payment and purchasing.
Although each one of the options mentioned above is quite handy in fixing the problem, Avast still doesn't offer a live chat facility, which sort of defeats the purpose of talking with a knowledgeable technician and get to know the product much better. But, Avast still offers a community forum for all its premium and free antivirus users to interact and share their familiar and new experiences with each other.
We judged Norton as the winner, which was based on the fact that it not only has a youtube channel but a proper live chat facility to be utilized by everyone 24/7. Avast, on the other hand, badly needs a live chat facility to gather new users and enable a platform for old users to fix their issues more frequently.
Winner: Norton Anti-Virus by Symantec.
Popularity and Marketshare Comparison of Norton and Avast Antivirus Software
According to the latest market share analysis shared by OPSWAT in January 2020, Norton by Symantec controls the market with a staggering percentage of 13.67%, while Avast was ranked in the top 5 with a percentage of 9.09%.
Ranking Anti-Virus Programs Market Shares
Ranking Anti-Virus Programs Market Shares
| | |
| --- | --- |
| Manufacturer/Brand | Market share |
| | 13.67% |
| | 12.94% |
| | 12.98% |
| | 10.06% |
| | 9.09% |
| | 7.45% |
| | 6.4% |
| | 4.68% |
| Cylance Inc. | 4.19% |
| Trend Micro | 3.67% |
| Other | 15% |
Winner: Norton Anti-Virus by Symantec.
Final Thoughts
According to recent stats, 350,000 new malware attacks were recorded each day of the last year, and the numbers were expected to increase with the new year 2020. There hasn't been more need for services like antivirus software and VPNs until the recent advancement in technology. In this article, we covered everything from Norton and Avast's ability to give protection to their current place in the market.
Now you know the fundamental differences between Norton and Avast antivirus software, which will most certainly ease your decision on which service to pick against the new wave of viruses coming in 2020.
| | | |
| --- | --- | --- |
|   | | |
| Antivirus protection | 10 | 10 |
| System-performance impact | 9.2 | 9.8 |
| User interface | 9 | 10 |
| Popularity | 10 | 7 |
| Overall score | 9.8 | 9.9 |
| Discount for our readers | -20% Off | -20% Off |
| Pricing | From 39.57 / 3 devices for 1 year | From $39.99 / device for 1 year |
The Final Decision: Norton Anti-Virus by Symantec.
About the author