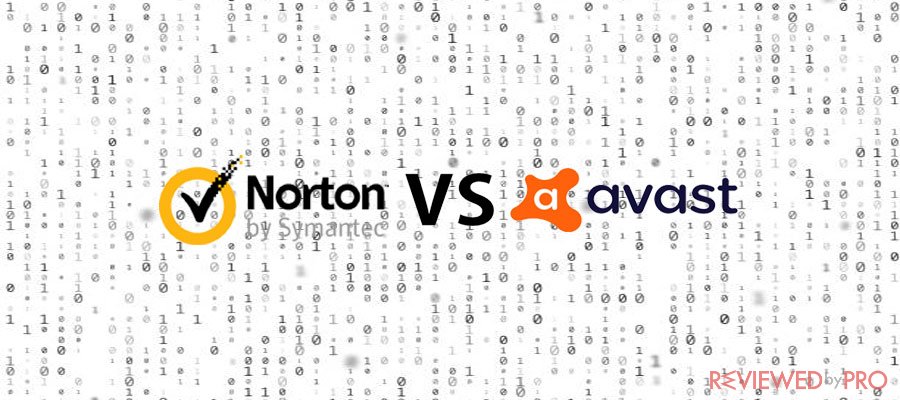 Various cyber threats such as spyware, ransomware, and other viruses are targeting Internet users every day. This is why, a reputable and trustworthy Internet Security and Antivirus software is relevant.
However, users can get confused while choosing a security provider. This is why, our researchers at Reviewed by Pro constantly test and try security applications, in order to provide customers with the latest and up-to-date information about Security, Privacy, Recovery software and other utilities that can increase users' security and privacy and devices' performance.
If you are struggling to choose between Norton and Avast, check out this article.
Norton or Avast?
Norton and Avast are ones of the most popular and widely-used antivirus and internet security solutions in the market. Both companies have long experience in the industry and offer various digital security services.
If you do not have to read the entire article, check out the table below. It reveals the winner according to different tested categories.
| | |
| --- | --- |
| Feature | Winner |
| Pricing | Avast offers more flexible plans. |
| Antivirus protection | Both providers demonstrate superior detection rates. |
| Security features | Avast has a wider selection of features and tools and provides free plans. |
| System-performance impact | Norton demonstrates better performance. |
| User Interface | Norton has more convenient interface. |
| Popularity | Avast has a bigger market share. |
Norton Overview
Norton software[1] is developed by a security giant Symantec.
The company is headquartered in Mountain View, California, United States, and has centers in Pune, Chennai, and Bengaluru. Symantec focuses on digital security services since 1982 and owns names such as SurfEasy VPN, Norton, LifeLock, and other famous brands.
This American-based company provides products for individual users, enterprises, small and medium businesses across the globe. Norton also offers users security products across the major operating systems, such as Norton Security for Mac, Norton Security & Antivirus for Android, iOS and other smart home devices.
| | |
| --- | --- |
| Feature | Score |
| Antivirus protection | Excellent |
| Additional features | Few extra features |
| System-performance impact | Medium |
| Scanning performance | System scans are slow with a medium impact on a system |
| User interface | Very bright and simple |
Avast overview
Avast Software[2] is one of the most popular multinational cybersecurity software company protecting more than 435 million users in the world. Avast is headquartered in Prague, Czech Republic and has 25 offices worldwide. The company was founded in 1988.
Avast develops a variety of products for business users and consumers, including free and paid antivirus and Internet security. Avast products include Avast Antivirus for Windows, Avast Security for Mac, Avast Mobile Security and Antivirus for Android, Avast CleanUp, Avast SecureLine VPN and other products across all the major operating systems and IoT devices.
| | |
| --- | --- |
| Feature | Score |
| Anti-malware protection | Advanced |
| Security and privacy features | Limited feature set |
| System-performance impact | Heavy |
| Scanning performance | Fast and accurate scans with a negative impact on a system |
| User interface | Intuitive and simple to use |
Offerings
Norton also offers a variety of packages to suit every customer needs. Norton has a range for home and business users across all the major operating systems. For home users, Norton offers the following:
Norton Security Standard – comprehensive protection for Windows and Macs.

Norton Security Deluxe protects all the data of all the devices including Windows, Macs, Android, and iOS.

Norton Security Premium can protect up to 10 devices, adds cloud PC storage and Parental Controls.

Norton Security Deluxe with LifeLock Standard protects all the data on the devices and includes LifeLock Standard Identity Theft Protection.

Norton Security Deluxe with Norton Secure VPN.
Norton has flexible plans, it also offers Identity Theft Protection service and a VPN service.[3]
Avast offers Windows users free version and three paid versions of security software including Avast Internet Security, Avast Premium, and Avast Ultimate.
Avast offers a 30-day money back guarantee or you can download a free trial to try the software before purchasing.[4] 
Features
All Norton Security products offer protection against spyware, phishing emails, and ransomware.
Norton Security Standard provides users with real-time protection and safeguards users against existing and emerging malicious software, including viruses, ransomware, and other threats, protects private and financial information while surfing the Web. If you require more features, such as parental control, or online backup you can choose more expensive Norton tier Deluxe or Premium.
Norton Security Deluxe offers all Norton Standard features, covers all user devices with a single subscription and ads easy-to-use Web portal.
Norton Security Premium offers all the mentioned features and also backs up important users information, includes 25 GB of automatic online backup and Premium Online Family Safety features.
LifeLock Standard and Norton Secure VPN. These tools can be added together with security software or purchased as standalone applications.
Avast offers not just security software, it also develops a variety of free feature-limited and premium tools, including VPN, Password Manager, AntiTrack, Secure Browser, CleanUp, Driver Updater and more.
The main Internet Security and Antivirus products include the following.
Avast Free Antivirus offers a decent set of security and privacy features, including a secure web browser, a password manager, home network scanner, or a hardened browser. Many of these features usually come only in paid antivirus programs, while Avast offers them for free.
Avast Internet Security also includes premium features such as protection while banking and shopping online, Sandbox suspicious apps, a strong firewall against hackers, protection against spam and phishing emails and an extra layer of ransomware security.
If you need more, Avast Premier protects against webcam spying, allows users to permanently delete sensitive files and information, and automatically updates applications on the PC.
Avast Ultimate offers all above and also includes 

Avast SecureLine VPN

, 

Avast CleanUp Premium

 and Avast Passwords Premium.
Avast offers slightly more generous additional feature set and performance tools. It also includes feature-limited free applications, that makes the provider even more attractive for customers.
Antivirus protection
In order to protect PCs against malware and viruses, Norton together with Avast uses a traditional signature-based malware detection and heuristic monitoring. In addition, the defenses include intrusion prevention which analyzes network traffic. All of the suspicious files detected are sent to the company's cloud-based servers for further analysis.
When it comes to malware detection rates, Norton demonstrates flawless results. In the latest AV-TEST testing lab results, Norton detected 100% of both, zero-day malware attacks, including web and e-mail threats and widespread and prevalent malware samples.
We tested Avast Antivirus on our Windows 10 test computer and the full scan detected all of the malware samples we have installed.
According to the latest test conducted by AV-TEST, Avast caught 100% both, known and unknown malware.
As you can see both providers offer superior malware detection rates.
System-performance impact and scans
Norton provides better performance results than the market average, as it does not slow down the system or cause interruptions or lags.
When we tested the resource usage of Norton, the antivirus demonstrated average results – the boot time was a bit slower in comparison to other products in the competition; however, it didn't make a big impact. During the full scan, the application slowed down the system by 17%, which is not that much considering the program does a difficult job scanning every corner of the computer.
Norton was also tested by AV-TEST[5]. According to the most recent test results, Norton Security has a minimal system-performance impact.
Slowing-down a system while launching popular websites – 10% (19%)

Impact on a system while downloading frequently-used applications – 0% (1%)

Impact on a system while launching standard software applications – 6% (8%)

Impact on a system during the installation of frequently-used applications – 25% (25%)

Impact while copying of files – 0% (3%)
The full system scan for us took almost an hour and 10 minutes, while the quick system scan took almost 4 minutes. Users are able to limit scans to the most dangerous files, then the full system scan will be finished in less than half an hour.  
As we tested the Avast Antivirus, the application is developed not to drain the system or consume an abnormal amount of the system's resources.
Impact on a system when launching popular websites – 25% (19%).

Impact on a system while downloading frequently-used applications – 0% (1%).

Impact on a system while launching standard software programs – 13% (8%)

Impact on a system while installing frequently-used programs – 18% (25%)

Impact on a system while copying files 2% (3%)
In addition, the antivirus does not have a noticeable impact during scans. The full scan took similar was finished in just up to 50 minutes.
To sum up the performance rates, Norton demonstrates slightly better performance and lower impact on a system.
User interface
Even though the user interface is very informative and provides users with many options and data, some users can find it a bit complex and difficult to use. Most of the features can be found on the main screen which includes tabs for Security, Scans, LiveUpdate, Advanced and Add Devices.
When it comes to Avast, the interface looks dark and looks attractive. All the main features appear on the main window, and it has a left-side menu bar.
After testing both applications, we found that Avast is more intuitive and convenient to use.
Support
Norton includes technical support, which can be reached via the interface. It offers a live chat and a local 24/7 technical support. For those, who prefer to look for information themselves, Norton has an informative support page with community forums, FAQs, manuals and other product related information.
Avast does not provide free customer support. The 24/7 customer support is offered with the most expensive Avast Ultimate. Avast, just like McAfee offers a very informative support webpage. Users can find their tips, manuals, FAQ section, useful links, and more product-related information.
Popularity
We have also overviewed the brands' popularity according to OPSWAT's streamlined Windows Anti-malware Market Share Report. OPSWAT includes the most recent data collected for 6 months.[6]
Avast Software together with AVG has the biggest market share with 18.44%, while Symantec is only in tenth place taking 3.27% of the market share.
As you can see in the graph above, other popular products include  McAfee Inc., Malwarebytes, Bitdefender, ESET, Webroot, Kaspersky, Safer Networking Ltd with SpyBot Search & Destroy, Avira.
The final verdict
Norton provides one of the most customizable and flexible security solution available on the market. The application always demonstrates excellent malware detection rates and great performance.
Avast is also a decent security package that is capable of protecting the entire family. It is simple to use and provides advanced protection against malware and viruses.
Final Thoughts
According to the latest test results, Norton would be our choice. The provider offers flawless antivirus protection with only a minimal impact on a system.
The table below summarizes our test results. Both programs offer superior detection and usability rates. However, when it comes to performance, Norton is a winner.
| | | | |
| --- | --- | --- | --- |
| Manufacturer | Detection rate | Performance | Usability |
| | 10 | 10 | 10 |
| | 10 | 9 | 10 |
About the author
References