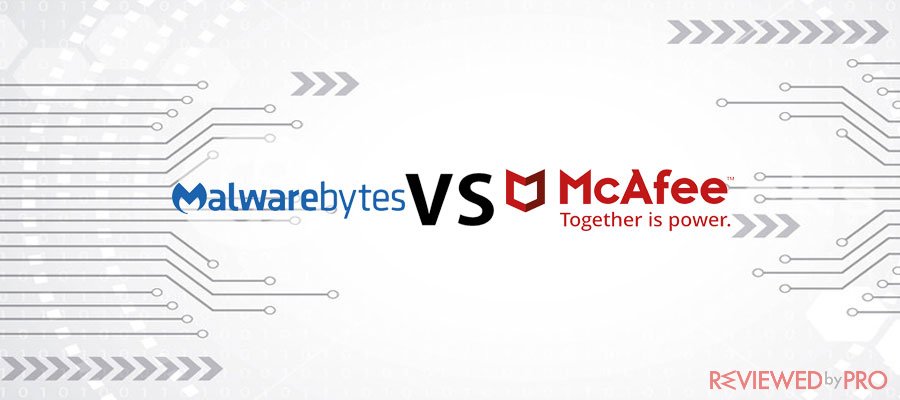 Malwarebytes or McAfee which is better
In this article we will compare and rate two of the most-used anti-virus programs in the world – McAfee vs Malwarebytes.
According to recent stats collected by cybersecurity experts around the globe, during the first half of 2019, 4.1 billion data attacks were recorded, and 71% of such attempts were financially motivated. It implies to the fact that not only cybercriminals are designing such viruses to destroy the private data of the device, which they infiltrate, but they also intend to extort money out of the individual or business they attack. It is the sole reason why security applications like VPN and Anti-virus have been introduced to the public for the sake of giving the user a fighting chance against threats like these.
McAfee vs Malwarebytes In-depth comparison
In this article, we will talk about two of the most consumed anti-virus programs in recent memory, McAfee & Malwarebytes. We will also sort out the entire column under different attributes and show you which service fared better than the other.
If you feel that this article is too long for you to spare some time, then we have got you covered with our the summarized version of the entire editorial in the list below. This section features different aspects and qualities of both the anti-virus services, which will assist you with which program to purchase and use on your devices of multiple platforms:
Pricing – McAfee offered a better variety of features with its plans at much cheaper rates as compared to Malwarebytes. So, the best choice in terms of pricing is McAfee;
Protection – McAfee scored better with 10/10 when we put it through the "Real-World Testing" and "Recent-Virus Detection" tests as compared to Malwarebytes's 8/10. We considered McAfee to be the winner of this round;
Features – McAfee had only too much to offer concerning variable facilities other than virus-detection as compared to Malwarebytes. McAfee won this round as well
System-Performance Impact – McAfee has minimal effect on the performance of the system when it ran in the background, and we opened many URLs and apps. On the other hand, Malwarebytes scored poorly while we installed popular apps on the system. This round went to McAfee;
User Interface and Overall App-Friendliness – Malwarebytes had a more simple yet elegant interface as compared to the interface of the McAfee anti-virus app. The winner was Malwarebytes;
Customer Support Service – Malwarebytes had no live chat feature to offer its users the convenience to interact with software experts in fixing their issues. McAfee had everything from detailed FAQs to email and 24/7 live chat;
Popularity – This part was based on the market share report conducted by a third-party OPSWAT, and according to its figures, McAfee is the second most popular anti-virus among Windows PC users as compared to Malwarebytes's 8th position.
If you are more of a rating person, then we have arranged a brief rating comparison of McAfee and Malwarebytes in the table below:
 
Antivirus protection
9
10
System-performance impact
8
9.8
User interface
10
10
Popularity
6
9
Overall score
7.75

9.9

Discount for our readers
-25% Off

-60% Off

 

Pricing
From $39.99 / device for 1 year

From 22.95 / device for 1 year
With criminals attempting to surface new and more deadly viruses every day, capable of not only corrupting your stored data but stealing it as well and encrypting it with ransomware, there is no better time for all the anti-virus vendors to become more vigilant and keep up with the latest trends and demands of the average user. Such vendors are churning out new and improved versions of their software every year, with new multitasking features. McAfee and Malwarebytes are two of the most familiar names in the anti-virus business, and for this reason, we will do a comparative breakdown of both of them and show you which is the best choice that deserves your money.
1. McAfee offers more attractive price plans than Malwarebytes
There is nothing such as a free lunch in the world, and we have to pay to acquire something that possesses the mandatory quality to solve your practical issues. The same is the case with anti-virus services as much like other software, they can get quite expensive if you do not do your research thoroughly. You can determine the high-quality points of an anti-virus program based on the versatility of their price plans, their cross-platform support, and how many devices does it offer its service on at the same time with a single account. In this comparison, we will show you the different package plans of both Malwarebytes and McAfee anti-virus programs and also reveal whether they offer support on the operating system of the computer or smartphone you use.
McAfee's Pricing Offers
There are hardly any services like McAfee anti-virus app that offer complete coverage across every popular platform along with the extended support on a maximum of 10 devices at the same time.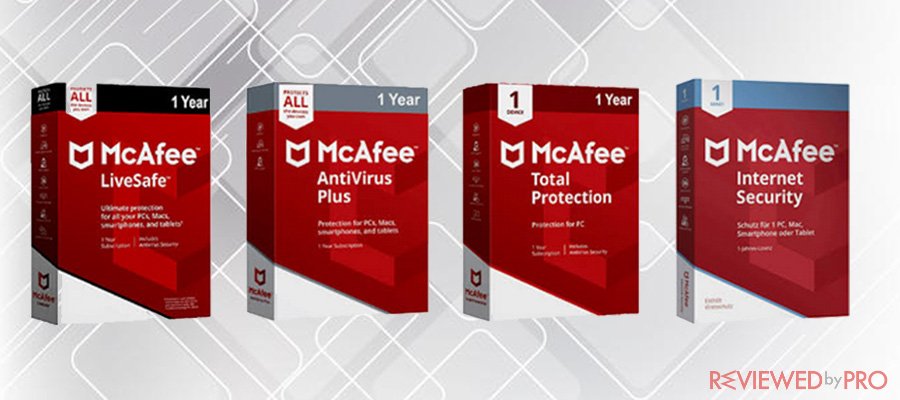 mcafee products
It doesn't matter if you are using a Windows PC or an iPhone, you can avail McAfee's 30-day free trial to analyze every aspect of virus-protection that it promises to uphold. Here are the top package plans of McAfee anti-virus for every operating system in the market:
McAfee's Free Trial – You can access every feature of the premium service of McAfee anti-virus for 30 days without revealing your credit card information. This allows you to test the full program and decide whether it is good enough for you or now
McAfee Total Protection – It doesn't matter if you are using a Windows PC or a Mac-based computer and you can get it at the cost of $34.99 per year across one device;
McAfee Gamer Security – If you are a gamer and getting tired of DDoS attacks and other kinds of online harassment, then this package is for you that not only gives you the necessary protection but boosts the entire gaming experience to the next level. It is purchasable for just $19.99 per year;
McAfee Mobile Security for Android – McAfee overs the top protection for the top smartphone OS in the world with features like anti-theft, web-protection, and call blocker at 29.99 per year;
McAfee for iOS – You can get the safety from viruses you deserve on your iPhone with features like web-protection and memory booster at $29.99 per year;
McAfee Safe Connect VPN – With a 7-day free trial, not only you can get online anonymity but complete freedom to access the site you want for $47.99 per year;
McAfee Total Protection(5-Devices) – You can enhance the plan for multiple devices such as $39.99 per year on as much as 5 different devices;
McAfee Total Protection(10-Devices) – $44.99 per year(10 platforms).
if you get one of the yearly subscriptions of McAfee anti-virus and still do not receive any satisfaction regarding its performance, then you can request a full refund within the 60 days of purchase and get your money back instantly.
| | | | | |
| --- | --- | --- | --- | --- |
|   | AntiVirus Plus | Internet Security | Total Protection | LiveSafe |
| Award-winning PC anti-virusHome network protection | ✔ | ✔ | ✔ | ✔ |
| McAfee WebAdvisor | ✔ | ✔ | ✔ | ✔ |
| PC optimisation tools | ✔ | ✔ | ✔ | ✔ |
| Apple iMac protectioni | ✔ | ✔ | ✔ | ✔ |
| OS phone and tablet | ✔ | ✔ | ✔ | ✔ |
| Android phone tablet | ✔ | ✔ | ✔ | ✔ |
| Social media guard | ✔ | ✔ | ✔ | ✔ |
| Anti SPAM security | ✗ | ✔ | ✔ | ✔ |
| Safe Family | ✗ | ✗ | ✔ | ✔ |
| True Key identity manager | ✗ | 1 user | 5 user | 5 user |
| McAfee File Lock | ✗ | ✗ | ✔ | ✔ |
| Secure Cloud Storage | ✗ | ✗ | ✗ | ✔ |
| Discount for our readers | -50% | -50% | -50% | -50% |
Malwarebytes' Pricing Offers:
Services like Malwarebytes that offer lengthy free trials have nothing to hide as they provide everything they advertise on the market, such as complete protection against the latest malware. Other than the 14-day trial package, you purchase

malwarebytes products
Malwarebytes for a price as low as $39.99 per year on platforms like Windows, macOS, and Android, along with devices such as Chromebook and the most used browsers in the world – Mozilla Firefox and Google Chrome.
Malwarebytes Free Trial – It allows you to use the program's premium version for free for a period of 14 days with no hidden cost.
Malwarebytes Premium for Windows – For $39.99 you can use Malwarebytes on your Windows PC for a full year;
you can get the service for a price of $39.99 per year that will only serve one device;
Malwarebytes Premium for Windows & macOS (3-Devices) – Malwarebytes offers multi-device support on a maximum of 3 devices at $59.99 per year;
Malwarebytes Premium for Mac – If you own a Mac-based computer, then Malwarebytes has got you covered with is one device package at $39.99 per year;
Malwarebytes for Android – If you wish to receive online virus-protection for your Android phone, then you can get it for free by downloading and using Malwarebytes's app from the Google Play Store;
Malwarebytes for iOS – Available only for iOS users living in Canada and The United States, Malwarebytes is available for free from the App store;
Malwarebytes for Chromebook – Much like the app for Android devices, you can use the same on your Chromebook from the Google Play Store;
Malwarebytes Browser Guard – If you wish to know beforehand whether the website you are accessing is malicious or not, then this free feature of Malwarebytes is the one for you, that is available on both Mozilla Firefox and Google Chrome.
| | | |
| --- | --- | --- |
|   | FOR MAC | FOR WINDOWS |
| Protects your identity and privacy from hackers | ✔ | ✔ |
| Protects your documents, financial files from ransomware | ✔ | ✔ |
| Protects you from malicious and fraudulent websites | ✔ | ✔ |
| Stops malware that degrades computer performance | ✔ | ✔ |
| Crushes malware attacks that corrupt your programs | ✔ | ✔ |
| Suspends Malwarebytes notifications when using selected programs | ✔ | ✔ |
| Cleans up an already-infected computer | ✔ | ✔ |
| Discount for our readers | -25% Off | -25% Off |
You can utilize Malwarebytes's 60-day money-back plan and can return it if you do not like its service.
Although Malwarebytes offers more free plans on both Android and iOS smartphones, it does not have provides a more extensive cross-platform and multi-device support like McAfee does. Due to this multi-device pricing structure, we are giving this round of the pricing comparison to McAfee.
Pricing winner: McAfee Anti-Virus.
2. In the round of virus protection McAfee beats Malwarebytes
With more prominent and more deadlier viruses knocking the doorstep of the internet and threatening to wreak havoc on the consumer's data and identity, there has not been a more appropriate time for the anti-virus service providers to be pro-active and making their product capable of weathering out the hurricane in times of crisis. In this test of finding out the protection rating of both McAfee and Malwarebytes, we ran numerous new malware, trojan horses, and worms while they were operating in the background and checked whether they were capable of identifying and deleting the most recent viruses.
Malwarebytes Protection Rating
We used the Malwarebytes program on our computers and ran more than 300 variable samples of viruses and malware through the method of "Real-World Testing." It was easy to conclude that Malwarebytes worked sufficiently better than most programs available on the market. Given the exponential growth of malware threats in recent times, we added more than 30,000 malware that were more recent and found out Malwarebytes's performance.
 

Industry Average

December
January
Protection against 0-day malware attacks(Real-World Testing) – 425 samples used

97%

98.6%

93.2%

Detection of malware discovered in the past 4 weeks since the test – 19852 samples used

99.9%

99.9%

99.9%

Protection Score:
9 out of 10
Although Malwarebytes performed much better than several other anti-virus programs, it was still not able to detect the much newer viruses and allowed them to run silently in the background. It is the reason why Malwarebytes managed to score 9/10 concerning protection against viruses.
McAfee's Protection Rating
According to the real-world testing results conducted in December 2019, McAfee was able to spot every single spam email that contained viruses and was also able to identify the most recent or prevalent malware as well at an efficiency of 100%. These widespread viruses used in our lab tests were more than 30,000 in number, and McAfee was able to get a hold every single one of them without any false-negative alert.
 

Industry Average

December
January
Protection against 0-day malware attacks(Real-World Testing) – 425 samples used

99,4%

100%

100%

Detection of malware discovered in the past 4 weeks since the test – 19852 samples used

100%

100%

100%

Protection Score:
10 out of 10
This was no real fight between McAfee and Malwarebytes in the end. McAfee fared exceptionally well against every type of virus threats as compared to Malwarebytes, which sort of showed mediocre results in regards to offering protection from spam email(Real-World Testing). It is why we are again giving this round to McAfee.
| | | |
| --- | --- | --- |
|   | | |
| Protection agains 0-day malware attacks (web and email threats) | 97% | 100% |
| Detection of most common spread malware in last 4 years | 99.9% | 100% |
| Overall protection score | 9 | 10 |
Winner: McAfee Anti-Virus.
3. McAfee makes less impact on system Performance than Malwarebytes
If you use any high functioning software on your computer system, then you should not get surprised if it starts to take a heavy toll on that PC, especially if it is not laced with high-tech gear. The same is the case with an anti-virus program, which is specifically designed to not only scan all the files present on the device but other platforms such as email accounts and cloud storage platforms. But if you purchase a high-quality anti-virus, then you will find a world of difference between the performance of the system while doing things like opening URLs, installing/running new/built-in apps, and much more. In this section of the comparative analysis, we will show you the system performance rating of McAfee and Malwarebytes and declare our verdict on which anti-virus is better than the other.
McAfee's System Performance Rating:
While evaluating McAfee and its performance during the routine operation of the system, we measured things like the slowing down of the PC while opening certain apps, high-magnitude websites such as Twitch, and copying files from one place to another(both online and offline). We gave McAfee a score of 10 out of 10 based on the fact that the system felt light and efficient while McAfee was performing its routine scan in the background.
Malwarebytes's System Performance Rating:
Although Malwarebytes had a much lighter app, it still caused some glitch here and there during the daily work routine of the average PC, especially while we downloaded and installed popular apps from the internet. The score was a little mediocre when Google Chrome was opened, and heavy-handed websites were accessed through the browser. Despite the promise Malwarebytes showed, the scores weren't good enough, and it is why we gave it a performance rating of 8/10.
| | | |
| --- | --- | --- |
|   | | |
| Slowing-down when launching popular websites | 11% | 15% |
| Slower download of frequently-used applications | 0% | 1% |
| Slower launch of standard software applications | 23% | 6% |
| Slower installation of frequently-used applications | 70% | 25% |
| Slower copying of files (locally and in a network) | 0% | 2% |
| Overall rating | 8 | 9.8 |
There should be no compromise on the performance of the system as the chances of the device getting infected from a virus increase significantly when it acts sluggish. After analyzing the scores of the performance tests, the results were fairly obvious, and Mcafee anti-virus program was the winner after scoring an impressive 9.8 out of 10.
Winner: McAfee Anti-Virus.
4. McAfee offers wider selection of features than Malwarebytes
Features of a product are basically the equivalent of a human's vital organs, and without them, there is no chance of surviving. You can say the same about anti-virus software and conclude its success based on the variety of features they offer at reasonable prices. Considering that security and privacy go hand in hand, these programs also provide several protection characteristics such as password manager, high-grade encryption, and, most importantly, a VPN. In this part of the article, we will show you which service out of McAfee and Malwarebytes present better features to their users and which one of them is not one-dimensional.
McAfee's Features
From a regular anti-virus program to a VPN, McAfee has it all, and you would be lucky to use it as your premium anti-virus software on your PC. Here are some of the critical features of the service:
McAfee's Antivirus features keep the devices safe from every latest and old form of viruses such as malware, Trojan horse, ransomware, and spam email;
If you do not like the auto-play feature of streaming services such as Youtube and Twitch, the with the Performance Optimization option, you will be able to manage your bandwidth and block the autoplay feature of such streaming platforms;
It is complicated to place trust in companies like Google and Facebook when it comes to storing passwords of various user accounts, including the financial ones. It is why McAfee offers the Password Manager feature that controls everything related to your accounts and safe keeps them until needed;
Most of the time, malware enters your PC when you open a malicious/false website on your browser. The Safe Web Browsing of McAfee anti-virus offers protection against such sites by detecting and blocking them before any damage;
Your data doesn't remain deleted when you press the delete button, and it could be easily accessed through any recovery application. You can nullify the function of such tools by using the McAfee's Shredder option, that will erase your data forever, far away from the reach of anyone;
Home Wi-Fi is the number one hunting zone of cybercriminals to steal a user's private data without them knowing. The Home Network Security Firewall doesn't permit the hackers to access the user's internet;
McAfee hands out 128-bit Encryption option to save valuable data in a vault, making it impossible for any cybercriminal or foe to decrypt it;
Identity theft is a growing problem that causes both financial and personal pain to the person on the receiving end. With McAfee's Identity Theft Protection feature, no one will be able to steal your identity or personal/payment information ever again
Features of Malwarebytes
After utilizing the 14-day free trial period of Malwarebytes, it is pretty much useless, as it will only be able to remove those types of Malware from your PC that had already done the damage. The premium version of the service offers the following features:
Real-time protection will detect any kind of malware before it infects the computer and moves it to the quarantine zone, pending further instructions from the administrator;
The Anti-Exploits feature will keep the vulnerable systems protected from all types of cyber-attacks;
Anti-Ransomware option detects spam emails and suspicious files that contain the ransomware virus, all set to encrypt your data, once you open it, but Malwarebytes will not let that happen;
The Anti Malware/Spyware feature detects any advanced threats such as every recently introduced virus, relatively unknown to most services;
The Anti-Rootkit facility will remove all rootkits frim the PC and repair all the files that had been damaged by it.
As you can see from the sections mentioned above, Malwarebytes's features seemed a bit one dimensional and only offered protection against the conventional malware/ransomware on the PC. But, when you look upon the characteristics of the McAfee anti-virus program, there is a vast sea of multi-dimensional options like a VPN, data shredder, anti-theft mode, and much more. It is why we have to give this round to McAfee as well.
Winner: McAfee Anti-Virus.
5. Malwarebytes has more intuitive and user friendly interface comparing to McAfee
The interface of any software, much less an anti-virus program, should be easy to the eye and friendly to use as one person usually connects an Anti-virus with the computer under the time of severe crisis. If the service is not able to provide such an essential option and tangles the user with additional options before the important ones to kill the virus or enable protection beforehand, then there is no value in using such a service, and it is best to replace with a much better one. In this article, we will look upon the user-friendliness of the interface of Malwarebytes and McAfee.
McAfee's Interface
McAfee's PC app is a combination of dark grey and white with a touch of its red logo. Right beneath the logo, there are five of the following options that you can access to start the relevant feature and its settings:
Home;
PC Security;
Identity;
Privacy;
Account;
Under the Home option, you will be able to run a complete/quick virus scan on your PC with just one click. At the top, it displays the subscription status and the remaining time of the plan.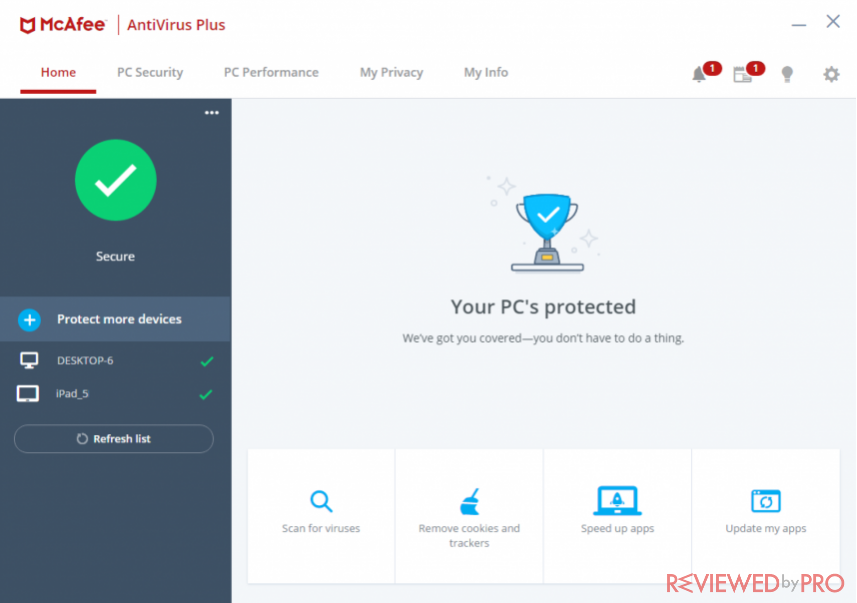 mcafee user interface
At the bottom tier of the interface, there is a large section that shows features like the Password Manager, Remove Browser Cookies and Trackers, and others.
The Interface of Malwarebytes 4.0
Malwarebytes's app contains shades of white, blue, and green, which looks pleasant from afar. Unlike McAfee's horizontal menu, Malwarebytes has a vertical list on the left side that includes options like:
Dashboard;
Scan;
Quarantine;
Reports;
Settings.
Right in the middle, there is the "Scan Now" button, which enables you to run a quick scan on the PC for new viruses and other bugs. On the right side, there are options like Protection History, Scan Status, and Real-Time Protection, which gives you the necessary information on when is the appropriate time to conduct a data scan and how long it has been since the last scan occurred.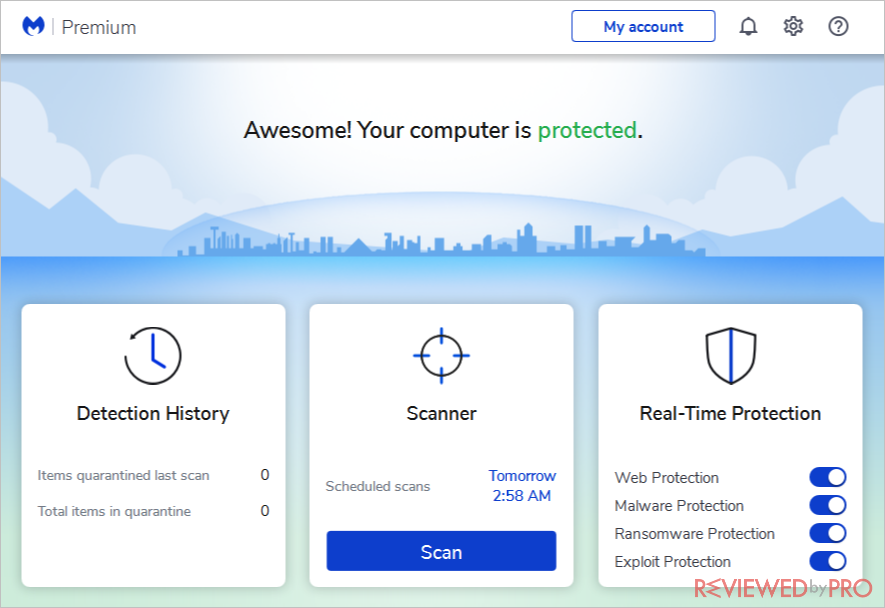 malwarebytes user interface
Besides the Malwarebytes logo, the buttons feature the "Activate License" and "Upgrade Now" option, which makes it convenient for the user to manage their subscription accordingly.
Undoubtedly, McAfee had an excellent interface with straightforward buttons to enable all of its dynamic features instantly. But we felt extremely attracted to the colors and accessibility of Malwarebytes's app, which also offered a better user experience more than McAfee's app. It is why we are concluding that Malwarebytes is the winner of the battle of interfaces.
Winner: Malwarebytes.
6. McAfee provides a better customer support to their clients then Malwarebytes
A product or a business receives global recognition through the variety of its features under affordable rates and how they arrange for circumstances to fix their user's problems with their customer support service. Nothing needs a customer care program filled with experts of the products, then software products like the anti-virus program, due to the lack of technical know-how of an average user to operate the service. We will look upon the diversity of the customer care program of McAfee and Malwarebytes and see which one has a better facility to guide the ordinary consumer.
McAfee's Customer Support Service
McAfee offers one on one interaction with anti-virus experts through a 24/7 live chat facility and offers several offline guides to show how the product works on systems like the Windows PC, Mac-based systems, and smartphones. You will also find a separate section of installation and package renewal inside the support section of the official website. It is safe to say that the McAfee anti-virus program provides one of the best customer care service there is to offer.
The Customer Care Service of Malwarebytes
Once you enter the customer care section from the official website, you will see several FAQs divided under sections like " Install & Activate," "Setup & Configure," and "Troubleshoot," under separate sections for users of different platforms such as Windows, macOS, and Android.
Unfortunately, Malwarebytes does not offer any interaction services such as the live chat and the email ticketing system, which sort of leaves the client out to dry.
There was no competition between the customer support services of both the anti-virus program as McAfee was miles ahead of Malwarebytes in terms of choosing a wide variety to fix any small or big problem related to the anti-virus.
Winner: McAfee Anti-Virus
7. McAffee is more popular than Malwarebytes according to Opswat
OPSWAT is a cybersecurity firm that releases case studies and reports related to the continuous threats of viruses and how to tackle them. Every now and then, they tend to release a complete report based on anti-virus market share, which shows the popularity and consumption of the top anti-virus programs in the world. According to their latest research for December 2019, McAfee is the second most popular anti-virus with control of 13.67% of the market, and Malwarebytes is also among the top 10 most used apps with a share of 4.68%.
| | |
| --- | --- |
| Manufacturer/Brand | Market share |
| | 13.67% |
| | 12.94% |
| | 12.98% |
| | 10.06% |
| | 9.09% |
| | 7.45% |
| | 6.4% |
| | 4.68% |
| Cylance Inc. | 4.19% |
| Trend Micro | 3.67% |
| Other | 15% |
Winner: McAfee Anti-Virus.
The Winner of the battle McAfee vs Malwarebytes is McAfee
There should be no compromise on the quality of the product you purchase, and it should be able to give every advertised feature without any hidden cost. The same is the case with McAfee anti-virus program, as not only does it offers superb quality in detecting and killing the most recent virus, but it also provides other protective facilities that make sure that no one other than you could reach and use your data.
In the end, we have to say getting an anti-virus is necessary if you base everything from your personal to work files on your computer system, and McAfee is the better service than Malwarebytes. So, if you wish to achieve proper online protection at once, then you should get it immediately.
 
Antivirus protection
9
10
System-performance impact
8
9.8
User interface
10
10
Popularity
6
9
Overall score
7.75

9.9

Discount for our readers
-25% Off

-60% Off

 

Pricing
From $39.99 / device for 1 year

From 22.95 / device for 1 year
About the author