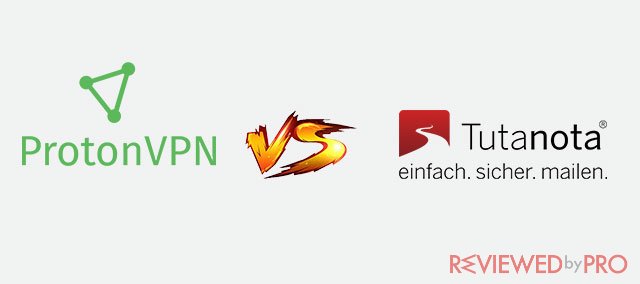 Is Tutanota More Secure Than Protonmail
Email is the original MVP in the world of the internet. It was there before all these social mediums and trust us when we say this, it will be here for a long time to come. The original email services have evolved with so many features since the beginning. When it comes to the leaders of the most secure email service providers out there, you have Tutanota email and ProtonMail at the top of the list. Both these email service providers have shown the best track record as far as ensuring privacy is concerned.
This year, Tutanota email and ProtonMail went head to head to see which one is a more secure option for users. VeePN did an analysis and deliver to readers, a final verdict on what should be their choice.  If you're looking at getting a secure email service, you need to have a thorough understanding of which one of these services is better.
Setting the stage – Tutanota Vs Protonmail
We will be looking at both Tutanota email and ProtonMail in detail to understand what makes them different in each of the crucial categories that a user looks at when deciding to lock down an email service provider. In this comparison of Tutanota vs ProtonMail, VeePN have done a proper and independent analysis of what makes these two different through a blog and some research on which of these two stands out from the other and which services are beneficial in both.
1.  Security Comparison
Is Tutanota email safe? How secure is ProtonMail? All this and more will be discussed in this section in detail. Although the end result is essentially the same, Tutanota and ProtonMail take very different methods to email security. RSA and AES are the long-standing email encryption standards used by OpenPGP, which includes ProtonMail, the first OpenPGP-based email service.
Tutanota's narrative is a lot like this one. AES is used to encrypt communications between users, while RSA is used to encrypt communications between users and non-users. Tutanota doesn't employ OpenPGP, or PGP, for that matter, which is a big difference. It's still based on well-known algorithms and works in a similar fashion as PGP services in terms of technology. However, there are a few things that set us apart.
The biggest problem with PGP at the moment is that it doesn't encrypt the subject line of emails. Your subject lines will not be encrypted with PGP, and this is true whether you use Hushmail or Gmail. Furthermore, PGP lacks an option for perfect forward secrecy, which means that if a previous session can be compromised, so can a future one. In Tutanota, both of these options are available.
In addition, Tutanota's proprietary applications provide an additional layer of protection over ProtonMail. Although browser security has improved significantly over the last decade or so, browsers are still less secure than a locally installed application when using ProtonMail. Android and iOS users can use both services thanks to their apps.
2.  Privacy Comparison
 Tutanota is German. Germany is a member of the Fourteen Eyes alliance, a group of countries that cooperate in intelligence gathering and surveillance of their citizens. The German Federal Data Protection Act, which safeguards all email traffic through Tutanota, makes up for this shortcoming. This law prohibits the collection or use of personal data unless explicitly authorized by another law.
Although it is located in Switzerland, a nation well known for its neutrality, ProtonMail is located in the United States of America. Even a nuclear detonation would not affect the company's servers, which are housed in a kilometer of granite. The parent business of ProtonMail and ProtonMail spam filters, however, has been questioned about its dedication to user privacy due to several legal disputes in the past. In spite of this, Swiss privacy regulations (among the world's best) let ProtonMail succeed as a privacy advocate.
3.  Spam Filtering Comparison
Tutanota email has a sophisticated spam filter. Spam and undesirable messages can be filtered out by using the parameters. The snap filter is always being improved by Tutanota, therefore it is constantly evolving. According to user comments, the filter is too tight for most people.
When you get a message, ProtonMail's spam filters bot immediately moves it to your inbox or to a spam folder. However, it's a sound system, and it can get things wrong from time to time. When the spam criteria are too strict for your liking, you can add an address to a whitelist so that it will not be flagged.
4.  User Friendliness
 In terms of ease of use, ProtonMail and Tutanota email are on equal footing (both received the same score in this section in our reviews). It doesn't matter which one you choose; you'll have a wonderful time. There are, however, certain differences between the two.
In the beginning, Tutanota has a webmail layout that is very familiar. If you've ever used email service, Tutanota shouldn't be a problem. The quickness of the app is what we're most impressed with.
Tutanota has a pleasant user experience, which is unusual coming from an email service provider. Nonetheless, sliding between windows fast provides this easy experience that is never slowed down by loading screens.
5.  Customer Service Comparison
Both have a Reddit subreddit, provide email-only assistance, and provide some documentation to get you started. Tutanota, on the other hand, does not provide any direct assistance to its free consumers. ProtonMail does, and despite its "limited" status, it is still available.
In addition, the ProtonMail knowledge base is far more user-friendly. Despite the fact that the two services have similar content, finding a helpful article on ProtonMail is significantly simpler. In addition, it has a far larger Reddit audience (45,000, compared to fewer than 15,000 for Tutanota).
At least from a self-help perspective, Proton Technologies provides a wide range of services. Both services provide top-notch one-on-one assistance. But ProtonMail gives it for free.
Conclusion:
We may compare Tutanota and ProtonMail with a three-to-three advantage. Security is a slight advantage for Tutanota email, while ProtonMail has an edge in usability and price. Choosing between these two is a matter of personal preference.
Because ProtonMail has a more accessible support team, as well as a well-rounded free plan, we think it's the best option. Tutanota's free plan comes with greater storage, but we'd take that over 500MB of support any day.
About the author