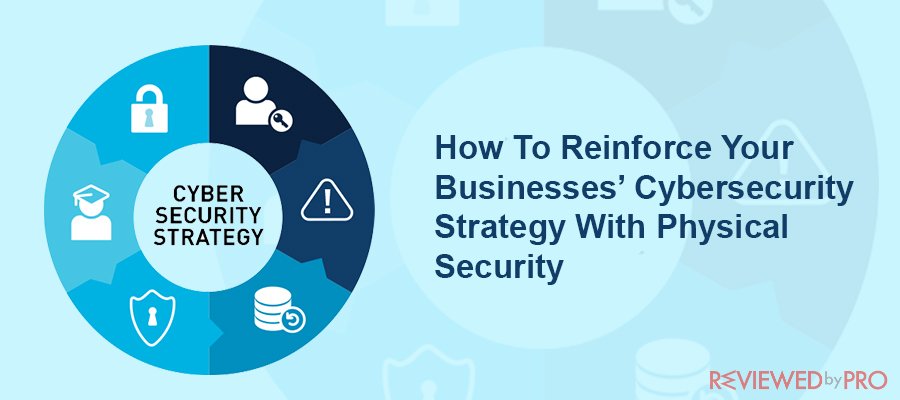 How To Reinforce Your Businesses' Cybersecurity Strategy With Physical Security
There is no denying that workplaces are becoming more technology-based, with less need for physical contact and physical documentation. From accounts being accessed online to data being stored, there is an inevitable surplus of essential and classified information on a number of businesses being inputted through websites and online services daily. 
Cybersecurity is a part of both our work and personal lives, as we have authentication and authorization steps when placing online orders and logging into different accounts. When it comes to work, staff are responsible for ensuring they store passwords and data safely on their computers. Due to the rise in remote working, this has become a more prevalent issue as not everyone has an understanding of internet security. 
As hybrid working models and in-house working are increasing, it is becoming apparent that physical security technology can be used as a reinforcement for cybersecurity. Combining the two will create a more robust and reliable security system that ensures all data and information is stored safely.
In this article, we will cover the various ways you can use physical security to fortify your cybersecurity, from video security systems to cloud based access control.
Types of physical security technology
 You may have focussed your attention on cybersecurity for so long that you are unsure of the physical security types available for you and your business. Before we run through the options, remember it is good to use these measures in accordance with your cybersecurity. You will have teams and setups for both security aspects, and merging the two in a cohesive way is vital when you are looking to use both for your business.
Below, we will cover a few ways you use physical security technology to strengthen your cybersecurity; 
Video security
Utilizing business security camera systems are a no-brainer when providing your workspace with a secure system. This will enable you to access footage of places where your business data is handled and stored to see how safe and private the data is. 
When installing and deciding if you need a security camera system, you will need to keep in mind various elements such as if you would like the video footage to be constant, the need to identify people in the video, or the frequency that you will need to access the footage. This will help you to decide on a model and design that reflects your business needs.
A wireless security camera may be favorable, as it will operate over wifi and require less expertise to install. 
Cloud-based access control
When it comes to cloud-based security systems, they are excellent at allowing you to manage and control who has access to locations where your data is stored. This is especially convenient for those with many at-home workers or different on-site locations, as you can track any device and each office base's progress.  
As an increase of companies have remote workers, access control is a great tool to use as it ensures they have access through the use of pin codes, biometrics, or QR codes. In addition, there's no doubt that you will use some form of access control for those coming into your office by requiring fobs and identification, so there is no reason why you shouldn't need access control when it comes to online and digital assets as well. 
Through your cloud-based access control, you can deny access to trespassers that should not be using your work pages and data. This is incredibly useful and will help you to understand where any security loopholes may be within your system.  
Leverage integrated data
Leveraging data is a fundamental way to analyze information and create insights into your business's information. By integrating your data, you will combine different data types into the same places to accurately see patterns and trends. 
Within your collated data, you will be able to see if there are any loopholes or places that need extra support and security. For example, you may notice that one specific remote worker's computer is at the receiving end of cyber-attacks. In this instance, you will then need to check to see if that staff member has a secure network. Integrating your data regularly will allow you to optimize security while keeping a note of team members' progress. 
Ensure cyber and physical security teams are coordinated
To strengthen your overall security, you need to ensure your cyber and physical security teams are on the same page and sharing strategies and information accordingly. This will increase situational awareness and improve the speed at which you overcome risks and situations that may arise. 
By collating information, you can also create policies and strategies that both teams follow, further minimizing the chance of any security breaches. In addition, this ensures that remote workers can pursue a policy that secures their assets as well as company data and security.
Educate employees
According to Cabinet, 95% of cybersecurity breaches are caused by human error. This may send alarm bells ringing and leave you thinking about the times you haven't accurately set up authentication and cybersecurity training within your team. 
Remote workers are at an increased risk of being involved in cyber attacks due to accessing various sites for research purposes and leisure. In addition, cybercriminals often assess the routine of individuals' behavior, and remote workers are easy to source and take an aim on.
To combat this, you must educate your team on internet safety and how to keep company data private. All new starters should be provided with this information, while established team members should be regularly checked in with. 
Summary 
From this article, you should be able to see that merging your physical security assets with your cybersecurity will strengthen the overall security of your business. Whether your company works remotely, hybrid or in-house, you can take these steps to ensure you are covering all bases in your security. 
Once you have optimal cybersecurity and physical security technology, remember to merge both physical and digital teams to further explore the security of your business. 
About the author