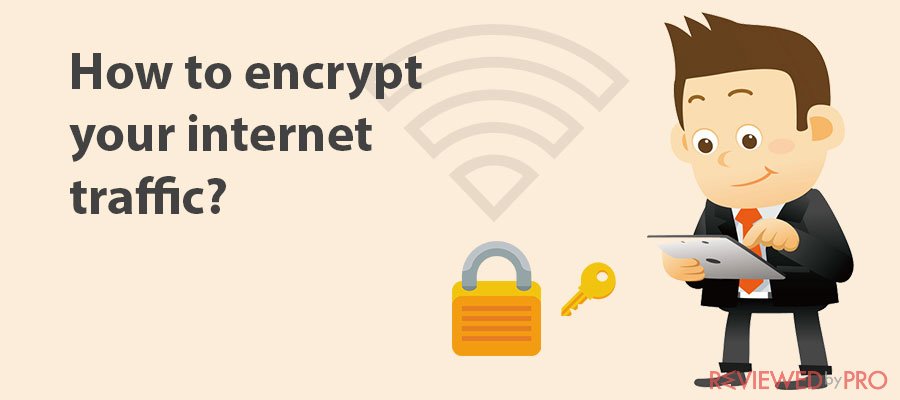 How to encrypt your internet traffic?
Are you one among many users that wish to encrypt their internet traffic but can't figure out how to? Then this article is for you. Here, you will learn how to encrypt the traffic on your internet so that others may not be able to see it.
WHAT IS ENCRYPTION?
To encrypt information means to secure such information with the use of secret keys and codes. These private keys do this encoding by scrambling your data and turning them into a trail of characters that do not look like the original data. If you do not encrypt your internet traffic, then there is nothing secret about it.
To view the initially encrypted data, you will need the decryption key that corresponds with the encryption key. Thus, only the user with the decryption key can access the information as every other person will only see it as gibberish that cannot be read.
WHY DO YOU NEED TO ENCRYPT YOUR INTERNET TRAFFIC?
In this section, you will be taught why you, as a user, need to encrypt your internet traffic. You should note that as long as you use the internet, you are vulnerable in one way or another; you do not need to be a government target or someone famous for this to happen.
The following are reasons why you need to encrypt your internet traffic:
TO DETER HACKERS: The internet is valuable tool hackers use to get into people's online spaces for so many reasons, such as acquiring secret information, defrauding them, and so on. If you do not encrypt your internet traffic, it will be exposed to hackers who can get valuable data, such as your credit card information and passwords. Again, some hackers set up fake Wi-Fi networks, and whoever connects to them, they siphon their traffic. It can only work with unencrypted internet traffic.
TO ESCAPE NETWORK ADMINS: If your internet traffic is encrypted, network admins cannot monitor what happens on your site. You should know that network admins see everything that goes on in their networks, including unencrypted internet traffic. If you encrypt your web traffic, you will access all the sites you want when you want to and not have any network admin block or interfere with what you are doing through IT spying and networking blacklists.
TO PREVENT GOVERNMENT FROM COLLECTING YOUR DATA: Government programs such as NSA's PRISM can be used by the government to spy and gather information on not just political figures or terrorists, but also innocent citizens like yourself. Things you do online can be compiled as a file on you through your download records, web histories, or emails. You can prevent all of this from happening when you encrypt your internet traffic as it prevents anyone from gathering such valuable private information.
HOW TO ENCRYPT YOUR INTERNET TRAFFIC
Now that you have been convinced of the need to encrypt your data, let's move on. Whatever your reason for encrypting your internet traffic, you will find several methods and tools to achieve this goal. What's more? You do not need to be a computer expert to use these tools. How great is that!
METHOD I: SECURE YOUR WI-FI
First things first: if you haven't secured your Wi-Fi network with a password, go ahead and set one immediately. As convenient as open networks seem, they are quite dangerous in this regard, as anyone can intercept your internet traffic if they can use it.
Also, if you haven't changed the password that came printed on your router, you need to change it too.
Use the WPA3 or WPA2 password encryption as this is more secure than the WPA and WEP variations. Note that WPA2 is more commonly used as this is more available than the WPA3, which is only limited to a newer router.
Set a strong password that cannot be easily guessed. A strong password almost always includes uppercase and lowercase letters. It also includes numbers, as well as special characters, and even spaces if it is permitted. A strong password should have at least 12 symbols.
Also, change the username and password of your router admin. It is essential to do this as this control panel's credentials are meant to differ from your Wi-Fi credentials. It is not suitable for your Wi-Fi network security because the credentials are set to default as admin credentials, hence changing them.
Ensure you update your router firmware. Doing this will go a long way in covering up any open vulnerability in your network security, thereby preventing anyone that isn't authorized from gaining access to your internet traffic. Updates can be checked for and accessed from your manufacturer's website or your router's control panel.
METHOD 2: USE HTTPS WHEN BROWSING ON ANY SITE
A majority of the traffic on the internet has been encrypted, and that is because of HTTPS. You may have noted that websites use "https" instead of "HTTP" in recent years. The "S" stands for "Secure." Talk about encryption!
Do not log in to a website that does not use HTTPS, although most sites that require your personal information such as credit card numbers, passwords, or some other personal information use HTTPS.
For websites that use HTTPS only on their login pages, you will be exposed to the rest of the sites. To prevent this from happening, use browser extensions for Firefox, Chrome, and Opera, for example. These tools can automatically convert any HTTP to HTTPS as long as the HTTPS version is possible for such a website. However, some sites do not support HTTPS at all, so that's a dicey one.
METHOD 3: CHANGE TO ENCRYPTED MESSAGING SYSTEM
There are now many apps for encrypting messages as the NSA could easily monitor text messages on a large scale. With these apps, you can encrypt each message on your device and the attachments to prevent anyone from seeing them.
It gets more interesting! With these encrypted apps, you can send messages to people on an international basis and not get charged extra. Also, you can make use of cool features like stickers while also making video calls.
It is essential to point out your contacts need to have the same encrypting app for seamless communication. If they do not have the app or have a different encrypting app from you, the messages will not deliver, and there won't be any point of encryption as it won't work.
Below are some encryption messaging apps you can use:
SIGNAL: Signal is an app that can be used on operating systems and devices such as Android, Windows, iOS, macOS, and Linux. This compatibility across devices is excellent for such a valuable tool. Signal messages are end-to-end-encrypted; this implies that only the sender and receiver of a particular message can view it; even the company cannot decrypt the messages. In addition to texts, you can send documents, images, make video and voice calls, as well as group chats.

Interestingly enough, you can set your messages to self-destruct after a particular time frame, and once this happens, even the recipient will not have access to the message anymore. Here is the icing on the cake: Signal apps are free! They are also open-source. Simply put, you can trace and see the app's source code to be sure that it is genuine and secure.
WHATSAPP: WhatsApp is another excellent message encryption tool that is owned by Facebook. Now hold on before the mention of "Facebook" discourages you on matters of security. WhatsApp also has end-to-end encryption, just like Signal, so that no one can view your messages, even from Facebook.Although WhatsApp works on all other operating systems except the Linux app, you can use a web interface that works if you own a Linux OS device. Again, just like Signal, you can carry out group chats, send voice notes, do video and voice calls, and send texts, documents, images, and so on. However, unlike Signal, the source code of WhatsApp cannot be viewed as it is close-sourced.
OTHER ENCRYPTED MESSAGING APPS
Apart from Signal and Whatsapp that are the most popular, other apps can be used for this purpose. They are outlined below:
WickrMe: This app is primarily meant for business. However, you can use it for personal purposes too. Although this app has a free version, you will need to pay for the purchased version to be able to gain access to advanced features and to be able to transfer files of larger sizes.
Telegram: Telegram is yet another app with which your messages can be encrypted end-to-end. It is free and can be used on Windows desktop and phone iOS, macOS, Android, Linux, and the web. It allows you to transfer attachments that are up to 1.5 GB at a time.
METHOD 3: EMAIL ENCRYPTION
It is not enough to have a password to your Email as Emails are quite vulnerable to interception when messages are transferred from one point to the other. The situation becomes even more problematic if your Email providers' servers are hacked, or the government searches the servers.
Through such services as CounterMail and ProtonMail, you can get your Email encrypted, and if the receiver of your mail has the same service, you can get end-to-end encryption for your messages.
METHOD 4: MAKE USE OF ENCRYPTED DNS (Domain Name System):
Each website has its IP address, which your browser navigates to when you type in the URL. URLs are converted to IP addresses via a query carried out by your browser. It is where the DNS server comes in.
DNS is likened to a phone book that matches names and numbers for websites.
DNS servers are usually run by your ISP, though you can also use third-party ones from Google and other companies.
The reality is that DNS is, more often than not, not encrypted. It implies that whoever is operating your DNS server knows all the websites you visit, and hackers can use the interception to see what you have been up to online.
Thus, just as HTTPS encrypts your WebPages, so also DNS encrypts all your queries once you enable it.
A browser such as Firefox has added this by default, and other browsers would follow suit.
METHOD 5: GET VPN (Virtual Private Network):
VPN performs its encryption by rerouting your IP address a couple of times to hide it. Also, you get to decide the distance you want your traffic to be forward.
All your internet traffic can be encrypted with a VPN, and not only your browser
VPNs encrypt the traffic on your computer and send it to the VPN server from where it is decrypted and moved along to its original destination.
The request appears to the website as a request from the VPN server instead of the initial IP.
The requested data is sent back to the VPN server for encryption before it is forwarded back to you
VPNs can be controlled from your phone, computer, or another device. Through VPN apps, you can change servers, manage your connection, and adjust security.
Your VPN provider is the only entity that can view your internet traffic, apart from you, of course. Thus, you need to trust your VPN provider.
If you must choose a VPN, you are advised not to go for the free ones as they tend to have weaker encryption and keep activity logs (something that VPNs are not meant to do). Hence, pay for one.
So far, the most robust encryption is provided by AES-256. Carefully go through the piracy policy before choosing a VPN so that you don't end up with a tool that keeps logs instead of "zero-logs."
Here is recommended VPN, so you don't get lost:
EXPRESSVPN: This VPN is quite expensive. However, with this expense come high-quality results. It is compatible with a wide range of devices. It is also a great choice of tool for staying secure, streaming, and torrenting.
Official website
www.expressvpn.com
Rating
  (Excellent – 4.8/5)
Available applications
 
Money-back guarantee
30-days
Price from
$6.67 (-49% deal)
Visit website
More information
ExpressVPN review
You can encrypt your internet traffic from being seen by third parties online. With the steps provided in the article above, you should be able to keep everything you do online under wraps. Some of these virtual online tools are free, while others need to be purchased, as shown above. It is essential to know that whatever method you use will yield the desired result. Now you can enjoy some privacy and peace of mind, knowing that your internet traffic is encrypted and secured.
About the author