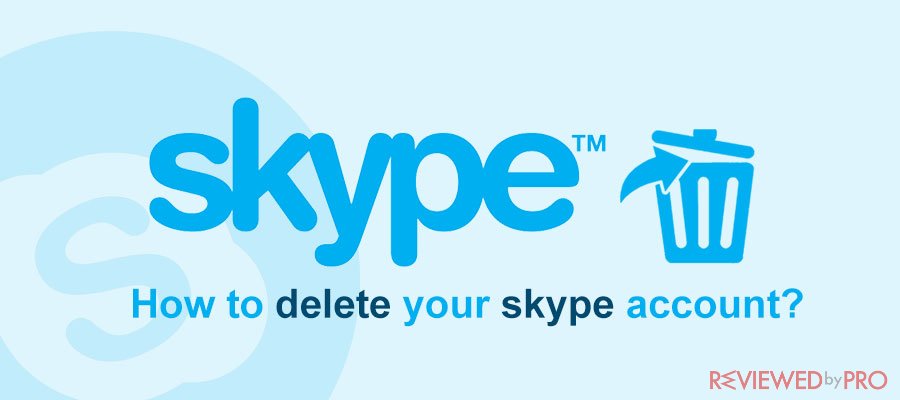 How to delete your skype account fast and easy?
With the tremendous spike in the number of reliable voice and video call apps, Skype is slowly losing popularity in the market. Yes, many other Skype alternatives are now proving even better than the app that was once king of video calls online. If you want to jump ship then deleting your Skype account is a good idea particularly for matters privacy. Unfortunately, the deletion process isn't as straightforward to many.  Let us take you through the steps to delete your Skype account in various scenarios.
Steps to permanently delete Skype
For starters, you should know that when Microsoft acquired Skype, it integrated the app into Microsoft account backend. This makes it a bit difficult to delete a skype account without losing your Microsoft account. Once you get rid of the account, Microsoft will give you a 60-day period to reactivate your skype account or else is permanently deleted.
Steps to delete skype account on your Desktop device
Log in to your skype account and click on the profile icon. From the subsequent options, locate and select the Settings
From the Settings window, click the Account & Profile tab and select Close your account under the sub-menu. You will be prompted to provide a convenient means to verify the authenticity of your account. Some of the verification options available could be via SMS or your email account. However, most options would depend on the information you previously provided. When the verification is complete, follow the on-screen instructions to proceed.
The next window will give you some important items to consider. Go through them to check whether some points are relevant to you. If you feel you are okay, then hit Next.
A checklist window shall be displayed to inform you of the deletion consequences. Review each item to be sure to go ahead with account deletion. Choose the reason for deleting your Skype account or simply select My reason isn't listed. If you did not subscribe to any other Microsoft service, ignore all this process. Finally, click Mark Account for closure.
After 60 days, Microsoft will permanently delete your account. If you change your mind before the grace period expires, then you can retrieve your account. It will still be discoverable within the search directory. 
Steps to delete your Skype account on Mobile (Android or iOS) devices
If you are wondering if you can delete Sykpe on Android or iOS, then unfortunately you can't. At the moment, deleting your Skype account on mobile applications isn't working. So, try using the desktop platform or delete your Skype account directly with Microsoft account.
How to delete Skype without deleting your Microsoft account
Getting rid of your Skype account is nothing serious if you don't use any other Microsoft service. However, if you have other Microsoft services, you will want to delete Skype separately. Microsoft cannot allow you to delink its accounts lest you delete the entire account. The best way out in this case is to get rid of your personal information for the sake of privacy.
How to delete your Skype Messages
If you have ceased using your Skype account, it is important that you remove any conversation carrying private or sensitive information. They can be loopholes for hackers or any other form of malice. To delete skype messages, take the following steps.
On a Desktop platform
Launch Skype and open the conversation you want to delete messages from.
Hover your cursor over the target message and click the three dots that appear next to it. From the drop-down menu, select Remove to trigger the deletion process.
On Mobile
Open the Skype application and click the Chats
Select the conversation of interest and locate the specific message you want to delete. Long press the message until a drop-down menu appears. Tap Remove and your message will be instantly deleted.
How to delete your Skype Conversations
Getting rid of individual messages in a conversation is not the best way of removing private messages. Remember, you might unintentionally leave other sensitive messages in the process.  So the best way of doing this is to delete an entire conversation. The best way to remove any traces is to liaise with the other party if you can to delete from the other end as well. To delete an entire Skype conversation, follow the steps below.
On Desktop
Open Skype and go to the target conversation. Right-click on this conversation and select Delete conversation from the drop-down list.
On Mobile
Open Skype and go to the Chats
Locate the conversation you want to get rid of and long-press with your finger. Select Delete conversation from the displayed pop-up menu.
How to cancel your Skype Subscription
Now, if you want to part ways with skype and had an active subscription, then it is time to unsubscribe too. If you don't unsubscribe yet you continue using it, the billing might keep running and the charges will accrue. To cancel your subscription, follow the steps below.
Navigate to the Microsoft Services and Subscription page then log in using your credentials.
Select your Skype subscription then choose Payment & billing. Click the Cancel
Stick to the elementary on-screen instructions to successfully cancel the Microsoft subscription. When the cancellation process is complete, you will get a confirmation on your email.
Will Skype delete your inactive account?
In the past, Skype used to delete inactive accounts with ease. However, upon that merger with Microsoft accounts, Skype no longer does this. Deleting an inactive account would have direct consequences on your other Microsoft services. If you have left your account inactive for quite some time, you can check the following points to know about the respective status.
If you last signed in before June 2014, then your account was likely deleted after 1 year of inactivity.
If you last signed in between June 2014 and August 2015, the inactive account was likely deleted after a 2-year inactivity period.
For users who last signed in after August 2015, the account is supposed to be deleted after 5 years of inactivity.
About the author