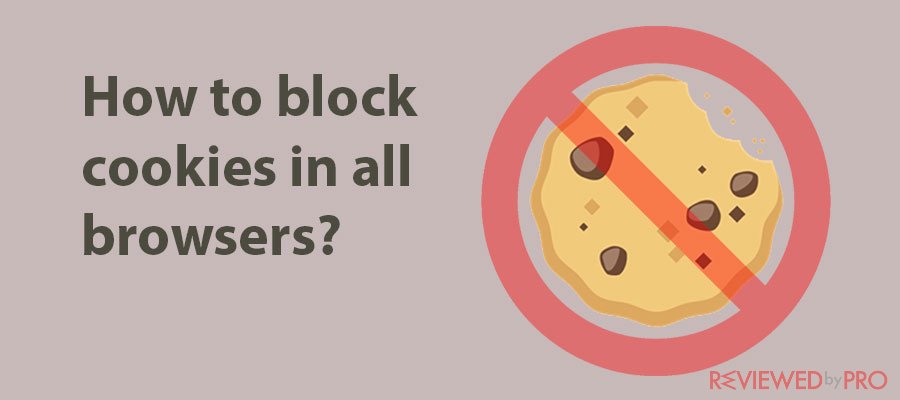 How to block cookies in all browsers?
Cookies on the internet can be found on basically any platform you visit as a user: be it an online forum, Google Search field, or Facebook, among the others. They can affect your privacy online if you don't have a good grasp on how they are being managed.
This article will show you how you can block cookies, so they do not affect your browsing. The methods provided here will prove useful, no matter the browser you use.
WHAT ARE COOKIES?
Websites and browsers tend to place small strings of texts or such codes on your hard drive when you browse the internet. They are usually forwarded to your computer and stored in a specific file within your browser. These text codes that are filed up in your web browser are called cookies. Generally, cookies are not harmful or dangerous as they let the web browser know your browsing preferences based on the recent sites you visited and your online activities. More so, with cookies keeping bits of information about your online activities and how to interact online, it becomes easy to navigate to your most-visited websites.
HOW DO COOKIES AFFECT YOUR PRIVACY?
From the above, it may seem like cookies are not so bad after all right? Well, hold your horses for a minute! It has been mentioned that cookies gather and a lot of information from your browsing experiences such as your location, preferences, and browser type.
It has been noted that some commercial websites make use of "tracking cookies". These cookies are not meant to make browsing seamless for you, but as the name implies, to track your online activities on certain websites.
     How does this work? Simple! Once your browsing history is built up into a profile, they will know the type of content you like, the type of products you typically go for, and the places you most often visit. With all this information in their armoury, they get to send you ads that are specifically within your preferences. This is an invasion of privacy if you look at it.
Some persons can forge cookies or intercept them and get to impersonate you on your favourite websites without your knowledge.
HOW TO BLOCK COOKIES
You should note that cookies expire after some time, as decided by the website that has issued the cookie. However, you can manually delete or block cookies that are meant to track your online presence.
There are different ways to block cookies for different browsers; they are discussed below:
HOW TO BLOCK COOKIES FOR FIREFOX
Do you use the Firefox browser in your Windows OS, Linux, or macOS? Then this section is for you. Presently, Firefox has adopted a means to block tracking cookies such as social media trackers, cross-site trackers, crypto miners, etc. As great as this sounds, it doesn't apply to all cookies hence the need to learn how to block cookies in Firefox browser manually.
Follow these steps to block cookies in Firefox for Windows, Mac, and Linux:
Launch the Firefox browser and click on the menu icon. This can be found at the top-right corner of the home page.
Choose "Options" from the list that drops down.
Scroll to the left panel on the new window, then click on "Privacy & Security". 
Go to the section labelled "Content Blocking" and from the list, choose "Custom". 
This will automatically take you to the "Cookies" checkbox.
Click to tick the cookies you wish to block before exiting the tab. You can as well choose from the options to block cookies from websites you don't visit, third-party cookies, third-party trackers, or even all cookies.
Although most of the features against tracking are activated by default on Firefox on Android, you still need to switch on the cookie blocker for your Android. Follow these steps:
Launch Firefox browser
Tap on the menu icon as above, then select "Settings"
Navigate to the "Privacy" area. Tap on "Cookies" and choose one of the options that follow to block cookies in your browser: "Block 3rd-party tracker cookies only", "Yes" to block all the cookies, or "Block 3rd-party cookies only."
HOW TO BLOCK COOKIES IN CHROME
Google Chrome is one of the best browsers out there; it provides you with the opportunity to specify the type of files you wish to reject or accept, it allows you to disable cookies, as well as manage your browser information. 
With the step below, you can block cookies in this browser on your Windows, macOS, and Chrome OS:
Open the Chrome browser, then go to the top-right corner of the home window and click the menu icon.
From the menu list, choose "Settings."
Scroll down and click on "Advanced", an option located at the bottom of the page
Choose the option "Content" from the section labelled "Privacy and Security". This setting lets you access the Cookies settings.
Here, click on "Cookies."
Now you can move the switch beside the option "Block third-party cookies" to block cookies. You can as well choose to disable the cookies after browsing a particular website. Also, you can see all the cookies that have been locally installed before deciding which to delete. You may opt for the option to "Remove all" the cookies.
Click either "Done" or close the "Settings" tab.
On your Android device, you can disable or block cookies in Chrome by following the steps below:
Open Chrome app on your Android device
Go to the menu icon and choose the "Settings" option from the list.
Go to "Advanced options" and from there, click "Site settings". 
Under the "Site settings" section, click on "Cookies."
Toggle on the switch beside "Cookies" to put on the option to block all the cookies. You can also decide to block only third-party cookies instead of all cookies. 
Block cookies from selected sites by choosing "ADD SITE EXCEPTION", then type in the name of the website and tap "Add". There you have it, the website is added and cookies from such a website blocked.
HOW TO BLOCK COOKIES IN SAFARI
Safari is the default browser for a majority of Mac Operating Systems. It allows cookies to be stored from the websites you visit but disallows cookies from third-party sites. If you wish to block cookies in your macOS Safari browser, use the steps that follow:
Open the Safari browser on your Mac computer.
On the top-left side of your browser home window, you will see the menu. Tap on it
Choose "Preferences" from the drop-down list that appears.
Click on "Privacy"
Go to the "Cookies and website data" tab and disable the cookies by clicking "Block all cookies."
Safari is also used on iOS devices such as iPhone and iPad. Thus, to block or disable cookies on Apple's Safari browser, follow these steps:
Go to your device's "Settings" and from the list that drops down, select "Safari."
Switch on the toggle to "Block All Cookies". This will block all the cookies from storing up on your Apple device.
HOW TO BLOCK COOKIES IN INTERNET EXPLORER
Most Windows users use Internet Explorer as their go-to browser. If you are a Windows user and you want to know how to block cookies in your Internet Explorer, then you should pay attention to the guidelines below:
Launch the Internet Explorer browser on your Windows OS
Look for the gear icon at the top-right end of the home page and click it.
From the list that drops down, choose "Internet Options."
Select the "Privacy" button. Go below the "Settings" tab and click on "Advanced."
Under "Third-party Cookies" and "First-party Cookies", select "Block" to disable cookies in your browser. You can as well uncheck the box beside "Always allow session cookies" to block all the cookies.
To exit, click on "OK", then save the changes you have made to your browser settings. Your Internet Explorer will not save cookies anymore.
HOW TO BLOCK COOKIES FOR MICROSOFT EDGE
Microsoft Edge was created as a successor to the Internet Explorer, and it is specifically built for Windows 10 Operating System. If you use Microsoft Edge as your Windows browser, the steps below will guide you on how to block cookies in your browser:
Open the Microsoft Edge browser on your Windows computer and scroll to the top-right corner of the home window. You will see three dots representing the menu; click it. A menu will drop down; click on the "Settings" option at the bottom of the menu.
At the left end of the browser's menu, a sidebar will appear. Click on the "Advanced settings" button.
Choose "View advanced settings."
Now move to the sidebar of the above and click the "Privacy & Security" button.
A section for "Cookies" will appear with three options to pick from. The options you should choose from are "Block only third-party cookies" and "Block all cookies" as these are the options to enable you to block cookies in the browser.
You can exit by clicking anywhere from the sidebar of settings.
HOW TO BLOCK COOKIES USING AUTODELETE ADD-ONS
Firefox and Google Chrome browsers allow for several add-ons that let you better manage cookies so that you can secure your privacy online. An example of one of the most useful browser add-ons is Cookie AutoDelete.
How does Cookie AutoDelete work?
Whenever a tab in your browser or the browser itself is closed, this add-on automatically deletes any cookie that may have been saved during a browsing session.
The great thing about this is that it removes cookies and protects your privacy without interfering with any website you visit.
Cookie AutoDelete is an open-source utility, which means you can trail its source for security reasons. It lets you whitelist websites, i.e., you can keep sites you prefer or often visit so you don't have to always navigate to them when you need to use them. You can access them in your favourites list.
This add-on protects you from Etags; it also clears local storage, as well as DOM.
You can use the Cookie AutoDelete add-on to delete cookies in an open tab just like other browser extensions.
How to use a VPN to reduce online threats from cookies
Here is some sad news: even while disabling cookies from your browser, some ad networks still find a way to track your online activities. These networks get cunning when it comes to tracking visitors on different websites, and that includes you. For example, such cookies as "Zombie cookies" have a way of recreating themselves even after you have deleted them, thus making it difficult for you to control. It gets worse: hackers can sneak malware into some cookies directly into your system, thereby enabling them to steal important information from you. So even if you disable the cookies, the damage may have already been done.
Now, here is some good news after all: you can go further to secure your privacy with the use of VPN (Virtual Private Network).
How does a VPN work?
VPN is used to hide your real IP address: simple as that!
Whatever you do online is traced to your IP address, be it website search, visit, or online antics. It only implies that if you can hide this address, your activities online cannot be traced. This is why a VPN is important.
VPN renders your IP address anonymous and by keeping all you do under wraps, search engines, websites, marketers, or even hackers can no longer track or trail anything you do online.
All VPNs can indeed help maintain your privacy. Still, not all VPNs are of the same level or class; some VPNs are of higher quality than others. Hence, you must seek the VPNs that are of the best quality for the best result. They may cost more, but aren't they worth it in the end?
If you used to panic thinking about how exposed you were due to the presence of accumulated cookies in your browser, now you have no reason to panic. This article has been able to show you how to block cookies in all your favourite browsers. What's more? You can go further in using browser extensions and VPNs to secure your online privacy.
About the author