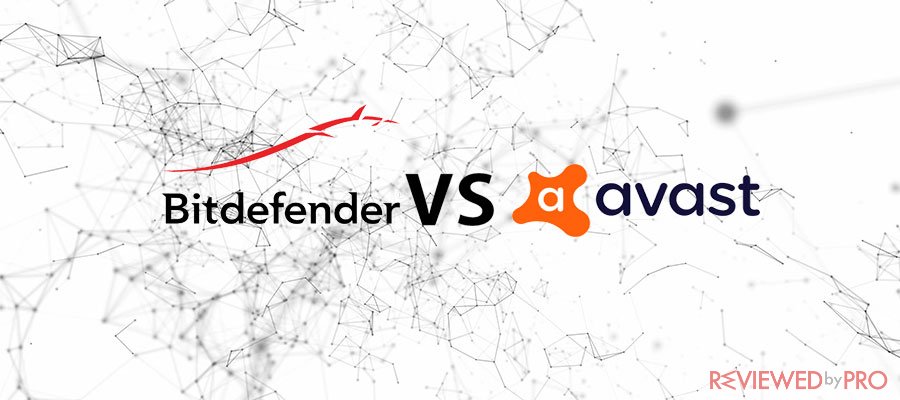 Which is better, Bitdefender or Avast!?
Windows users should be aware of all the cyber threats targeting their devices and attempting to steal their data, money or sensitive information. In this case, a reliable antivirus application is a must! Because not everyone wants to pay for an antivirus solution, users should check free options.
This article will provide information and evaluation about ones of the best antivirus solutions in the market Bitdefender and Avast and their free options! So check it out.
Bitdefender or Avast?
Both, Bitdefender and Avast are reputable Internet security and Antivirus providers that demonstrate decent detection rates and great performance.
We tested the main features of both, including offerings, detection rates, security and privacy features, performance, design, and popularity.
If you do not have time to read the entire article, check it our the table below that provides with main features we tested and a winner.
| | |
| --- | --- |
| Feature | Winner |
| Pricing | Bitdefender offers lower prices for its paid plans and also can protect more devices for the same price. |
| Antivirus protection | Both security providers offer superior antivirus protection. |
| Security features | Avast has a wider selection of security features. |
| System-performance impact | Bitdefender has a slightly lower impact on a system. |
| User Interface | Even though Bitdefender's client software is simple, Avast's interface is more intuitive and pleasant to use. |
| Popularity | Avast has the largest market share in the industry. |
Bitdefender overview
Bitdefender Antivirus[1] is a product by Romanian cybersecurity company Bitdefender. The company was established in 2001 and successfully operates the cybersecurity market. Today the company protects over 500 million customers in over 150 countries across the globe. It provides security software and hardware for individual devices, smart homes and IoT devices, businesses, and large enterprises.
The company uses machine learning and other advanced technology in order to provide superior protection against various cyber threats.
| | |
| --- | --- |
| Feature | Score |
| Antivirus protection | Excellent |
| Additional features | A decent set of features |
| System-performance impact | Minimal |
| Scans | Quick full scan without noticeable impact. Scan is done quickly in the background of the system |
| User interface | Modern looking |
The company is well known for its security solutions across other platforms, including Bitdefender Antivirus for Mac, Bitdefender Mobile Security for Android and iOS smartphones and tablets.
Avast Overview
Avast Antivirus[2] is created by Avast, one of the largest companies that operate in the cybersecurity industry. The company applies next-gen technologies in order to provide its users with reliable and advanced software that prevent and protect them against any cyber threats. Avast security software protects over 435 million its customers in 186 countries around the world and prevents 3.5 billion attacks every month.
Avast offers Windows users free version and three paid versions of security software including Avast Internet Security, Avast Premium, and Avast Ultimate.
| | |
| --- | --- |
| Feature | Score |
| Anti-malware protection | Advanced |
| Security and privacy features | Limited feature set |
| System-performance impact | Heavy |
| Scanning performance | Fast and accurate scans with a negative impact on a system |
| User interface | Intuitive and simple to use |
Avast develops a variety of products for business users and consumers, including free and paid antivirus and Internet security solutions (Avast Antivirus for Windows, Avast Security for Mac, Avast Mobile Security and Antivirus for Android), performance tools (Avast CleanUp) and privacy (Avast SecureLine VPN) applications across all the major operating systems and IoT devices.
Offerings
Bitdefender provides a range of Windows security products including Bitdefender Antivirus Plus, Bitdefender Internet Security, Bitdefender Total Security, Bitdefender Family Pack, and Bitdefender Box.[3]
Bitdefender Box 2 is the single security solution for all your Internet-connected devices. The security solution comes at $249.99 for a yearly subscription and covers an unlimited number of connected devices.
Bitdefender Family Pack – protection for all the Windows, Mac OS, iOS and Android devices in your home. Starts at $99.99 for a year, and can cover up to 15 devices.
Bitdefender Total Security – the complete next-generation solution to cover cybersecurity for your Windows, macOS, Android, and iOS devices. The yearly subscription starts at $69.99 and covers up to 5 devices.
Bitdefender Internet Security – Internet security for Windows devices. The yearly subscription starts at $59.99 and can cover up to 3 Windows computers.
Bitdefender Antivirus Plus – antivirus protection for Windows PCs against all types of online threats. The yearly subscription also includes privacy tools such as Bitdefender VPN and Bitdefender Safepay and starts at $39.99.
 BitDefender products:
So if the free edition would seem not enough for you, you can choose from various paid antivirus solutions and security suites for complete protection.
Users also get 30-day free trial.
Similarly to Bitdefender, Avast also follows the freemium model. The latest antivirus offerings for Windows including Avast Ultimate, Avast Premier, Avast Internet Security, and Avast Free Antivirus.
Avast Ultimate is a single easy to use premium package. It includes all four top-range security, privacy, and performance apps.

Avast Premier is a most advanced antivirus from Avast that include all premium features.

Avast Internet Security is a basic antivirus and security application offering many security layers to keep devices safe and running smoothly.

Avast Free Antivirus is a free featured limited antivirus application.
All Avast products come with 30-day money back guarantee.[4]
As you can see, Bitdefender offers more flexible plans and lower prices.
Features
When it comes to additional security and privacy features, both providers offer decent feature sets.
Bitdefender Internet Security includes security offers a very long feature set that includes such Data Protection, Advanced Threat Defense, Multi-Layer Ransomware Protection, Anti-Phishing, Anti-fraud and Rescue Mode, Autopilot, Bitdefender Photon, Global Protective Network, Game, Movie and Work Modes, and Battery Mode.
We were impressed that Bitdefender also offers its own VPN Service, Password Manager, and other Privacy features such as Safe Online Banking, File Shredder, Social Network Protection, File Shredder, and others in its cheapest tier.
Bitdefender Total Security and Bitdefender Family Pack also add anti-theft and performance features and are capable of protecting multiple devices across the major platforms.
When it comes to Avast, the company offers not just security software, it also develops a variety of free feature-limited and premium tools, including VPN, Password Manager, AntiTrack, Secure Browser, CleanUp, Driver Updater and more.
The main Internet Security and Antivirus products include the following.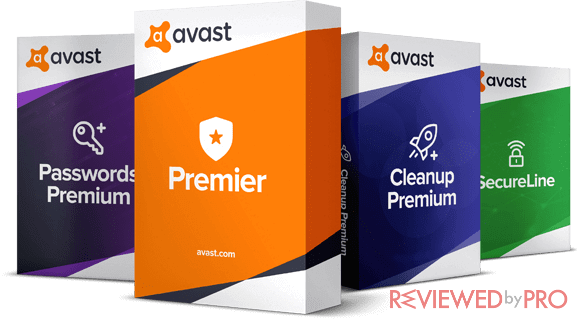 Avast Free Antivirus offers a decent set of security and privacy features, including a secure web browser, a password manager, home network scanner, or a hardened browser. Many of these features usually come only in paid antivirus programs, while Avast offers them for free.
Avast Internet Security also includes premium features such as protection while banking and shopping online, Sandbox suspicious apps, a strong firewall against hackers, protection against spam and phishing emails and an extra layer of ransomware security.
If you need more, Avast Premier protects against webcam spying, allows users to permanently delete sensitive files and information, and automatically updates applications on the PC.
Avast Ultimate offers all above and also includes

Avast SecureLine VPN

,

Avast CleanUp Premium

and Avast Passwords Premium
As it was mentioned before, Avast provides users with free and premium versions of the antivirus. Avast provide users with a more generous feature set than Bitdefender, as it includes extra layers of security, performance tools, and privacy features.

Avast products
Antivirus protection
Bitdefender applies the same antivirus defenses for it's all Windows products, that makes Bitdefender is a good choice if you are looking for superior protection against viruses and other malware. The defenses start with a traditional scanning engine that looks for matching malware signatures in order to detect already known widespread malware, the heuristic monitoring checks for suspicious behaviors to reveal previously unseen zero-day malware. Anything suspicious is also sent to the company's cloud-based servers for further analysis.
When it comes to the actual protection rates, Bitdefender does a superior job and detected all the malware samples installed on the test computer.
In addition, the independent German-based AV-TEST[5] and its' latest malware detection results, Bitdefender has detected all of 100% of both, zero-day and widespread malware samples.
The application also scans email attachments and blocks known malicious websites.
Avast uses the same malware detection technology as Bitdefender. The antivirus defenses start from a traditional malware signature-matching engine and heuristic monitoring. Anything suspicious is sent to Avast cloud-based servers for further analysis.
We tested Avast Antivirus on our Windows 10 test computer and the full scan detected all of the malware samples we have installed.
According to the latest test conducted by AV-TEST, Avast caught 100% both, known and unknown malware.
As you can see both providers offer superior malware detection rates.
System-performance impact and scans
Antivirus performance rates and impact on a system are important features which users should consider when choosing antivirus system.
According to our results, Bitdefender has a light impact on a system and does not drown it. The developers did a good job in terms of resource consumption. The passive impact is only about 4%, while during active scans the system was impacted by 15% which is very low.
Bitdefender Antivirus Free Edition does not provide a quick scan feature, the first full-system scan took over 50 minutes but later on, the application scanned the full system in a couple of minutes. During scans, there are small system slowdowns that users might not even notice.
According to the latest AV-TEST, the antivirus system got 6.0 out of 6.0 as it demonstrated great performance rates.
Impact on a system when launching popular websites – 15% (19%).

Impact on a system while downloading frequently-used applications – 1% (1%).

Impact on a system while launching standard software programs – 6% (8%)

Impact on a system while installing frequently-used programs – 25% (25%)

Impact on a system while copying files 2% (3%)
As we tested the Avast Antivirus, the application is developed not to drain the system or consume an abnormal amount of the system's resources. In addition, the antivirus does not have a noticeable impact during scans. The full scan took similar was finished in just up to 50 minutes.
Impact on a system when launching popular websites – 25% (19%).

Impact on a system while downloading frequently-used applications – 0% (1%).

Impact on a system while launching standard software programs – 13% (8%)

Impact on a system while installing frequently-used programs – 18% (25%)

Impact on a system while copying files 2% (3%)
As you can see, Avast demonstrates good but not perfect performance results and has rates, similar to the industry average. In this case, we can say that Bitdefender has slightly better performance scores.
Customer support
Bitdefender offers technical support via email, phone call, live chat or forum options. The 24/7 technical support is free for customers in the US, the UK, Australia, Canada, and New Zealand.
Users also are provided with a very informative support page. You can look for information based on your Bitdefender product, operating system or device. It also has a huge knowledge base, FAQ section and other product related information, such as user manuals and guides.
Avast also includes premium customer support in its premium plans, however, you will not be able to reach free support.
Avast also offers a very informative support webpage that may seem a bit similar than Bitdefender. Users can find their tips, manuals, FAQ section, useful links, and more product-related information.
User interface
Bitdefender has a functional and uncluttered user interface. When it comes to the free version, it could be a bit difficult to navigate, since the antivirus does not provide many features in its free version. But when it comes to its paid versions, the interface is easy to understand and simple.
The window cannot be resized but can be moved around. The design is dark, with grey type. Users can find all the main features and options in the main window.
When it comes to Avast, the antivirus has a simple interface. The antivirus itself is easy to use and does not require much IT knowledge in order to use it.
The interface window cannot be resized or viewed full screen but can be moved around, just like Bitdefender. All the major categories and features appear in the main window and it has a left-side menu bar that includes status, protection, privacy, and performance options.
Even though both systems are user-friendly, we would say that Avast is a bit more convenient and intuitive.
Popularity
According to OPSWAT's streamlined Windows Anti-malware Market Share Report[6], which includes the most recent data collected for 6 months from June to December, Avast Software has the largest market share among the most popular anti-malware products with 18.44% of the total antivirus market share. Bitdefender has only 10.6% and is in fourth place.
As you can see in the graph above, other popular products include McAfee Inc., Malwarebytes, ESET, Webroot, Kaspersky Lab, Safer Networking Ltd with SpyBot Search & Destroy, Avira, and Symantec with Norton.
So we have to admit that Avast Software has the largest market share in the security industry. It is worth mentioning that its market share also includes AVG users.
The Final Verdict
Avast has everything users would expect from a security solution. It combines very good malware protection, light system impact, a very decent set of features including a secure web browser, a password manager, Wi-Fi inspector, hardened browser and more, and even better, you can get all of this for free. Paid products are also trustworthy and reliable, adding additional tools and features. You can get various features for a very reasonable price. However, could seem a bit expensive per device.
When it comes to Bitdefender, Bitdefender offers superior malware protection with almost none negative system impact. If you are willing to pay for the security solution, then we would say that Bitdefender is a better choice.
If you are looking for a free antivirus, Bitdefender Free lacks many additional features, compared to Avast Free Antivirus.
Final thoughts
As you can see both, Avira and Avast are decent antivirus providers offering protection and performance that users can rely on. However, in this battle, Avira is a winner. It demonstrates superior detection and performance rates, as well as has a pleasant and intuitive user interface.
| | | | |
| --- | --- | --- | --- |
| Manufacturer | Detection rate | Performance | Usability |
| | 10 | 10 | 10 |
| | 10 | 9 | 10 |
Our security team at Reviewed by Pro constantly tests new products in order to provide you with up-to-date information and reviews of the latest Internet security and antivirus applications, privacy solutions, recovery tools, and other utilities, not just for your Windows PC, but also for your Mac and Android devices.
People also ask:
Is Bitdefender free good?
Is AVG and Avast the same thing?
Is Bitdefender better than Malwarebytes?
About the author
References