ESET NOD32 Antivirus user manual
ESET NOD32 Antivirus manual
This short step-by-step guide will show you how to install and use ESET NOD32 on Windows 10.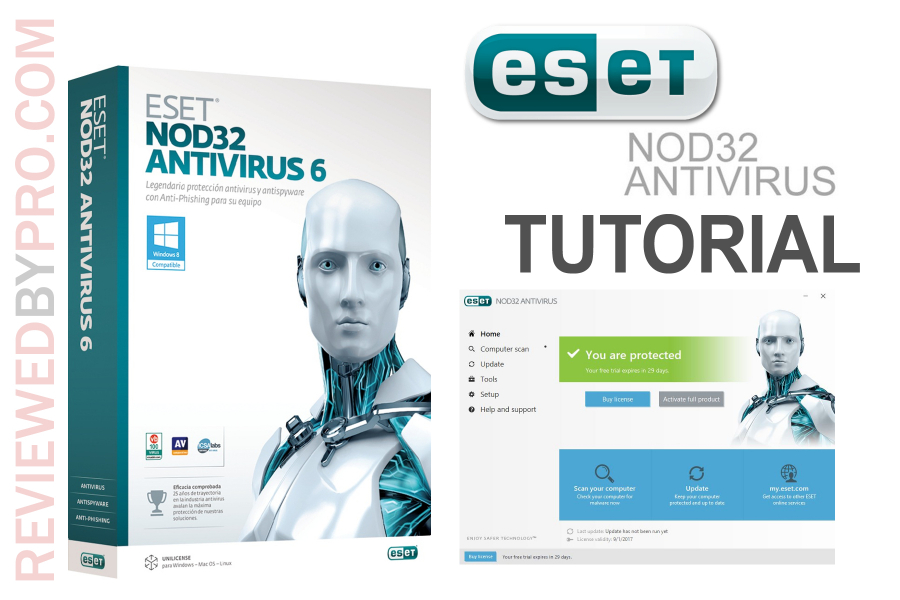 Just follow these simple steps and you will be able to use one of the best antivirus software on your device in about ten minutes.
Downloading ESET NOD32 Antivirus
Those who want to download this anti-malware application can do it on this page. The installation file is lightweight – it only takes up 3 megabytes, so you will download it very quickly. Of course, that might also depend on your Internet speed.
Installing ESET NOD32 Antivirus
Once the download is complete, you will be able to open the installation file. Click on the file and another window will appear that says 'security warning' – 'do you want to run this file?' Press 'yes' and the installation wizard should start immediately.
1. First of all, you have to select the language. Then, press "Continue".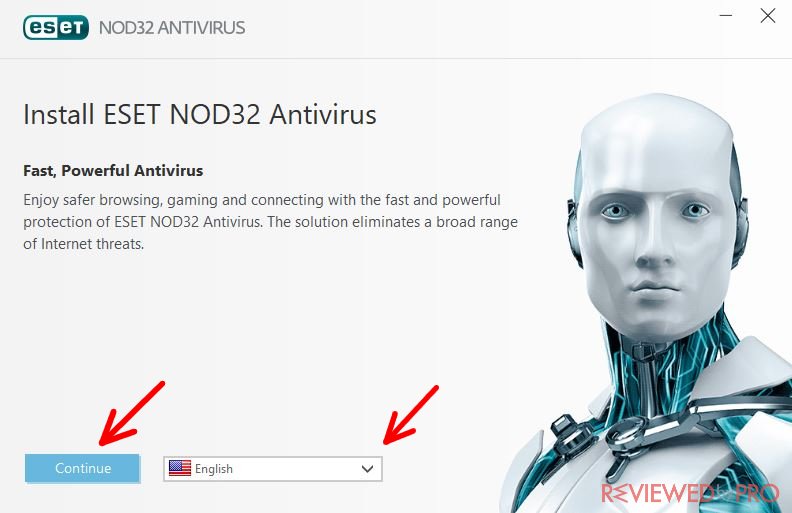 2. Now you can see the End-User License Agreement so that you would know what you are signing. You can read it carefully and then click "I Accept".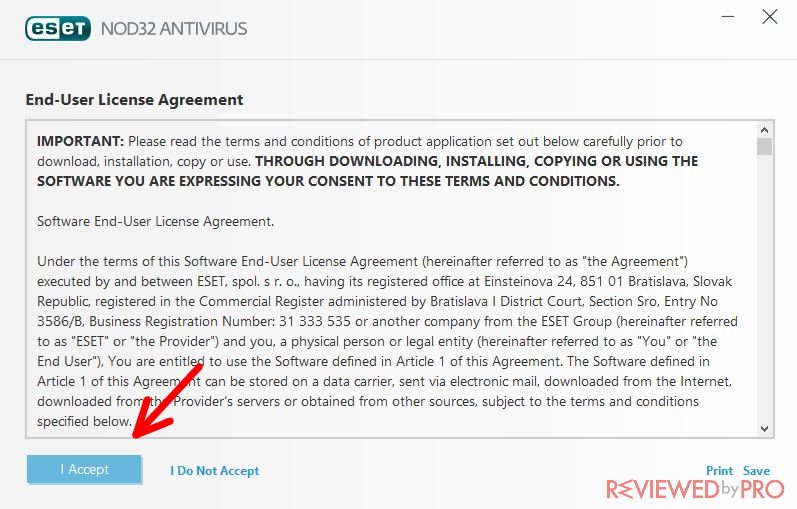 3. The program will be installed pretty quickly. You will see a window that says that the installation was successful. Click "Done".
4. If you are using the free trial version, click "Free trial license" on this window.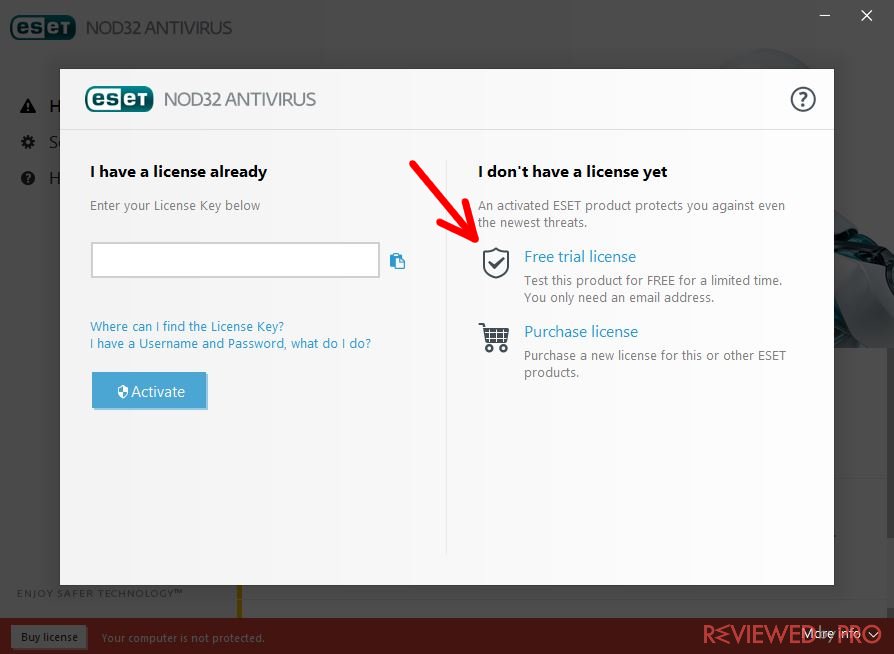 5. Here you have to fill in your information so that the free version of the application could be activated. Simply write your email address in the lines "Email address" and "Confirm email address", choose your country, and then press "Activate". You can also mark the checkbox in order to subscribe to the ESET newsletter so that you could get special offers and news.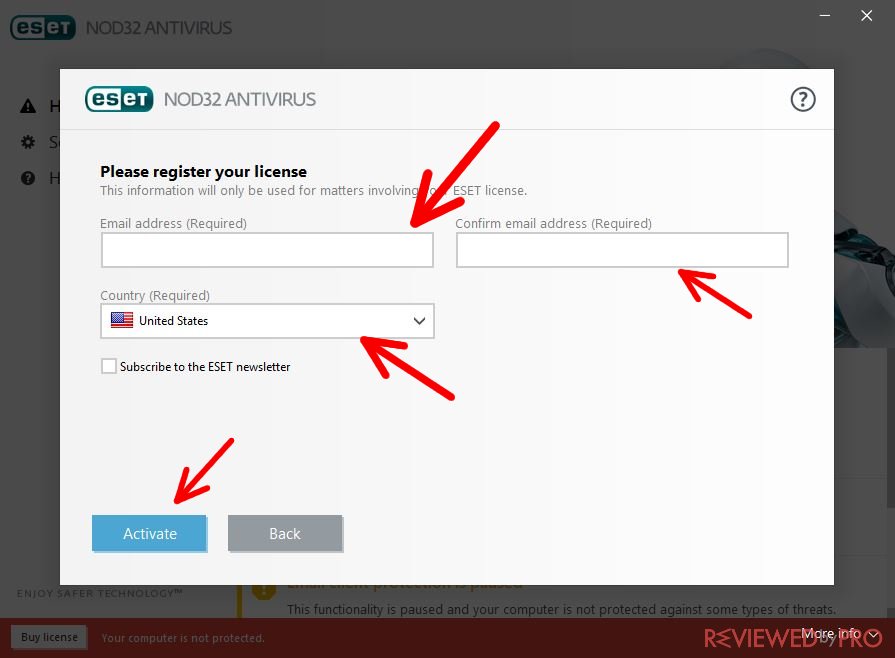 Now you can use the program for the first time.
Using ESET NOD32 Antivirus
Now just press on the ESET NOD32 logo on your desktop. Wait a few seconds and you will see the home screen that offers you a lot of different features.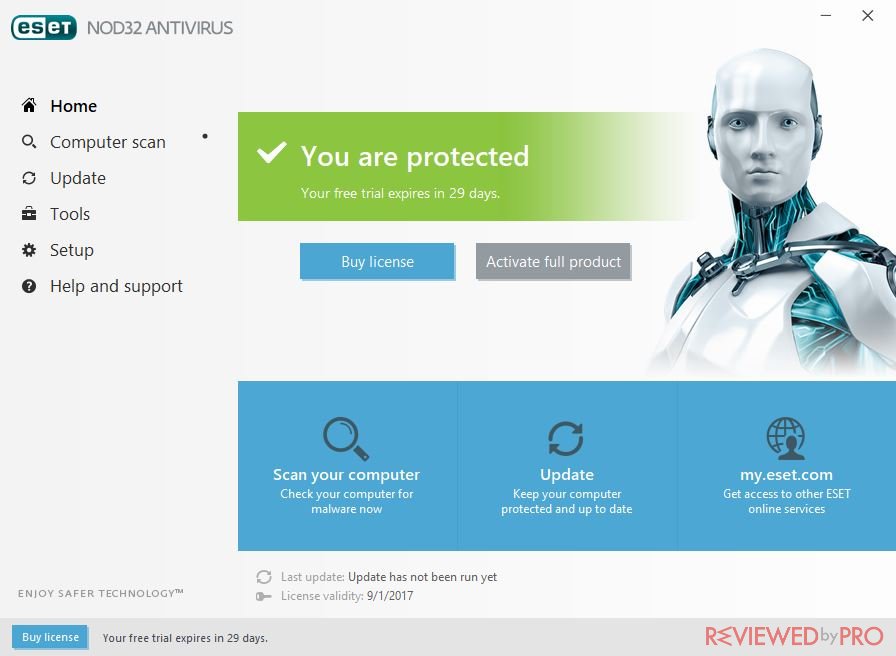 As you can see, the user interface is bright and you have a navigation menu on the left, which you can use to find the needed features.
Main features
Computer scan – this feature has a few different options. Firstly, you can press 'scan your computer' and then the software will carry out a full scan of all the files and programs on your device.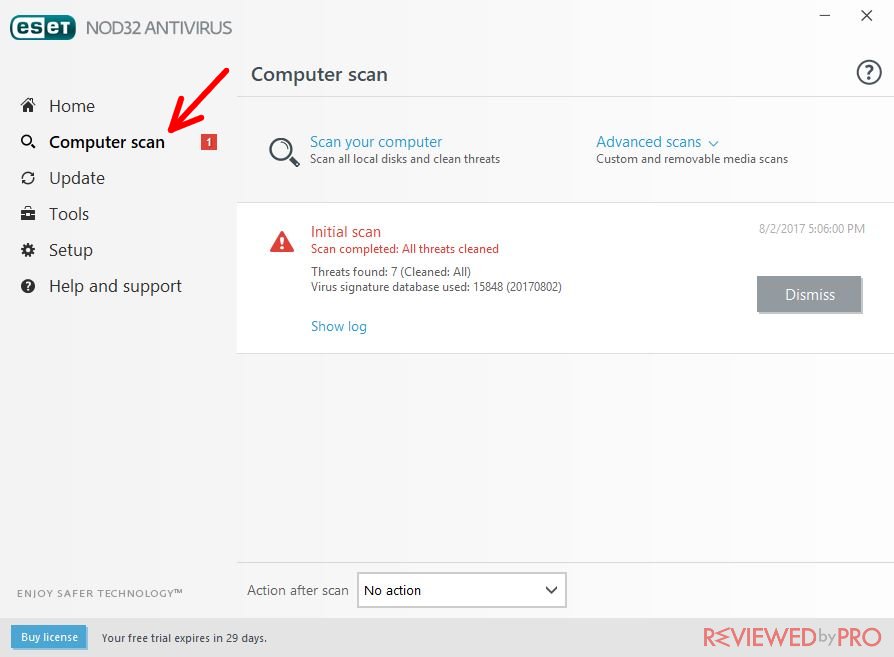 'Custom scan' is something different – here you can choose which locations of your computer you would like to scan. It is really useful if you have a suspicion about a file you have recently downloaded or a program you have just installed.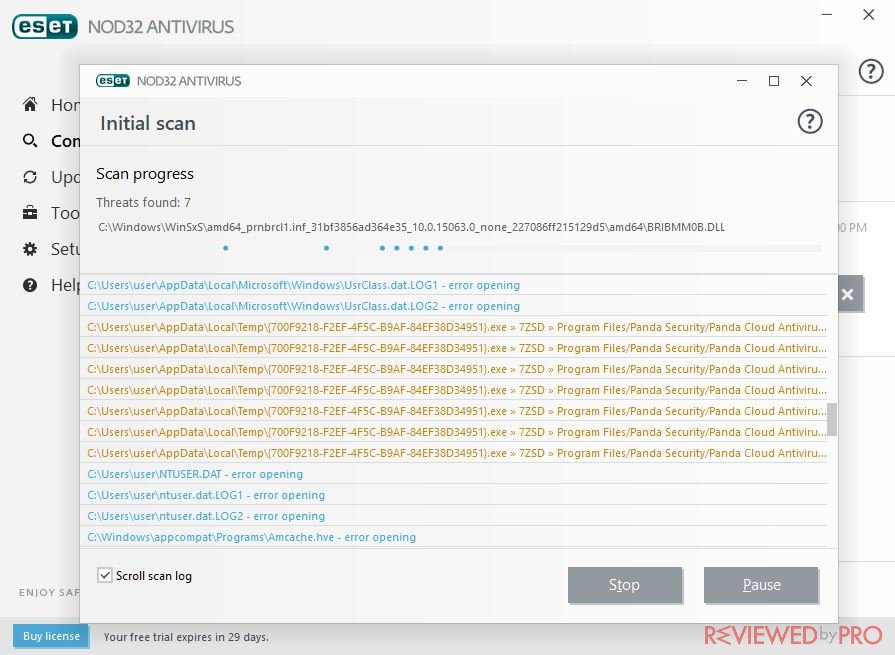 'Removable media scan' is something you will definitely need to use when you want to check your CDs, flash drives and external hard drives for viruses. ESET NOD32 2017 has one of the best removable media scanning technologies in the competition.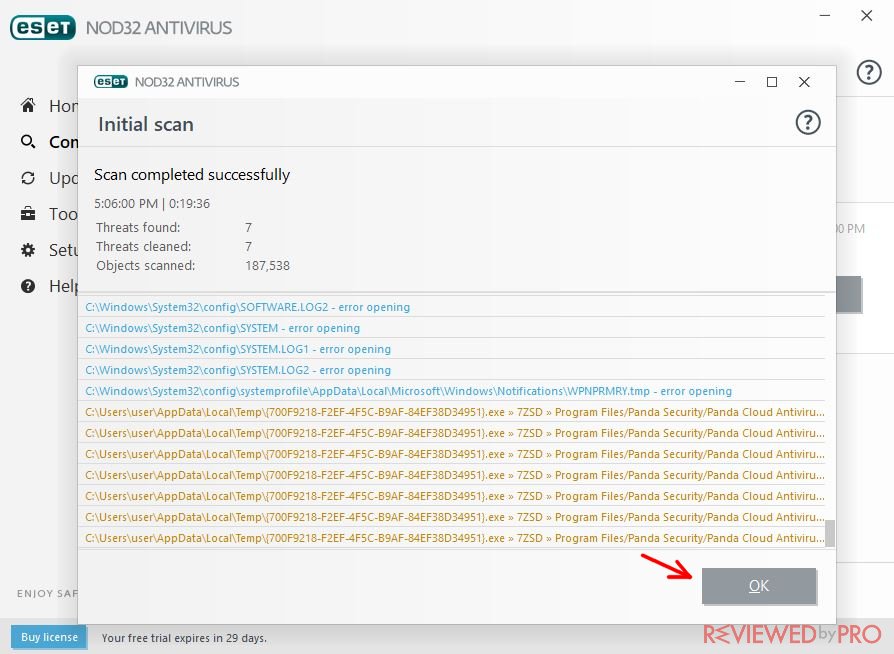 Update – this tool is useful to you if you want to keep up to date to the newest software standard. You will be able to update the software virus database so that the application could run in the most efficient way possible. However, if you see a green circle around this feature, it means you do not have to do anything – the virus database is already updated to the newest version.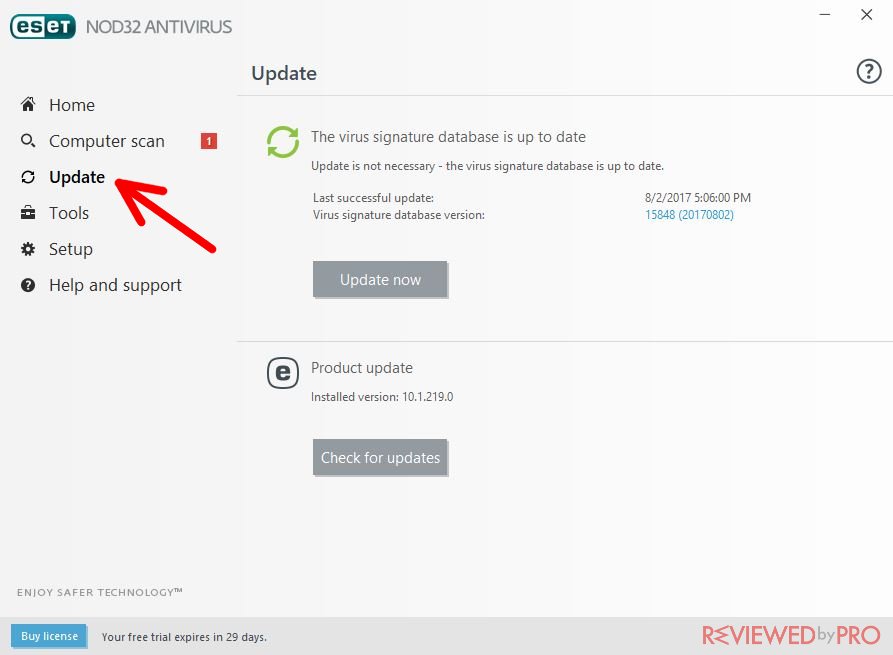 Also, here you can download the newest version of the ESET NOD32 antivirus application. Just press 'check for updates' at the bottom of the window and you will see if there's a new version of ESET NOD32 available for you to download.
Tools – in the tools section you will have a lot of additional features that might be useful. For example, you have 'running processes' and 'watch activity'.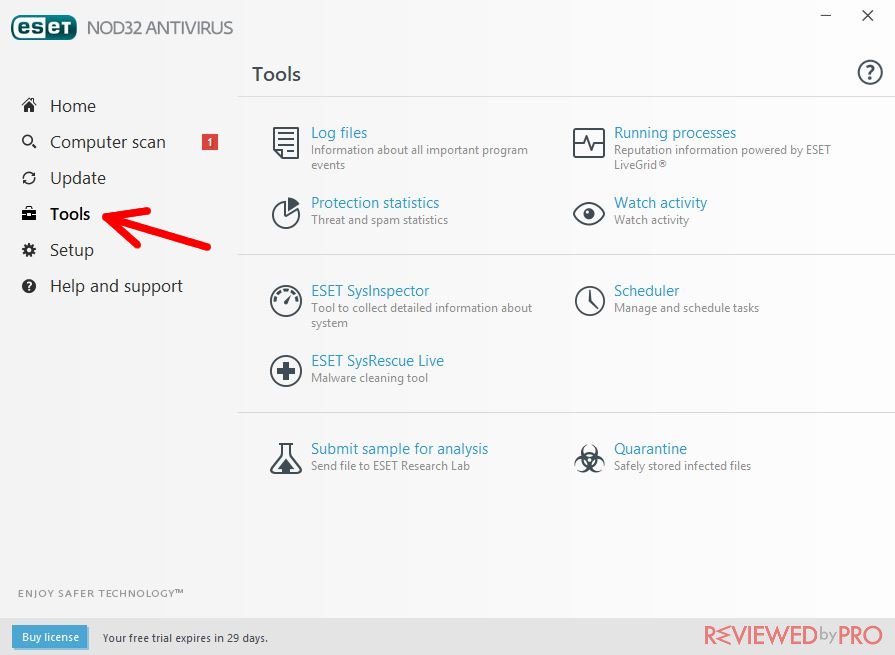 In the 'running processes' feature, you will be able to see all the running programs on your computer. You can terminate a program that you don't want to run and also set the priority.
'Watch activity' will help you see the new activity on your files system.
'ESET Rescue Live' is a powerful tool for those who need to fix an infected computer.
'Quarantine' is a tool to find all your previously quarantined files – you can choose what to do with them.
Setup – in the setup column, you will see two different options: 'computer protection' and 'internet protection'. If both of them are green, that means you don't have to do anything, as your computer and operating system are fully protected.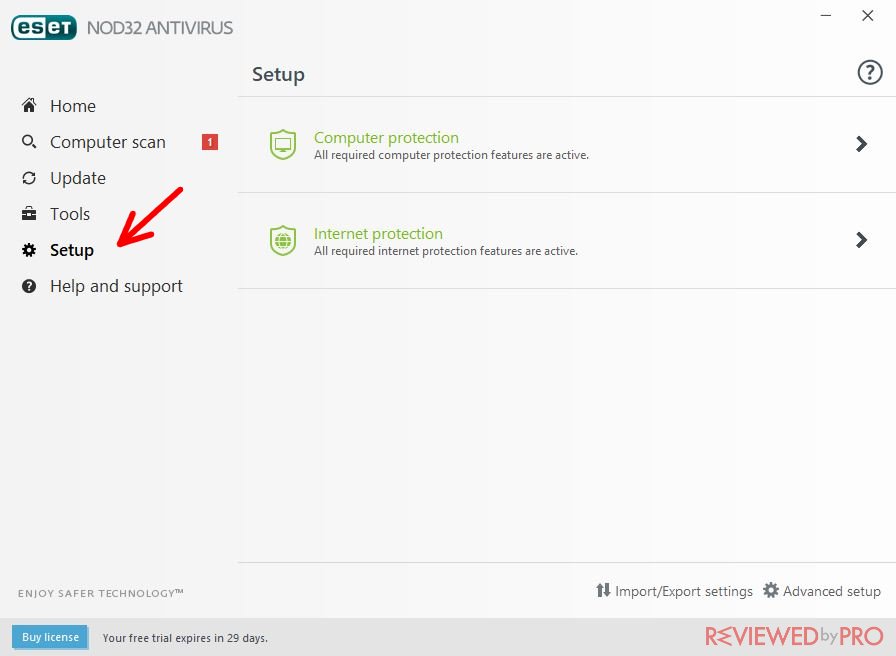 Help and Support – in the help and support section, you will find the ESET Knowledgebase. Here you can search for an answer to your question or get real help by submitting a support request. Also, ESET NOD has a few additional support tools that include the 'Threat encyclopedia', 'Virus signature database history', 'Log collector' and the 'Specialized cleaner'. Those support tools are mainly used by advanced users.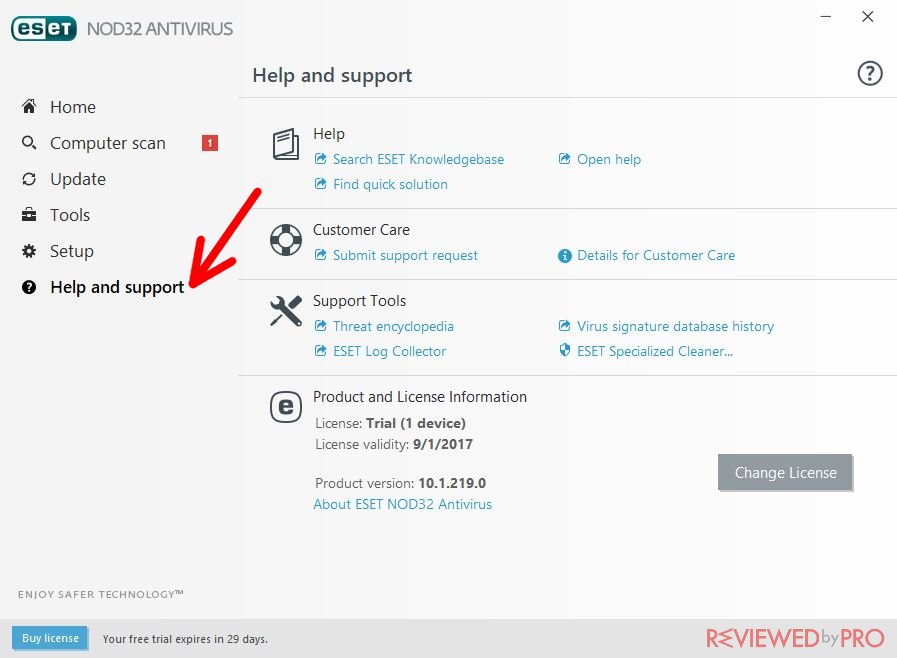 Thanks for reading this manual! We hope you enjoy using ESET NOD32 Antivirus!