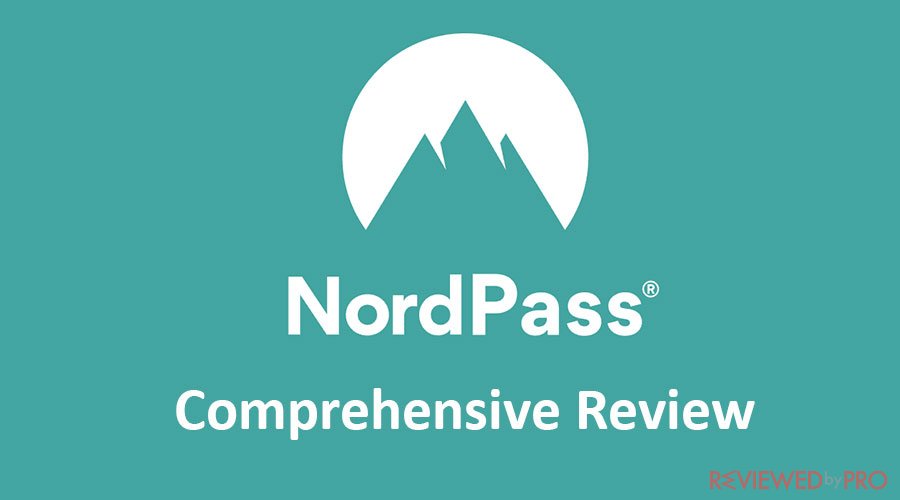 Comprehensive NordPass Review: Simplify and Secure Your Passwords
In today's digital age, managing passwords securely is crucial for maintaining online privacy and safeguarding sensitive information. NordPass, a password manager developed by the renowned cybersecurity company NordVPN, aims to simplify password management while ensuring robust security. In this comprehensive review, we will explore the features, security, usability, and overall performance of NordPass.
Get your NordPASS with -30% discount
Features: NordPass offers a range of features designed to streamline password management: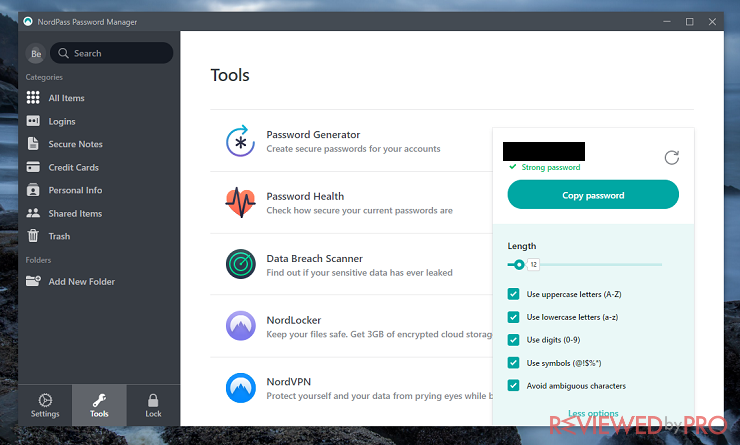 a. Secure Password Storage: NordPass securely stores your passwords in an encrypted vault, protecting them from unauthorized access.
b. Password Generator: The built-in password generator creates strong, unique passwords for your accounts, reducing the risk of password-related vulnerabilities.
c. Autofill: NordPass can automatically fill in your login credentials, making it convenient to access your accounts without the hassle of typing passwords.
d. Secure Notes: Alongside passwords, NordPass allows you to store and encrypt important notes and secure files, providing an all-in-one solution for sensitive information.
e. Data Import: NordPass supports importing passwords from various browsers and other password managers, ensuring a smooth transition.
Security: NordPass prioritizes robust security measures to protect your passwords and sensitive data: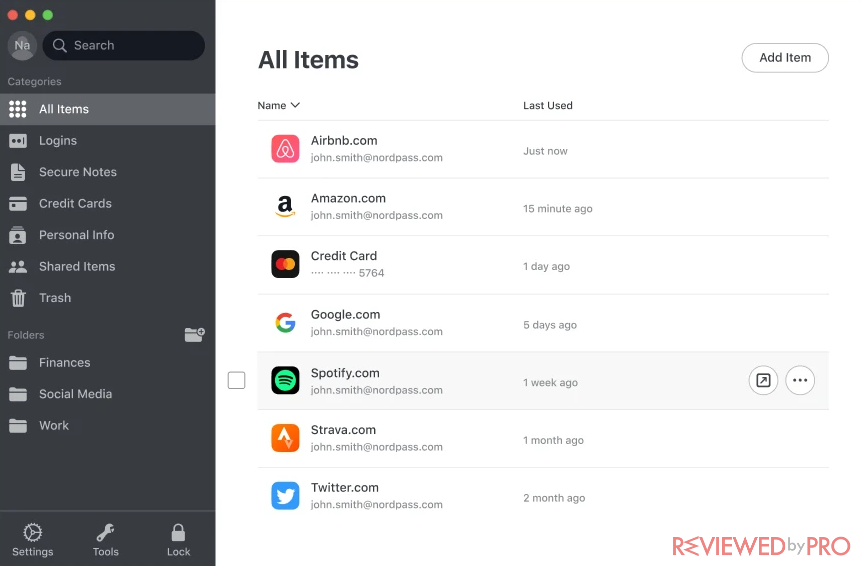 a. Zero-Knowledge Architecture: NordPass employs a zero-knowledge architecture, which means that your master password and encrypted data are only known to you. NordPass cannot access or retrieve your passwords, enhancing privacy and security.
b. Advanced Encryption: All data stored in NordPass is encrypted using the XChaCha20 encryption algorithm with Argon2 for key derivation, ensuring your passwords are well-protected.
c. Two-Factor Authentication (2FA): NordPass supports 2FA, adding an extra layer of security by requiring a second verification step to access your account.
d. Secure Sharing: NordPass allows you to securely share passwords and notes with trusted individuals, ensuring secure collaboration without compromising security.
Usability: NordPass is designed with user-friendly features and a simple interface, making it accessible for both novice and advanced users: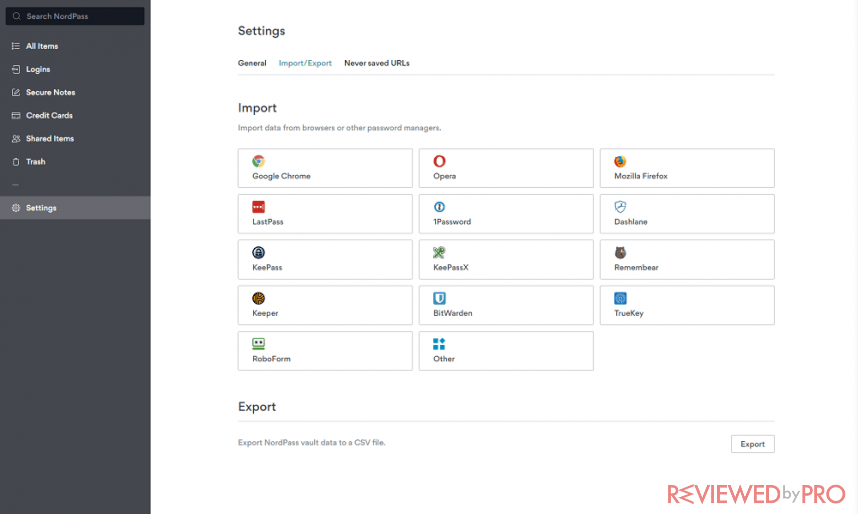 a. Cross-Platform Support: NordPass is available on major platforms, including Windows, macOS, Linux, iOS, and Android, providing seamless password management across all your devices.
b. Browser Extensions: NordPass offers browser extensions for popular web browsers, enabling easy access to your passwords and autofill functionality.
c. Intuitive Interface: The NordPass interface is clean, intuitive, and easy to navigate, allowing users to organize and manage their passwords effortlessly.
d. Sync Across Devices: With NordPass, your passwords stay synchronized across all your devices, ensuring access to your accounts wherever you go.
Performance: NordPass demonstrates excellent performance in terms of speed and reliability:
a. Fast Password Retrieval: NordPass provides quick access to your passwords, allowing you to log in to your accounts efficiently.
b. Responsive Autofill: The autofill feature works seamlessly, recognizing websites and filling in credentials accurately, saving you time and effort.
c. Stable Syncing: NordPass's syncing mechanism ensures that your passwords and data are consistently updated across devices, minimizing any syncing issues.
NordPass Pricing policy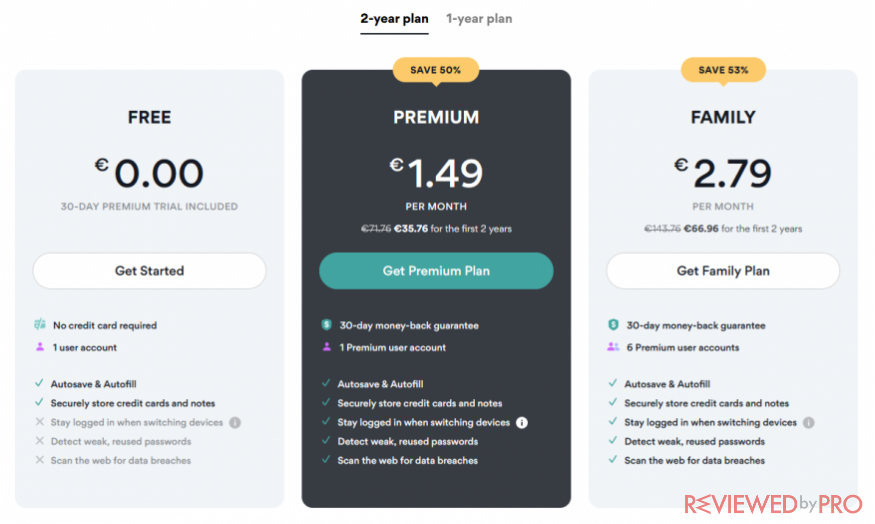 NordPass offers flexible pricing options to cater to various user needs. Here is an overview of NordPass's pricing structure:
Free Plan: NordPass offers a free plan that allows users to store and manage a limited number of passwords. The free plan includes features such as password storage, password generator, and autofill.

Premium Plan: NordPass offers a Premium plan that provides access to additional features and benefits. The Premium plan is available as a monthly, annual, or biennial subscription:

a. Monthly Subscription: The monthly subscription is priced at a competitive rate, providing users with full access to NordPass features for a month.

b. Annual Subscription: The annual subscription offers a cost-effective option for long-term password management. It provides users with a significant discount compared to the monthly subscription.

c. Biennial Subscription: NordPass also offers a biennial subscription, which extends the cost savings of the annual subscription over two years, providing users with long-term affordability and security.

Family Plan: For users who want to manage passwords for multiple family members, NordPass offers a Family plan. The Family plan allows password sharing and provides access to up to 6 users. It offers the same features as the Premium plan for each family member.
It's important to note that NordPass occasionally runs promotions and discounts, so it's worth checking their website for any current offers.
Before making a purchase, it's advisable to visit the NordPass website and review the most up-to-date pricing information to ensure accuracy and to explore any additional benefits or promotions that may be available.
Conclusion
Get your NordPASS with -30% discount
NordPass is a robust password manager that combines convenience and security to simplify password management while keeping your data safe. With its comprehensive features, top-notch security measures, and user-friendly interface, NordPass provides a reliable solution for individuals seeking efficient password management across multiple platforms. Whether you're a tech-savvy user or a beginner, NordPass is a worthy option to enhance your online security and protect your valuable information.
About the author