SpyRemover Pro and WiperSoft are fast and simple security tools that provide users with a friendly interface, effective malware detection, and removal. Both programs were developed in 2015 so they are one of the youngest in the market. Even though they do not have much experience in the security software market, they already offer reliable and stable protection for thousands of users across the globe.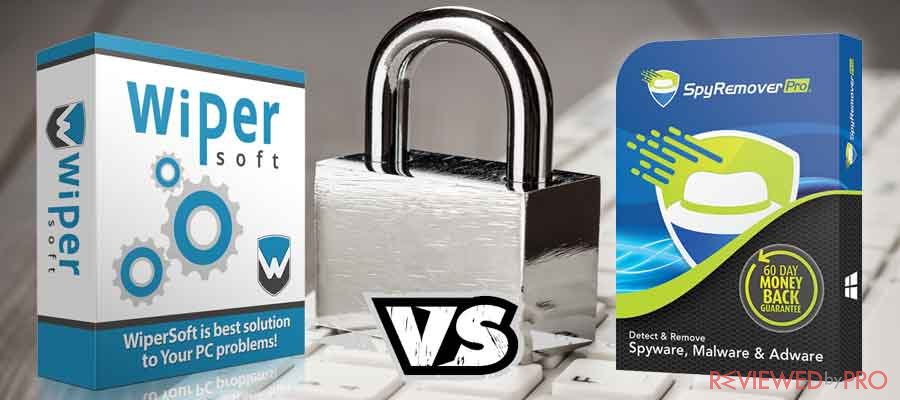 WiperSoft
When it comes to WiperSoft, the security solution offers quick and easy protection. WiperSoft[1] was also developed in 2015. The software company provides its customers with free and paid versions of the program. The free version of the application includes free scan, privacy protection, and spyware detection, while the paid users get premium features such as spyware, adware and other infections removal, free help desk services, free Custom Fix feature and customer support. WiperSoft is known for its quick scans that can be completed in less than ten minutes, which is actually impressive, compared to other antivirus and security systems that fully scans the computer in an average of half an hour.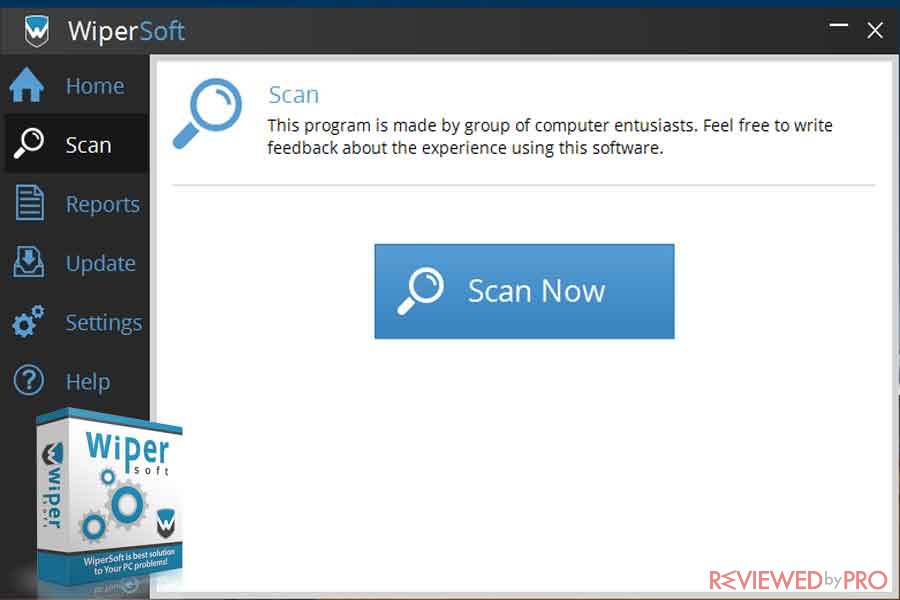 Downloading and installation of WiperSoft is simple and easy. WiperSoft supports PCs with Windows XP and later. Once the software is installed, the automatic full scan starts to perform.
In order to test the software, researchers at Reviewed by Pro[2] used the software for 30 days. The computer they used was Windows 10 with Intel i7 processor, 8 GB of RAM and HDD. The researchers noted the pros and cons of WiperSoft.
Pros
WiperSoft offers really quick scans that detect only the smallest threats. The full scan took only six to eight minutes and did not drown the system or had any other negative impact on PC.
As it was mention before, the program works in the background and does not affect the computer's performance.
WiperSoft discovered even the smallest threats and infected files.
WiperSoft provides a simple and effective user interface, which is very easy to navigate and use.
Cons
Even though the application detected even the smallest threats in the system, it could not manage to detect and fight bigger infected files on the test computer.
WiperSoft does not offer more scan modes, only a full scan. It also won't provide any other security or protection features.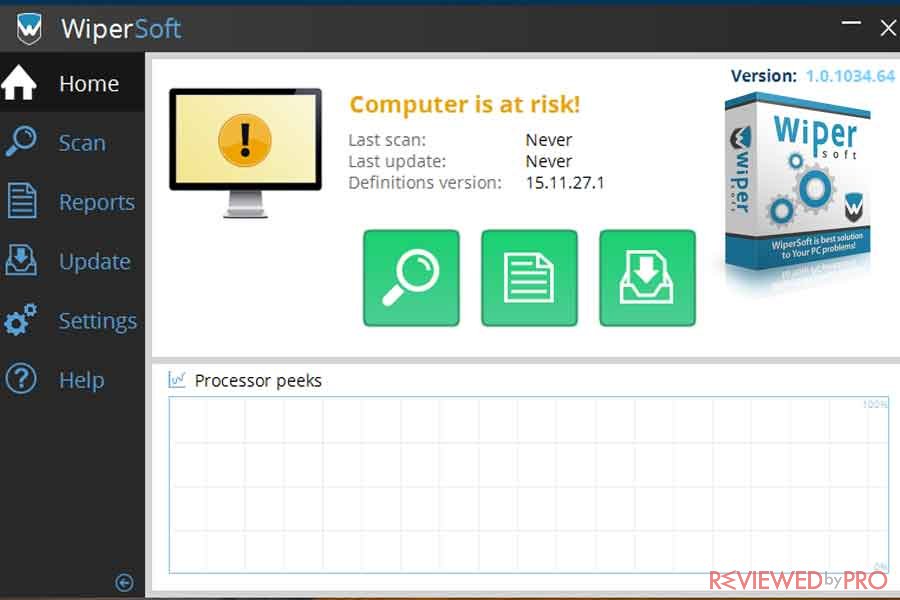 The Final Verdict
After the 30-day test of the security solutions, researchers revealed the final verdict. Even though the program is fast and simple, it will not guarantee complete protection.
Although WiperSoft is very simple and fast antispyware software, it left us with many disappointments because it is not effective against bigger threats and is quite expensive.

WiperSoft antispyware would not be capable of protecting bigger businesses or heavy users of the Internet, but it could be great for casual everyday Internet users. 
SpyRemover Pro
SpyRemover Pro[3] offers advanced anti-malware software since 2015. Relatively it is very young software compared to its competitors in the market. The anti-malware was founded in order to provide consumers with an easy, affordable solution against the most common cyber threats and malicious software.
It is recommended that you download the software for free, run diagnostics and if needed purchase the full version in order to clean your computer and protect it against future threats.
SpyRemover Pro not only removes detected threats but also protects your computer. The software offers consumers advanced features including powerful anti-malware protection, real-time virus protection, high detection rate, PC optimization, user-friendly interface and low resource usage.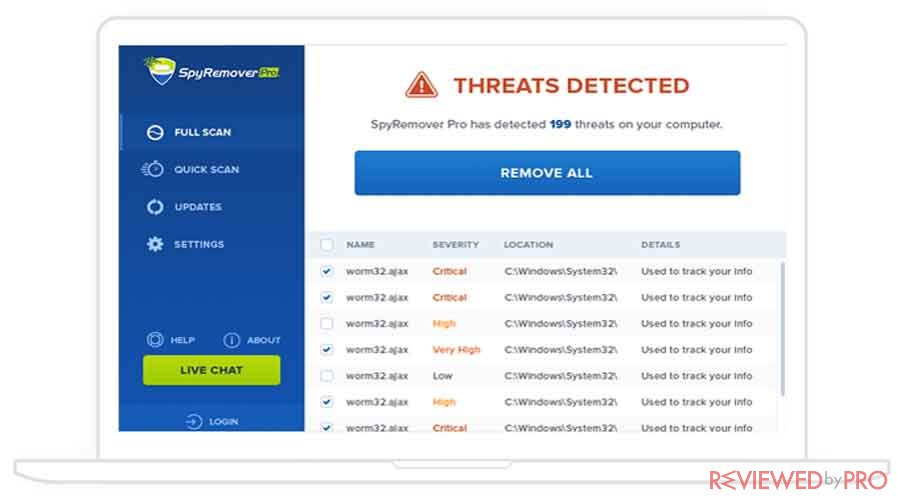 SpyRemover Pro installation package only contains 2.7 MB of data, so the download and installation are very quick and easy. The application is compatible with the Windows operating systems 7, 8, and 10.
Researchers at Reviewed by Pro[4] decided to test the software for almost 14 days with a Windows 10 PC, with Intel i7 processor, 4 RAM, and an SSD disk drive. Researchers revealed the main pros and cons of the software.
Pros
Scans include the full scan and the fast scan. The full scan scans every part of your system, while the smart scan will check only the most vulnerable parts. The scans are fast and relatively effective.
The software offers high virus detection rate and detected 30% more malware than other similar software.
SpyRemover Pro does not have any negative impact on system's performance and speed.
SpyRemover Pro offers not only detection and removal features but also protects your PC from future threats.
The user-interface is friendly and easy to use. The application also looks fresh.
Cons
Even though the virus detection rate is relatively high and the software detected more malware than other similar anti-malware solutions, the application did not detect all the added malware samples.
The software is relatively young and offers only very basic features.
Poor customer support.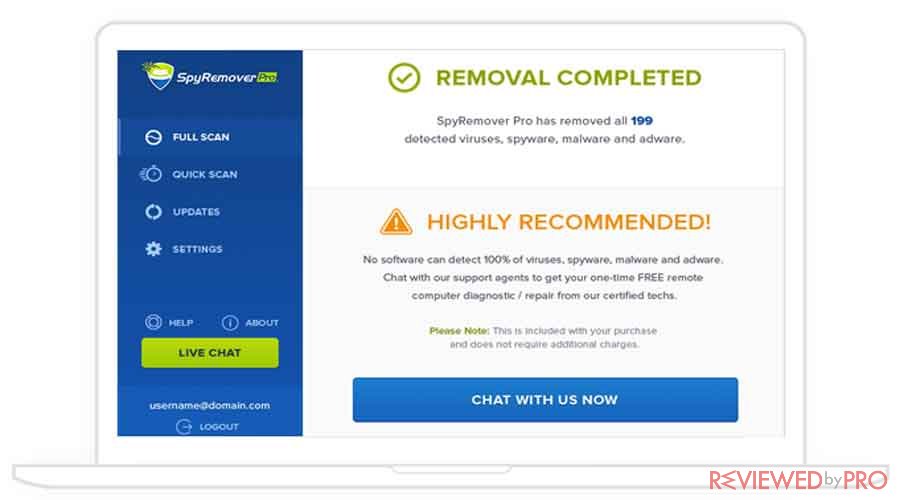 The Final Verdict
Researchers at Reviewed by Pro have tested the software for 14 days and came up with the final verdict. They not only noted the good sides of the software but did not forget about downsides and issues.
"This anti-malware app is very user-friendly, works fast, takes up very little space, and has a high virus detection rate. On the other hand, it also has some issues as any other software. The developer of this program could expand some of its features and improve the removal of the threats found. The virus database should be improved as well. As software, it is professional, but it still needs some improvements on the things mentioned before."
To Summarize
Both applications offer simple and fast scans, high detection and successful removal rates. SpyRemover and WiperSoft do not have any negative impact on PC systems' performance and speed. However, there are downsides too. Even though both programs missed some threats, SpyRemover offers more features and that can protect the PC completely. It offers advanced real-time virus protection that will protect the system from threats in real time. Also optimizes the PC and offers fresh looking, friendly user-interface.
Meanwhile, WiperSoft provides a completely free version of the software, but it will not be effective for businesses or heavy users because the security won't manage to fight bigger threats.
About the author
References