Trend Micro Antivirus and Security 2018 uninstall guide
If you do not want to use Trend Micro Antivirus and Security, you can simply uninstall it. This article will provide you 10 simple steps how to uninstall Trend Micro Security using the Diagnostic Toolkit.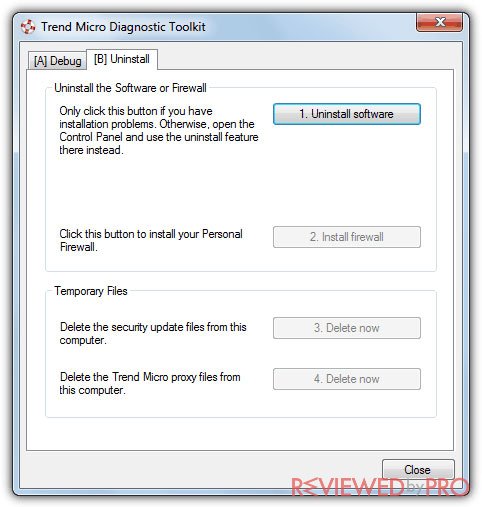 Firstly, you should download the Diagnostic Toolkit from the official website. 
Then, right-click in SupportTool.zip and choose Extract here. Once the extraction is complete, SupportTool.bat will appear in the selected location. 
Right-click on the SupportTool.bat file and select Run as administrator. 
Click Yes on the User Account Control window. 
Locate the (C) Uninstall tab.
Select Uninstall Software under the Uninstall tab. 
Confirm the uninstallation by clicking Yes.
Copy the serial number.
Check the checkbox I copied my serial number and select Uninstall.
Finally, click Yes and restart the PC. 
Congratulations! Now Trend Micro Antivirus and Security has been successfully deleted from your operating system. However, do not forget to protect your computer by upgrading to a newer Trend Micro Antivirus and Security version or by choosing another security software. 
This uninstallation guide should help you get rid of the unwanted program. We would like to remind you to uninstall all the programs that you don't use, as it is better for your PC performance to keep clear of unused software.