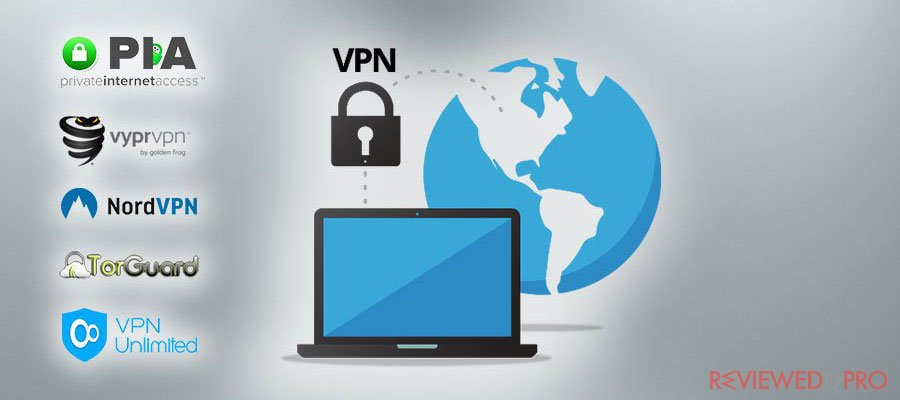 What is a VPN and why do I need it?
A Virtual Private Network, or a VPN for short, is an extremely useful tool that helps you protect your privacy when browsing. You can imagine it as a tunnel connecting your device and the Internet. The most important thing is that nobody can access this encrypted tunnel, which makes it impossible to steal any of your data even when using public WiFi.
You can consider using
the services of a VPN if you are concerned about your ISP (Internet Service Provider) or hackers obtaining your browsing history or any valuable credentials. You see, when you are using a VPN, you connect to the Internet from a different server located anywhere in the world, thus gaining a new IP address. In this way, nobody can track your location or steal information.
Another great use for a Virtual Private Network is accessing websites that are blocked in your country or when traveling. For example, you can have an American IP and watch Netflix. Likewise, you can access any Western page when temporarily residing in China.
However, it might be difficult to choose the best VPN provider when you are only discovering the world of online privacy. For this reason, our experts performed a thorough research and chose top 5 VPN services of 2017.
 
NordVPN
TorGuard VPN
VPN Unlimited
PIA VPN
VyprVPN

3+ simultaneous connections

 +
 +
 +
 +
 +

P2P or BitTorrent

 +
 +
 +
 +
 +

Adblock

 +
+
+
+
–

Kill Switch

 +
+
–
+
+

More than 500 servers

 +
+
+
+
+

Free version

 +
–
–
–
+

Advanced features

 +
+
+
+
+

Lowest price

 

$3.29

 

$4.99

 

$3.33

 

$3.33

 

$5.00

Supported software

Windows OS, Android, iOS, macOS,Linux

Windows OS, Android, iOS, macOS, Linux

Windows OS, Android, Chrome, Firefox, iOS, Linux, macOS

Windows OS, Android, macOS, Linux, iOS

Windows OS, Android, iOS, macOS, Linux

Money-back guarantee

 30 days
 30 days
 7 days
 7 days
 30 days
NordVPN
NordVPN is especially recommended to those who want to access websites blocked in their own country, as it manages to connect even to Netflix.
It is also very safe as it uses double data encryption with Double VPN technology. It has 1089 servers in 61 countries. This means that the servers won't be overcrowded because you can choose the server that is not crowded at the moment.
NordVPN is a great choice for beginners because its setup and installation are easy. What is more, the User Interface looks modern and is simple to navigate.
The feature of Kill Switch will protect you from accidentally exposing your IP if your VPN gets disconnected, so this is one of the essential things that a VPN should possess. Luckily, NordVPN has an automatic Kill Switch that will protect you from exposure.
Additionally, NordVPN has a strict No Logs policy, which means that the service does not gather any information regarding your online activity. This ensures 100% anonymity as no information about you is tracked by the service provider, which makes NordVPN a reliable option.
TorGuard VPN
TorGuard VPN is an excellent option if you want to get a VPN for torrenting, as it is highly compatible with P2P websites, which means that the speed does not decrease while using said pages. It has 1600 servers in 500 countries, which is a decent number for a popular VPN provider.
The User Interface (UI) is minimalistic and looks good. It does not confuse the user with an overwhelming amount of choices but offers enough options for an experienced person.
Aside from the Kill Switch, TorGuard VPN also possesses an integrated adware blocker, which ensures you that your device will be clean from unwanted advertisements while you browse. At the same time, you can relax and not think about malware sneaking onto your computer while you visit various pages.
However, this VPN requires an add-on to unblock Netflix. This is not considered a big problem as many VPNs cannot access Netflix at all.
VPN Unlimited
VPN Unlimited is a bit different from other VPNs as its developers offer a lifetime subscription for the service. This means that with only one purchase of $149.99 (at the moment of writing), you will get a VPN for the rest of your life. This is a great deal because it minimized the monthly price greatly.
When using VPN Unlimited, you won't experience any troubles with suspicious advertising because it has an integrated adblock. What is more, it uses strong encryption to prevent third parties from stealing your data or monitoring your activities.
It should be mentioned that there are more than 1000 servers in over 70 locations, so there should be no problems choosing the best server for you.
As VPN Unlimited uses the Keep Solid Wise technology, there are no restrictions regarding the web pages you want to visit. If your country bans certain pages, VPN Unlimited will certainly let you access them.
The VPN provider lets you cover up to 5 devices simultaneously. This is a great deal because many VPNs offer up to 3 devices or even less. In this way, you can protect your computer, tablet, smartphone, or any other piece of technology you use to browse.
Private Internet Access VPN
Private Internet Access VPN has an incredible number of servers – 3272 in 25 countries, and the number is constantly growing. Even though it has so much to offer, PIA VPN is one of the cheaper alternatives.
This VPN has many additional features, including the Kill Switch and integrated adblock. Additionally, it supports P2P connection, and there is no limit regarding the data sent and downloaded.
One Private Internet Access subscription covers up to 5 devices simultaneously. This is quite an impressive number because some VPN providers cover only one device, which, of course, is usually not enough.
However, even if the setup is quick, the User Interface might be a little tricky to get used to as it is made to be very basic, not having the UI design many people are used to. Fortunately, PIA VPN has 24/7 customer support who will help you if you have any questions.
VyprVPN
VyprVPN can be praised for its user-friendly design. Even though it is easy to use, the VPN will not disappoint its advanced users as it has a lot of additional features and options.
It has over 700 servers in more than 70 locations. What is more, all the servers are owned exclusively by VyprVPN, so there are no third parties involved. In this way, no private information will ever leak to the hands of cyber criminals or the government.
VyprVPN supports 3 security protocols: OpenVPN, PPTP, and L2TP/IPsec, and you can choose the one you want when you use the Internet. It depends on the level of speed and safety you prefer.
The VPN has the feature of the Kill Switch, so you don't have to worry about exposing your IP on accident. However, VyprVPN does not have integrated protection from adware, so you must be careful about the ads you click. The best option would be getting additional protection against advertising.
About the author