Choosing the best anti-malware program
Surfing the Web is a really fun thing to do, but it is not very fun when your computer gets infected with malicious software that might ruin your device, all the work in progress, and the applications installed.[1] Knowing a thing or two about cyber security is very important if you are a regular Internet user.
However, how can you know which anti-malware tools can protect your PC from all the threats, and which will only show false positives? 
Well, that's what security experts are for. We tested many pieces of software created to detect and remove viruses and spyware. In this article, we present you with the top 5 best antivirus programs of 2017 that, we think, deserve this spot.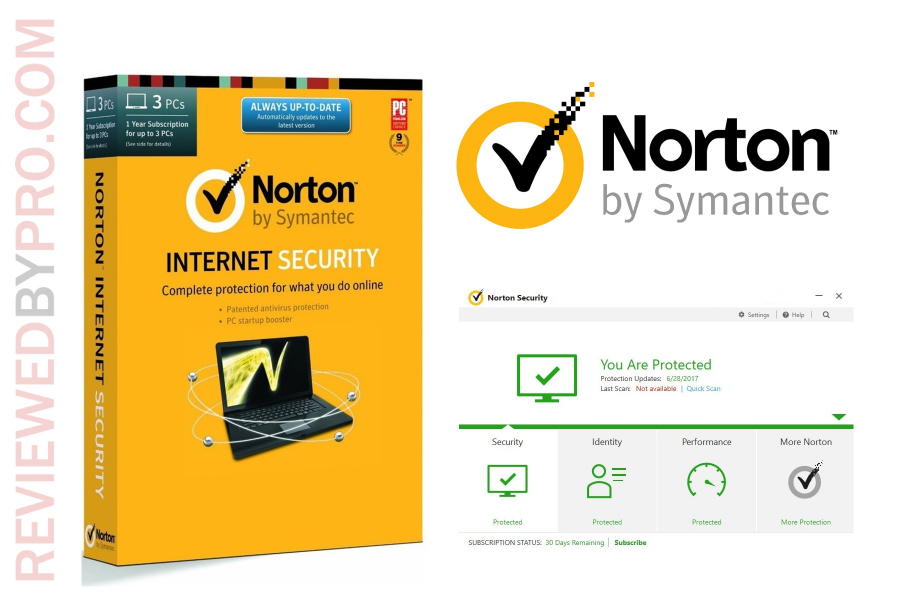 Norton AntiVirus
Norton has been known as one of the best anti-malware tools for quite a few years.[2] Let's explore why it is still at the top of the food chain.
Virus detection: Norton Security is considered to be a reliable anti-virus application because of its high virus detection rates, which are quite above average. During our tests, the application removed 80% of the malware and spyware. Even though it left 20% of the samples, they consisted of adware[3] that is actually not that dangerous. However, we had to remove the adware manually.
Firewall: The program has quite a good firewall that protects your computer from the Internet threats. The firewall also has a lot of extra features that can be really helpful to advanced users of the application.
Resource usage: The full scan slows down the system a bit, but not too much, at the rate of 17%. Keeping in mind that full scans are extremely thorough, this is not a big deal.
User interface: The user interface of Norton Security is among the better ones, being not only rather nice to look at, but also very convenient both to beginners and professionals.
Scans: Norton Security offers a few kinds of scans, which include the full, the quick, and the custom scans. It is easy to navigate through them and later remove the detected threats.
You can try this anti-virus software if you want something stable and reliable.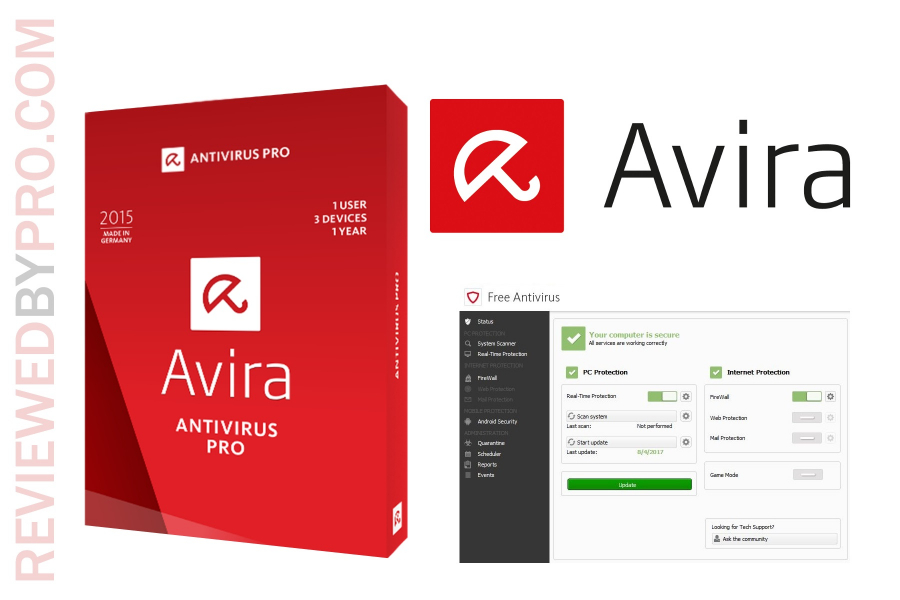 Avira AntiVirus
Avira AntiVirus has been functioning for many years and its creators are constantly updating it and making it better. There are a lot of positive reviews for it online, so it seems that the program can be considered a fan-favourite.
Virus detection: When being tested, Avira detected and deleted about 65% of the malicious software from the test computer. These results are far from the worst, but they might be a bit average. Luckily, the software detected the most vicious threats, leaving only adware and PUPs.
Firewall: Avira uses Windows firewall[4] to protect the PC while you use the Internet. You can turn it on or adjust it via the Avira Control Center. Even though it does not have its own firewall, the developers of Avira claim that it is for the best because the protection level of Windows firewall is really high.
Resource usage: This software is one of the best in the market in regard to resource usage. It scored with 3% – this is a really low percentage in comparison to the majority of anti-virus programs out there. It won't slow down your PC and won't disturb your workflow.
User interface: Avira AntiVirus has a rather minimalistic user interface. However, it has a lot of tabs and the letters are quite small, so it might get confusing or difficult to read to some users. 
Scans: The application has a lot of types of scans, which can be seen after accessing the tab "System Scanner". There are, of course, the usual scans, like the full scan or the quick scan. However, there is a long list of custom scans, which you can choose if you want to scan only a specific part of your computer, for example, the Documents folder.
All in all, this is a decent security tool, which definitely deserves to be among the best anti-malware programs of 2017.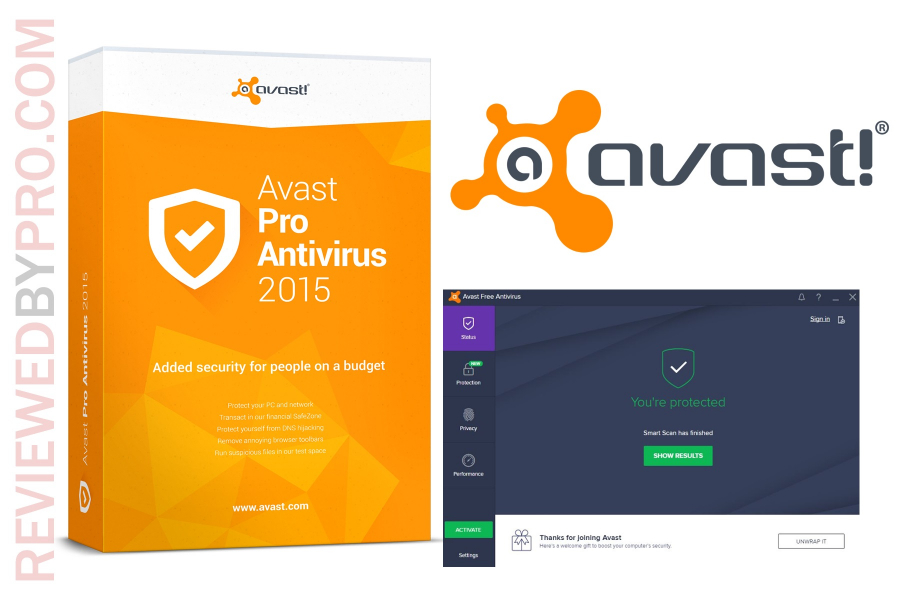 Avast AntiVirus
Today, Avast is one of the most popular anti-malware solutions and is used by people all over the world. Let's take a look at its pros and cons.
Virus detection: This anti-virus software has quite high virus detection rates, detecting and removing about 90% of the threats. It is also not prone to false negatives[5], which are a real problem with most of the applications.
Firewall: The Firewall is a locked feature that can only be accessed if you obtain the full version of the app. Once you unlock it, you have a powerful tool that defends your PC while you surf the web.
You can also customize the Firewall in many different ways according to your own needs, for example, adjust access restrictions.
Resource usage: Avast has very low CPU usage, especially when it is not scanning. During the scan, your computer might get a little slower than usual, but that is because the application is doing a difficult job digging through all your files in search of threatening software.
However, some users report unusually high CPU usage when scanning the PC and downloading files at the same time.
User interface: The program has one of the nicer UI designs. The colors are soothing to the eye and all the features are easily accessible.
All the options can be found on the left side of the screen by clicking easily-noticeable squares, which then extend to lists of features.
Scans: The app has the options of the full scan, the quick scan, and customizable scans. The quick scan is done really quickly and is still quite accurate.
The full scan may slow down your device a little, but it is more reliable as all of the computer files will be scanned.
To sum up, this is a decent anti-malware solution for both beginners and professionals.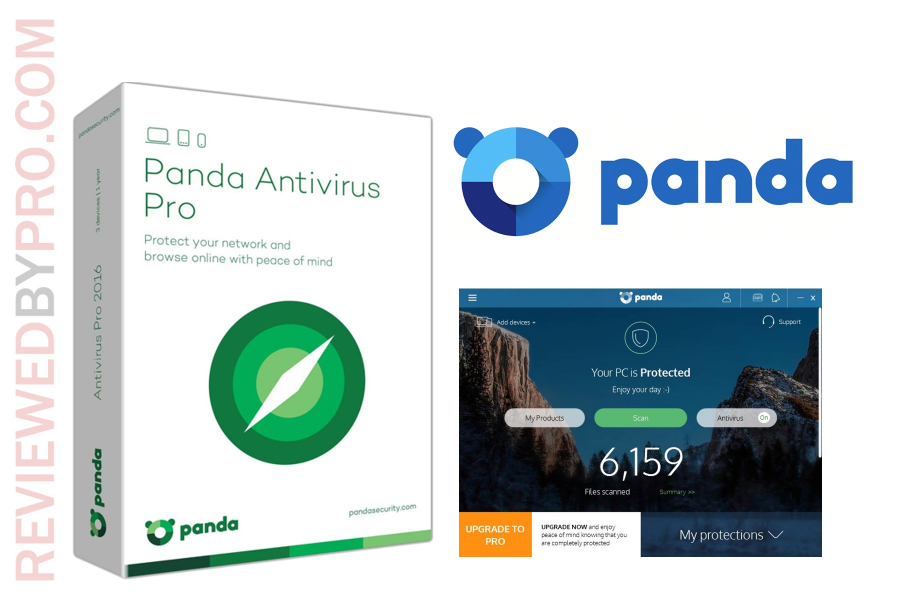 Panda AntiVirus
Panda AntiVirus is one of the less-known anti-malware solutions, but it is worth a try.
Virus detection: This anti-spyware application can remove all kinds of threats pretty well. It does not leave dangerous files or Trojans, so you can be quite certain that, with Panda AntiVirus on your computer, you are protected from the worst malware on the Internet.
Firewall: The program has a pretty decent Firewall. It can be compared to the Windows Firewall because they are quite similar in their performance, so you can be sure that your browsing is quite safe.
If you are an experienced user, you can try accessing the Firewall options and making some adjustments, but this is not recommended if you are not an expert.
Resource usage: One of the cons of Panda, however, could be the fact how it affects the system performance. Even though it uses cloud computing[6] to affect the system as less as possible, you will still feel a significant slowdown during the full scan.
User interface: One thing that differentiates Panda AntiVirus from other anti-malware apps on the market is its user interface. Not only is the Panda logo nice to look at, but the background of the user interface is covered with nature photos.
This actually might be the nicest user interface of the top antivirus programs.
Scans: There is a full scan, a scan of the critical areas, and a custom scan. The application recommends using the feature of the critical area scan, as the full scan may take up to a few hours with this application.
Panda AntiVirus really stands out among the leaders with its nice user interface and good virus detection rates.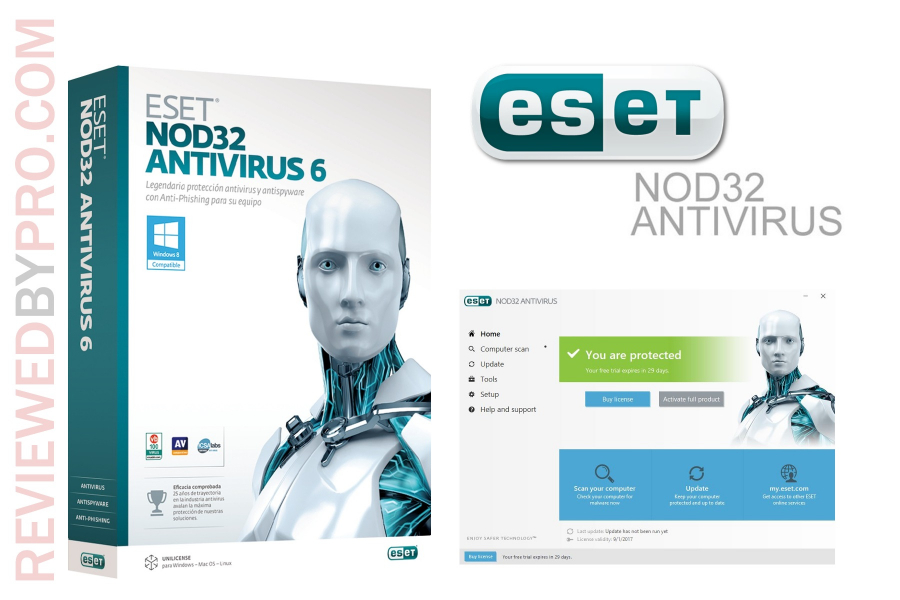 ESET NOD32
ESET NOD32 is quite known to be a market leader for some time. This program has millions of dedicated users in many countries. Let's see why.
Virus detection: During our tests, the application scored extremely high in regard to virus detection rates. It can easily spot infected files, ransomware, Trojans, and various PUPs. 
It has also received high ratings by SE Labs (AAA)[7]. Not many applications score that high.
Firewall: ESET NOT32 does not have its own Firewall included but is fully compatible with the built-in Windows Firewall, which offers quite good protection on its own.
Resource usage: The resource usage is pretty low in comparison to other anti-virus applications. Even during the scans our test PC was working almost at the same speed as it usually does.
Having in mind the high detection rates, this is quite surprising and worth praising.
User interface: The user interface is quite plain and minimalistic. It is easy to navigate and is quite clear, but don't expect any bright colors or images. The menu on the left is not confusing and it can be definitely used by beginners, but some might argue that it looks a bit boring.
Of course, this does not interfere with detecting or removing viruses, and some users may appreciate the minimalism.
Scans: It has a few different types of scans, including the full scan and advanced scans. You can also choose which part of the PC you want to scan. The software also has the option to scan removable media, and the process is carried out really effectively.
In conclusion, ESET NOD32 is definitely worth a try, as it really deserves to be placed among the best anti-virus and anti-malware software of 2017.
About the author
References