Why Do I Need a Malware Removal Program?
The year of 2017 was full of surprises regarding cyber security. The huge threats like WannaCry and Petya once again proved that a powerful and up-to-date security tool is a must. Of course, it may be extremely difficult to choose the best tool. To help you, we present our list of the best anti-malware tools of 2017.
Total rating
1

2

3

4

5

6

7

8

9

10

Price
$45.48
$29.90
$29.95
$29.95
$41.93
$15.99
$44.92
$47.81
$59.95
$24.95
Download product
Ratings
Protection rate
Detection rate
Real time protection
Scaning speed
Loss of computer speed
Design and usability
Protection
Malware

✔

✔

✔

✔

✔

✔

✔

✔

✔

✔

Antispyware

✔

✔

✔

✔

✔

✔

✔

✔

✔

✔

Adware

✗

✔

✔

✔

✗

✗

✗

✔

✔

✔

Bootkit and Rootkit

✗

✔

✔

✔

✔

✗

✗

✔

✔

✔

Ransomware

✗

✔

✔

✔

✔

✗

✗

✔

✔

✔

Antiphishing

✗

✔

✔

✔

✗

✗

✗

✔

✔

✔

Vulnerable software

✗

✔

✔

✔

✔

✗

✗

✔

✔

✔

Email scanner

✗

✗

✔

✔

✗

✗

✗

✔

✔

✔

Features
Secure Browser

✗

✔

✔

✔

✗

✗

✔

✔

✔

✔

Security suite

✗

✔

✔

✔

✗

✗

✔

✔

✔

✔

Mobile devices

✗

✔

✔

✔

✗

✗

✔

✔

✗

✗

Scheduled scans

✔

✔

✔

✔

✗

✗

✔

✔

✔

✔

Free trial

✔

✔

✔

✔

✔

✔

✔

✔

✔

✔

Operating system
Windows OS

✔

✔

✔

✔

✔

✔

✔

✔

✔

✔

Mac OS X

✔

✗

✗

✗

✗

✗

✗

✔

✔

✗

Android

✔

✔

✗

✗

✗

✗

✗

✔

✗

✗

Total rating
1
2
3
4
5
6
7
8
9
10
Top anti-malware products

Malwarebytes AntiMalware
Malwarebytes AntiMalware is one of the better malware removal tools out there, being on the market from 2006. It is known for its very fast scanning speed and a decent virus detection rate.
The free version offers a lot – it will scan your computer and remove the malware detected, and there is no time limit to it – you can use this feature for as long as you want. What is more, for 14 days, Malwarebytes Antimalware will prevent malware infections, won't let any ransomware attacks or threatening software to take over your PC, and will help you to browse safely.
The program has a very large virus database. This means that it can detect a lot of threats, including old ones and even the newest ones, as the database is constantly updated.
The Malwarebytes Premium version offers all of these features at the time of the subscription. So, if you try the free version and end up satisfied, you can buy Malwarebytes and enjoy the safety.
You can read the full Malwarebytes review here. It also has the instructions on how to install and use it.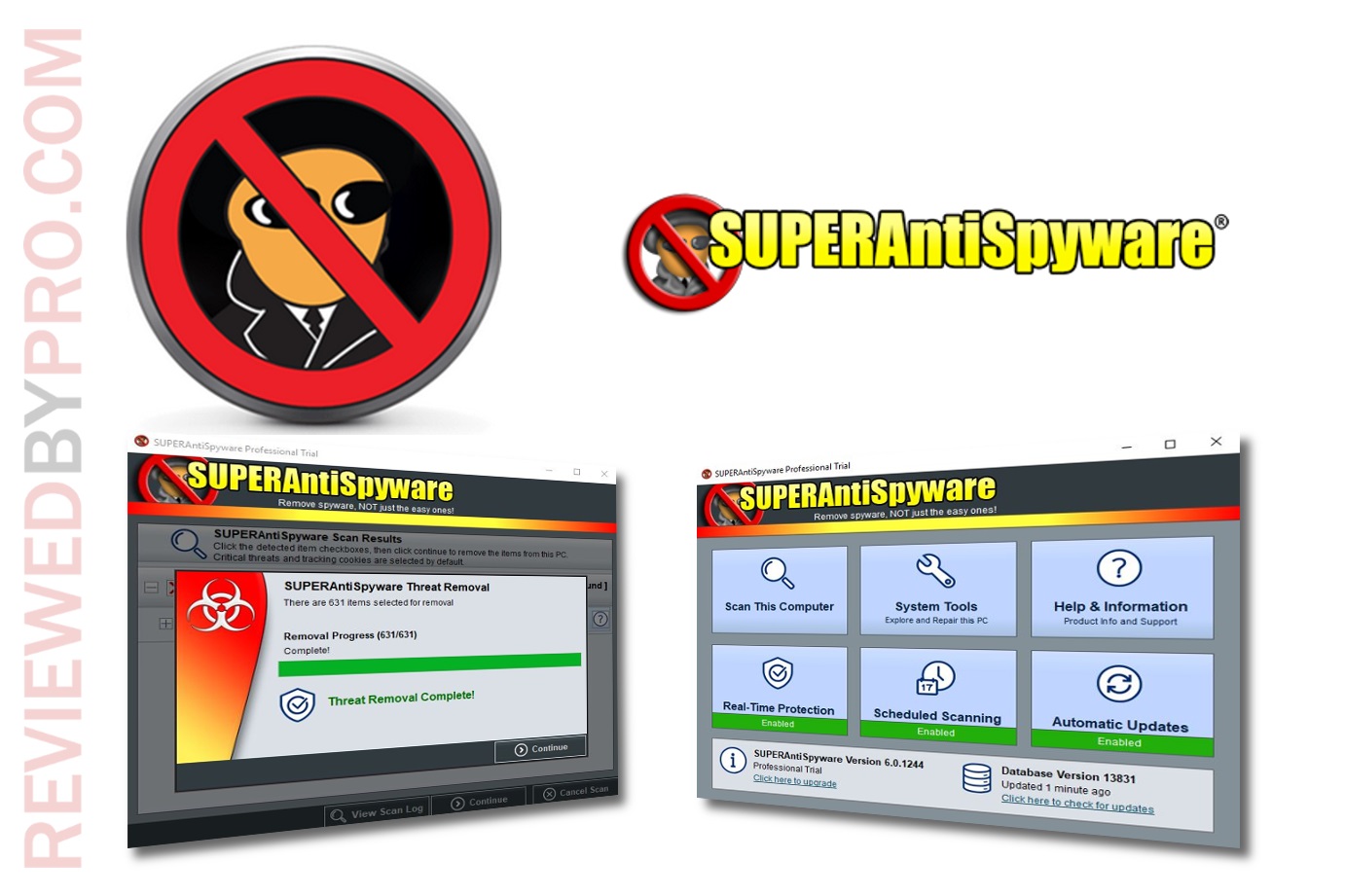 SUPERAntiSpyware
SUPERAntiSpyware is a great anti-malware tool if you want to detect threats effectively. Even though its user interface might look a little outdated, it allows you to fully control the scans that you want to perform. There are a lot of options to choose from.
Not only it has the usual features of the quick, full, custom, and critical point scan, but it also lets you choose among a lot of additional options like scanning inside ZIP archives or only recently modified files. All of this makes SUPERAntiSpyware great choice for those who know what they want.
The trial version offers all the features of the paid application and lasts for 30 days. After that, the user is left with the free version, which lacks certain options. However, if you buy SUPERAntiSpyware full version, you can it to its full potential once again.
The program does not use a lot of the system resources while it scans. This is great because many antivirus apps make the computer run much slower than usual, making it difficult to use the device.
If you want to check out the full SUPERAntiSpyware review, you can read it here.
Defender Pro
Defender Pro is an effective anti-malware tool created by an American company Epartners LLC, which has been functioning for more than 10 years. You can read the full Defender Pro review here.
The application has a very nice and modern user interface, making it understandable and easy to use even for beginners. There are the choices of a quick scan, complete can, and advanced scan. The full scan may be a little slow, but it does not impact the performance of the device at all.
Defender Pro Total subscription covers 3 devices of your choice. Also, it has a neat feature of a Lifetime Protection – this means that you can buy a license for the rest of your life, thus saving a lot of money.
The anti-malware tool has a real-time firewall, protects your privacy, makes your surfing safe, and has free customer support.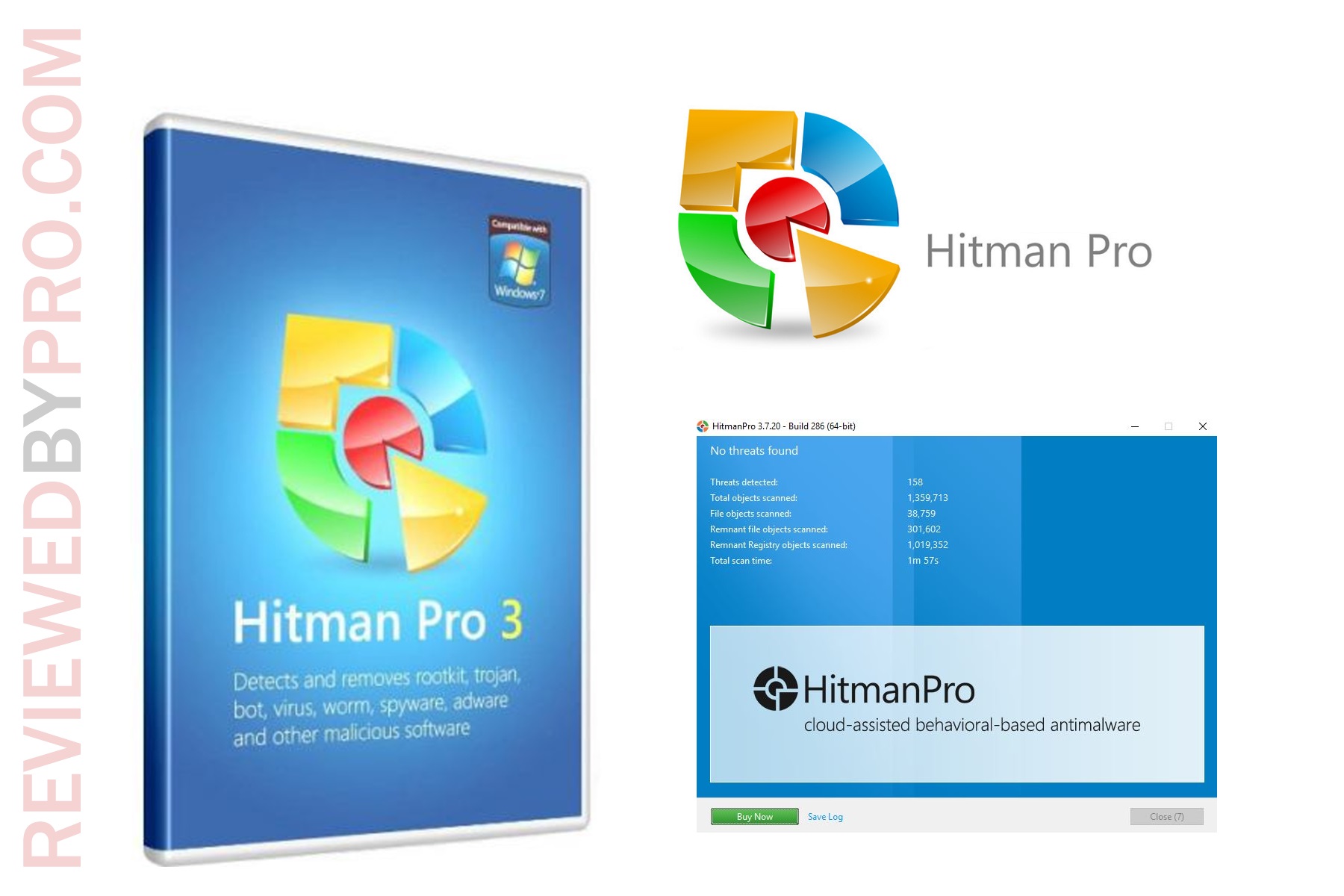 HitmanPro.Alert
HitmanPro.Alert can be considered a better version of HitmanPro. Both of the antivirus programs were created by SurfRight from the Sophos family. Click here to see the full review of the products.
The scans are rather quick and easy to perform, lasting for about 10 minutes. The malware detection rate is quite high because the application uses the benefits of could computing. This means that the app uses a lot of different servers when it comes to deciding if the files are infected. This is the reason for the speed of HitmanPro.Alert is so fast.
The program has the features of real-time protection, toolbar removal, cloud scanning, safe browsing, anti-exploit, and anti-ransomware. The device that is protected with HitmanPro.Alert should stay safe at all times.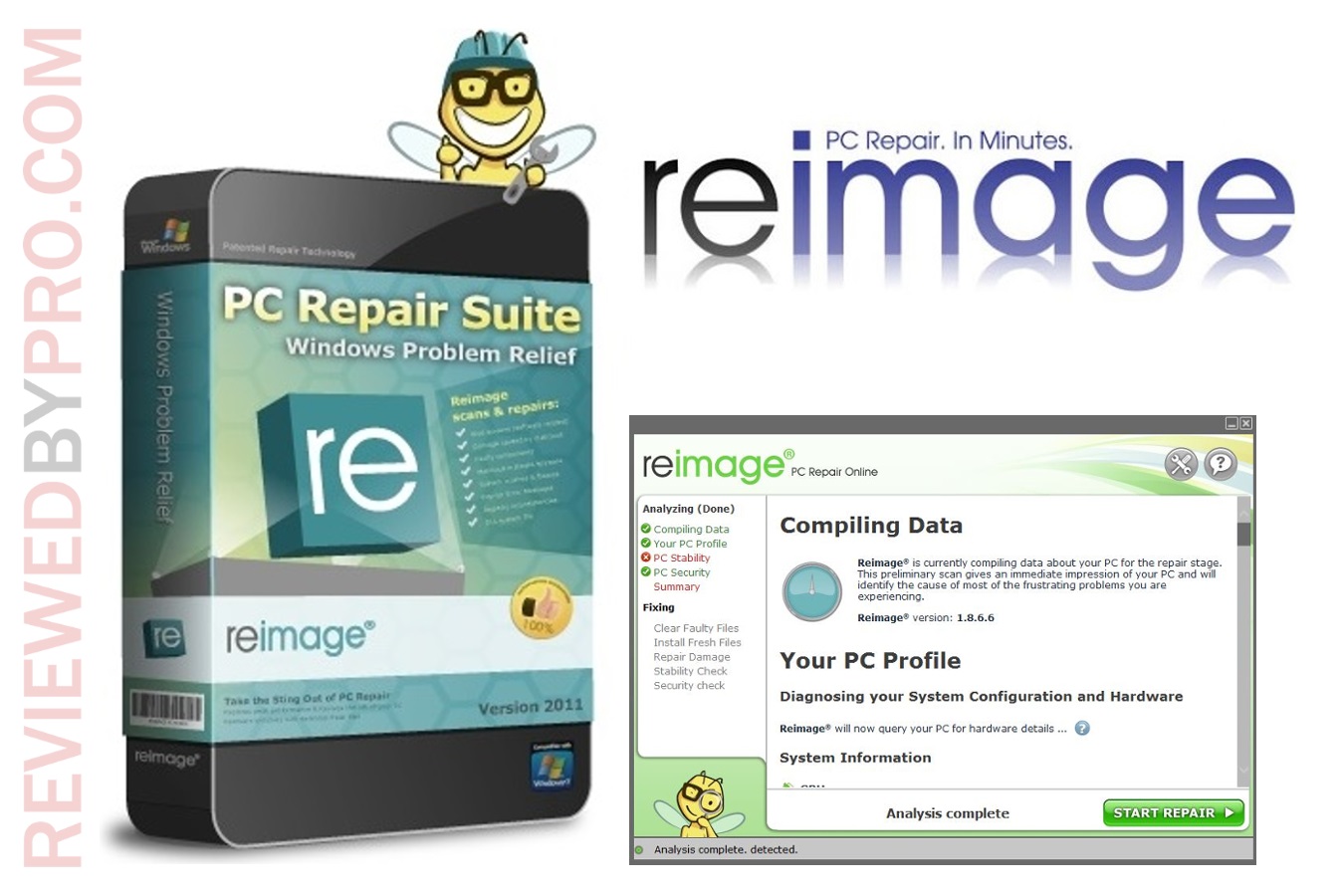 Reimage
Reimage is a bit different from the rest of these anti-malware applications because it has to offer even more. Aside from detecting and removing various infections, it can also positively affect the performance of your computer by performing PC optimization. It fixes the files of the Windows Operating system that are damaged and downloads the ones that are missing, thus making your device run smoothly.
The free version scans the PC and removes threats, while the paid subscription allows the app to fix the system. You can read the full Reimage review here.
Users should keep in mind that, even though this is a reliable and accurate antivirus application, it is quite simplistic, not offering a lot of options, making it a better choice for beginners. All in all, this is quite a good choice if you experience any difficulties with your Windows system.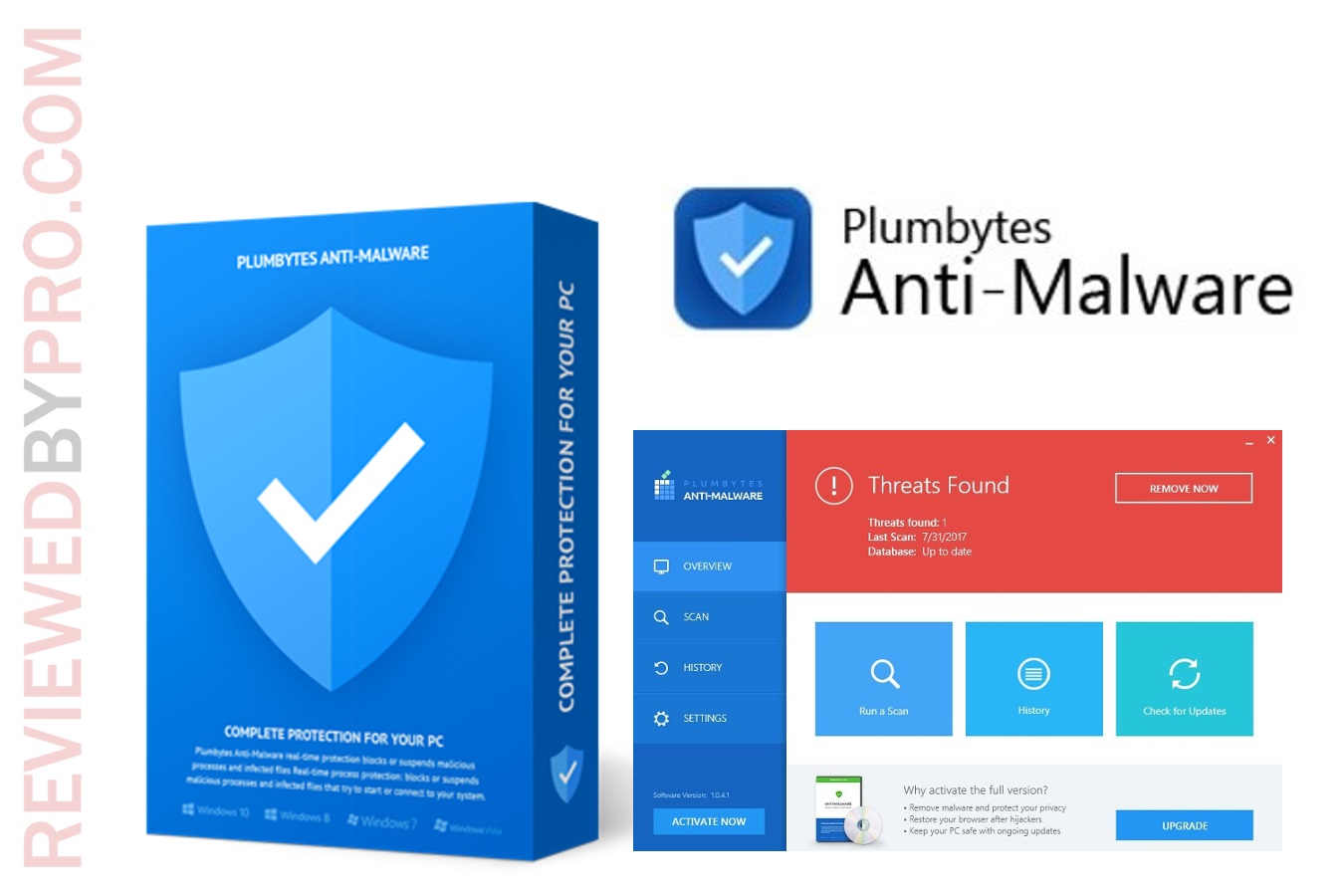 Plumbytes Anti-Malware
Plumbytes Anti-Malware was developed in the UK by Plumbytes LTD. With its intricate malware-detecting algorithms, it can easily spot the viruses that hide in your PC system.
The scans are pretty fast in comparison to other security tools. Plumbytes also updates its database every day, which means that the program will detect the new threats that show up on the Internet.
Plumbytes is quite effective against spyware, adware, and potentially unwanted programs because of its new search algorithms that help identify updates implemented by hackers. The software also has a 24/7 customer support, making it a good alternative to those who don't often use computers. What is more, if you use Plumbytes, you are completely protected against all kinds of browser hijackers
If you want to fully understand all the Plumbytes Anti-Malware features, click here and read the review.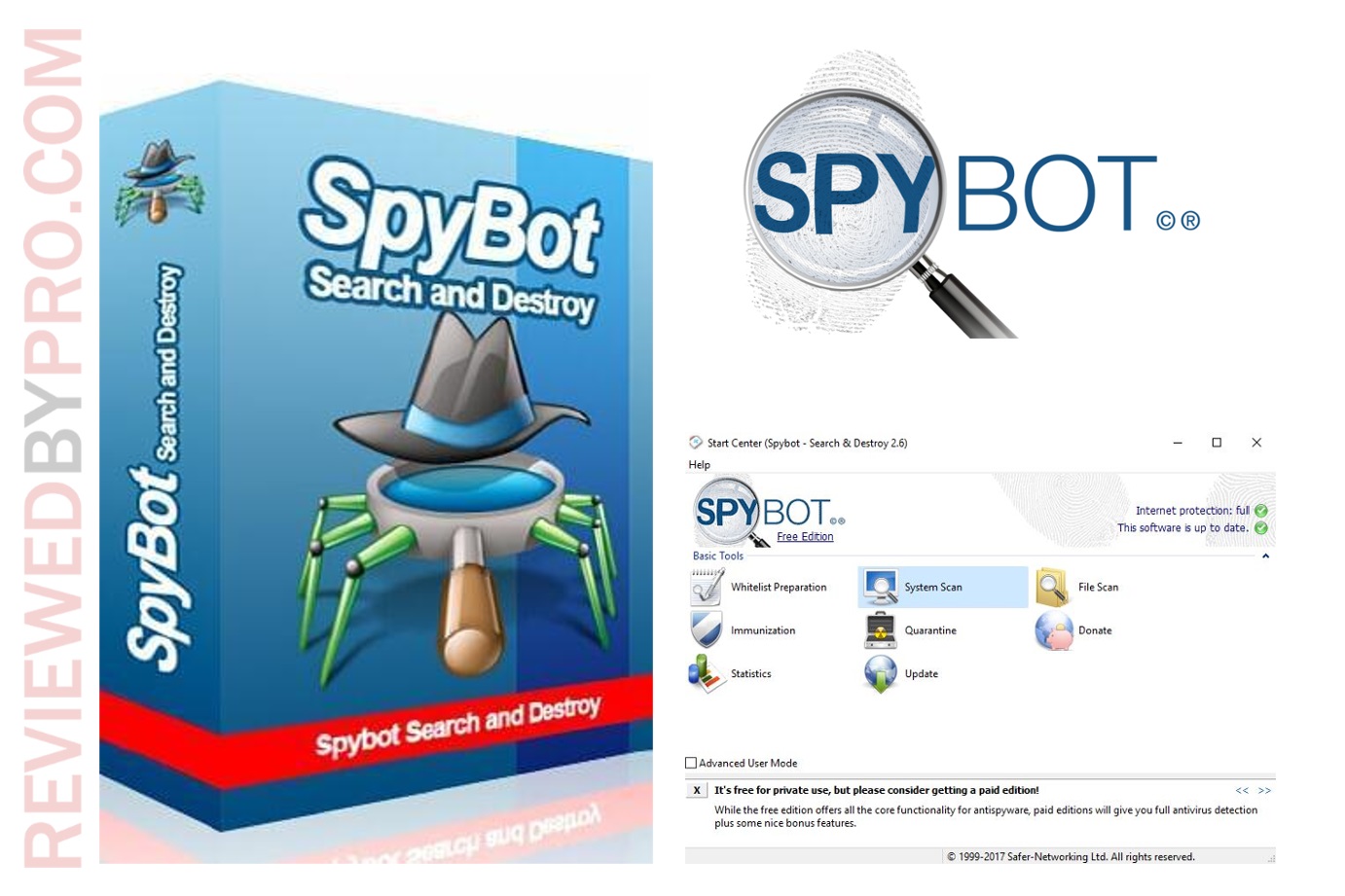 SpyBot – Search & Destroy
SpyBot – Search & Destroy is an Irish product created by Safer-Networking Ltd. The program is very versatile, having the possibility to remove malware like rootkits, toolbars, and adware.
If you are using the free version, SpyBot will delete malware straight away, as the quarantine function is available only to paid users. Generally, the paid version of SpyBot is a lot better than the free one as it also protects the device from viruses.
The app has a lot of features regarding the Internet – the software will remove usage traces, deletes browsing history, and eliminates cookies.
Read our full SpyBot – Search & Destroy review here.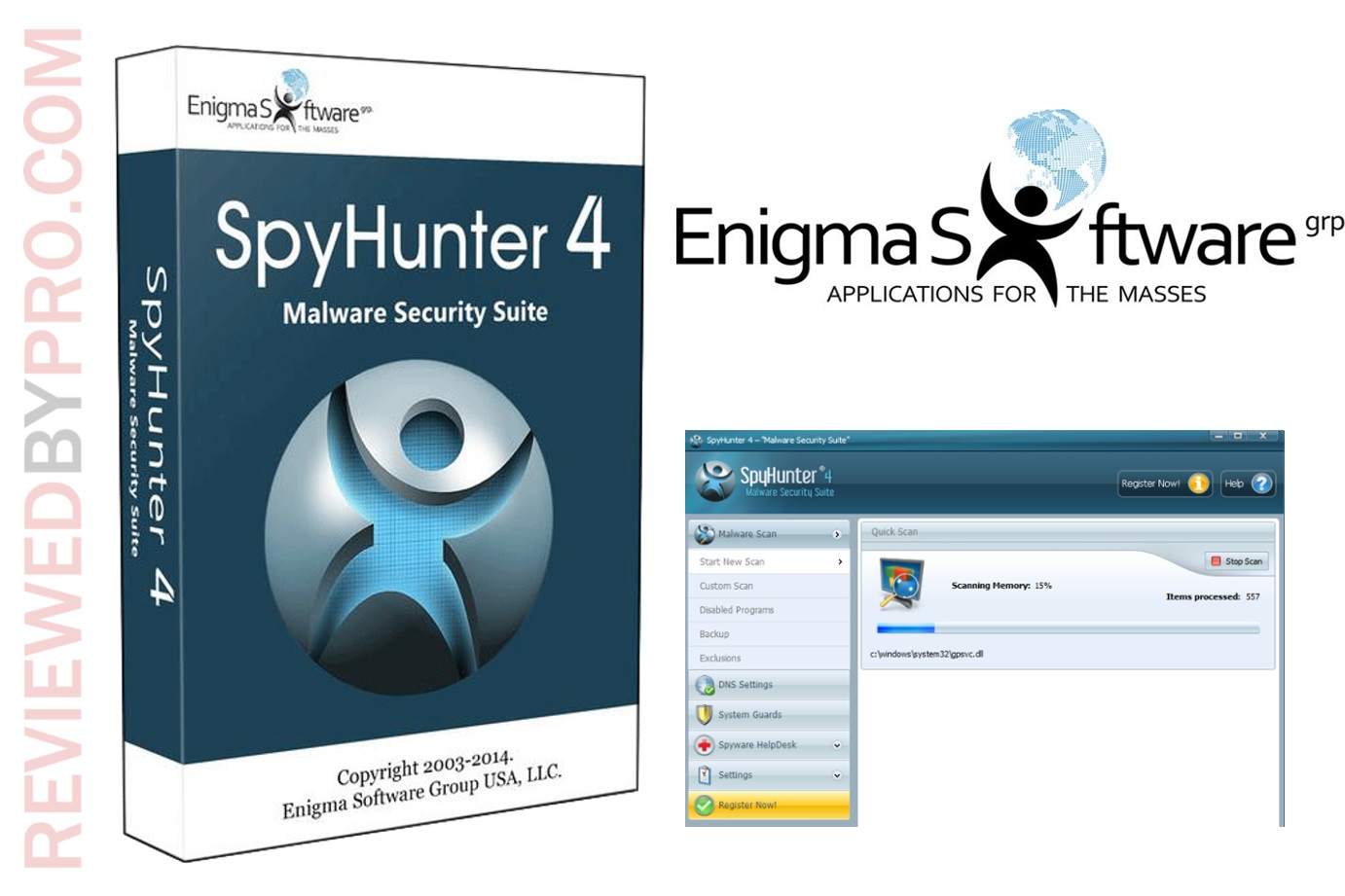 SpyHunter
SpyHunter is an American product developed by Enigma Software Group. It uses advanced technology to keep up with the latest malware trends. The full SpyHunter review can be found here.
Thanks to its constant development, the program can detect and eliminate rootkits, which can allow hackers to take over your system and download ransomware and tons of viruses. For this reason, this is an essential tool for those who like carelessly downloading a lot of files from the Internet.
To remove the threats detected, you must buy SpyHunter as a full version. It is really worth the price as it will make your computer safe again.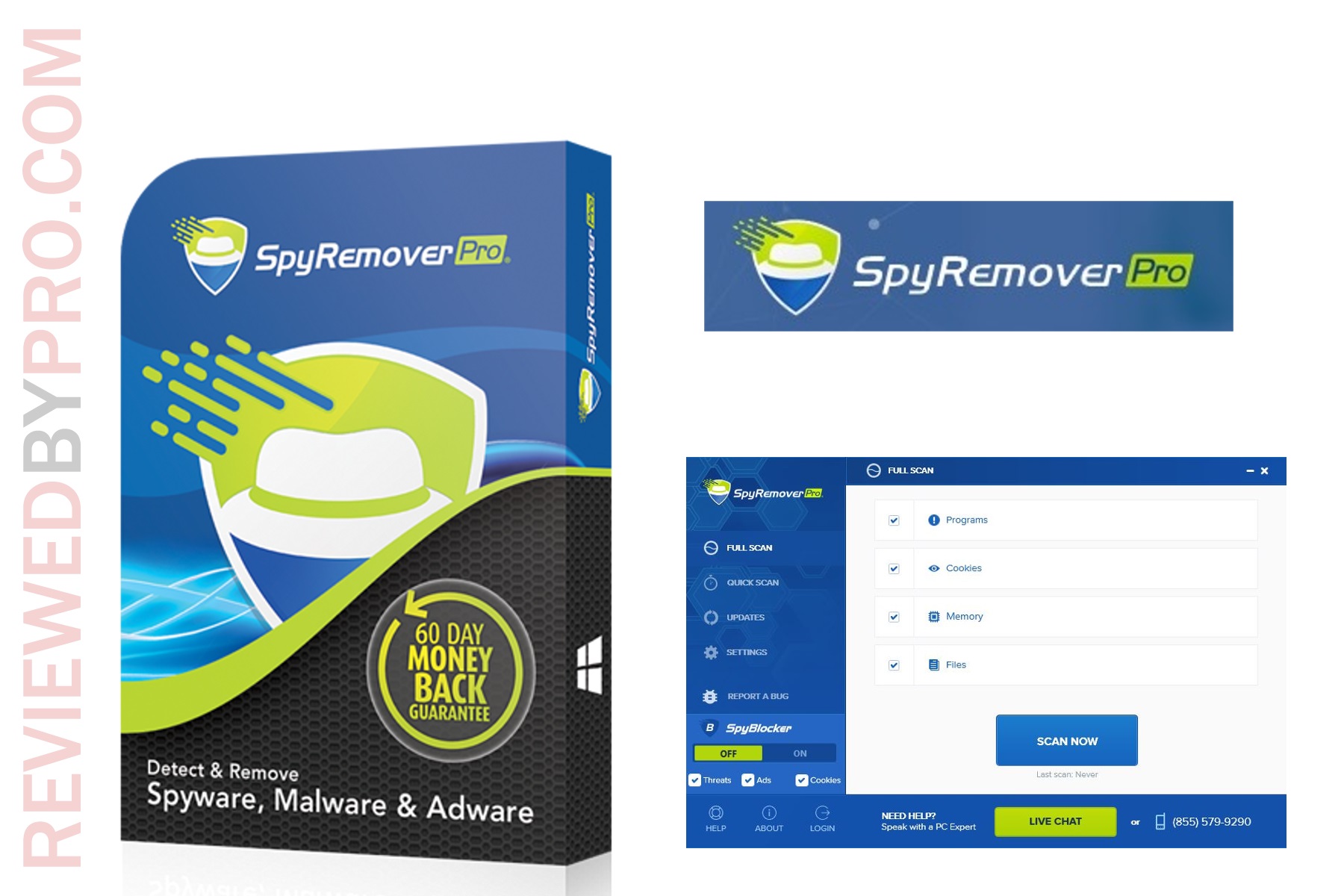 SpyRemover Pro
SpyRemover Pro is one of the fastest malware removal tools. It detects spyware, viruses, malware, and adware. Additionally, it has real-time protection, which will ensure nothing bad happens to your PC while you browse. The application also optimizes your computer by deleting unnecessary files and potential threats. In other words, SpyRemover Pro will make your computer run a lot faster.
Another great feature is a friendly User Interface. The developers claim that if you can click your mouse, you can also easily manipulate their program. Beginners should like SpyRemover's simplicity and easy navigation.
If you hate when your PC slows down, don't worry. SpyRemover Pro does not impact the PC performance – you can scan the device while working or gaming. The full SpyRemoverPro review can be read here.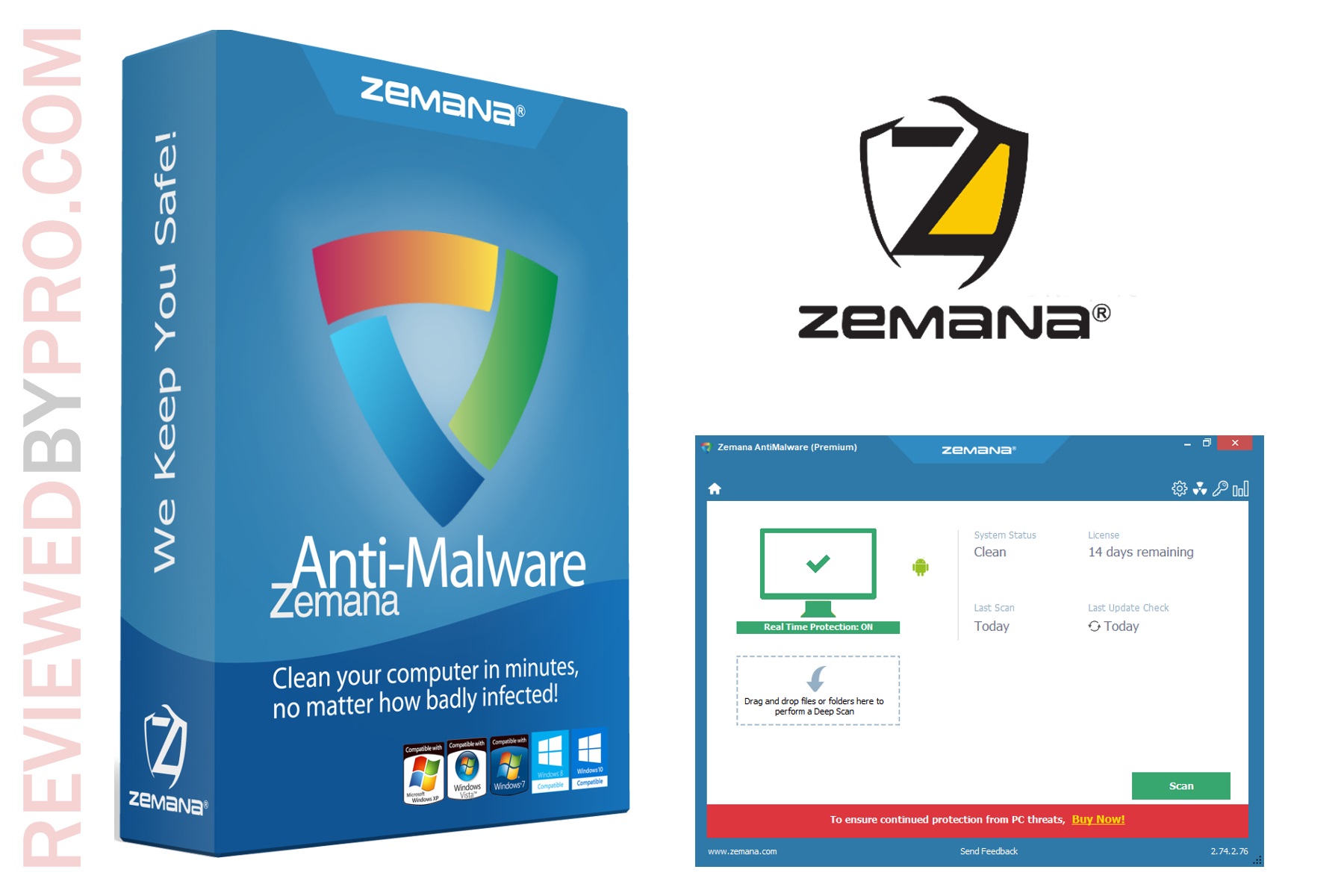 Zemana Antimalware
Zemana Antimalware is a great choice to those who look for an efficient and effective anti-malware solution. It is unique in its ability to detect and delete rootkits and bootkits so that your computer would not be accessible to hackers.
Also, as ransomware is on the loose at the moment, it is a great idea to have a program that can deal with it. Zemana can prevent ransomware from attacking your PC, thus saving you from a lot of trouble. Another great feature is adware and browser hijacker removal tool. This allows you to stay away from malicious advertising, which can result in serious computer infections.
With 24/7 customer support, Zemana won't leave you alone with your PC problems as you can always get help. To read our full review of the program, click here.
About the author