When discovering the world of anti-malware tools, you will encounter two choices – free security tools and paid ones. Usually, the same antivirus program has these two versions. What should you choose? Are there any advantages in buying a subscription, or will a free program be enough?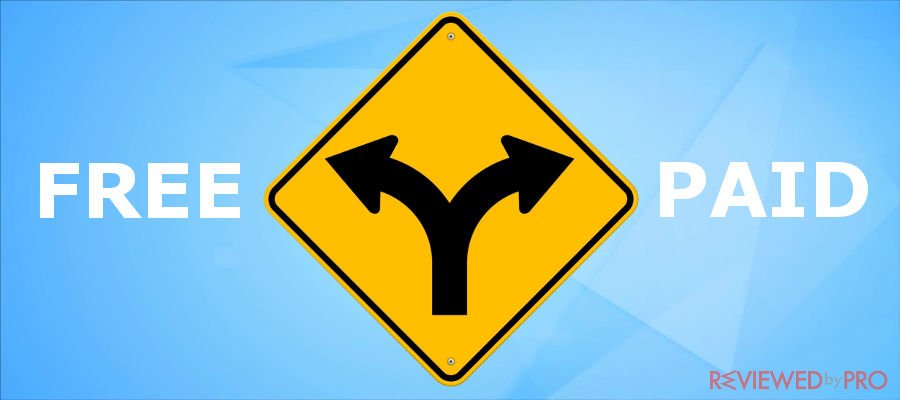 First of all, let's agree that every application is different and you might find free tools that you can trust, and paid ones that might not be enough. However, usually buying a license results in better protection, but you still should read some reviews before a shopping spree.
If you still don't have any anti-malware software, obtain one right after reading this article. Having no security tool is extremely dangerous – your device can get infected in seconds after clicking a malicious advertisement or opening an email attachment.
What about trial versions?
Note that you will often come across free trials, which are not really regarded as free programs – they usually last for 30 days, after which you will have to buy a full subscription. Sometimes they don't even remove malware – your PC might only get scanned in order to check whether there are any threats, and you must buy the full version to delete them.
However, free applications don't really have a time limit – you can use them for as long as you want, but you will have limited functionality.
How do free antivirus versions earn money?
You might ask – how do software developers survive if they give away free applications? Well, there are a few ways to do that.
Some programs show advertisements, thus earning ad revenue. However, ads are often very annoying to users and might be considered as a huge disadvantage. Additionally, a free application might collect some non-personal data for advertising purposes. If you do not feel comfortable about that, you might consider purchasing a license.
Should I choose the free or the paid version?
Let's take a look at a standard free anti-malware application. Most of them have fewer features than their paid counterparts but can still offer something decent when it comes to protection.
A free program scans the device for malware like it should do. According to some studies, the detection rate, especially regarding zero-day threats, can be a little lower in comparison to the paid versions. It is usually only a few percent; however, in some cases, it might be enough to get an infection. Free antivirus will also most likely have the function of automatic scans.
However, when it comes to real-time protection, you will have to rely on paid software versions. Performing a scan every few days is not really enough to keep the safety at the maximum capacity.
Another thing that a paid version has is customer support. Even though some free security tools have user support via email, you won't probably get to ask a question via chat or phone.
The user interface may also differ regarding the two versions. Some applications hold the same design while making inaccessible features invisible. Others, however, release two completely different designs, and sometimes the paid version is easier to use and more pleasant to the eye.
Maybe the biggest difference is the number of features the programs have. Usually, a free version does not have such things as a firewall, parental control, anti-phishing feature, protection against ransomware, notifications about dangerous websites, etc. These features are recommended if you want a high level of security.
So, to sum up, here are the main points that make the difference between the paid and the free versions of anti-malware programs. A free application usually:
Scans and removes malware

Offers automatic scans

Has little to no technical support

Has a little lower malware detection rate

Can have a slightly worse user interface

Lacks some crucial features like firewall
If you want to have a high-quality virus removal tool, you can check out our list of the best anti-malware programs and compare their features. You can choose the security tool that fulfills your personal needs.
About the author