If you try to end the cpx.exe process in Task Manager, you will possibly fail. The process usually refuses to close, and users discover few other processes in the background names Google Embedded Application, after examining the cpx.exe process.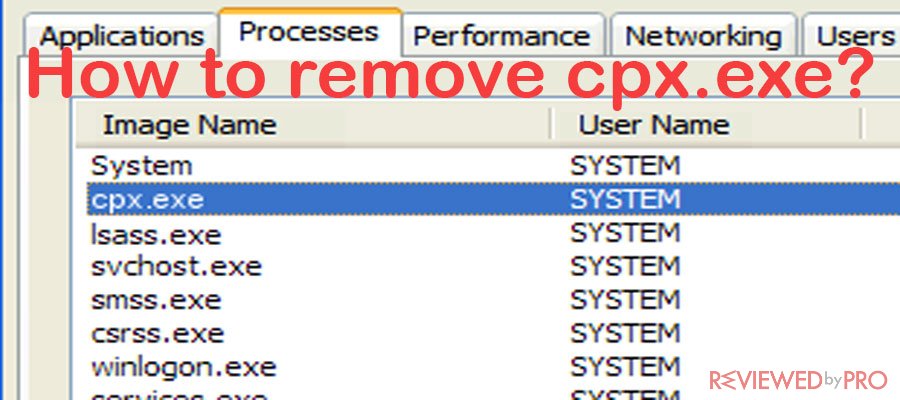 What is the cpx.exe process?
The cpx.exe process is known as a potentially unwanted program or PUP and is not a system file. According to Task manager, the CPX executable is Google Embedded Application, however, it is not related to Google in any way. 
The cpx.exe process is a part of s5Mark adware suite, which is often tied with popular installers available from trusted websites. The CPX executable uses a lot of CPU resources and it could be difficult to close. That is why the cpx.exe process is also used to mine cryptocurrencies. 
Potentially Unwanted Program or PUP
Potentially Unwanted Programs or Pups usually are downloaded together with another software. PUPs are often hidden into other installers of legitimate and popular programs and automatically installed together with the respective application.
PUPs can be dangerous because of the following:
PUPs can contain spyware or adware;
PUPs can use CPU in order to mine cryptocurrencies.
Removal of cpx.exe
Users should get rid of the CPX executable as soon as possible because it uses a huge amount of CPU resources and drains the system. However, it is not easy to remove it, as many consumers reported that they are unable to stop or completely remove the cpx.exe process. 
As it was mentioned, the cpx.exe is an adware process that belongs to the s5Mark adware suite. Users can easily check it by opening a Task Manager and check for Google Embedded Application entries. 
As you probably already know, most antivirus and security applications do not treat adware as a security breach, because their scanners are specialized on detecting malware, spyware, and ransomware. However, there are some that detect adware as malicious.
For example, Malwarebytes security scanner will identify adware. So if you are using Malwarebytes, there are high chances that the antivirus software already detected and quarantined the process that drains your system. 
If not, then you can get rid of the cpx.exe process using the following methods:
1. Remove cpx-related keys from Registry Editor
You can get rid of cpx.exe by deleting cpx-related keys from Registry Editor:
Open a Run window by pressing Windows key + R. Inside the search box type 'regedit'. 
Inside Registry Editor click on Computer icon and open Find window by pressing Ctrl+F.
Inside the Find window search box type 'cpx' and check all the boxes related to Keys, Values, and Data. Check the Match whole string only box and click Find Next button.
Delete every single key that refers to cpx.exe 
Finally, after removing every occurrence, close Registry Editor and reboot your computer. 
If you are still able to see the cpx.exe process in Task Manager, jump to the second method.
2. Uninstall the s5Mark adware
After Windows Registry does not include any keys belonging to the cpx.exe process, you should stop and remove the application which regenerating the adware files. 
The adware suite can be removed by uninstalling s5Mark from program files. However, the installation can fail, so this is how to remove the leftovers manually:
Open a Run command by pressing Windows key + R and type appwiz.cpl. 
Open it in Programs and Features. Then look for the application list and uninstall the s5Mark software. 
Restart your PC and check if the issue has been resolved. 
If there are still some issues uninstalling the s5Mark suite from programs and Files, check out the last method. 
3. Reinstall a clean version of Google Chrome 
The cpx.exe process is not only tied to s5Mark adware suite, but it also can reside in infected Chrome or Chromium version. If you were not able to uninstall s5Mark suite, type 'appwiz.cpl in order to open Programs and Features one more time and uninstall Chrome or Chromium. After you remove malicious Chrome or Chromium, reinstall one from official Google page. 
About the author