SpyRemover Pro user manual
SpyRemover Pro user manual
This is a detailed guide on how to download, install, and use SpyRemoverPro anti-malware.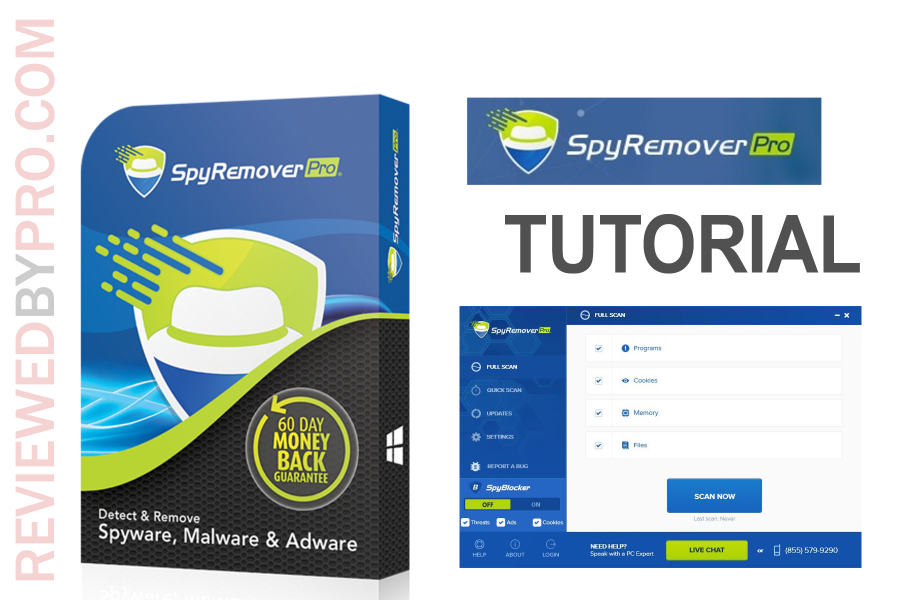 Downloading SpyRemover Pro
If you want to install Spy Remover Pro, follow the link on our page to do it very easily. The whole installation package of SpyRemover Pro contains about 3 MB, so you will download it quite quickly.
Installing SpyRemoverPro
After the package is downloaded, open the file by pressing the left mouse button. Another pop-up window will appear with the question: "Do you really want to open the file?". Press "Yes" and you will start the installation process of Spy Remover Pro. Please note that this software works only with Windows 7, 8, and 10 operating systems. 
1. After you open the installation file, you have to choose your language. Click "Next" to continue: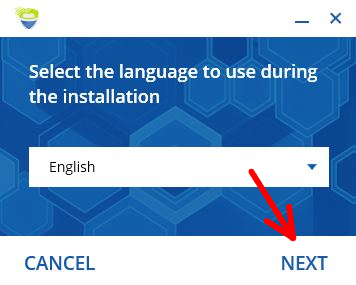 2. Don't forget to read EULA and the Privacy Policy of the application before clicking on "Install & Scan":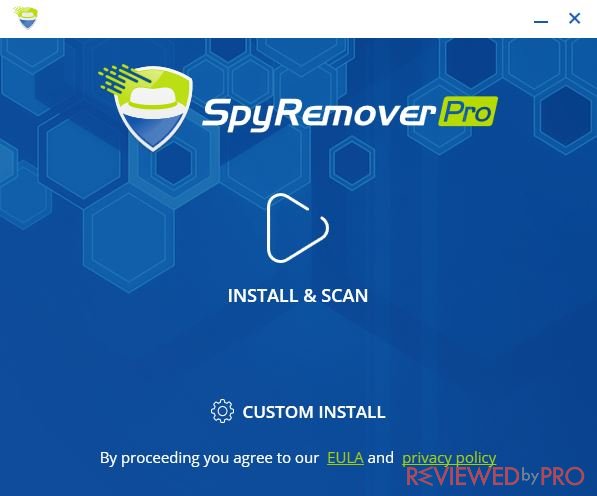 3. Windows operating system will install this software on your computer very quickly and you will be able to perform your first scan with Spy Remover Pro against viruses and other threats.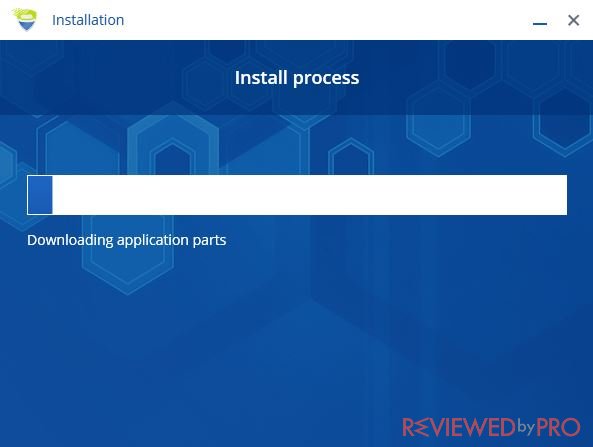 Function list
Full scan – this function will perform a full scan of your computer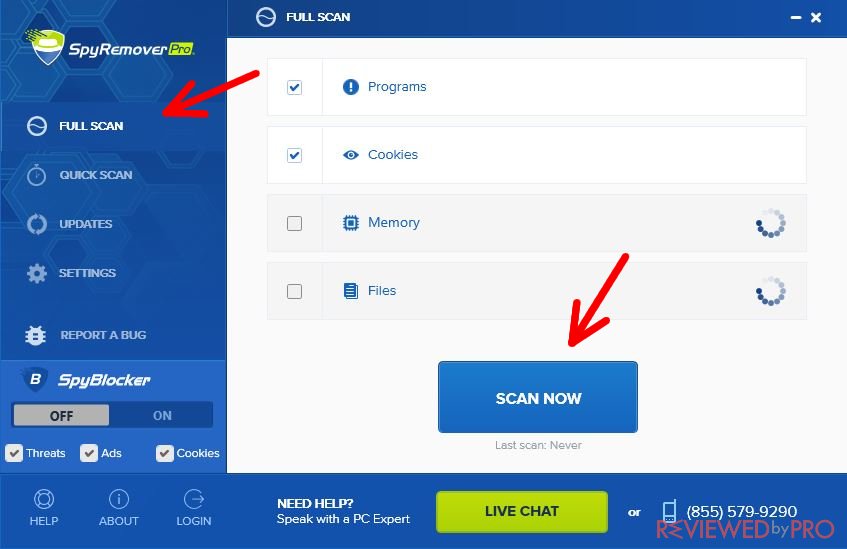 Quick scan – this function will perform a quick scan in the most vulnerable computer places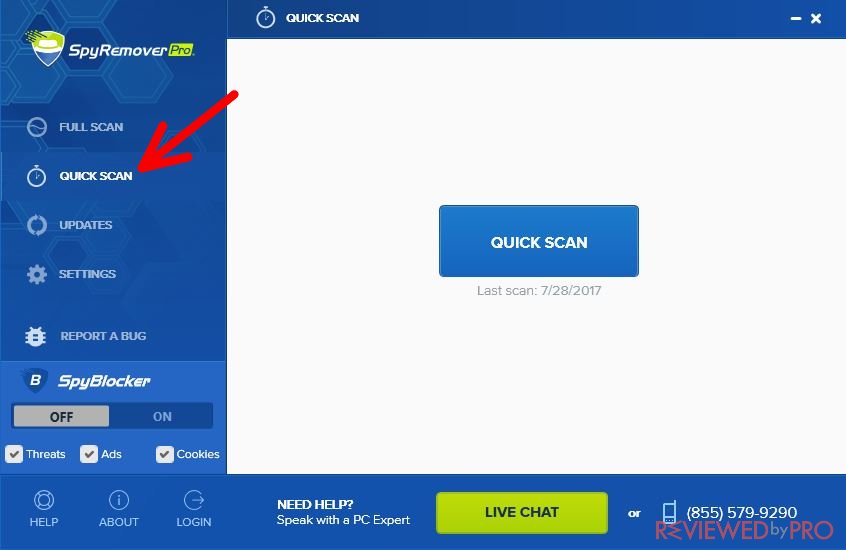 Updates – By pressing this button, you will check for updates for the virus database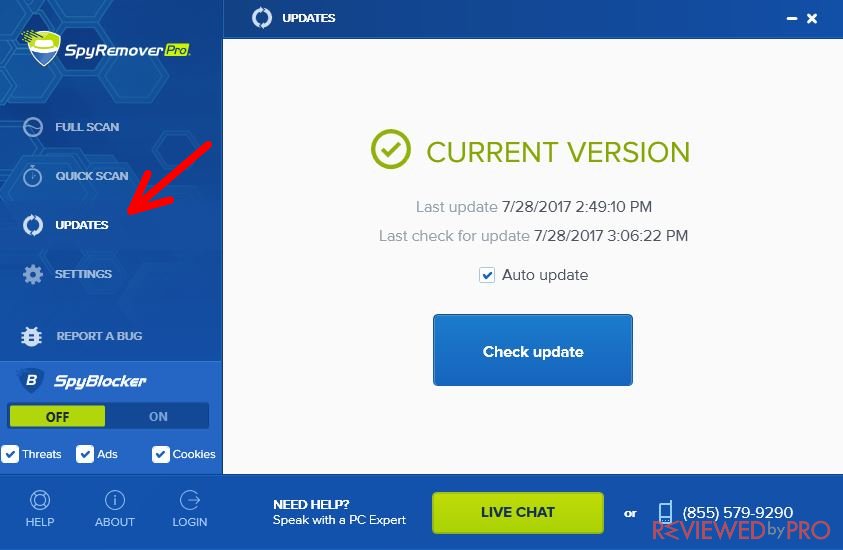 Settings – here you will be able to schedule a scan performance, change the interface language, and enable/disable auto-start scanning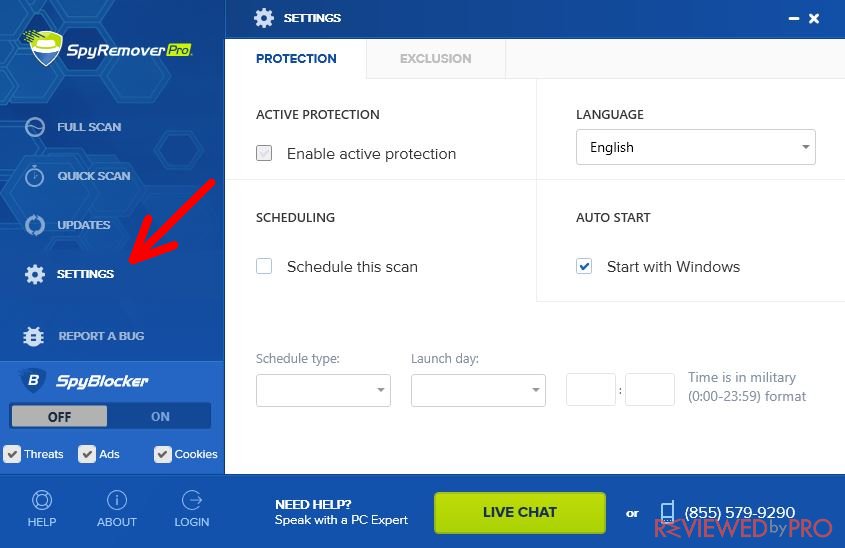 SpyBlocker – this function works only with the full version of the software and lets you protect the computer more securely. It also lets you block threats, ads, and cookies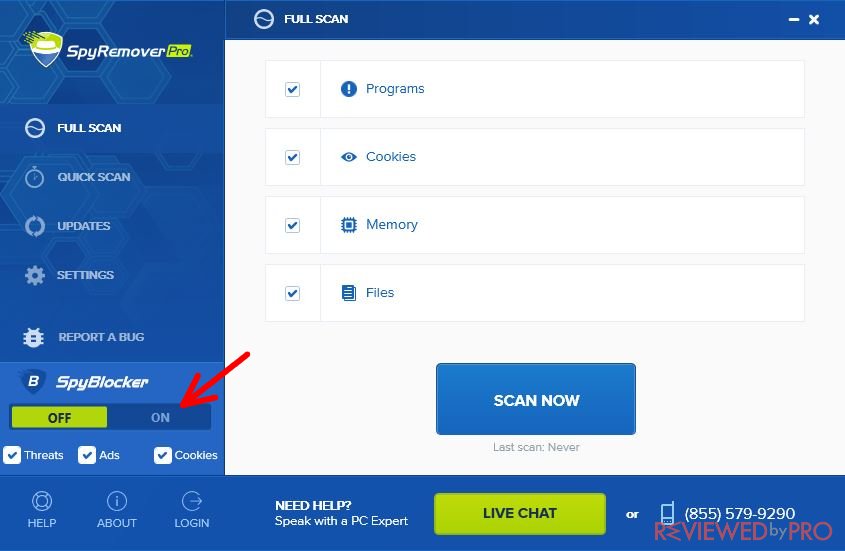 Help – here you can find more information about the program if you have any additional difficulties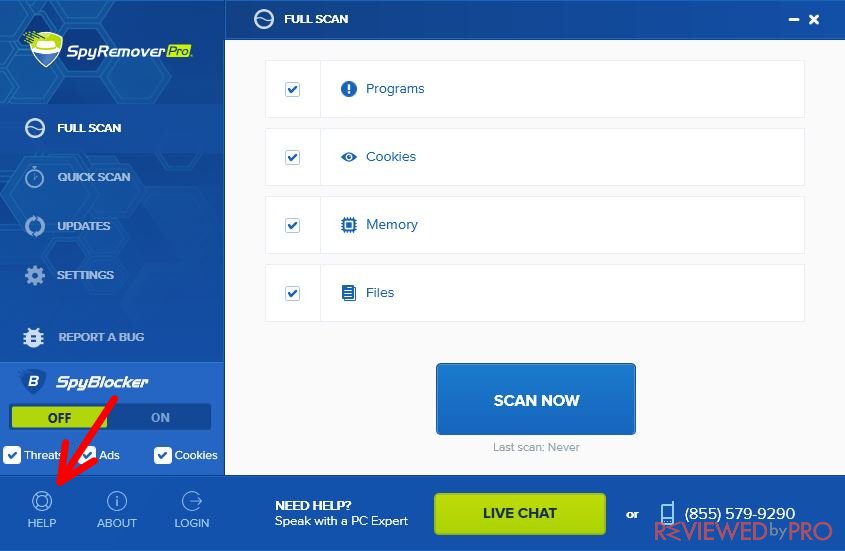 About – here you will find additional information about the software and the company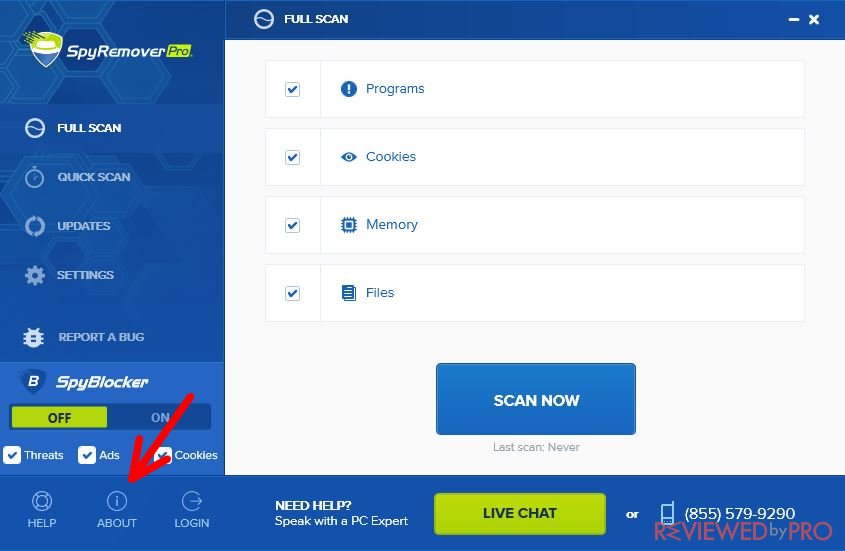 Scanning your computer with SpyRemover Pro
After the installation is finished, the system will start to update its own virus database. It will not take long. After that, you will be able to start scanning your computer. Note that after the installation, the system will start to scan your computer automatically. The first scanning will be the "Quick Scan", but if you want, you can also perform the "Full scan" in order to clean your whole computer.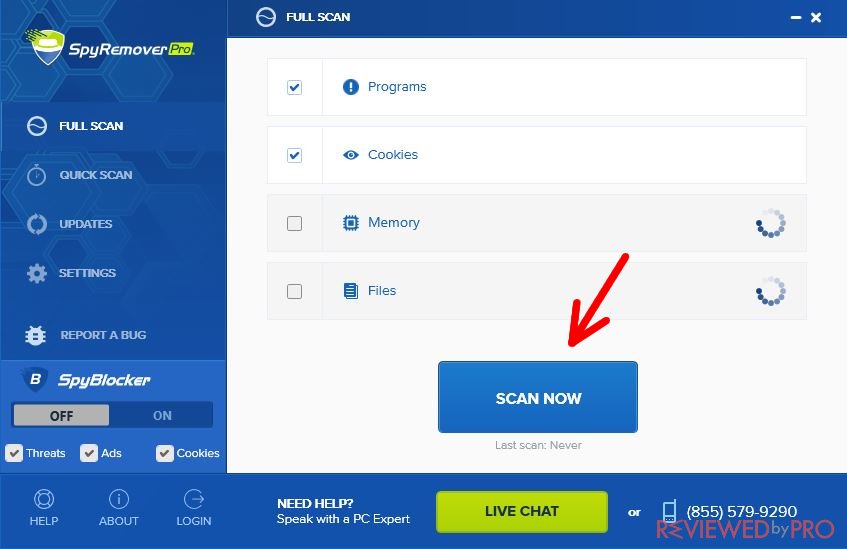 After the computer scan is over, you will see the results of it. Check the files you want to delete and press the button "Remove all".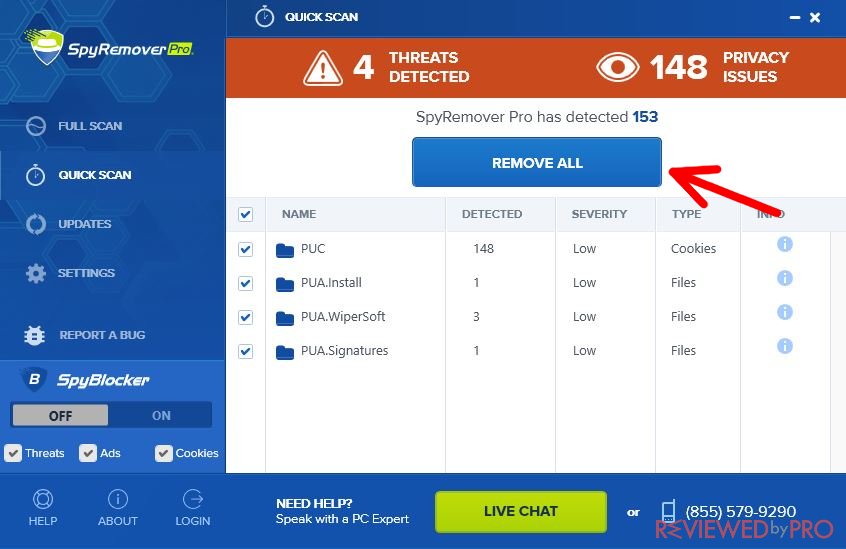 Also, you can make an exception and leave some files not deleted if you know what you are doing. Moreover, you can "Rescan" the computer if you are not sure the scan was performed well.
Please note that you are using the demo version and when you press the "Remove all" button, you will get another pop-up window where you will be able to "Purchase now" or "Activate".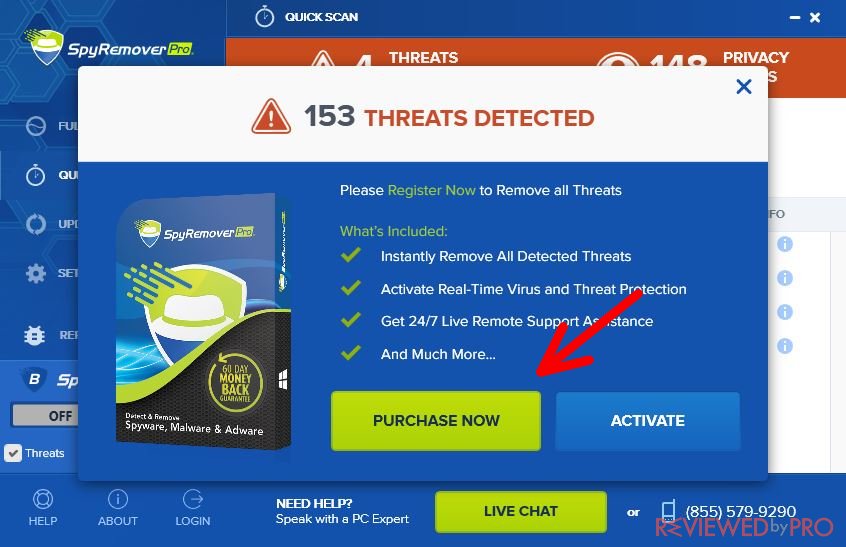 After pressing the button "Purchase now", you will be redirected to the developer's page and you will be able to buy a full product license. You can order a license for one or more computers by pressing – + symbols.
Also, there are two possibilities to pay for the product: by credit card and with PayPal. Please note that both ways for the payment are secure and discrete. We hope that you will enjoy this product.