SpyHunter 4 and Emsisoft both were launched in 2003. Since then, these Internet security programs have improved and now receive some very positive feedback from users. However, if you are looking which antivirus to choose you have to read this article which will compare the basics of both software and their performance on the 30-day test conducted by security researchers at Reviewed by Pro.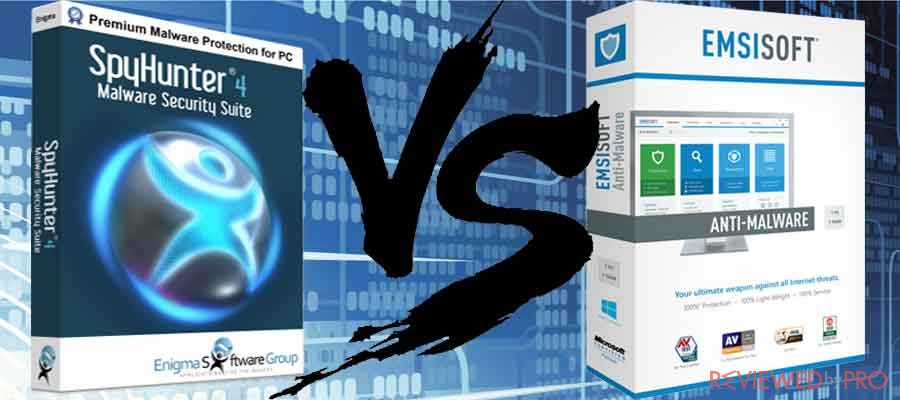 SpyHunter 4
To start with SpyHunter 4, it is launched by Enigma Software Group which was working on this security package since 2003. SpyHunter is known for its simplicity and effectiveness in detecting and removing malware and unwanted programs. The program offers a free full and complete system scan. However, if it will detect malware, in order to remove it you will have to purchase the paid version.[1]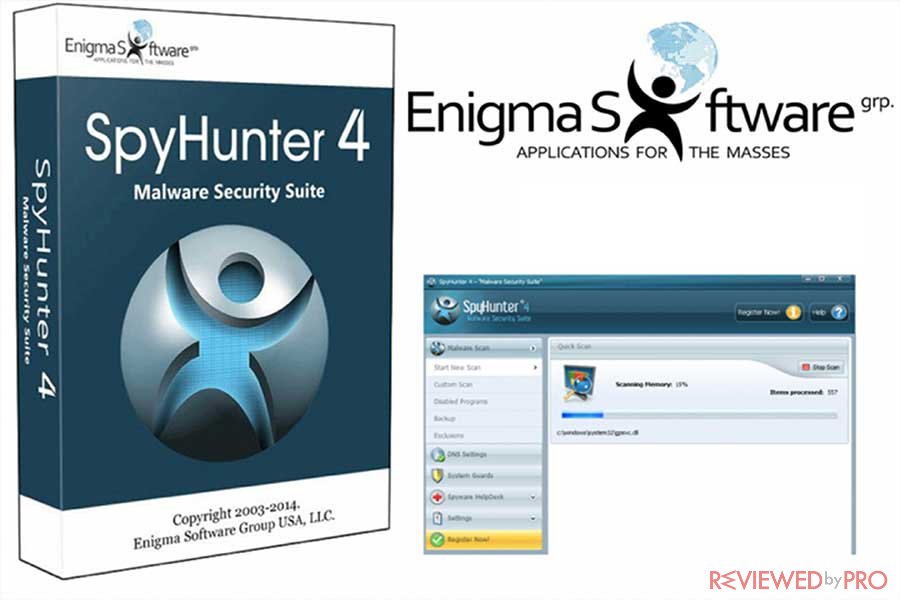 Researchers at Reviewed by Pro[2] used the software for approximately 30 days and evaluated the effectiveness of the security package. They noted that SpyHunter 4 is a perfect for users who browse the Web and download files without analyzing them. The security system will protect them from rootkits, ransomware, worms and other threats you can easily get on the Web.
Pros
The installation is quick and easy without any advertisements or interruptions. The size of the program is only 78.9 MB, so the download also won't take long.
The quick scan is pretty quick and took from 3 to 5 minutes and revealed most of the malicious applications on the system.
Even though the full scan takes time, it discloses even the smallest threats other antivirus programs don't reveal.
The software does not have a negative impact on operating system performance, even when the system is scanned.
Great live customer support within SpyHunter SpyWare Helpdesk.
Although researchers revealed a number of pros of the security package, there are also couple downsides.
Cons
Automatic scans start every time you start the system. Even though it guarantees the high level of protection, sometimes it can be quite annoying.
After reinstalling or uninstalling an application, you cannot choose "Restart your system later" option that can be annoying, 
Relatively expensive application, especially compared to Emsisoft.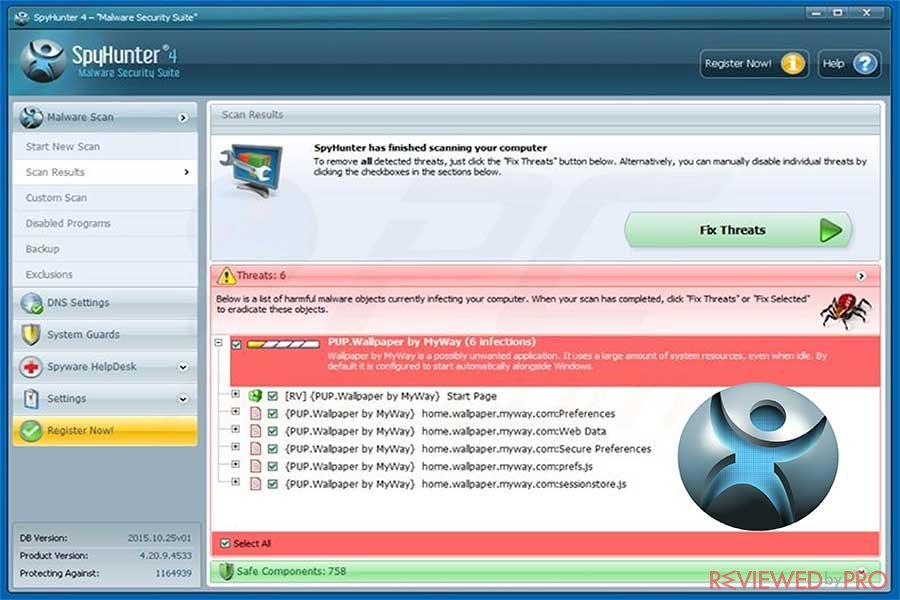 The Verdict
Researchers at Reviewed by Pro were pretty happy with the software performance and its test result.
SpyHunter is a reputable malware removal tool with a high detection rate. It notices all the threats that are lurking on your system, even the ones unnoticed by other similar applications. It is extremely effective against spyware and can be a great choice for your home or office.
SpyHunter offers advanced malware detection and removal and finds even the smallest threats. So if you are looking powerful software that would keep your device malware-free, SpyHunter should be your choice.
Emsisoft Anti-malware
The New Zealand-based cybersecurity company Emsisoft launched their first product in 2003. Since then the security vendor has successfully operated in the industry. Its latest product Emsisoft Anti-malware provides consumers protection against Trojans, unwanted programs, spam and other cyber threats for both businesses and home. It also provides Mobile Security software and Emergency Kit.[3]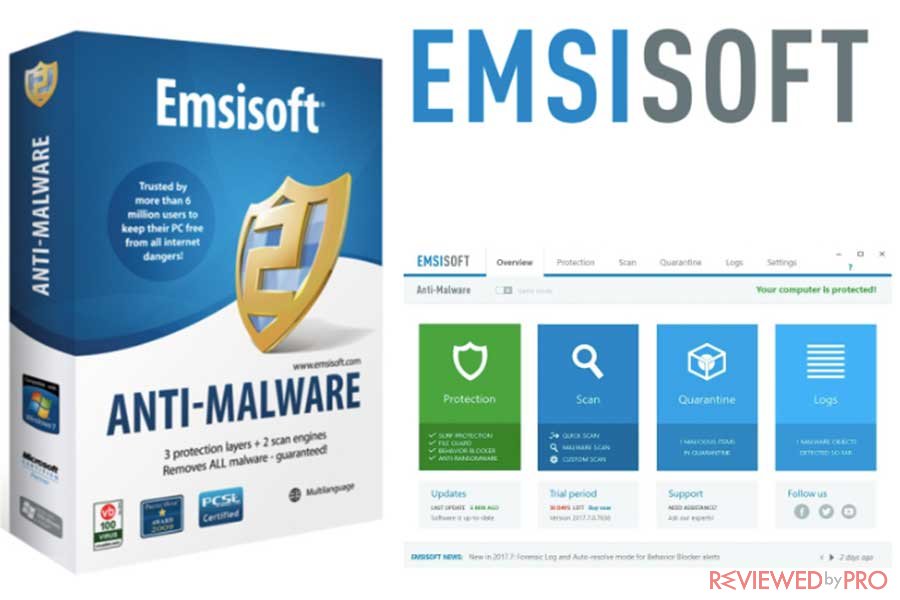 According to Emsisoft users, the software is unique and powerful. The software also received a number of awards including the AV-Test certificate and VB100 certificate.
Researchers at Reviewed by Pro[4] tested the software for about 30 days and indicated that Emsisoft Anti-malware is very functional and offers many features including dual-engine malware scanner, quarantine function and more.
Pros
The software is updated hourly, which is very convenient and keeps you up to date with the latest malware infections.
Emsisoft Anti-malware is inexpensive and also offers great deals if you purchase it for more computers or longer than a year.
Simple and easy to operate user interface.
Scans are really fast. The full scan took about 20 minutes and the quick scan required less than a minute.
Helpful and active customer support.
The 30-day test of Emsisoft Anti-malware also disclosed some of its downsides.
Cons
The quick scan is not effective enough. Even though the quick scan was extremely fast and took the less than a minute, it did not find any threats, while similar security applications have detected some.
The application is relatively big compared to other Internet security packages in the market.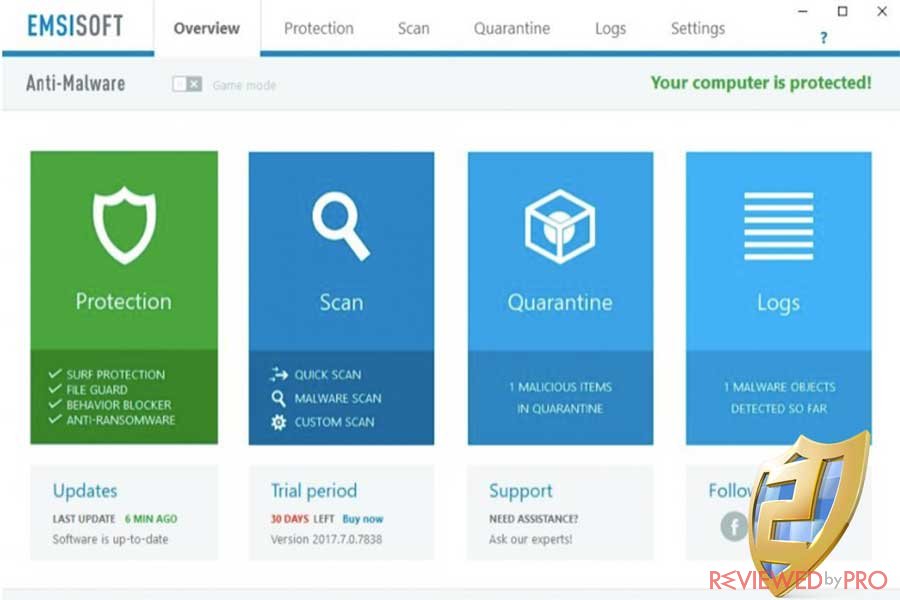 The Verdict
Researchers after testing the software came up with the final verdict:
Emsisoft Anti-malware offers really great protection for your computer in every situation. The interface is clean, simple and very easy to get used to. There is a very active support team compared to other similar software. Your computer will be protected even from the latest malware, especially if you use the full scan function.
The software is recommended for those who need simple and effective security, quick performance and helpful customer support
To summarize
To sum up, both security packages have their own pros and cons. If you want to have basic and inexpensive protection for your PC with easy to operate interface, quick performance and helpful and active technical support, Emsisoft would be a great choice.
However, if you are looking for advanced malware detection that reveals all, even the smallest threats and protects your computer, without any negative impact on its performance, then SpyHunter 4 is what you are looking for. The size of the software is small, is easy to download, install and operate. It also offers frequent updates it is well optimized and even though it works slower than Emsisoft, the performance is still quick comparing to other security packages. 
About the author
References