This article will reveal all the main features and test results of anti-spyware and anti-malware tools SpyBot and SpyRemover Pro. Both applications are designed to detect and remove cyber threats and other malicious software, including spyware, Trojans, worms, and others. Researchers at Reviewed by Pro tested both applications for about 30 days and came with the results revealed in this article.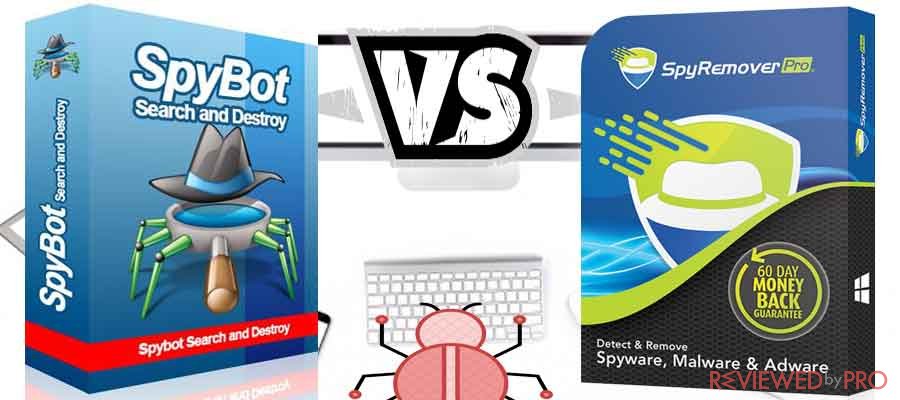 SpyBot
SpyBot[1] is an anti-malware application developed in order to detect and remove malicious software from infected computers. The software was developed by Safer-Networking LTD, Ireland. SpyBot is also known as SpyBot – Search & Destroy is designed for home users and businesses.
The application has a number of malware detection and prevention features, including removal of malware, rootkits, adware, toolbars, network scan and fix. If the anti-malware application detects malicious software, it removes it straightaway. Functions such as immunization and quarantine are only available for an additional fee.
SpyBot also deletes usage traces, ensuring that your internet activity is private and protected. The tool can delete your browser history, access files programs and cookies automatically.
There are two versions of SpyBot. SpyBot + AV, one version is for beginners and another one for advanced users and experts. The advanced mode also offers additional tools and settings.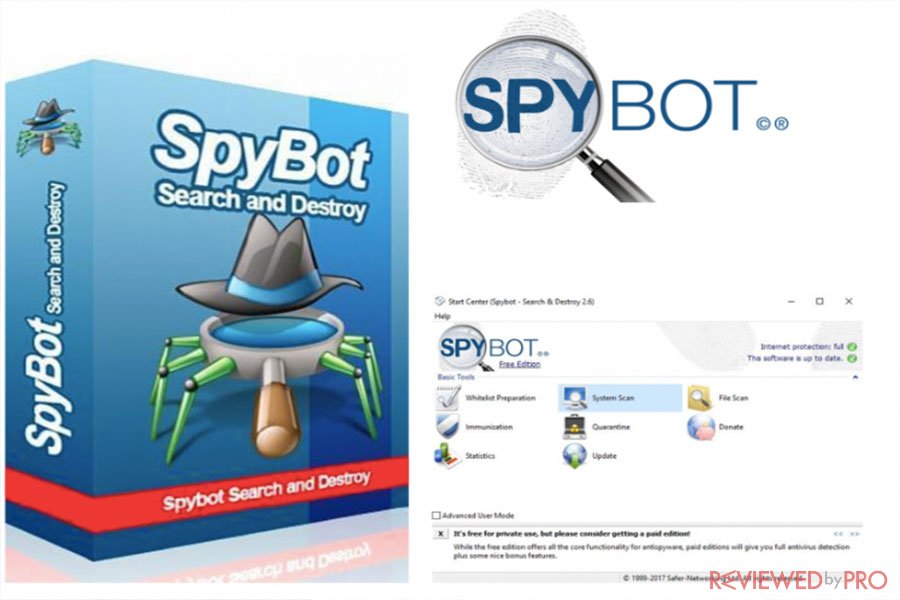 It is worth to mention that free version of the software does not include virus scanner. However, before purchasing the full version, users are recommended to try a free version of SpyBot. The download and installation processes are quick and easy. The software is only compatible with Windows operating systems: Windows Vista, 7, 8, 9, 10.
Researchers at Reviewed by Pro[2] decided to test the software for about a month and revealed its' pros and cons.
Pros
SpyBot offers a low price for the full version of the software. The application costs about $15.99 for the Home Edition, and only $27.99 for the Professional Edition of SpoBot 1-year subscription.
In order to run SpyBot, users do not have to have the latest PC or operating system. SpyBot has very low requirements for the PC.
The anti-malware application offers a number of useful features that cover PC's protection and user privacy.
Cons
The anti-malware application demonstrated poor virus detection rates, it did not find all the hidden infected files with the malware samples.
The first impression of the software was not good because of its' interface. The application looks outdated and confusing.
SpyBot user-interface is confusing and not easy to navigate.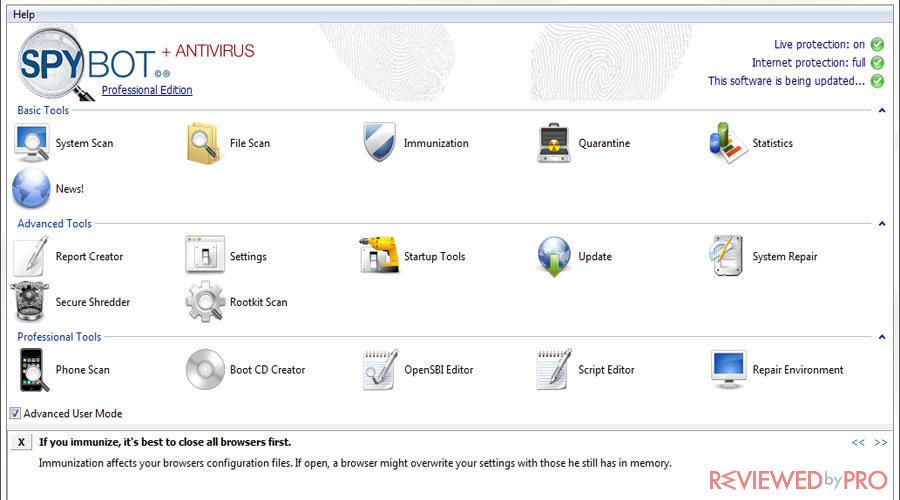 The Final Verdict
Researchers at Reviewed by Pro used the software for 30 days and disclosed the final verdict.
This is not the best software for spyware removal because of its low virus detection rate, confusing navigation, and a poor user interface.
It is worth to mention that the first version of the anti-malware application was developed many years ago and it was one of the first anti-spyware application on the market. The second version of the SpyBot appeared only later, but it appeared not as good as it was expected.
SpyRemover Pro
When it comes to SpyRemover Pro,[3] the security application offers users anti-malware features since its foundation in 2015. Even though it is very young software, SpyRemover Pro provides users with easy, affordable solution against the most common cyber threats and malware.
Just like SpyBot, SpyRemover provides free and paid versions of the software. Users are recommended to download the free version and run diagnostics. If the anti-malware detects any threats, then users should purchase the paid version, in order to remove existing threats and protect the system in the future.
SpyRemover Pro not only detects and removes malware but also provides users with useful features including real-time protection, PC optimization, and low resource usage.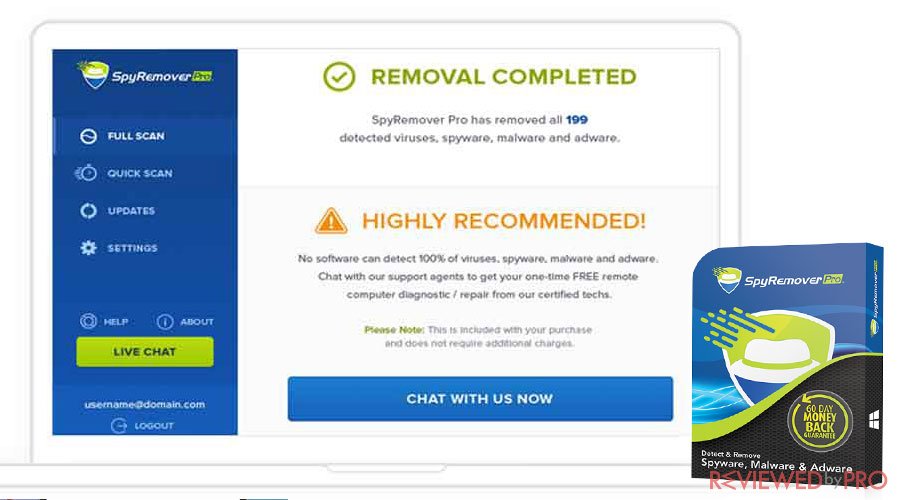 SpyRemover Pro[4] installation package is only 2.7 MB, so the download and installation are easy and does not take long. SpyRemover Pro is compatible with PCs with Windows OS 7,8 and 10.
Pros
SpyRemover Pro offers fast and quick scanning processes. The scans also do not slow down the computer performance and do not drown the system.
SpyRemover Pro demonstrated very high malware detection and removal rates.
The anti-malware application also offers a variety of features, however, not as many as SpyBot.
The user-interface is easy to navigate and looks very fresh.
Cons
It was mentioned that the virus detection is relatively high and SpyRemover Pro found more threats than other similar tools, however, the anti-malware application did not detect all added malware samples.
The software function list is very basic.
SpyRemover Pro customer support is very poor and unhelpful.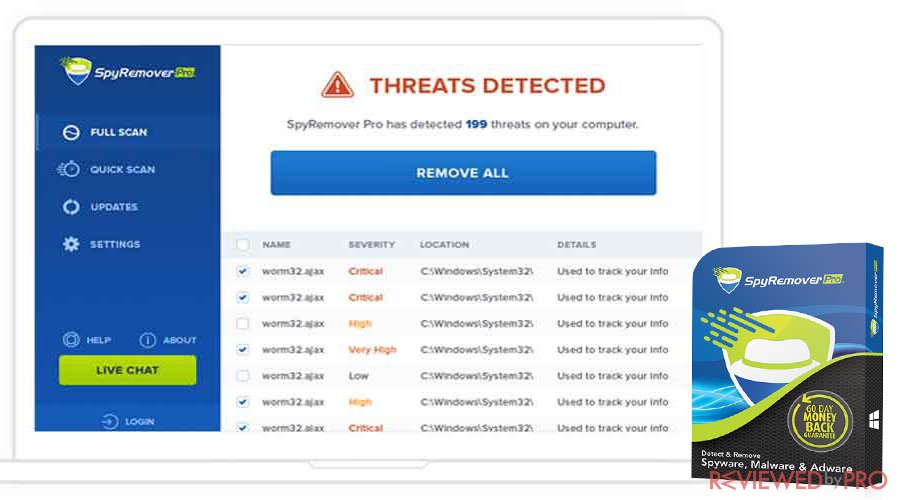 The Final Verdict
Researchers at Reviewed by Pro used the application for 30 days. After the test, they came up with the final verdict and indicated that SpyRemover Pro is user-friendly, fast and has high virus detection and removal rate.
This anti-malware app is very user-friendly, works fast, takes up very little space, and has a high virus detection rate. On the other hand, it has some issues as any other software.

The developer of this program could expand some of its features and improve the removal of the threats found. The virus database should be improved as well. As software, it is professional, but it still needs some improvements on the things mentioned before.
To Summarize
Both applications offer similar features. However, SpyBot also offers privacy features and deletes users' digital traces which is very convenient, because you do not have to do it manually. However, even though SpyBot provides more features, they are not all as reliable as SpyRemover Pro features. SpyBot demonstrated very poor malware detection and removal rates, it did not detect all malware samples downloaded in the system. In addition, the user-interface is very confusing and looks outdated.
In this case, we would recommend you SpyRemover Pro. This anti-malware application demonstrates high detection and removal rates which is higher than similar applications by 30%. In addition, SpyRemover Pro protects the PC completely by providing advanced real-time protection, optimize the PC performances. To end with, the application has a very user-friendly interface and looks fresh.
About the author
References