A Virtual Private Networks also known as VPNs[1] are helpful tools for those who want to increase their privacy online. VPN creates a virtual tunnel which connects a device to the Internet. All the data between the device and the Internet is securely encrypted, and it cannot be seen or tracked by hackers or even by the Internet Service Provider (ISP).
However, it can be difficult to choose the right VPN provider, this is why our researchers at Reviewed by Pro constantly test and review VPN services in order to provide users with the most accurate and up-to-date information.
If you have finally decided to get a VPN, check out Privacy section for more information!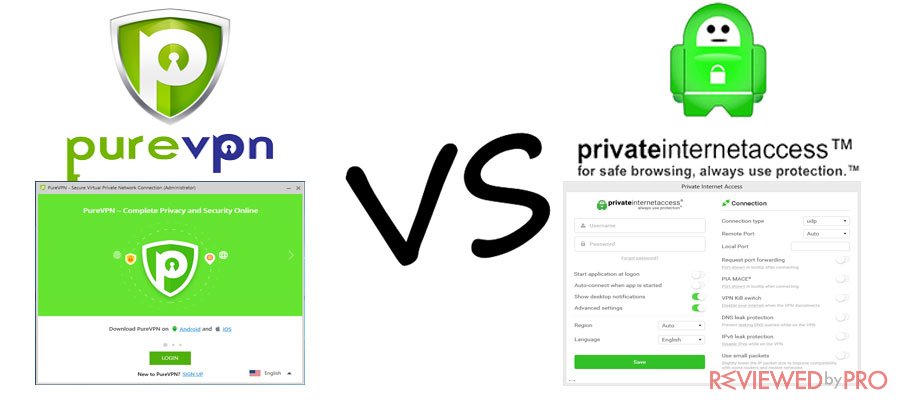 PureVPN or PIA?
For those, who do not have time to read the full article, check the table below to find which VPN wins in the following categories.
| | |
| --- | --- |
| Feature | Winner |
| Pricing | PIA offers more flexible & low-cost monthly and yearly plans. |
| Protection | Both VPN providers offer military-grade encryption and strong protection. |
| Features | PureVPN offers a wider range of features. |
| Performance | PIA offers decent speeds and connectivity. |
| User Interface | PureVPN has a simpler and more pleasant user interface. |
PureVPN Overview
PureVPN[2] is a commercial virtual private network on VPN service users based in Hong Kong. Pure VPN was first released in 2006 and today is used by more than three million Internet users all around the world.
PureVPN has more than 2000 highly optimized servers in more than 140 countries and 300000 IP addresses.
The table below provides users with PureVPN's main pros and cons.
PROS

CONS

VERDICT

Offering one of the widest geographical reaches

Performance hits and slowdowns

PureVPN offers users lots of places to connect and is relatively inexpensive if you choose to prepay for two years. However, it has mediocre performance and protection rates.

A very informative user interface

Previous instances of DNS, IPv4 and IPv6 leaks

Easy setup

Rough reviews by third-parties
Private Internet Access or PIA Overview
PIA or Private Internet Access[3] is a leading VPN provider based developed by US-based London Trust Media, Inc which also owns brands such as IRC, Linux Journal, ClockExplorer, and many others.
Private Internet Access® VPN Service encrypts your connection and provides you with an anonymous IP to protect your privacy.
PROS

CONS

VERDICT

Great performance

U.S.-based

An inexpensive VPN with a lot of features and a high protection level

Thousands of server locations worldwide

Randomly assigns the username

Highly customizable

Occasionally needs to be reloaded
Pricing
PureVPN also offers a variety of plans users can choose starting at as low as $1.32 if purchased 5-year subscription. This includes up to 5 simultaneous connections.[4]
All plans include 31-day money-back guarantee. Users can pay using various payment methods, including Credit Card, PayPal, Alipay, CoinPayments, PaymentWall, BlueSnap and Gift Cards. All the payments are secured by McAfee.
When it comes to PIA, Private Internet Access is one of the cheapest VPN services we tested. Users can choose from the following subscriptions that cover up to 5 devices and offers a 7-day money back guarantee.[5]
Users can pay using various payment methods including Credit Card, Paypal, Amazon Pay, WebMoney, Zcash, Bitcoin Cash, Bitcoin, Bitpay, ethereum, Litecoin, Mint, and others.
PIA is cheaper if purchasing a monthly or 1-year subscription plan, while PureVPN offers great discounts if purchasing a long-term 5-year subscription. However, we declare PIA the winner, as most users prefer buying a 1 or a 2-year subscription.
Privacy
PureVPN is based in Hong Kong which is outside the European Union and United States laws, or any other infamous surveillance governments.
However, PureVPN does not provide zero logging policy and could log some user connection time and bandwidth used. The service does not keep logs of visited websites, downloaded files or software users.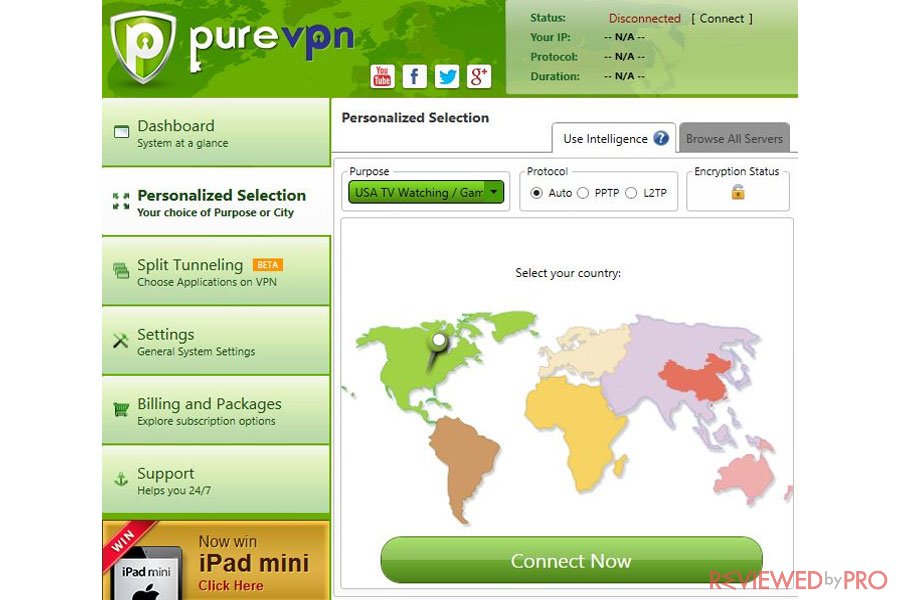 When it comes to Private Internet Access, the VPN service is based in the USA, which is even less privacy-friendly country. It is worth to mention that PIA also does not keep any user data or records.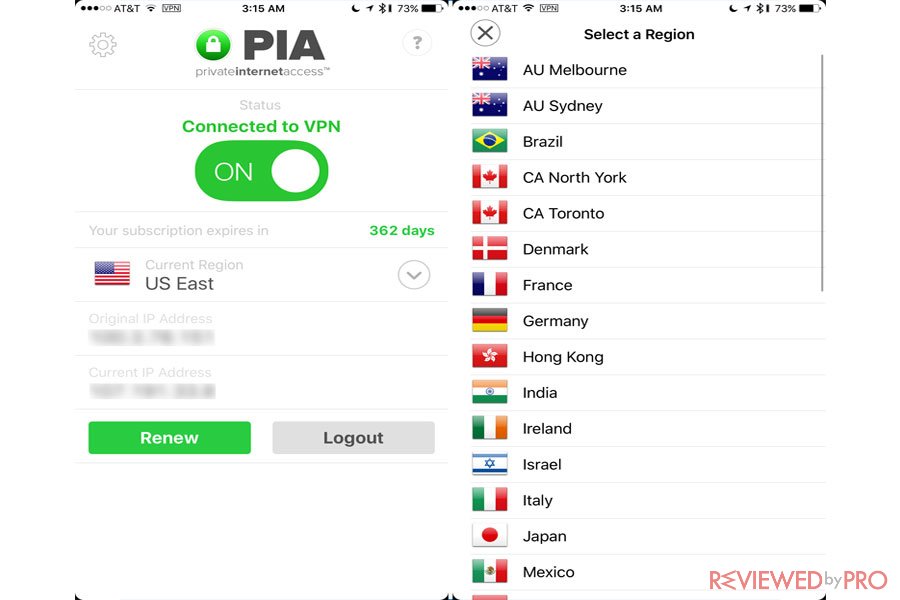 To sum up, PureVPN is in a more privacy-friendly jurisdiction.
Protection
PureVPN also uses a military-grade encryption AES-256 protocol. The VPN service also supports all the major protocols including OpenVPN, L2TP/IPSec, PPTP, SSTP, and IKEv2.
Users' privacy is also protected by PureVPN's connection which includes the switch from one IP to another.
It is worth mentioning that PureVPN owns and manages its own DNS servers. PureVPN also offers dedicated IPs for an extra $1.99 per month and dedicated IP with DDoS protection for an additional $2.25 per month
The service offers 2000 servers in more than 140 countries.
When it comes to PIA's encryption, by default it uses 128-bit AES encryption but it can be easily adjusted to 256-bit AES encryption. Authentication also can be protected either SHA-1 or SH256. Users also can choose the public-key encryption, which can be set up with RSA-2048 or increased to RSA-4096. PIA supports popular OpenVPN, L2TP/IPsec, and PPTP protocols.
For even better protections, PIA offers a Kill Switch feature that allows the program to close all the applications that require Internet access, in case the VPN service accidentally disconnects. PIA also has a high number of servers that includes 3083+ servers in 33 countries. The company claims that the number is growing constantly.
Both VPN providers provide military-grade encryption and support multiple protocols.
Features
PureVPN released a new exclusive feature set for maximum security, privacy, and anonymity.
The new features include Virtual Router feature that enables users to turn the Windows desktop or laptop into a router that allows simultaneous connection up to 10 devices.
PureVPN also allows proprietary software with their own code for Windows, Mac, iOS, Android and Linux. In addition, various consoled, Smart TV, Roku, Chromecast, Amazon Fire and other devices are also compatible with PureVPN.
Split Tunneling allows users to choose which data to send through a VPN and which through the original IP. Other features include
NAT Firewall

DDoS protection,

Ozone Layer Protection,

SOCKS5 Proxy available

Kill Switch.

IP address Masking

Anonymous Browsing

DNS Leak Protection

IPV6 Leak Protection

Web RTC Leak Protection

The built-in Ad Blocking
As you can see the feature set is very comprehensive.
PIA is also a full-featured VPN service and offers a useful feature set:
Secure VPN Account

Encrypted Wi-Fi

P2P Support

PIA MACE – PIA'S Ad Blocker (blocks Ads, Trackers, and Malware) 

Leak Protection

Multiple VPN Gateways

Unlimited Bandwidth

SOCKS5 Proxy

No traffic Logs

Instant Setup

Kill Switch
Even though PIA provides a decent feature set, PureVPN's offerings are more useful and unique.
Performance
Every VPN will slow down your connection. That's why it is important to find the service, which provides decent performance. 
It is worth mentioning that PureVPN has one of the best VPN infrastructures. PureVPN demonstrated an average of 12% speed loss. When it comes to connection, the VPN service has a steady and reliable connection, that we did not need to reset.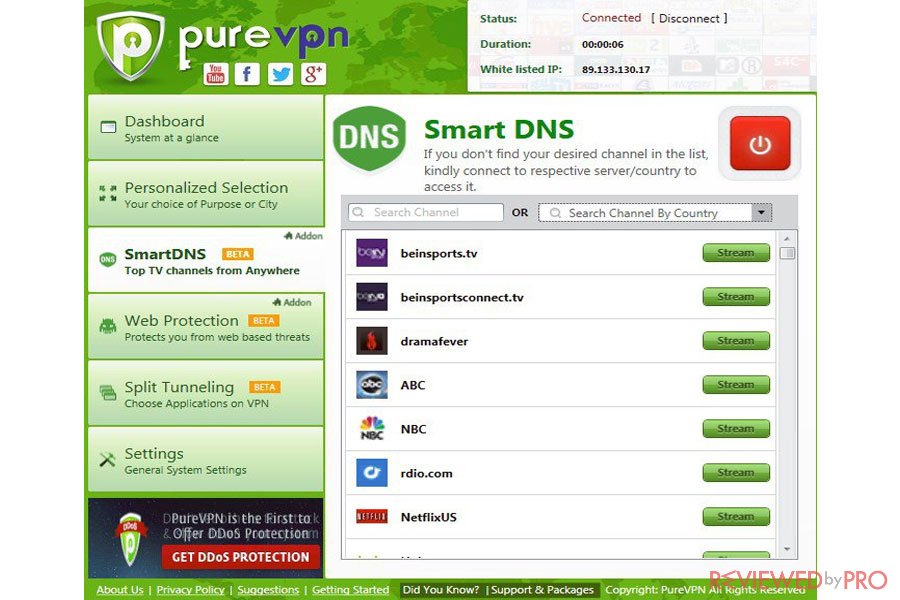 When it comes to Private Internet Access demonstrates, it has great performance rates and fast connection, uploads, and latency.  It is worth mentioning that PIA has always offered pretty good performance, and feedback from other users as well.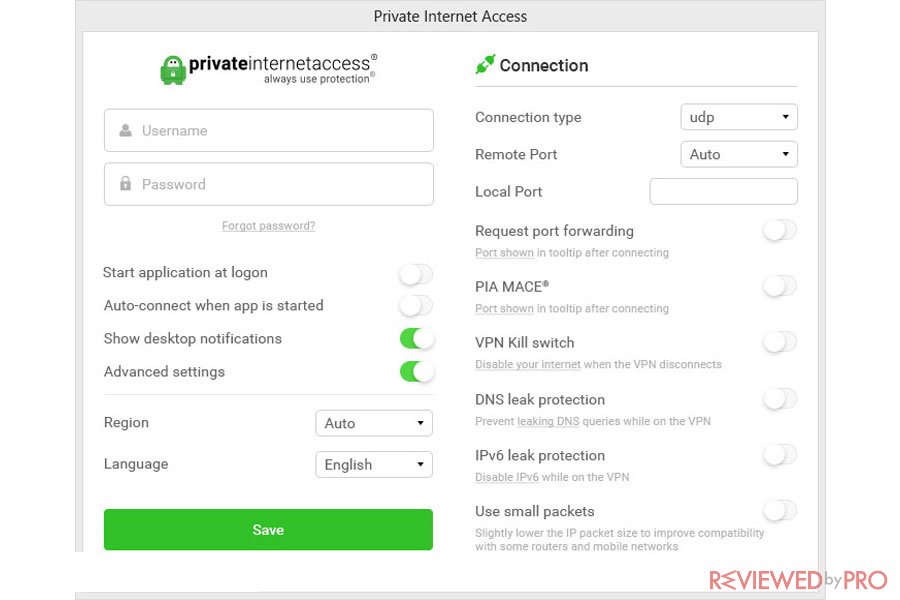 So when it comes to the performance, PIA is a winner.
User interface
PureVPN has a simple and easy to use interface. The desktop version looks colorful and bright, while the mobile version is darker and offers more options.
The main window displays at both, mobile and desktop versions include the main options to 'select mode' from Stream, Internet Freedom, Security / Privacy, File Sharing, and Remote / Dedi Ip.
PIA's interface looks a bit dull and not attractive at all. Even though it is not over-complex and navigation is rather user-friendly.
The final verdict
PureVPN is a full-featured VPN service that provides users with quality self-managed and owned servers and locations around the world. It is also not expensive and offers exclusive features such as split tunneling.
Supported platforms: Windows, macOS, Android, iOS, plus Chrome & Firefox extensions.
Allows 3rd-party connections: Yes, for Above, plus Linux, BlackBerry, open-source routers.
Simultaneous connections: Up to 5 devices.
User data required: a real name.
Supported protocols:L2TP/IPSec, OpenVPN, PPTP, SSTP, IKEv2.
Private Internet Access VPN offers a high level of safety, unlimited bandwidth, and strong protections. PIA is a decent choice for those who want to browse safely and privately. It also allows a very high level of customization for a very affordable price.
Supported platforms: Windows, macOS, Android, iOS, Linux, Chrome, Firefox, Opera.
Allow 3rd-party connections: Yes, for above and routers.
Simultaneous connections: Up to 5 devices
User data required: valid email address
Supported protocols: OpenVPN, L2TP/IPsec, PPTP
To conclude
Both VPN providers offer great protection, military-grade encryption and support multiple protocols.
PureVPN provides comprehensive global server coverage, excellent P2P support and Netflix unblocking. It also offers a number of useful security and privacy features.
When it comes to performance, speeds, and pricing, PIA scores better rates.
About the author
References