It was detected that cybercriminals can infect your computer with malware if you hover the mouse over a hyperlink on a PowerPoint slide too much.[1]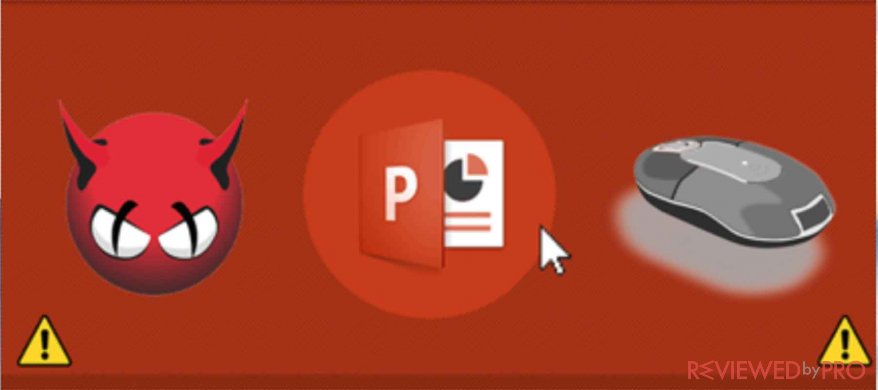 It is not a secret that you should always be careful what you click on whenever you browse the Internet. Thus, malicious links can cause computer infections, ransomware, spyware or an expensive bill to pay. However, it turns out that the malware can be installed on your computer without even a mouse click.
A multinational Japan-based security software company Trend Micro discovered a new malware distribution technique, which works without the need to click a malicious link. In order to infect a PC, the user only needs to hover over a link on a PowerPoint slide, which can be attached to an image or text.
The effectiveness of this malware distribution depends on which version of Microsoft Office you use. So, if you use the older version of Microsoft Office, malicious PowerShell will be enabled to run and install a banking Trojan – a version of the OTLARD Trojan. Meanwhile, more recent versions will notify the user about the potential risk before the script is installed. If the potential victim clicks the disable button, the script won't be installed, but there is a possibility that the user will not register the notification and will click the enable button accidentally.
There are multiple steps involved in order to cause this kind of threat using PowerPoint. Thus, it is difficult for cybercriminals to infect a victim's computer using this method. Firstly, the potential victim has to receive a malicious PowerPoint file via email, then open it and hover the mouse over the "Loading" text on the slide. If your PowerPoint is more recent, the Protected Mode is enabled and won't allow the script to infect your computer. It also cannot cause any malware infections if you are using Office 365 or PowerPoint online.
Even though it is not a big threat, it is good to know that your mouse hover can cause a computer infection. Consumers are used of hovering a mouse over things while waiting for the information to load. In addition, developers also need to make sure that mouse hovering cannot cause any harm to the users' computers.
About the author
References