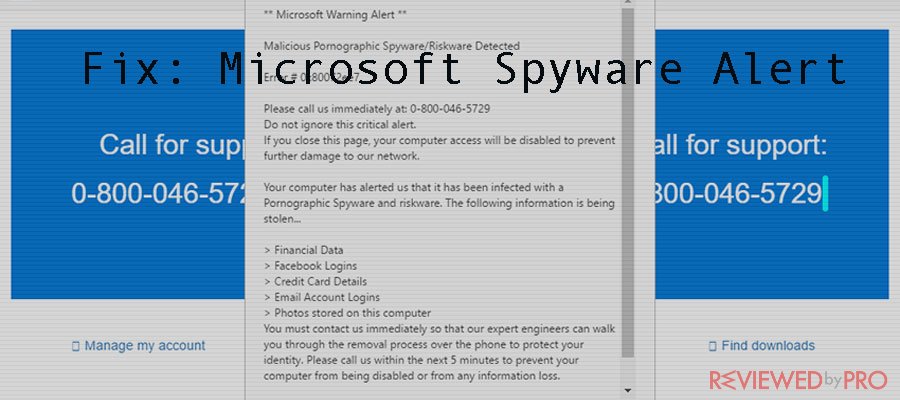 Microsoft Spyware Alert is a fake alert warning that the windows device is infected with malicious pornographic spyware[1]/riskware[2].
This alert is displayed when users are redirected to a malicious website by potentially unwanted programs or PUPs that infiltrate the system during installation of legitimate software using bundling method. PUPs are also capable of delivering ads and monitoring various user and system data.
Potentially Unwanted Program also known as PUP[3] is a piece software that may perceived as unwanted, despite a possibility that users consented to download it. Such programs can be added to a system without the user's permission or knowledge.
PUPs may use an implementation that could compromise user privacy and the device's security. These programs include spyware, adware, and dialers and are ofter downloaded bundled with applications that user wants.
Malicious Pornographic Spyware/Riskware Detected
Microsoft Spyware Alert displays a Microsoft Warning Alert stating that malicious content has been detected and user personal information being stolen. The information includes the following:
Financial Data

Facebook Logins

Credit Card Details

Email Account Logins

Photos stored on the computer
According to the fake Alert, provides users with a telephone number '0-800-046-5729' and advised to contact expert engineers that can help through the malware removal process over the phone.
Please call us within the next 5 minutes to prevent your computer from being disabled or from any information loss.
Microsoft Spyware Alert is a Scam[4]
A scam is an attempt to defraud users by gaining their confidence and trick them in order to obtain money or something else of value.
Attackers behind Microsoft Spyware Alert attempt to trick users into calling and paying for malware removal services, that are not required.
Users are highly recommended not to call this number, instead, simply close the web browser. However, the pop-up alert displayed by the malicious website is a full screen, so users have to close the web browser using Windows Task Manager.
These PUPs use a virtual layer which is able to generate coupons, banners, pop-ups, and other similar ads and enables placement of third-party graphical content. The pop-ups often hide the content of websites and can lead to malicious sites.
It is worth to mention that users are recommended not to click on them since it can result in even more damage and infections.
Microsoft Spyware Alert might track user information
It is worth to mention that Microsoft Spyware Alert can also be used to track user data. PUPs are able to gather IP addresses, Internet Service Provider information, geolocations, user browsing history, search queries, mouse and keyboard activity, and other data.
The gathered information might be shared with third-parties that misuse personal details in order to generate profit. In addition, data tracking can lead to identity theft or other privacy issues.
Other similar threats
Microsoft Spyware Alert is similar to other scam messages such as the following:
Microsoft Has Detected A Porn Virus,

Warning Internet Security Breached,

Your Computer Has Been Infected With Virus, etc..
All these scam messages alert users about the infected system or any other damages in similar ways. However, this information is false and only tries to trick users, so the attackers behind these messages could generate revenue.
All PUPs have the same purpose, which is to offer users useful features and give the impression of legitimacy. However, PUPs do not provide users with any useful value, instead, PUPs can cause redirects, intrusive ads, gather personal information, inject malware or pose other kinds of cyber threats.
Microsoft Spyware Alert distribution methods
As it was mentioned before, PUPs are usually distributed using bundling method by hiding PUP within the custom and advanced settings of the download and installation processes. In this case, users always have to be extra vigilant while downloading and installing freeware or using P2P and other file-sharing sites.
In order to avoid installation of potentially unwanted programs do not rush when downloading and installing software and select Custom/Advanced settings. Also, you can cancel all additionally-included programs and decline offers to download or install them.
Make sure to uninstall all PUPs from your system
These instructions below will provide you with steps to remove Microsoft Tech Support scam messages from Windows operating system.
If you are using Windows 7 or Vista, take the following steps:
Open the Start menu, then select Control Panel.
From the Control Panel menu select Programs and Features.
Locate the Microsoft Warning Alert Tech support scam or any other related suspicious applications.
Select the Uninstall button and click OK to save these changes.
If you are using Windows 8 and Windows 10, take the following steps:
Right-click in the lower left corner of the screen.

Then, open the Quick Access menu and select Control Panel.
Launch the Uninstall a Program option.
Locate the Microsoft Warning Alert Tech support scam or any other related suspicious applications.
Select the Uninstall button and click OK to save these changes.
Congratulations! If all the steps were taken correctly, Microsoft Spyware Alert should be removed from your system. In addition, make sure to download and install antivirus or security application and perform a full initial scan to check if the PUP is gone.
Important! Make sure to run a full system scan using a legitimate and reliable antivirus and internet security software for your PC which will detect and remove all kinds of PUPs, malware and viruses. If you are not sure what security software to choose, make sure to check out our Security page.
We highly recommend you the following:
Our security team at Reviewed by Pro constantly tries new products in order to provide you with up-to-date information and reviews of the latest Internet security and antivirus applications not just for your Windows PC, but also for your Mac and Android devices. 
About the author
References